Shelf Awareness for Friday, June 15, 2012

Quotation of the Day
Garrison Keillor: Bloomsday's 'Literary Pilgrims' in 1954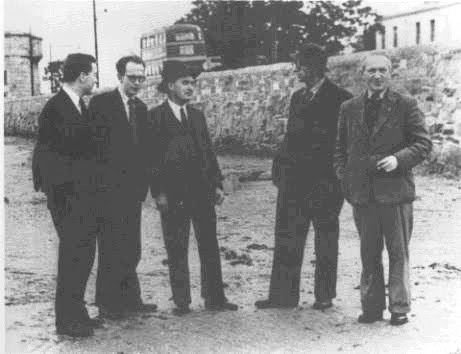 "The first modern celebration of Bloomsday was in 1954, the 50th anniversary of the fictional events in Joyce's book, and about three decades after Joyce published his novel in 1922. Irish writers Flann O'Brien and Patrick Kavanagh got together with critic John Ryan and a dentist cousin of James Joyce, named Tom Joyce, to make a daylong pilgrimage around Dublin. They were to have stops at the Martello Tower (the opening scene of the novel), Davy Byrne's Pub (where Bloom eats a gorgonzola cheese sandwich) and 7 Eccles Street (where Bloom and his wife, Molly, lived). They role-played, acted out the dialogue, and rode in horse-drawn carriages like those described in the scene of Paddy Dignam's funeral. They were supposed to end up in the red-light section of Dublin, where the 15th chapter of Ulysses 'Nighttown' is set, but the literary pilgrims got a bit drunk and distracted at a pub about halfway through the route and lost their ambition to finish it."
--Garrison Keillor, on tomorrow's episode of
The Writer's Almanac
. Bloomsday is celebrated worldwide annually on June 16.


News
ABA to DoJ: Agency Model 'Perfectly Legitimate Mode of Business'

Yesterday in comments to the Department of Justice, the American Booksellers Assocation called the Agency Model "a perfectly legitimate mode of business" and said the organization is opposed to the proposed consent decree with Hachette, HarperCollins and Simon & Schuster "primarily because it requires that the Agency Model for the sale of e-books be eliminated by these three publishers for two years. We believe that elimination of the Agency Model will radically change the current e-book distribution system, will significantly discourage new entry, and will lead to the departure from the market of a sizeable number of the independent bookstores that are currently selling e-books."

The ABA requested that the final consent decree "not require publishers to drop the agency plan as a condition of settlement," contending that a two-year hiatus "will not punish any alleged colluders. It will only punish indie booksellers and other e-book distributors who entered the market after the Agency Model was adopted by changing the terms of their business arrangement in a way that facilitates below cost-pricing by power buyer, and likely leading to a monopoly for that buyer."



DoS on Kindle Deal: 'Ball Is in Amazon's Court'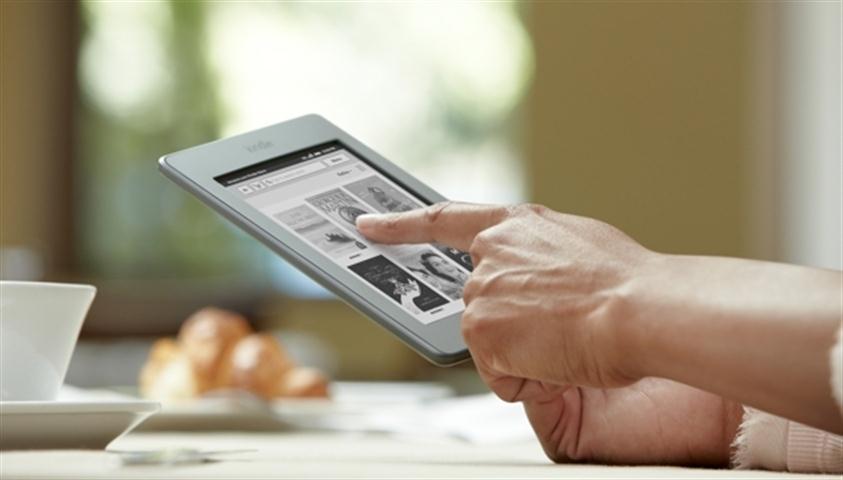 U.S. State Department spokesman Philippe Reines talked with with paidContent about the "request for a proposal" tendered to Amazon to provide Kindle Touches for the DoS's overseas language-education program.

"At this point the ball is in Amazon's court to come back with a proposal to us based on the request we gave them. We basically said, 'We'd like your proposal to reflect the possibility of it being a five-year deal, with the total amount spent over this five years as $16.5 million,' " Reines observed, adding "that's not an expression by State of an intent to spend all that money and certainly not an obligation to spend all that money."

According to Reines, the DoS would spend $2.29 million in the first year of the program, and "the $16.5 million over five years includes a maximum of 7,000 units per year for a total of 35,000 over five years, and content and to a lesser degree, shipping and some other associate costs." That "guaranteed obligation" in the first year is "broken down by an obligation to purchase, at minimum, 2,500 units, which would be roughly half a million dollars."

PaidContent ran the available numbers and noted that the total "leaves $1,814,750 for content, shipping and other costs. It's a lot of money for content, especially since it appears that many of the e-books will be public domain.... If the contract goes through and is renewed after the base year for a total of five years, and if State purchases a total of 35,000 Kindle Touch 3Gs each priced at $170.10 during that time and each with a case and adapter valued at $20, that leaves $9,846,500 for content, shipping and 'associate costs.' "

"Are the non-device costs justified?" asked paidContent, noting the difficulty of calculating "the value of those services with the information that's available publicly. "I don't know how much it costs Amazon to provide a dedicated help desk, disable some features on the Kindles and provide data reports on usage, but I remain skeptical that these services are worth millions of dollars."



New E-Book Retail Option Proposed to U.K. Indies
Independent booksellers in the U.K. "are to have access to Kobo e-book devices, a Hive-sourced e-book tablet and an Anobii-run affiliates scheme as part of a range of methods aimed at helping booksellers sell e-books to their customers," the Bookseller reported, noting that the measures were outlined yesterday at a meeting organized by the Booksellers Association as part of its annual general meeting. The three companies were invited by the BA after months of "facilitating talks." BA CEO Tim Godfray said the organization "believes it is important that booksellers consider now the e-book opportunities opening up to their businesses."

"Frankly, we look like idiots when we are a bookshop and can't offer customers one format of book, being digital," said Ron Johns, a Falmouth bookshop owner and publisher, before the meeting.

Michael Tamblyn, Kobo's v-p of content, sales and marketing, spoke at the meeting about tailoring its model in order to compete against Amazon: "When we are fighting against a competitor that wants you dead, you have to give everything you have. We have come up with a model that works, a way for bricks and mortar retailers to gain."

Tim Walker, the owner of Walker Books, who chaired the e-platform sessions, noted that "booksellers had to go away and make decisions on which model is best, with all the models being ready for autumn. He added that this was the 'first stage' offer for indies and the BA had not stopped talks with other providers."



Crystal Ball: Global E-Book Market in 2016
E-books will constitute 50% of the U.S. trade book market by 2016, according to projections from Pricewaterhouse Coopers' Global Entertainment and Media Outlook. PaidContent reported that PwC "sees total book spending in North America as relatively flat, '1.1% compound annual rate' of increase between 2011 and 2016."

The growth of the e-book market may offset anticipated declines in spending on print trade books. By 2016, PwC expects the total U.S. consumer book market (print and digital) will be worth $21 billion, up from $19.5 billion in 2011.

By contrast, PwC predicts that due to weak economic conditions, "the consumer and educational book publishing market in [Europe, the Middle East and Africa] will decrease during the next two years and then rise to $44.8 billion by 2016, returning to its 2011 level."

Japan, South Korea and China will continue to spur e-book growth in the Asia Pacific region, along with Australia, which PwC notes is "the only other country [in the region] where e-books will generate more than $100 million in sales."



Obituary Note: Hilary Rubinstein
Hilary Rubinstein, a publisher and "one of Britain's premier literary agents with a portfolio including some of the greats of the 20th century," died last month, the Guardian reported. He was 86.



Notes
Image of the Day: Dress-up Winner at Dark Delicacies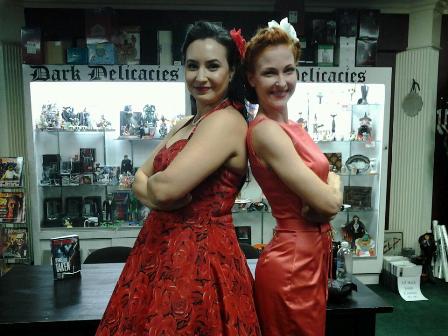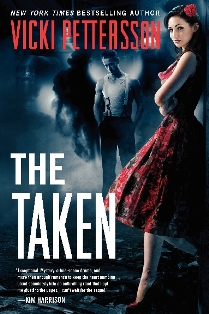 On Wednesday night, Dark Delicacies: Books, Gifts and Collectibles in Burbank, Calif., held a dress-up contest for an appearance by Vicki Pettersson, author of
The Taken
(Harper Voyager). Here Pettersson (r.) poses with the winner, who received a store gift card.


Happy 15th Birthday, Books Galore!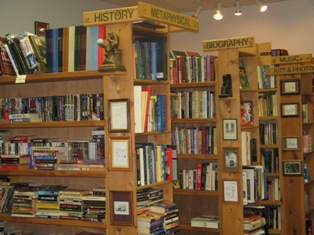 Congratulations to Books Galore, Festus, Mo., which celebrates its 15th anniversary next Wednesday, June 20, with sales and specials, including a visit in the near future by St. Louis authors John Lutz and Robert Randisi.
Owners John and Kendall Gilbert founded Books Galore in "a small location" in DeSoto and moved to Festus in 2002. The store moved several more times and has been in its current location for six years. As of January 1, the store will move again--into larger space that will allow for "an even more diverse inventory."


Booking the Wedding: A Site by Any Other Name...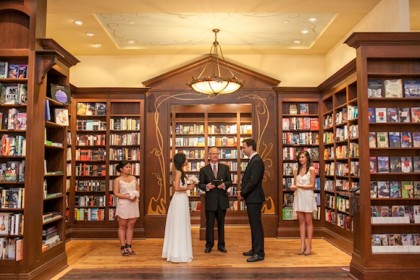 Toronto's Ben McNally Books was chosen by a local couple as the site of their wedding for a most unusual reason. Quillblog reported that Naly and Ben "met at the Davenport Public Library, where Naly was employed, and decided on the unconventional location for their nuptials because of its owner's name." They had always liked the fact that the bookshop incorporates both their names in its own and Ben McNally loved the idea, too.

"As if that weren't enough, after leaving the bookstore, the newlyweds passed a limo that had pulled up in front of the new Trump Hotel on Bay Street," Quillblog wrote. "The limo's occupant, one Leonard Cohen, complimented the two on the way they looked and 'wished them all the best.' "
Photo: Alex Lee of Young Hearts Photography


Appointments at Georgetown, Fulcrum, S&S Children's
John W. Warren has joined Georgetown University Press as marketing and sales director. For the past 12 years, he has been marketing director of RAND Corporation's publications department. Before joining RAND, he was a marketing manager at Mexican publisher Fondo de Cultura Económica, Sage Publications and Sylvan Learning.

---

Melanie Roth has joined Fulcrum Publishing as marketing manager. She was formerly marketing manager at the Wisconsin Historical Society Press.

Jennifer Ryan has joined Fulcrum Publishing as marketing associate. Ryan formerly was v-p of operations at Smith and Kraus Publishers in Hanover, N.H., and earlier worked in the marketing department there.
---
Siena Koncsol has been promoted to associate publicist from publicity assistant at Simon & Schuster Children's Publishing. She joined the company in 2010 as assistant to publicity director Paul Crichton.


Book Trailer of the Day: Sugarhouse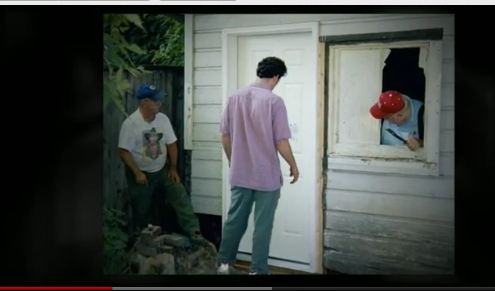 Sugarhouse: Turning the Neighborhood Crack House into Our Home Sweet Home by Matthew Batt (Mariner Books).


Media and Movies
Media Heat: Anthony Swofford on Hotels, Hospitals, and Jails
Tonight on the Late Late Show with Craig Ferguson: Don Winslow, author of The Kings of Cool: A Prequel to Savages (Simon & Schuster, $25, 9781451665321).

---

Sunday on CBS's Sunday Morning: Senator Marco Rubio, author of An American Son: A Memoir (Sentinel, $26.95, 9781595230942).

Also on CBS's Sunday Morning: Liza Mundy, author of The Richer Sex: How the New Majority of Female Breadwinners Is Transforming Sex, Love and Family (Simon & Schuster, $27, 9781439197714).

---

Sunday on Meet the Press: David Maraniss, author of Barack Obama: The Story (Simon & Schuster, $32.50, 9781439160404).

---

Sunday on NPR's All Things Considered Weekend: Anthony Swofford, author of Hotels, Hospitals, and Jails: A Memoir (Twelve/Hachette, $26.99, 9781455506736).




Movie Visuals: Perks of Being a Wallflower Trailer; Twilight Pics
A trailer has been released for The Perks of Being a Wallflower, adapted from the book by Stephen Chbosky. Entertainment Weekly noted that the movie is Emma Watson's "first major attempt to shed the skin of her Harry Potter character Hermione Granger." The project, which also stars Paul Rudd, Kate Walsh star, Logan Lerman, Ezra Miller, Mae Whitman and Nina Dobrev, opens September 14.

---

The Twilight Saga: Breaking Dawn Part 2, which will be released on November 16, is the cover story in this week's Entertainment Weekly, which featured new photos from the movie, including a peek at "Renesmee, the half-human, half-vampire baby of Bella (Kristen Stewart) and Edward (Robert Pattinson), who is played by Mackenzie Foy, 11. "

"It's a hugely important part," said director Bill Condon. "They were amazing with her. It really brought something paternal out in Rob, and Kristen was especially protective. I'd have to interrupt them when they were in deep conversation to get going with a scene."

EW noted that Foy "rather spookily" resembles the lead actors. "Even our hands look similar," said Stewart. "It was kind of strange. But it's funny how it actually helps. It's like, 'Oh, hey, you look like me, kid! Come on!' "



Books & Authors
Awards: CILIP Carnegie & Kate Greenaway Medals
Patrick Ness won the CILIP Carnegie Medal for children's literature for his novel A Monster Calls. His win marked a historic moment for the U.K.'s prestigious, 75-year-old prize. Not only was this the second consecutive Carnegie Medal for Ness (a feat achieved just once before by Peter Dickinson in 1979 and 1980), but for the first time the same book also won the CILIP Kate Greenaway Medal, with illustrator Jim Kay earning that honor.

"A Monster Calls is an exquisite piece of writing," said chair of the judging panel Rachel Levy. "It is a beautifully economical, structurally brilliant and lyrically descriptive account of a challenging episode in one child's life.... We'd go so far as to say that this is one of the defining books of its generation."



Book Brahmins: Chris Hedges and Joe Sacco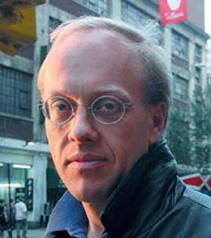 Chris Hedges, who lives in a house that holds 5,000 books and no television, is the author of nine books, including Empire of Illusion, The Death of the Liberal Class, American Fascists and War Is a Force That Gives Us Meaning. He was a New York Times foreign correspondent for 15 years and was part of a team of reporters who won the 2002 Pulitzer Prize for their work on global terrorism.
Joe Sacco studied journalism but only began to practice the profession properly when he married it with comics, his other love. He has written graphic books about the Palestinian Territories and Bosnia. A collection of his shorter pieces, Journalism, will also be published in June 2012.
Together, they have written Days of Destruction, Days of Revolt (just out from Nation Books), which documents the lives of those who live in "sacrifice zones"--parts of the U.S. where corporate greed has run wild, and the locals have suffered.
On your nightstand now:
Chris Hedges: Trouble in Mind: Black Southerners in the Age of Jim Crow by Leon F. Litwack. This is a book I am teaching to inmates in an African-American history course at a New Jersey prison--history at its best, exhaustively researched, shattering in its conclusions and beautifully written. He is one of our greatest historians. Castle to Castle by Louis-Ferdinand Céline, whose political views are repugnant, but who is one of the most original and talented satirical writers of the 20th century. The darkness of his humor appeals to the old war correspondent in me. Bury My Heart at Wounded Knee by Dee Brown--I am reading this book for a second time. It is a masterpiece, moving beyond words and flawlessly written. Brown exposes the dark heart of empire, the violent campaign of extermination unleashed against those whose lands we stole and the lies we told to others and tell to ourselves.
Joe Sacco: Foundations in the Dust by Seton Lloyd. My next project is chiefly about Mesopotamia, and this book tells the history of the archeologists who excavated the most well-known sites. As you can expect, it's full of colorful individuals dashing about, avoiding brigands, and sending treasures back to European museums.
Favorite book when you were a child:
CH: I loved the usual fare of children's books, especially Curious George and E.B. White's gorgeous masterpieces Stuart Little and Charlotte's Web. Winnie-the-Pooh was high on the list. And A.A. Milne, like E.B. White, was a great comic writer. I owned and read the complete collection of The Hardy Boys. I loved adventure stories, especially tales of explorations to the North Pole or down the Nile. The first "adult" book I read around the age of nine or 10 was called The Sea Devil--The Story of Count Felix Von Luckner, The German War Raider by Lowell Thomas. I went on to devour Bruce Catton's series on the Civil War. I was an early fan of John Steinbeck and remember getting choked up at about the age of 11 at the end of The Pearl. By the time I was a teenager, I wanted to be William Faulkner and wrote many awful short stories in an attempt to emulate him.
JS: I liked books on dinosaurs. I can't remember any of the titles I read because mostly I'd stare at the pictures. Perhaps my childhood claim to reading fame is that at age 10 I picked up a prose version of The Iliad, opened it to a page that mentioned something about an eyeball dangling on the tip of a spear, and then read the entire book hoping for more such goodies.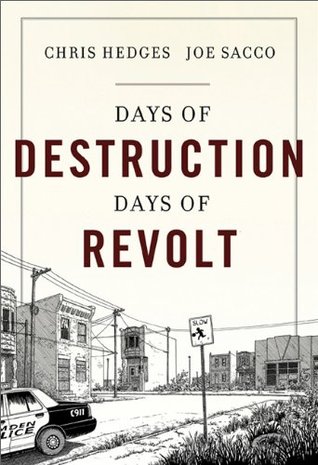 Your top five authors:
CH: William Shakespeare, Marcel Proust, James Joyce, Fyodor Dostoevsky and William Faulkner.
JS: In no particular order: George Orwell, Aldous Huxley, Ferdinand Celine, George Gissing and Fyodor Dostoevsky.
Book you've faked reading:
CH: As an undergraduate and graduate student there were a few books that were skimmed rather than read. I had to read rather turgid works by theologians in divinity school such as Friedrich Daniel Ernst Schleiermacher, so maybe I can be forgiven. I don't remember fooling any of my professors. But out in the real world, where I don't usually have books forced upon me, I am not shy about admitting the many holes in my reading.
JS: I came rather close to finishing War and Peace by Tolstoy--had a couple of hundred pages to go before I had to abandon the tome on my way overseas. But if the subject of Tolstoy ever comes up, I claim to have read the book, which is only nine-tenths true, and probably makes me a bit of a fraud.
Book you're an evangelist for:
CH: Life and Fate by Vasily Grossman, one of the greatest novels about life, war, love and meaning of the 20th century. Better, in my mind, than War and Peace on which it was loosely modeled, although I know this is heresy.
JS: Adam Hochschild's King Leopold's Ghost. To me, Hochschild is a model historian. This book, about the appalling atrocities committed in the Belgian Congo during the Scramble for Africa, is perfectly balanced--not just meticulously researched but also a real page-turner. "I couldn't put it down," as they say.
Book you've bought for the cover:
CH: I have bought replicas of classic first editions from the First Edition Library such as The Great Gatsby and The Sound and the Fury because I loved the old covers and the original format.
JS: Biggles of 266 by Captain W.E. Johns. I saw this in a bin of books at a department store when I was a child and made my mother buy it for me based on the cover illustration. It showed First World War fighter planes engaged in a ferocious dogfight. One of the planes is engulfed in flames, and its pilot is leaning over the edge of the fuselage, looking back. Awful! But that book launched me into a lifelong fascination with the First World War.
Book that changed your life:
CH: Moral Man and Immoral Society by Reinhold Niebuhr. It gave me the language by which I could begin to describe human nature, good and evil and the moral life. I have read all of Niebuhr's books at least once and this book three times.
JS: The Road to Wigan Pier by George Orwell. Orwell's investigation of the working conditions in the middle of England during the Depression took him into the homes of coal miners and down into the pits. His engagement with his subject was a great inspiration to me. The lesson was: one had to go and see if one was going to have a hope of understanding.
Favorite line from a book:
CH: From Samuel Beckett's The Unnamable:
"I'll go on. You must say words, as long as there are any--until they find me, until they say me. (Strange pain, strange sin!) You must go on. Perhaps it's done already. Perhaps they have said me already. Perhaps they have carried me to the threshold of my story, before the door that opens on my story. (That would surprise me, if it opens.)
It will be I? It will be the silence, where I am? I don't know, I'll never know: in the silence you don't know.
You must go on.
I can't go on.
I'll go on."
JS: "Freedom is the freedom to say that two plus two makes four." --from George Orwell's 1984.
Book you most want to read again for the first time:
CH: In Search of Lost Time by Marcel Proust. I have read all six volumes twice. Shelby Foote read it nine times. He identified Proust, correctly, as "the Shakespeare of our time." I won't make it to that number, but I will certainly read it again. In Search of Lost Time, like all great works of literature, gives you words to describe aspects of human reality that before Proust were difficult and often impossible to articulate. Besides, I read it with Eunice, who became my wife, and it reminds me of falling in love.
JS: Brave New World by Aldous Huxley. I remember the thrill of reading this book, so crammed with interesting, weird, and wild ideas, when I was about 13. I was horrified by Huxley's vision, of course, but every few years I reenter his dystopian world to remind myself how prescient he was.


Book Review
Review: Necropolis
Necropolis by Santiago Gamboa, trans. by Howard Curtis (Europa Editions, $18 paperback, 9781609450731, June 26, 2012)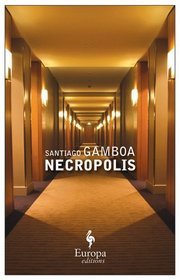 Santiago Gamboa's Necropolis is a hefty, Decameron-like opus, a story-within-story-within-story set in war-torn Jerusalem, told by an unnamed 40ish narrator who, like Gamboa, is a Colombian novelist living in Rome. Receiving a letter inviting him to the International Conference on Biography and Memory, with no idea why he's been invited, the narrator finds himself in a hotel full of eccentric delegates--all storytellers, spinning tales of chess, God and drug addiction.
Gamboa expertly juggles an international cast of characters, including a muscular, tattooed ex-convict pastor of a cult religion, an Italian porn actress, a brave and honorable hotel switchboard operator, an imprisoned 70-year-old priest who knows where a treasure is hidden and a pretty journalist from Iceland with a penchant for shedding her clothes. It's a literate feast, and the reader won't get 20 pages into the story before hitting references to Poe, Mann, Bolano, Balzac and Melville. Hilariously bristling with contemporary references ("I'm not talking about the Lord of the Rings or the Lord of the Flies, but the True Lord, the Boss, the big Enchilada"), Gamboa asks, "Do we ever know much about a life, even after it's been well told?" and sets out to prove his point in serpentine, page-spanning sentences.
With room-rattling explosions creeping closer and closer, the novel dovetails narratives within narratives, like that of the hardworking and honest young auto mechanic who dares to stand up to the paramilitary hoodlums terrorizing his village, or the pregnant woman knitting a sweater incorrectly while a tortured prisoner watches, or the Portuguese poet whose everyday job as an air traffic controller forces him into a conversation with a pilot about to crash into the sea.
Gamboa's strength is an apparently inexhaustible stream of narrative invention, an addictive "and then, and then" quality that, at its best, erupts into flourishes of breathtaking poetry. But his weakness is that the reckless playfulness of his storytelling occasionally settles for second-best solutions in its propulsion forward, littering Necropolis with plotlines that lead nowhere and dozens of characters who are more ideas than flesh-and-blood. It's a dizzying mosaic and stunt-filled juggling act, with plenty of sexual hanky-panky, but with a few exceptions, the book is best enjoyed for its verbal pyrotechnics, because its fancy footwork seldom engages the heart. --Nick DiMartino
Shelf Talker: Conference delegates in war-torn Jerusalem tell stories-within-stories-within-stories in Colombian novelist Gamboa's dizzying mosaic of narrative invention.


Deeper Understanding
Robert Gray: BookExpo America Snapshots
"Pay attention, he thinks. Not to the grand gesture, but to the passing breath."--Lauren Groff, Arcadia
You walk into Javits Center on the first day, blink once and suddenly you're checking out of your hotel. After all the anticipation, BookExpo America happens so fast it's as much a snapshot of the book world as an exhibition.

Although we tend to write and talk about the "grand gesture" of the BEA experience--author breakfasts, celebrity sightings, "big books" and parties--I'm often struck by smaller moments: the unexpected encounter, the memorable quote, the discovery of an "under the radar" book.

Here are a few of my snapshots from this year's show album: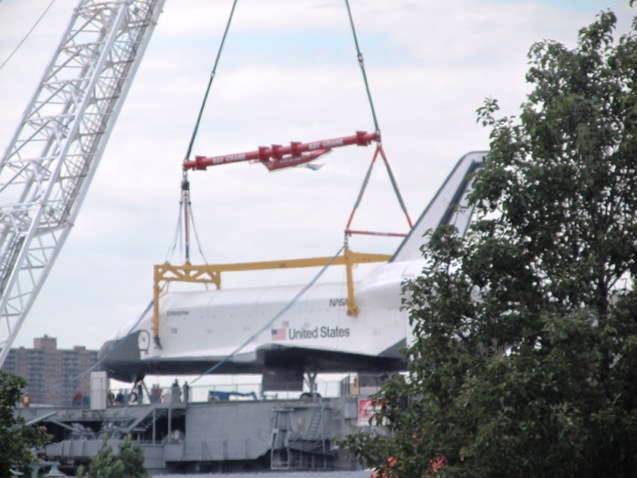 BEA in space: Heading up the West Side Highway from Javits on Wednesday, I realize the space shuttle Enterprise is supposed to "land" on the deck of the Intrepid Museum today. Is it there yet? I take out my camera. Seated on the right side of a moving bus, I know my only shot will be through the opposite window and across the highway. When the moment arrives, I snap two quick photos. Like many aspects of our business, it comes down to planning, reaction, adaptation and execution, plus a generous dose of blind luck.

Change is good: "I can guarantee you that nothing is permanent," says Chris Zane of Zane's Cycles at ABA's "Putting the Sell in Bookseller" panel. "The relationship that we have with our customers today is very different than five years ago and than it will be five years from now."

We meet at last: Despite the best of intentions and all those "See you at BEA!" exchanges online beforehand, you can easily spend the week at Javits without seeing a particular person. And yet, chance encounters happen every minute. After several years of virtual conversations about the book trade, I finally meet Kelly Justice of Fountain Bookstore, Richmond, Va., and we continue our bookish dialogue in person.

Passing ships: I just miss having my first conversation with Nancy Olson of Quail Ridge Books & Music, Raleigh, N.C. She's a bookseller I greatly admire, though we haven't met before. Unfortunately, when she stops to say hello on the show floor, we are both "on the run" and I immediately regret the opportunity that slips by. It's just the way of BEA.

Everywhere we go: On the other hand, Chuck and Dee Robinson of Village Books, Bellingham, Wash., are among the first booksellers I encounter Monday at Javits. And that night, as I stroll down Broadway after dinner--trying to avoid President Obama's motorcade on the way back to my hotel--there they are again, headed in my direction from their own dinner engagement. So we have another nice chat.

BEA Bookseller's quest: "This is what I look for. These are the books that may be the next The Help," says Kathy Patrick of Beauty & the Book, Jefferson Tex., smiling as she holds up a few of her recent discoveries.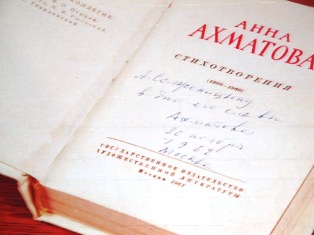 My favorite book: BEA is all about finding great new titles, but one now forever imprinted upon my mind is the photo of a collection of Anna Akhmatova's poems, inscribed to Aleksandr Solzhenitsyn. It is part of the vast Solzhenitsyn Archive, which was the subject of an extraordinary slide show presentation at BEA by his widow, Natalia.

Russia on my mind: I return often to the Read Russia booth during the show and will write about that experience next week. Even in the aisles, however, Russia keeps finding me. Knowing about my obsession, Schilt Publishing of Amsterdam's North American marketing liaison, Mary Bisbee-Beek, tells me about Schilt's determination to publish beautiful Russian photo books, including My Moscow: Photographs and Contemporary Russian Photography. Open Letter's Chad Post offers me a copy of Mikhail Shishkin's Maidenhair, which will be my first post-BEA read.

Memory ain't what it used to be: Barbara Kingsolver on buying a tablet: "I told him that what I mostly wanted to do with this tablet was read books. And he assured me that I needed almost no memory at all for an activity as primitive as that."

But memories are: Richard Russo on the important role of indie booksellers in discovering young writers like Lauren Groff and Jess Walter: "You wouldn't know who the hell Richard Russo was if indies in 1986 weren't handselling my books.... Anybody can sell my books now, but they couldn't in 1986."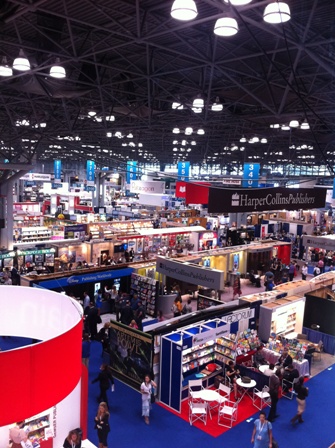 BEA in space, part 2: On the final day, I stand by the Galleria windows, which afford a panoramic view of the BEA show floor. It's like being on the command deck of a spaceship, scanning the planet below for signs of intelligent life. You can see those signs everywhere you look, if you're paying attention.--Robert Gray, contributing editor (column archives available at Fresh Eyes Now)