Shelf Awareness for Friday, September 14, 2012

News
Tomorrow Is Amazon Sales Tax Day for Californians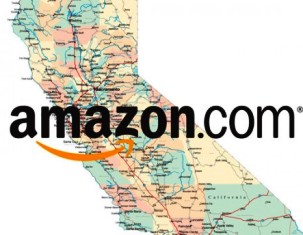 Tomorrow in California, Amazon will "take on a role it has fought against for years: tax collector," as the Associated Press put it, adding that the imminent deadline for the online retailer to begin collecting and remitting sales tax on purchases by Golden State customers "has spurred at least some consumers into impulse-buying mode, making big-ticket purchases and stocking up on essentials before the tax collection kicks in."

But California Retailers Association president Bill Dombrowski said, "It will remove one incentive for not buying local. Retailers are looking forward to it, but we don't go out and buy champagne on September 15."

California Governor Jerry Brown signed the sales tax fairness bill in September 2011, and in Bookselling This Week, American Booksellers Association CEO Oren Teicher called the change "a huge victory for sales tax fairness, and for Main Street retailers." He thanked the Northern California Independent Booksellers Association and the Southern California Independent Booksellers Association, among others, and especially "the tireless outreach efforts of California booksellers.... Indeed, our successes in the campaign for sales tax fairness are due, in large part, to the amazing advocacy efforts of independent booksellers throughout the country. And future success will hinge on the outreach of our members, as well."

Teicher also observed that "what many thought to be an impossibility only a few years ago is indeed becoming a reality as we inch ever-closer to passage of federal sales tax fairness legislation."

Amazon will begin collecting sales tax in New Jersey in July 2013; Virginia in September 2013; Indiana, Nevada and Tennessee in January 2014; and in South Carolina in January 2016, BTW wrote.



Bowker Study: More Adults Reading YA Books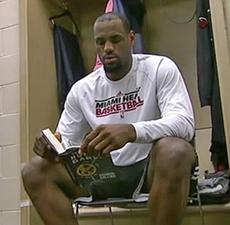 "Adult" is the key word in Young Adult book sales, according to new research from Bowker, which found that 55% of the buyers of YA books are 18 years old or older. The largest age segment (ages 30-44), which accounted for 28% of sales, said they were purchasing the titles for themselves 78% percent of the time.

"The investigation into who is reading YA books began when we noticed a disparity between the number of YA e-books being purchased and the relatively low number of kids who claim to read e-books," said Kelly Gallagher, v-p of Bowker Market Research."

The Hunger Games series by Suzanne Collins was cited by 30% of respondents, but the remaining 70% reported interest in a wide range of titles (more than 220), with only J.K. Rowling's Harry Potter and the Deathly Hallows and Stephenie Meyer's Breaking Dawn commanding more than 5% of overall sales.

Other highlights from the Bowker study indicated these YA book readers are:
Early adopters: More than 40% read e-books, equivalent to the highest adoption rates of adult genres of mystery and romance.
Committed: 71% say that if an e-book of their desired title was unavailable, they would buy the print book instead.
Loyal: Enjoying the author's previous books has a moderate or major influence over the book choice for more than two-thirds of the respondents.
Socially active: Although more than half of respondents reported having "no interest" in participating in a reading group, these readers are very active in social networks and often get recommendations from friends.


On Demand Writes EBM Prescription for CVS & Other Retailers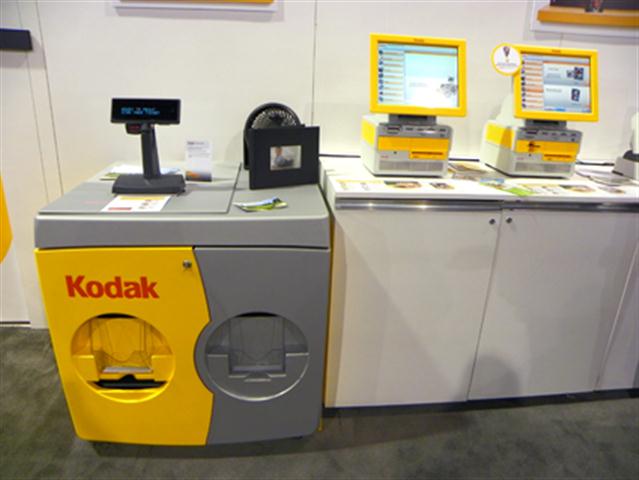 On Demand Books, Eastman Kodak Company and ReaderLink have partnered to offer national retailers technology that integrates the Espresso Book Machine with Kodak Picture Kiosks, allowing consumers to print photo books, self-published titles, educational supplements and more. There are 105,000 Kodak Picture Kiosks installed worldwide with retailers, including CVS pharmacy in the U.S. On Demand Books will also work with ReaderLink to bring in-copyright titles to non-trade bookseller channels.

"We envision an integrated solution that can substantially redefine the publishing industry and bring exciting new solutions to customers," said Dane Neller, CEO of On Demand Books.



Voice of the Heartland Awards Go to Murphy & Rubin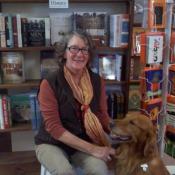 Liz Murphy (l.), owner of The Learned Owl Book Shop, Hudson, Ohio; and Roberta Rubin (below), owner of the Bookstall at Chesnut Court, Winnetka, Ill, have won the 2012 Voice of the Heartland Award, which the Great Lakes Independent Booksellers Association confers periodically to people or organizations that have shown a lifelong commitment to regional books and bookselling.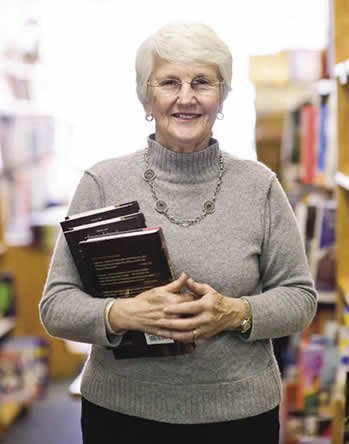 According to GLIBA's executive director Deborah Leonard, the board of directors unanimously selected Murphy and Rubin for the honor. Both have been booksellers and bookstore owners for 30 years, and both have served on the GLIBA board. Each has developed a national reputation for promoting regional books and regional authors by hosting creative events and hand-selling those titles.

The Voice of the Heartland Awards will be presented during the Heartland Fall Forum, which GLIBA and the Midwest Independent Booksellers Association will host jointly October 3-5 in Minneapolis. Suzanne Dagaetano, owner of Macs' Backs, Cleveland Heights, Ohio, will present the award to Murphy, and Random House sales rep Bridget Piekarz will present the award to Rubin.



Obituary Note: Dick McBride
Dick McBride, a poet who "was placed at the center of the Beat universe when he became a book clerk in the now world-famous City Lights Bookstore," died August 28 in the U.K., the Worcester News reported. He was 84.



Notes
Image of the Day: Captain Underpants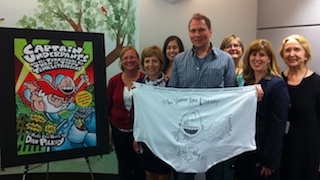 On Monday, the Lake Forest Book Store, Lake Forest, Ill., and the Vernon Area Public Library, Lincolnshire, hosted an event for Dav Pilkey that drew more than 500 fans of Captain Underpants. Because of limited space, guests were assigned one of three arrival times: families gathered in a large meeting room at the library, where they watched Dav Pilkey film trailers and worked on a Captain Underpants craft. Small groups were led into a second area of the library for book pickup and signing. In photo: Pilkey with staff of the bookstore and library.


SubText: A Bookstore Hosts Grand Opening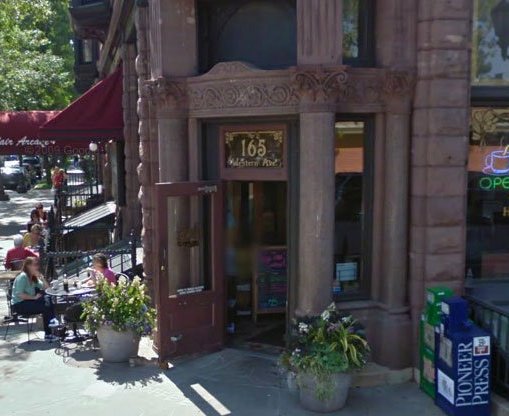 Congratulations to Sue Zumberge, owner of SubText: A Bookstore, St. Paul, Minn., which celebrates its grand opening this week. The Pioneer Press spoke with Zumberge and her business partners June Berkowitz--owner of the building as well as Nina's Coffee Cafe upstairs in the Blair Arcade--and Marcus Mayer, who is selling books for young readers as a "business withing the business" called Addendum at SubText.

"Now I can create my own vision of a neighborhood bookstore," said Zumberge, former manager of Garrison Keillor's Common Good Books, which relocated from Cathedral Hill to the Macalester College campus earlier this year.

Berkowitz, who is subsidizing rent and utilities for the bookstore, said, "I'm happy to finance Sue's space to keep her overhead low so she can get a start."

Zumberge and Berkowitz "are striving for upstairs-downstairs synergy between Nina's and SubText," the Pioneer Press wrote. "We see the store as a more quiet extension of the cafe," said Zumberge, adding, "I did want a community bookstore. It's the wave of the future. If you are going to have independents, they can't be big-box stores."



Amazon's Best Books of the Month for September
Amazon's best books of the month for September, as selected by Amazon editors, are:

Spotlight: The Signal and the Noise by Nate Silver
Mortality by Christopher Hitchens
This Is How You Lose Her by Junot Diaz
The Black Count by Tom Reiss
Sutton by J.R. Moehringer
How Music Works by David Byrne
Every Day by David Levithan
500 Days by Kurt Eichenwald
My Heart Is an Idiot by Davy Rothbart
NW by Zadie Smith
Debut Spotlight: The Yellow Birds by Kevin Powers




Book Trailer of the Day: National Geographic Book of Animal Poetry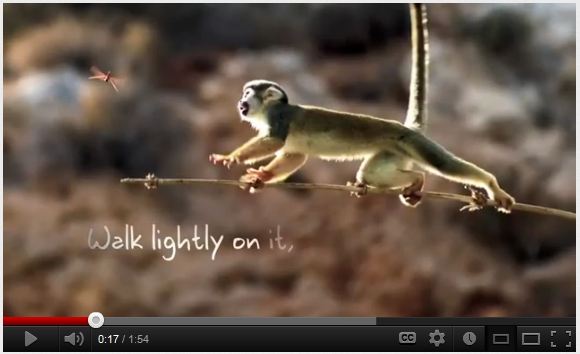 National Geographic Book of Animal Poetry: 200 Poems with Photographs That Squeak, Soar, and Roar! edited by U.S. Children's Poet Laureate J. Patrick Lewis (National Geographic Children's Books).


Media and Movies
Media Heat: Junot Diaz on NPR's Studio 360
Tomorrow on NPR's Weekend Edition: Mark Kriegel, author of The Good Son: The Life of Ray "Boom Boom" Mancini (Free Press, $27, 9780743286350).

---

Sunday on Weekend Today: Big Ang, author of Bigger Is Better: Real Life Wisdom from the No-Drama Mama (Gallery, $21.99, 9781451699609).

---

Sunday on Meet the Press: Bob Woodward, author of The Price of Politics (Simon & Schuster, $30, 9781451651102).

---

Sunday on CNBC's Wall Street Journal Report: Hanna Rosin, author of The End of Men: And the Rise of Women (Riverhead, $27.95, 9781594488047).

---

Sunday on NPR's Studio 360: Junot Diaz, author of This Is How You Lose Her (Riverhead, $26.95, 9781594487361).




Books & Authors
Awards: Flannery O'Connor Short Fiction; FT, Goldman Sachs Shortlist
This year's winners of the Flannery O'Connor Award for Short Fiction are Thieves I've Known by Tom Kealey and The Viewing Room by Jacquelin Gorman. Both collections will be published by the University of Georgia Press in the fall of 2013.
---
The shortlist for the 2012 Financial Times and Goldman Sachs Business Book of the Year Award consists of:

Why Nations Fail: The Origins of Power, Prosperity and Poverty by Daron Acemoglu and James A. Robinson (Crown Business)
The Hour Between Dog and Wolf: Risk-taking, Gut Feelings and the Biology of Boom and Bust by John Coates (Penguin Press)
Private Empire: ExxonMobil and American Power by Steve Coll (Penguin Press)
Steve Jobs: The Exclusive Biography by Walter Isaacson (Simon & Schuster)
What Money Can't Buy: The Moral Limits of Markets by Michael J. Sandel (Farrar, Straus and Giroux)
Volcker: The Triumph of Persistence by William L. Silber (Bloomsbury Press)

The winner will be announced November 1 at an award dinner in New York. The winner receives £30,000 (US$47,100); each shortlisted author receives £10,000 (US$15,700).




Book Brahmin: Peter Joseph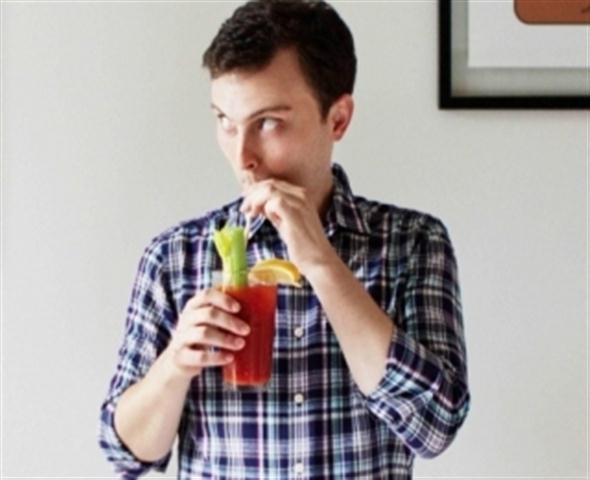 Peter Joseph is the author of the recipe guide Boozy Brunch: The Quintessential Guide to Daytime Drinking, just published by Taylor Trade. He has written about cocktails and pop culture for Flavorwire, Lost magazine and Pop Matters. A senior editor at Thomas Dunne Books, he lives in Brooklyn.
On your nightstand now:
Magic Hours by Tom Bissell, Tubes by Andrew Blum, Savages by Don Winslow and a teetering stack of Atlantic, Imbibe, New York, New Yorker, One Story and Time Out New York. A slightly dated American Heritage dictionary--its back cover boasts "new entries for such terms as barrio, E-mail, fiber optics, T-cell, and wetland"--remains a permanent fixture. Most recently I had to look up "hegira," thanks to Bissell.
Favorite book when you were a child:
I loved Roald Dahl's books, but I read C.S. Lewis's The Voyage of the Dawn Treader more times than any other book. It seemed barely related to the other Narnia novels and more just a good sea adventure, along the lines of Heyerdahl or, well, Homer.
Your top five authors:
I don't really have "top" authors--there are just so many good books--but some of my long-time favorites include Douglas Adams, Billy Collins, Lorrie Moore, Mary Roach and Kurt Vonnegut. These days I've been talking a lot about China Mieville and Bissell. And David Wondrich holds the position of best cocktail writer working today, though really he could probably write about anything and stand out.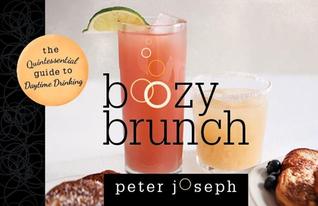 Book you've faked reading:
In high school I faked reading J.B. by Archibald Macleish and then mispronounced "Job" (rhyming it with "lob" instead of "lobe") when asked to read in class. It might not seem like a big thing, but at a Catholic high school my classmates noticed. I'd like to think I learned something from that embarrassment and made sure to actually do the work in the years following.
For those of us working in publishing, it's too easy to talk about books of which you've read reviews, commentary and sales copy but never actually picked up the work itself. That's a trap I try to avoid, with occasional success.
Book you're an evangelist for:
For years I gave people copies of Mary Roach's Stiff and Robert Sullivan's Rats as examples of good, popular nonfiction writing. More recently I've been telling people to read Some We Love, Some We Hate, Some We Eat: Why It's So Hard to Think Straight About Animals by Hal Herzog. Whether you're vegetarian and fretting about going vegan or you're a carnivore considering getting on the tofu wagon, this book examines a lot of the inconsistencies and contradictions that come with our relationships with animals. (There's also a memorable explanation of why the popularity of both the Beatles and Golden Retrievers can be chalked up to random drift.)
Book you've bought for the cover:
While living on an editorial assistant's salary, I bought complete sets of Georges Simenon and Leonardo Sciascia from New York Review Books. It was a very expensive impulse purchase, to say the least, but I love NYRB's packaging--I wish more publishers could follow such a simple, uniform style.
Book that changed your life:
Finding Douglas Adam's Hitchhiker's Guide to the Galaxy series in my middle school library--a private Catholic school library presided over by a nun, no less--probably affected my worldview more than anything else.
Favorite line from a book:
Not a line, but a scene from Winner of the National Book Award by Jincy Willett. It's a passionate rant about the "sensual experience of reading" and the memories of those moments. She captured that nostalgia for specific times in a reading life--the book read under the covers, or at the beach, or late one night in a 24-hour diner--that most of us possess.
Book you most want to read again for the first time:
It's impossible, but I often wish I could read the books that I've edited as a reader. Instead, whenever I look at them I can remember all the revisions, cuts, and additions that have happened along the way to publication. So my experience reading them will always be different from that of someone with looking at them with fresh eyes.
The best book to read that combines publishing and cocktail history:
Not a large category, I admit, but if you want to read about the publishing world during Prohibition, then find yourself a copy of Firebrand: The Life of Horace Liveright by Tom Dardis. He's a much livelier character than the more often remembered "editor of genius" Max Perkins. Liveright was a bon vivant who established his publishing house on a street notorious for its speakeasies, which should tell you something about his behavior. His life story is a good counterpoint to his former partner Bennett Cerf's tale of success in At Random, and should be read by every young person in publishing as a caution against over-imbibing and selling off the rights to your backlist.


Book Review
Review: The Wine of Solitude
The Wine of Solitude by Irène Némirovsky (Vintage Books, $15 paperback, 9780307745484, September 2012)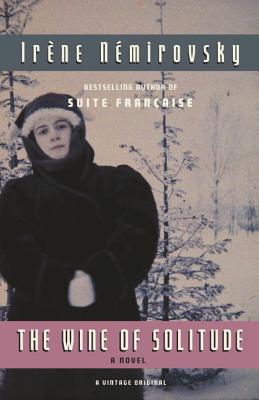 Since the posthumous publication of Suite Française, many more of Irène Némirovsky's works have been translated and re-translated, none more autobiographical than The Wine of Solitude, a bittersweet account of a young girl growing up in spite of her neglectful parents. It's a fiercely brave and angry little book, unsettling rather than satisfying, brutally unsentimental, stripped of domestic fantasy. Hélène begins the tale as an eight-year-old who scorns kissing and affection and is determined to be happy, shuttled about from the sleepy provincial Russian town where her tale begins to Paris, St. Petersburg and Finland, and grows into a lovely teenager determined to punish her spoiled, self-indulgent mother for years of selfishness.
Here are the sexual politics of cruelty, as in that other French classic of amoral manipulation, Les Liaisons Dangereuses, as Hélène progresses from an innocent who loves studying and books into a femme fatale committed to robbing her mother of her lovely young Max. Written with all the morbid emotionalism and destructive passions of Zola's nightmare novel of love gone berserk, Thérèse Raquin, Némirovsky's tributes to other greats of French literature are everywhere apparent, as she writes with the sparseness of de Maupassant and the audacious feminine wiles of Colette.
The characters are multidimensional and pathetically human, from Hélène's devoted grandfather--who squanders three fortunes--and her prophetically sad grandmother, weeping as she does the household chores, to the doomed young governess, Mademoiselle Rose, and Max, tricked into giving his heart to his mistress's daughter. They exist, all of them, in a world of wealth and privilege, untroubled by "the sad sound of soldiers marching toward death."
It's the birth of a writer, shaped by war and revolution, told with the devastating cynicism of a young woman in a corrupt and greedy social world, where mothers openly flaunt their lovers and children are humored and ignored. As Hélène hardens herself into vengeance mode, she becomes progressively more realistic and less likable. Ultimately, she can only join her author in concluding, as an independent woman striking out on her own, "Do you think there's anyone in the world who can do without love?" --Nick DiMartino
Shelf Talker: The neglected daughter of selfish, upwardly mobile parents decides to punish her mother by stealing her handsome young lover in Némirovsky's autobiographical novel.


Deeper Understanding
Robert Gray: 'Write Three Honest Pages'--SIBA Trade Show Tales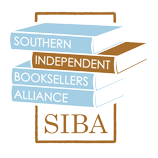 "My guess is you're here because you love books or are homeless or are dating someone who loves books," said author Randy Wayne White (Gone) during the SIBA Supper last Friday at the Southern Independent Booksellers Alliance trade show in Naples, Fla. He was talking about the critical importance of stories--found ones as well as lost ones: "If you have the calling to write; if your clients have the calling to write, I urge you to answer that call, to have them answer that call."

He described storytelling as an absolute necessity "to anchor one's life in the world" and called upon his audience to get their grandparents to "write three honest pages about themselves. If we don't write it down, we're lost."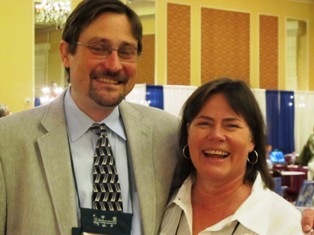 The SIBA show is a storyteller's theme park. Here's a story: Frazer Dobson and Sally Brewster of Park Road Books, Charlotte, N.C., told me they were introduced to one another a decade ago at SIBA. How did they celebrate the 10th anniversary of that first meeting and their subsequent marriage? By attending this year's SIBA show, of course, where Frazer, who is a rep for Como Sales, spent his time telling booksellers stories about Workman's new list; and Sally, as emcee of the Taste of HarperCollins Breakfast Saturday, observed that storytelling is "the best way to sell books. A story sells a story."

We have a courtship story, so how about a birth story? Also at the breakfast, Mary Kay Andrews (Savannah Blues) called SIBA's show the place "where I think I was born as an author. We start one place and our stories come round full circle."

During the show's Kick Off Lunch, Michael Morris (The Man in the Blue Moon) told the story of a "trunk tour" he and his wife embarked on several years ago to promote his first book, A Place Called Wiregrass. "Remember the movie Coal Miner's Daughter where they're riding around eating baloney sandwiches and looking for radio towers?" he asked. "Well, we were eating Subway sandwiches and looking for SIBA stores. This is like coming home to me." Morris also noted that he'd been born into a family who "weren't readers, but they were storytellers."

That theme was echoed by Stephanie McAfee (Happily Ever Madder), who said because her family owned a trucking company, she'd learned much about the world when she was young through what she called "CB news," which was "broadcast" to her town when the "truckers picked up stories from all over the country and brought them back... embellished."

William Joyce (The Guardians of Childhood), whose Oscar-winning short film The Fantastic Flying Books of Mr. Morris Lessmore was screened during the SIBA Supper, recounted the nightmarish time after Hurricane Katrina struck, and one redemptive moment when he spotted a child intently reading a book in a stadium packed with 18,000 displaced people. "This is something that is more powerful than technology," he said. "People need stories."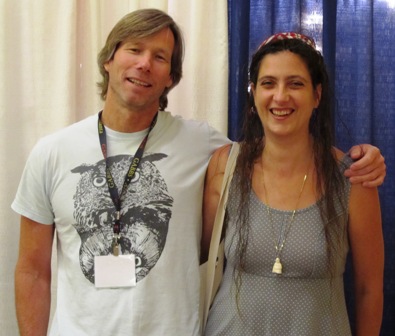 When Nicki Leone, SIBA's website administrator and newsletter editor, and programmer Ian Oeschger presented a "demystifying e-books" education session, they explored alternative and "hyperlocal" storytelling possibilities for indie booksellers, advising indies to create their own e-stories.

Whether it's the history of an ancient graveyard in town or a guide to area restaurants, "there are dozens of e-books that you could create and sell yourself," Leone said. "One of SIBA's goals is to help people develop this hyperlocal option. There's a ton of stuff you can create without needing to be a rocket scientist and you can sell it."

Oeschger, who envisions indie booksellers "becoming book creators as well as book promoters," demonstrated how this could be achieved using Calibre, which he described as "kind of disruptive in a good way in the e-book market."

While noting that "if you thought you could sell your own annotated version of Moby Dick you are free to do so," he also emphasized the advantages of a more regional focus: "Aren't we all in the business of creating hyperlocal content?"

Maybe in the end we are the stories we sell and tell. Ask Cliff Graubart, who described himself during one panel as "a bookseller first, a publisher second and I've always had a table at SIBA. I always had a fantasy of walking around the show as an author." And so he was last week, talking about his new collection of stories, The Curious Vision of Sammy Levitt.--Robert Gray, contributing editor (column archives available at Fresh Eyes Now)