Friday, November 16, 2012: Dedicated Issue: Book Keeping

Editors' Note
Book Keeping
With support from the publisher, Shelf Awareness here celebrates Book Keeping, the readers' community created by Farrar, Straus and Giroux and Sarah Crichton Books/FSG. The stories were written by Shannon McKenna Schmidt.


Books & Authors
Buzzing for Book Keeping
Like bees to nectar, bibliophiles are drawn to Book Keeping, the readers' community created by Farrar, Straus and Giroux and Sarah Crichton Books/FSG. Launched on Facebook in mid-September, Book Keeping provides book lovers with a wealth of content--author essays and q&as, polls, quizzes, sweepstakes, sneak peeks at covers, event announcements and more.
"We're bringing our readers and authors directly to each other," said Kathy Daneman, assistant director of publicity. Book Keeping was established to support fiction and nonfiction titles with broader mass appeal than those promoted in the publisher's online forum Discourse in Progress, which focuses on current affairs, and Work in Progress, a blog/app dedicated primarily to literary fiction and poetry.
Since Book Keeping launched, the Facebook page has garnered more than 900 likes. The main wall is a lively hub of activity with news and commentary on FSG titles as well as books from other houses, links to articles elsewhere on the web and information on industry events such as Banned Books Week. "The Hive," a section on the Facebook page (also available as an app), focuses exclusively on FSG titles.
The quiz "How Well Do You Know Comedy?" has sparked interest in We Killed: The Rise of Women in American Comedy by Yael Kohen. The Book Keeping community also was invited to listen to an excerpt from the audio version of Ian Frazier's novel The Cursing Mommy's Book of Days, read by actress Cynthia Nixon, and can download a discussion guide for Lisa Zeidner's novel Love Bomb. (See more on all three authors below.)
Zeidner, in turn, enjoyed a piece that Ben Schrank, the author of the novel Love Is a Canoe (Sarah Crichton Books, January 2013), wrote for the "Culture Diary," one of many features in The Hive. Another is "Photoset," a visual look into an author's life. Among this month's highlights on Book Keeping is a sweepstakes for Silver Linings Playbook (Sarah Crichton Books), Matthew Quick's debut novel and the basis for the movie version, which opens November 21 and is already generating Oscar buzz.
Although Daneman is the primary manager of the Facebook page, her colleagues help keep Book Keeping buzzing, making suggestions for posts and creating content, like a "galloping poll" that asked readers which fictional character would have had their vote for president. As Jeff Seroy, senior v-p, marketing and publicity, explained, "Those who come to Book Keeping will get a sense of the personality of FSG--which is really the personality of all of us here--and how we engage with the world, our books, each other and the people outside FSG."


Desperate Housewife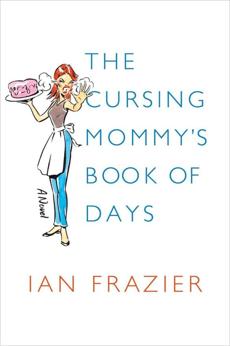 "Let the fucking ides of March beware of ME," declares the Cursing Mommy. Told in diary form, Ian Frazier's first novel, The Cursing Mommy's Book of Days (Farrar, Straus and Giroux), chronicles a year in the life of the lively title character. The harried housewife contends with parenting struggles, marital discord, household mishaps and an unwanted admirer. She copes by cursing (former Bush administration officials are regularly blasphemed) and consuming martinis... and red wine... and brandy.
The Cursing Mommy is "a conscientious and hopeful person, and then she falls apart," Frazier said. "She flips out and yells, but she always bounces back. I see her as the kind of person who does the world's work but not necessarily with a smile." If there is anyone in the author's household who most resembles the character, it's him. "My wife says that the Cursing Mommy is me, not her, because I'm the more volatile one in the family," he admitted.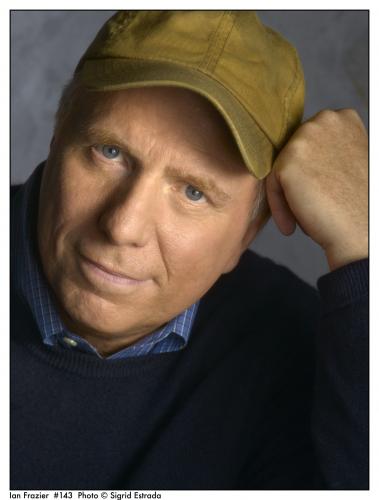 The novel is based on Frazier's long-running column in the New Yorker which, along with garnering legions of fans, has inspired letters from disgruntled readers who objected to the colorful language. Some even cursed Frazier "up one side and down the other," trying to outdo him with the swearing. Actually, although Mommy "thinks she's cursing a blue streak, there are much worse things you can say," Frazier commented.
Frazier has a particular fondness for his character, who was inspired in part by the late Phyllis Diller. But there is more to the Cursing Mommy than first meets the eye. "She's philosophical," Frazier said. "She thinks about big questions, and she loves poetry. I see her as a combination of a '50s type of disaffected housewife and Sylvia Plath."
After spending 17 years working on his last book, Travels in Siberia--including traversing the remote region and learning Russian--Frazier looked forward to spending time with the Cursing Mommy. "It was fun to do something where I just channeled and wrote it as this character rather than going out and researching and doing all the detail work that nonfiction requires," he said. "They're different forms, but in both you're listening to voice."
Although Frazier hasn't ruled out bringing back the hilariously foul-mouthed character for an encore novel, he has his sights set on reportage next. As he put it, "One sort of gives me an appetite for the other."


What She Said
Before the female ensemble comedy Bridesmaids became a box office phenomenon and earned its leading lady and co-writer, Kristen Wiig, a 2012 Oscar nomination, publisher Sarah Crichton sensed a "timely and important" trend developing. Several years ago, after watching a PBS series on American humor, part of which focused on female comedians, she began considering an oral history book on the subject and set out to find someone to write it.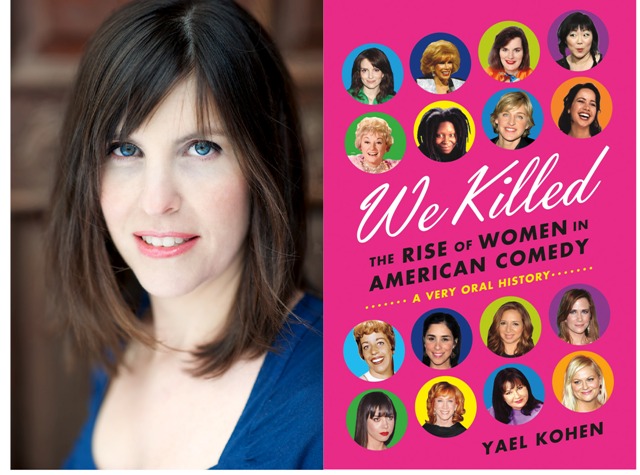 Yael Kohen, meanwhile, was crafting an oral history about women in comedy for Marie Claire. Researching and writing the magazine article took her interest in comedy beyond that of a casual fan and inspired her to delve deeper into the topic. "I decided there was more to this story than could be covered in just a few pages," she explains in the introduction to We Killed: The Rise of Women in American Comedy (Sarah Crichton Books).
From the 1950s to the present, We Killed charts the changing roles of female comedians and resoundingly lays to rest the incendiary question, "Are women funny?" Kohen interviewed more than 150 people, from prominent comedians like trailblazing housewife-turned-celebrity Phyllis Diller to contemporary wit Chelsea Handler, along with writers, producers, nightclub owners and colleagues closely connected with the funny women.
Structuring the book in an oral history format appealed to Kohen because it is "a more fun, dynamic way" for readers to engage with the material. "I thought it would be great for people to hear how the comedians actually talked about it themselves, through their voices," she said. In We Killed, she illuminates how each generation of women developed its own style of comedy and explores the cultural factors that influenced them. "I wanted people to understand them in the context of their eras," said Kohen. "In a lot of ways, it's a story of women entering the workforce and the barriers they came up against."
Crichton agreed, citing a review that deemed We Killed a significant social and cultural history. "This book is a very real and important document," she said, "along with being totally fascinating and tremendous fun."


Wedding Interruptus
Having witnessed more people tie the knot than she can remember, Lisa Zeidner had the details down for the central occasion in her novel Love Bomb (Sarah Crichton Books). Not as well versed in how a SWAT team operates, she deployed on training missions with law enforcement officers to make sure she understood the ins and outs of a hostage rescue situation. "I learned I'm the worst shot on the Eastern seaboard," confessed Zeidner, who directs the M.F.A. program in creative writing at Rutgers University in Camden, N.J.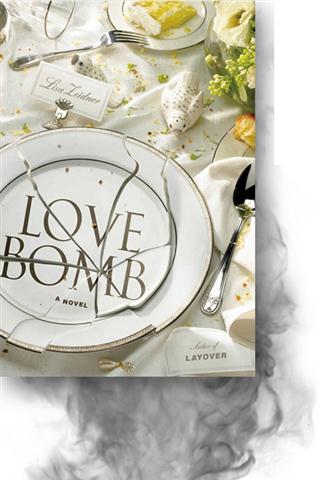 In Love Bomb, a wedding at a suburban home is interrupted by the appearance of an uninvited guest--a woman dressed in a bridal gown, accessorized with a gas mask and a detonator strapped to her arm. Over the next nine hours, the trapped nuptial attendees speculate on who among them is responsible for pushing the interloper over the edge. Could it be the thrice-married philanderer? How about the army general? One of the many psychiatrists present speculates that the fake bride is suffering from schizophrenia.
"Lisa has such a hilarious and distinctive voice," publisher Sarah Crichton said. "I kept cracking up while reading Love Bomb but also, it's so smart." The mordantly funny tale shifts from a hostage drama into an expansive story that reflects on the infinite varieties of passion and heartbreak. The spate of real-life violence perpetrated by male gunmen in recent years prompted Zeidner to contemplate "how we think about women and anger. Would we react differently if it was a woman aiming a gun at us? That was really the genesis."
An inspiration for the story was the darkly comic film Dog Day Afternoon, in which a character played by Al Pacino takes hostages after a bank robbery goes awry and engages in a standoff with police. "His motives in the movie are very surprising," said Zeidner. "That's something I really loved and used as a model in a way."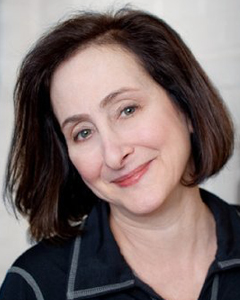 For three of the five years Zeidner worked on Love Bomb, she had no idea who the woman was behind the gas mask and turned to a forensic psychiatrist and other professionals to help fill in the blanks. "No wedding research, but a lot of shrinks and cops," she noted. Despite having a clear image of what the renegade bride was going to do, Zeidner didn't know what the motivations were behind her extreme behavior. "I worked backwards from an imaginary person to a diagnosis and then figured out who she was."
A character in Love Bomb compares herself to a Jane Austen heroine, while novelist and screenwriter Rafael Yglesias has likened Zeidner herself to a modern-day version of the classic scribe. "If Jane Austen had lived to witness 9-11, Lisa Zeidner's witty and terrifying comedy of romantic manners is what she would have written," he declared. "It's brilliant, funny and scary."