Shelf Awareness for Tuesday, August 6, 2013

News
Stop the Presses! Bezos Buys Washington Post
In a deal announced yesterday, Amazon CEO Jeff Bezos has signed a contract with the Washington Post Company to purchase its newspaper publishing business and other publishing assets for $250 million. The purchaser is not Amazon.com, but an entity that belongs to Bezos personally.


Washington Post Company chairman and CEO Donald E. Graham said that he, Katharine Weymouth (his niece and CEO and publisher of the newspaper) and the board of directors "decided to sell only after years of familiar newspaper-industry challenges made us wonder if there might be another owner who would be better for the Post (after a transaction that would be in the best interest of our shareholders). Jeff Bezos' proven technology and business genius, his long-term approach and his personal decency make him a uniquely good new owner for the Post."

"I understand the critical role the Post plays in Washington, D.C., and our nation, and the Post's values will not change," said Bezos. "Our duty to readers will continue to be the heart of the Post, and I am very optimistic about the future."

Continuing in their current roles under new ownership will be Weymouth, Stephen P. Hills, president and general manager; Martin Baron, executive editor; and Fred Hiatt, editor of the editorial page. Weymouth said she has asked "the entire senior management team at all of the businesses being sold to continue in their roles as well."


In a letter to Post employees, Bezos acknowledged that many of them will greet the news "with a degree of apprehension," but noted that the "values of the Post do not need changing. The paper's duty will remain to its readers and not to the private interests of its owners. We will continue to follow the truth wherever it leads, and we'll work hard not to make mistakes. When we do, we will own up to them quickly and completely."

Although he won't be leading the Post day-to-day and is "happily living in 'the other Washington' where I have a day job that I love," Bezos wrote that there "will of course be change at the Post over the coming years. That's essential and would have happened with or without new ownership.... We will need to invent, which means we will need to experiment. Our touchstone will be readers, understanding what they care about."



Bezos cited two kinds of courage the Grahams "have shown as owners that I hope to channel. The first is the courage to say wait, be sure, slow down, get another source. Real people and their reputations, livelihoods and families are at stake. The second is the courage to say follow the story, no matter the cost. While I hope no one ever threatens to put one of my body parts through a wringer, if they do, thanks to [Katharine] Graham's example, I'll be ready."
Bezos has a history of investing personally in projects and companies, most famously in creating a venture for space exploration, for financing a project to recover an Apollo rocket from the ocean and for creating a clock buried in Texas that will tick once a year for 10,000 years. He also has invested in a range of companies whose products and services feature "disruptional technology."
His politics are libertarian and partly predictable: he gave $2.5 million to the campaign for marriage equality in Washington State and fought a state initiative to tax wealthy residents. The Amazon PAC has given money equally to Democrats and Republicans. Bezos is not known for charitable largesse a la fellow Seattle entrepreneur Bill Gates.
The deal covers the Washington Post and other publishing businesses, including the Express newspaper, the Gazette Newspapers, Southern Maryland Newspapers, Fairfax County Times, El Tiempo Latino and Greater Washington Publishing.

The Washington Post Company, which will change its name, retains several entities, including Slate magazine, TheRoot.com, Foreign Policy and Kaplan, as well as the headquarters building in downtown Washington, D.C.


The Post Speculates on a Future Under Bezos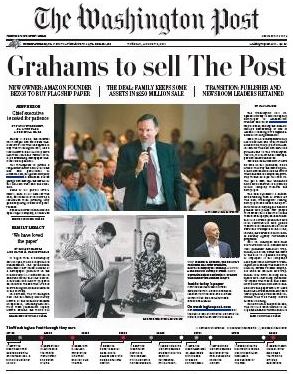 The Post itself had a long analysis of how the newspaper might change in the Bezos age, a piece that relies on observations by former newspaperman and news and media entrepreneur Alan Mutter (no relation to the editor-in-chief of Shelf Awareness). Among his points:
Wall Street, which has made the expansion of Amazon possible by allowing the company to bleed money without consequence, would not, however, countenance a purchase of another potential money drain. Thus Bezos purchased the Post directly. "He can use all the tools that are available to Amazon," Mutter said. "And if he does something with the Washington Post brand that advances the story for Kindle or Amazon Prime, [stockholders] aren't going to mind." (And there might have been at least a glimmer of anti-trust concern.)
Bezos overpaid for the Post because, Mutter said, "He sees the value in a brand that far surpasses what he's looking at today."
The Post website will take a strong sales and advertising emphasis. Bezos "invented e-commerce," Mutter said. "You don't think there's going to be e-commerce on every page of the Washington Post?"
The Post will mine data about its readers in ways not seen before in the newspaper world.
Bezos's ownership of the Post may help Amazon attract more authors to publish original digital titles with Amazon.
The Post will have a huge circulation boost if it becomes the default app on every Kindle or the print version is included in packages sent from Amazon warehouses.
The Post's news video offerings could become part of Amazon Prime's Amazon Instant.
Like Amazon itself, under Bezos ownership, the Post doesn't need to make money now. Noting recent purchases and expressions of interest in major newspapers by very rich men with a range of reasons for buying them, Mutter said, "We're in a post-profit era for newspapers."


Bezos and the Post: Industry Reactions
Reaction in much of the book world to the news that Jeff Bezos is buying the Washington Post ranged from shock to gloom--with a few people trying to find silver linings. ("It's Bezos personally, not Amazon." "He has the money to keep the Post going." "At least it wasn't Murdoch.") Several people thought the news was a late--or early--April Fool's joke or an Onion story.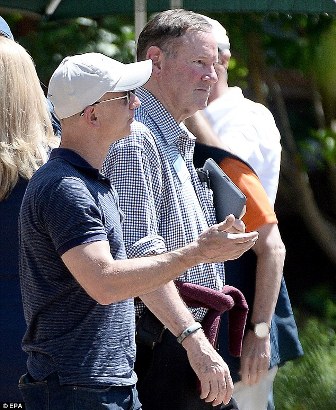 Jeff Bezos with Donald Graham [photo: European Pressphoto Agency]
Of course, the major concern is that the purchase gives Bezos and Amazon much more influence in Washington than he already has, considering that the Justice Department has made life much easier for Amazon with the e-book agency model price collusion case and that President Obama last week began touting Amazon as a leader in creating good jobs and expanding the economy. (Apparently this new capital connection has a history: according to the Post, Bezos has "maintained a long friendship with [Post Co. chairman and CEO Donald] Graham, and they have informally advised each other over the years. Graham, for example, advised Bezos about how to feature newspapers on the Kindle, Amazon's popular e-reader." )
A few people concerned about journalistic standards and the company's use of the concept of the customer experience to justify almost every unsavory and predatory move worried about Bezos's comment that "our touchstone will be readers, understanding what they care about--government, local leaders, restaurant openings, scout troops, businesses, charities, governors, sports--and working backwards from there."
One wag said she wondered how Bezos could afford the Post purchase after his earlier purchase of the Justice Department. (Actually, the $250 million purchase price represents just 1% of Bezos's estimated net worth.) Another said she felt like she's on the Starship Enterprise with the Borg now at the controls. Yet another said, "There goes the investigative story about the relationship between Amazon and the Justice Department." Others wondered when any item mentioned in the Post will have links to Amazon. Likewise there were jokes about Woodward & Bezos, the new Post-Amazon Prime subscription model, and whether the hilarious Ron Charles might be reassigned to do videos shilling Amazon.
For our part, all we can say is that for the people who have called us paranoid about Amazon's plans for world domination, we rest our case--nervously.


HMH Files for IPO
HMH Holdings, the parent company of Houghton Mifflin Harcourt, filed for an initial public offering of common stock worth up to $100 million last week. The Associated Press (via Bloomberg Businessweek) reported that all of the shares "are being sold by certain shareholders and the company will not receive any of the proceeds." The move came about a year after the company emerged from bankruptcy protection, having filed for Chapter 11 in May 2012 "after reaching an agreement to eliminate $3.1 billion of its debt," the AP noted.


Notes
Image of the Day: Northshire's Off to the Races in Saratoga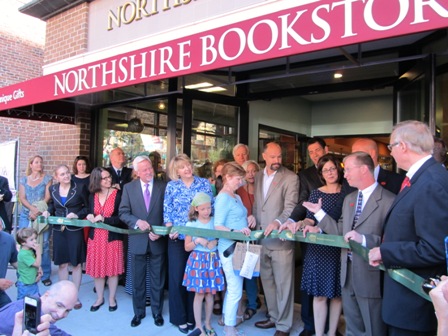 Yesterday morning, Northshire Bookstore hosted what it had previously described as a "brief ribbon cutting ceremony" to mark the soft opening of its new store in Saratoga Springs, N.Y. The ribbon-cutting may have been brief, but the celebration drew a large and excited crowd, who were in a book-buying mood before and after the event. In the photo (near the center, in a tan suit), co-owner Chris Morrow holds the ribbon. To his right is Saratoga resident Pat Friesen, whose petition drive provided early momentum for the Northshire to consider bringing an indie bookstore to the Spa City; and directly behind her are Ed and Barbara Morrow, co-founders of the Northshire Bookstore in Manchester, Vt., in 1976. Northshire Bookstore Saratoga will hold its grand opening September 29.


Author Tour Challenge of the Day: Who's Cutting the Oats?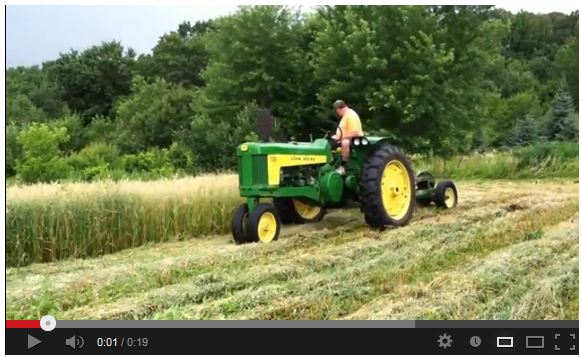 Authors face many challenges when they are making plans for a book tour, but Michael Perry shared a unique one he faced recently as he was about to hit the road for the paperback edition of Visiting Tom: A Man, a Highway, and the Road to Roughneck Grace. On YouTube, Perry wrote: "I usually cut my oats with a scythe but the weather and calendar had me cornered. My neighbor (also a Tom but not that Tom) kindly came over and knocked them down for me. We'll bale them and feed them to the chickens over the winter. They strip the oats then break up the straw and by spring it makes great compost fodder. I have good neighbors and am grateful."


Staff Appointments at New Cincinnati Bookstore
The following appointments have been made at the Booksellers on Fountain Square, the DK Booksellers store in downtown Cincinnati, Ohio, that will open in early September:
Scott DeMarco, former marketing manager with Joseph-Beth Booksellers, is now the general manager.
Bill Carl, former assistant general manager with Joseph-Beth Booksellers, is now assistant store manager.
Emily Webster, former operations manager with Joseph-Beth Booksellers, is now store operations manager.
Owned by Neil Van Uum, a co-founder of Joseph-Beth, DK Booksellers also operates the Booksellers at Laurelwood, Memphis, Tenn.


Personnel: More Promotions at Scholastic
In addition to the trade publishing staff changes reported recently, Scholastic has also announced a number of promotions in corporate communications department:


Sara Sinek has been promoted to v-p, corporate communications.
Morgan Baden is now senior director, internal communications & social media.
Anne Sparkman is manager, corporate communications.
Chris Johnson is senior producer, intranet & special projects.
Megan Kaesshaefer is manager, social media & special projects.
Lia Zneimer is writer, producer, internal communications and social media.
Kristen Joerger is senior digital publicist, corporate communications.


Book Trailer of the Day: What Poets Are Like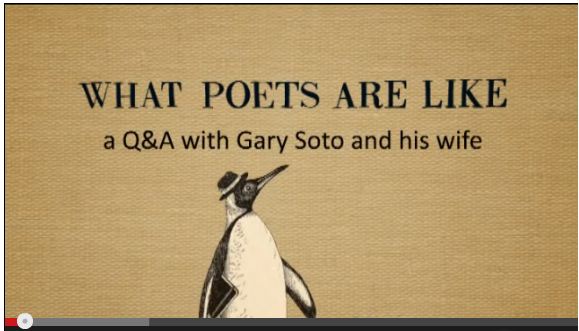 What Poets Are Like: Up and Down with the Writing Life by Gary Soto (Sasquatch).


Media and Movies
Media Heat: Chris Colfer on Good Morning America
This morning on Imus in the Morning: Reza Aslan, author of Zealot: The Life and Times of Jesus of Nazareth (Random House, $27, 9871400069224).
---
This morning on MSNBC's Morning Joe: Joseph Finder, author of Paranoia (St. Martin's Griffin, $15.99, 9781250035271), basis for the new feature film that opens August 16. He'll appear with Liam Helmsworth, a star of the film.
---
This morning on Good Morning America and Live with Kelly & Michael: Chris Colfer, author of The Land of Stories: The Enchantress Returns (Little, Brown Books for Young Readers, $18, 9780316201544).
---
Tomorrow morning on Fox & Friends: Christopher Andersen, author of These Few Precious Days: The Final Year of Jack with Jackie (Gallery, $27, 9781476732329). He will also appear on Inside Edition.

---

Tomorrow on BBC's World News America: Wil Haygood, author of The Butler: A Witness to History (37 Ink, $18, 9781476752990). He will also appear on ABC Radio's Tom Joyner Morning Show.

---

Tomorrow on Sirius XM's Judith Regan Show: Jeff Guinn, author of Manson: The Life and Times of Charles Manson (Simon & Schuster, $27.50, 9781451645163).

---

Tomorrow on NPR's Diane Rehm Show: Leigh Gallagher, author of The End of the Suburbs: Where the American Dream Is Moving (Portfolio, $25.95, 9781591845256).


TV: Sherlock Teaser
A teaser clip has been released from Season 3 of the BBC series Sherlock, which "won't see the light of day in the U.S. on PBS until sometime in 2014," Deadline.com reported, adding that the clip "doesn't reveal much--Martin Freeman's Watson now has a mustache, so there's that. But that hasn't stopped the Webs from going nuts over this 30-second spot."


Movies: Cymbeline
Ethan Hawke, who "ushered in the new millennium with Hamlet," will team with director Michael Almereyda again for a film adaptation of Shakespeare's Cymbeline, taking the "romantic tragedy set against warring factions Romans and Celtic nobility and updating it into a story about dirty cops and a drug-dealing biker gang," Indiewire reported, adding that there is no word yet "on which role Hawke will take or if he and Almereyda will manage to grab the same kind of starry cast they did last time out." Deadline.com reported yesterday that Ed Harris will play the king. Production starts this month.


Books & Authors
Awards: Jan Michalski Prize for Literature
Finalists have been announced for the CHF 50,000 (about US$53,815) Jan Michalski Prize for Literature, Literary Saloon reported. The award is given annually "to crown a work of world literature. An original feature of the prize is its multicultural nature. It is open to authors from the world over and is intended to contribute to their international recognition. The prize will be awarded for works of fiction or nonfiction, irrespective of the language in which it is written." The winner will be announced in November. This year's shortlisted titles are:

L'Aigle et le Dragon by Serge Gruzinski
The Colonel by Mahmoud Dowlatabadi
The Emperor of Lies by Steve Sem-Sandberg
The Old Ways by Robert Macfarlane
The Walls of Delhi by Uday Prakash


Book Review
Book Review: Subtle Bodies
Subtle Bodies by Norman Rush (Knopf, $26.95 hardcover, 9781400042500, September 10, 2013)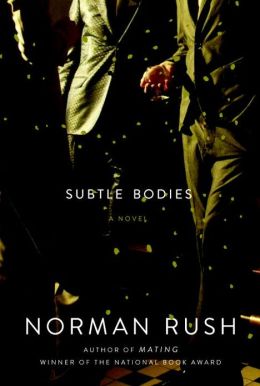 The sudden death of a childhood friend leads Ned, a political activist and self-described anarchist, to leave his California home for the funeral in the Catskills. Furiously pursuing Ned is his wife, Nina, who is trying to get pregnant and, currently ovulating, needs her husband at the exact moment he has departed. As Subtle Bodies, Norman Rush's first novel in a decade, begins, then, the main character flies toward death with a representation of life (or the potential for life) at his back. This sort of symbolism pervades the novel, which has the feel of an allegory ripe for decoding.
Douglas, whose accidental death sets Ned (and the plot) in motion, was the charismatic leader of a group of friends at New York University. The "wits," as Nina derisively refers to them, saw themselves as possessing the potential to change the world. As the story unfolds, it becomes apparent that Ned has always measured himself against Douglas, most sharply manifest in Ned's relationship prior to Nina with the flawlessly beautiful Claire, once Douglas's lover. In this manner, Ned has always lived in his friend's shadow; at the dead man's palatial estate, he has a chance to grapple with that shadow in earnest.
In keeping with the highly cerebral nature of Subtle Bodies, Rush's characters appear to represent ideas. Ned, in Nina's mind, is a "secular Jesus," a role he tirelessly enacts throughout the book in organizing a rally against the war in Iraq. Ned spends the time leading up to Douglas's funeral attempting to convince his friends to sign a petition against the war, refusing to take no for an answer. As a counterpart to Ned's Jesus figure, Nina may be Mary Magdalene--nurturing, unshakably loyal and strongly sexual. Life with Nina is so enjoyable to Ned that he imagines it as a "burlesque show with sex and comedy going on nonstop." Meanwhile, Ned's long-lost friends (the apostles, perhaps?), now reunited, are each defined by specific qualities: the cynical intellectual, the faithful if rather simple-minded friend, the pragmatist. And as Nina and Ned investigate the past, the identity of Judas--a betrayal to which Ned blinded himself for years--is at last revealed. --Ilana Teitelbaum
Shelf Talker: The National Book Award-winning author of Mating presents an examination of friendship, sexual fidelity and the tragic limits of idealism.


The Bestsellers
Top-Selling Christian Books
The following were the bestselling Christian books as compiled by the Evangelical Christian Publishers Association for July:

1. Jesus Calling by Sarah Young (Thomas Nelson)
2. Not a Fan by Kyle Idleman (Zondervan)
3. Jesus Calling, Large-Print Deluxe Edition by Sarah Young (Thomas Nelson)
4. The Real Win by Colt McCoy, Matt Carter Waterbrook/Multnomah)
5. Heaven Is for Real by Todd Burpo (Thomas Nelson)
6. Circle Maker by Mark Batterson (Zondervan)
7. Happy, Happy, Happy by Phil Robertson (Howard Books)
8. Jesus Calling, Deluxe Edition by Sarah Young (Thomas Nelson)
9. Jesus Calling, Women's Edition by Sarah Young (Thomas Nelson)
10. The 5 Love Languages by Gary Chapman (Moody Publishers)

[Many thanks to the ECPA!]