Shelf Awareness for Friday, September 13, 2013

Quotation of the Day
Indies 'Are Here, We Are Healthy & Will Thrive'
"The upcoming fall season always gets me enthusiastic. This one especially so, because I think we will all enjoy a strong list of titles that will yield great sales. In addition, sales at member stores are keeping pace with the very strong gains of last year.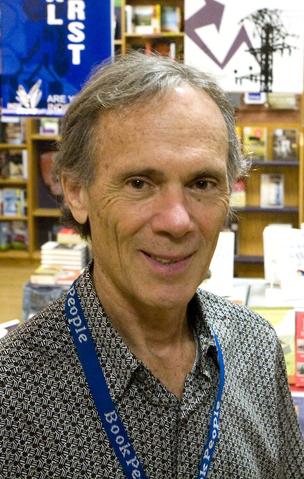 I fully expect my store, BookPeople, to finish 2013 with its fourth consecutive best year in our history, and, while not all bookstores are experiencing the same level of gain, I know that all of you are working hard to become more profitable. Member stores are opening new locations and are being sold to new booksellers in record numbers across the country. All of this is a good sign that we are here, we are healthy and will thrive into the future."


News
Books-A-Million's New Sideline: Shopping Centers
Books-A-Million is developing an unusual bookselling sideline: owning and operating shopping centers. According to a form 10-Q filed with the SEC, during the second quarter of this year, which ended August 3, the company bought the Century Shoppes at Gardendale, a shopping center in Gardendale, Ala.; it also owns one in Florence, Ala. Together the shopping centers have 254,000 square feet of space.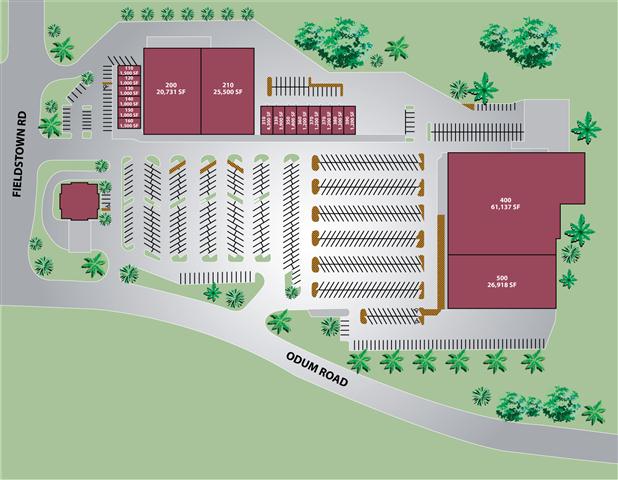 The Gardendale shopping center is expanding: it's broken ground for a Publix grocery store, and T.J. Maxx is reportedly joining the roster of tenants.
BAM has created a new operating segment, real estate development and management, for its shopping centers, which during the quarter had revenue of $409,000, up from $60,000 in the second quarter last year, now accounting for 0.4% of BAM's revenue. (The gain was primarily because of the addition of the Gardendale shopping center as well as an increase in tenants in the Florence shopping center.) Gross profit from real estate development and management rose to $408,000 from $60,000.
BAM is no stranger to sidelines: in 2010 it bought Yogurt Mountain Holding, a retailer and franchiser of self-serve yogurt, which now has 44 locations, many in BAM stores.


Expansion for Alamosa Books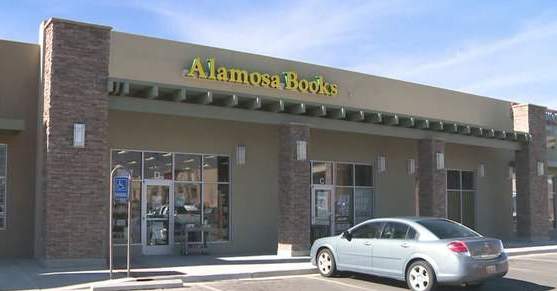 Alamosa Books, Albuquerque, N.Mex., is expanding with the addition of 3,600 square feet to its current 3,870-square-foot space. Bookselling This Week reported that the move is designed "to create a larger events space, an in-store café, enough room to separate middle reader and YA sections and a bigger selection of adult titles."

Owner Elizabeth Anker said the expansion plan had been in the works since the children's bookstore opened more than three years ago and she signed a lease with the understanding that the adjoining bike shop would be going out of business. When that didn't happen and another business in the same plaza closed, Anker "jumped at the chance to fulfill her original dream," BTW wrote.

"We are on a mission to engage kids in reading more than badly spelled text messages, so that cultural transmission will not die with the electronic age," she said.


Half-Price Books Opens New Store in Missouri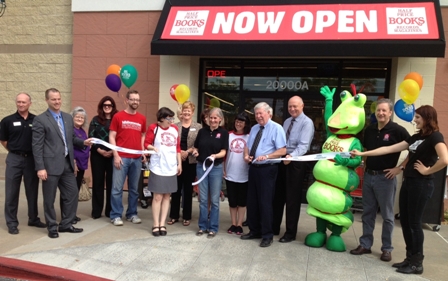 Half Price Books has opened a new location in Independence, Mo., at Hartman's Heritage Center. It's the chain's second store in Missouri. The new location, which occupies 8,000 square feet, celebrated its official opening Thursday with Mayor Don Reimal cutting the ribbon, along with Half Price Books staff, members of the Independence Chamber of Commerce, and BW, the Half Price Books bookworm.


'Books Are My Bag' Campaign Launches in U.K.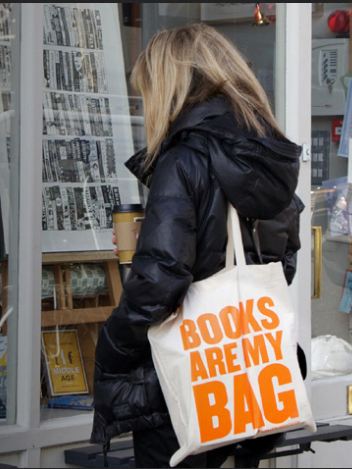 Tomorrow is launch day in the U.K. and Ireland for "Books Are My Bag," a trade-wide promotion created to celebrate books and bookshops and will run through Christmas. The campaign begins with the Big Bookshop Party, encouraging readers to "go and visit your favorite bookshop, join in their party, buy your books and bag the coolest tote bag ever--the bright orange Books Are My Bag tote!" More than a quarter of a million bags will be distributed at some 1,800 chain and independent bookshops across the U.K. and Ireland.

Booksellers Association CEO Tim Godfray told the Bookseller the country will "wake up to a sea of orange" Saturday as the campaign gets underway with events, giveaways and even star turns by celebrities like Jamie Oliver, Bill Nighy, Mariella Frostrup, Delia Smith and Chris O'Dowd, who have been photographed holding the tote bags.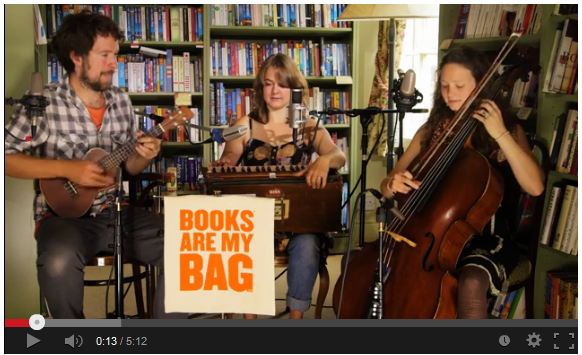 The Bookshop Band has written a song, "A Shop with Books In," for the promotion that mentions a number of stores, including Mr. B's Emporium of Reading Delights, Waterstones, Foyles and Edinburgh Books.

"We hope that the local community, readers, shoppers and passers-by will join us in celebrating all that is good about our local bookshop," said Godfray.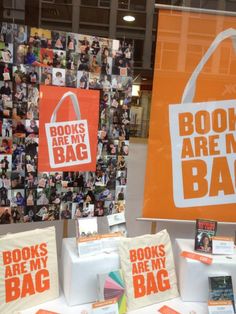 Booksellers Association president Patrick Neale, co-owner of Jaffé and Neale Bookshop, said, "I have been a bookseller for 15 years and I love my job. I really love connecting customers to books that will excite and inspire them and hopefully change their lives. I am always positive in my shop and I always want to give my customers the best experience. Over the last 10 years, one third of our bookshops have closed. That is one bookshop a week for 10 years. That is pretty depressing.... Does that matter? When asked, 88% said 'Yes', it did matter. I really do believe that bookshops are the best place to shop for books and I hope this campaign will show the whole country that is the case."

You can track the Books Are My Bag campaign's progress and highlights on the BAMB's Facebook, Twitter, Pinterest and Instagram pages.


Notes
Image of the Day: A Skeleton in the Family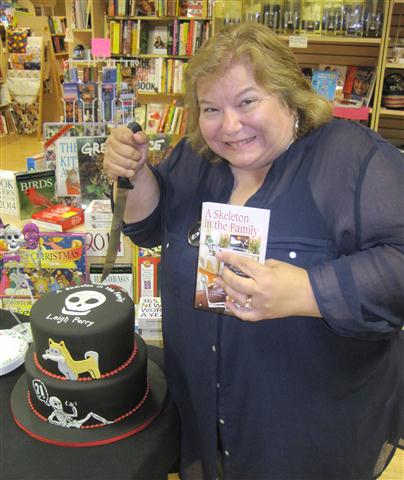 At a launch party for Leigh Perry's new book, A Skeleton in the Family (Berkley), this week hosted by Bestsellers Cafe in Medford, Mass., the decor and refreshments played off the book's use of an ambulatory skeleton as a character. Here Perry is about to attack the cake, made for the occasion by Amanda Oakleaf Cakes in Boston, with decorative elements based on designs by Perry's daughter Maggie, an animation student at SCAD Atlanta.


Bluebird Books Takes Flight
Hutchinson magazine's fall issue has a feature on Bluebird Books, Hutchinson, Kans., "a dream 10 years in the making" that owner Melanie Green made a reality late last year, "with a distinctive brand, look and feel," the magazine wrote. "The blue chairs on Main Street beckon visitors inside the store, which uses repurposed and up-cycled items, architectural salvage, bluebirds of all sorts, and original artwork to set the stage for a creative experience."
"The whole concept of a book store as a community place, a gathering spot, a place for people to come together to grow, to learn, to be creative has huge value," Green told the magazine. "I realized that creating something that would be sustainable in our community--it had to be more than a bookstore."


Gary Todoroff Leaving Lonely Planet
Gary Todoroff, v-p of sales at Lonely Planet, is leaving the company after 10 years. Director of sales Patricia Kelly is now managing the sales department, reporting to Brenda McLaughlin, senior v-p and general manager. Todoroff may be reached at garytodoroff@comcast.net.


Book Trailer of the Day: Masterminds and Wingmen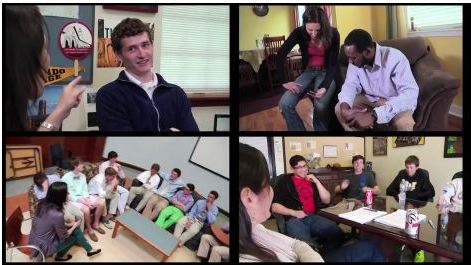 Masterminds and Wingmen: Helping Our Boys Cope with Schoolyard Power, Locker-Room Tests, Girlfriends, and the New Rules of Boy World by Rosalind Wiseman (Harmony Books).


Media and Movies
Media Heat: Richard Wolffe on NBC's Meet the Press
Tonight on Moyers & Company: David Zirin, co-author of The John Carlos Story: The Sports Moment That Changed the World (Haymarket Books, $15.95, 9781608462247).
---
Sunday on NBC's Meet the Press: Richard Wolffe, author of The Message: The Reselling of President Obama (Twelve, $27, 9781455581566).


Rowling Will Adapt Fantastic Beasts & Where to Find Them
J.K. Rowling will write the script for a new Warner Bros. film based on Fantastic Beasts and Where to Find Them, which was published in the U.K. in 2001 by Bloomsbury for Comic Relief (and in the U.S. by Scholastic), the Bookseller reported, adding that the film is "billed as the first in a new series."

"It all started when Warner Bros. came to me with the suggestion of turning Fantastic Beasts and Where to Find Them into a film," said Rowling. "I thought it was a fun idea, but the idea of seeing Newt Scamander, the supposed author of Fantastic Beasts, realized by another writer was difficult. Having lived for so long in my fictional universe, I feel very protective of it and I already knew a lot about Newt.... As I considered Warners' proposal, an idea took shape that I couldn't dislodge. That is how I ended up pitching my own idea for a film to Warner Bros."

She noted that the film would not be a prequel or a sequel to the Harry Potter series, but "an extension of the wizarding world.... The laws and customs of the hidden magical society will be familiar to anyone who has read the Harry Potter books or seen the films, but Newt's story will start in New York, seventy years before Harry's gets underway."

Warner's deal with Rowling will also "permit new attractions and initiatives connected with its 'Harry Potter' presence at the Universal Studios theme parks. In television, the deal makes Warner the global distributor of a BBC mini-series based on The Casual Vacancy," the New York Times reported.


Books & Authors
Awards: RWA/NYC's Golden Apple, Academy of American Poets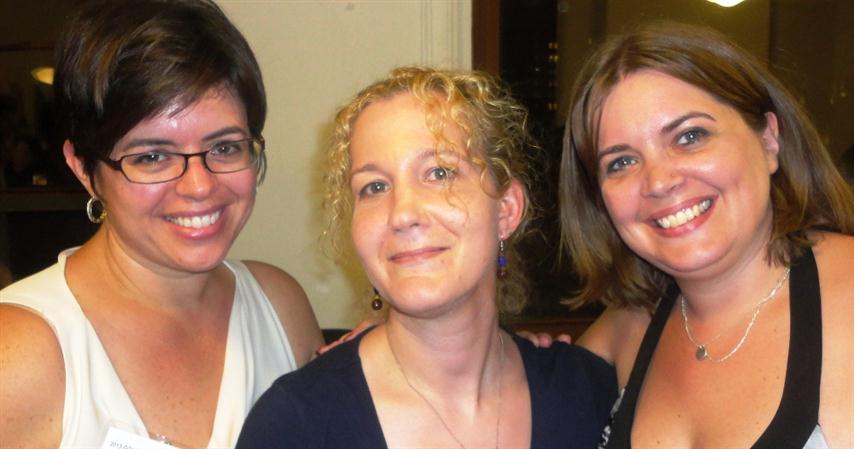 Golden Apple winners Wendell, Agdern and James.
The New York City chapter of the Romance Writers of America held its annual Golden Apple awards reception at the Flatiron Building (Macmillan's headquarters) Thursday night. Stacey Agdern (center) of Posman Books in Grand Central Terminal was named bookseller of the year for her work in promoting romance books to a wide customer base, including commuters, tourists and frequent "literary" readers who are convinced to try their first romance. She's flanked here by Smart Bitches, Trashy Books publisher Sarah Wendell ("media source of the year") and Carina Press editorial director Angela James ("editor of the year"). A full list of winners can be found at the RWA-NYC website. --Ron Hogan
---
The Academy of American Poets announced this year's winners of its annual poetry prizes. The recipients will be honored October 25 during the Poets Forum at the New School in New York City. This year's winners are:

Philip Levine won $100,000 Wallace Stevens Award, which recognizes "outstanding and proven mastery in the art of poetry."
Carolyn Forche received the $25,000 Academy of American poets fellowship, which honors "distinguished poetic achievement."
Patricia Smith's Shoulda Been Jimi Savannah (Coffee House Press) won the $25,000 Lenore Marshall Poetry Prize for "the most outstanding book of poetry published in the United States in the previous year."
Jillian Weise's The Book of Goodbyes (BOA Editions) won the $5,000 James Laughlin Award, which is given for a second book of poetry published in the U.S.
John Taylor's translation of Selected Poems by Lorenzo Calogero won the $25,000 Raiziss/de Palchi Translation Fellowship.
Cynthia Hogue and Sylvain Gallais's translation of Virginie Lalucq and Jean-Luc Nancy's Fortino Samano (The Overflowing of the Poem) (Omnidawn, 2012) won the $1,000 Harold Morton Landon Translation Award
Chris Hosea's Put Your Hands In (forthcoming from LSU Press) won the $5,000 Walt Whitman Award for an American who has not yet published a book of poetry.


National Book Foundation: '5 Under 35'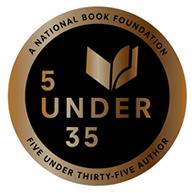 The National Book Foundation has announced the 2013 "5 Under 35" honorees, recognizing five young fiction writers, as chosen by previous National Book Award winners and finalists:

Molly Antopol, The UnAmericans (Norton, February 2014). Selected by Jesmyn Ward, winner for Salvage the Bones, 2011

NoViolet Bulawayo, We Need New Names (Reagan Arthur/Little, Brown, 2013). Selected by Junot Díaz, finalist for This Is How You Lose Her, 2012

Amanda Coplin, The Orchardist (Harper, 2012). Selected by Louise Erdrich, winner for The Round House, 2012

Daisy Hildyard, Hunters in the Snow (Jonathan Cape, Random House UK, 2013). Selected by Kevin Powers, finalist for The Yellow Birds, 2012

Merritt Tierce, Love Me Back (Doubleday, fall 2014). Selected by Ben Fountain, finalist for Billy Lynn's Long Halftime Walk, 2012

They will be honored November 18--at the start of National Book Awards Week--during a celebration at powerHouse Arena in Brooklyn hosted by Carrie Brownstein, with Fiona Maazel, a 2008 "5 Under 35" author, moderating a conversation among the young writers.


IndieBound: Other Indie Favorites
From last week's Indie bestseller lists, available at IndieBound.org, here are the recommended titles, which are also Indie Next Great Reads:

Hardcovers
Bitter River: A Novel by Julia Keller (Minotaur, $25.99, 9781250003492). "Fans of character-driven suspense with strong female protagonists will love Bitter River, the latest in Keller's Bell Elkins series, following A Killing in the Hills. Prosecutor and divorced mom Elkins is questioning her move back from Washington, D.C., to her impoverished West Virginia hometown as she investigates the murder of a teenage girl who seemed to be one of the town's success stories. Meanwhile, forces from outside the town bring an unforeseen threat to Bell's new relationship and, ultimately, to Bell herself. Suspenseful and satisfying!" --Carol Schneck Varner, Schuler Books & Music, Okemos, Mich.

The Affairs of Others: A Novel by Amy Grace Loyd (Picador, $24, 9781250041296). "With elements of both Alfred Hitchcock and Ian McEwan, this gorgeously written novel seduces the reader into a fascinating world with its own vortex. Celia, the young widow who keeps careful tabs on her Brooklyn apartment building, is drawn deeply into her tenants' lives after the sensuous Hope takes a sublet. Peopled with intriguing characters--the elderly ferry boat captain who doesn't mind climbing four flights to his room with a water view, the disappearing cleaning woman--and infused with the sights and sounds of the perpetually mysterious New York City, this book unfolds with stunning momentum and reverberates long after the reader has turned the final page." --Jaime Clarke, Newtonville Books, Newton Centre, Mass.

Paperback
The President's Hat by Antoine Laurain (Gallic Books/Consortium, $14.95, 9781908313478). "Daniel Mercier is dining at a Parisian brasserie when Francois Mitterrand, the president of France, is seated at the next table. Mitterrand and his friends eat, talk of world affairs, and finally depart, but Mitterrand leaves his hat behind. The dazed Mercier promptly dons the hat and the next day at work he finds himself uncharacteristically eloquent, as if under a spell. The result is a job promotion that he feels he owes to his newly acquired hat. When Mercier inadvertently leaves the hat on a train, it falls into the hands of … well, to say more would be telling too much. A charming French confection, irresistibly witty and whimsical." --Betsy Burton, the King's English Bookshop, Salt Lake City, Utah

For Ages 9 to 12
Prisoner 88 by Leah Pileggi (Charlesbridge, $16.95, 9781580895606). "In her debut novel, Pileggi introduces us to the Wild West of 1885 and the story of 10-year-old Jake, who is thrown into the Idaho Territorial Penitentiary for supposedly shooting a man. Jake is given a job helping to tend hogs, is taught to read, and marvels daily that he has full plates of food. His loyalty to the guards and inmates who befriend him leads to trouble when he thwarts an attempted escape plan. Based on a newspaper account of a boy's actual incarceration, Prisoner 88 leaves us wanting to know more about Jake and what happens next." --Shirley Mullin, Kids Ink Children's Bookstore, Indianapolis, Ind.

[Many thanks to IndieBound and the ABA!]


Book Brahmins: Ruthie and Michael Dean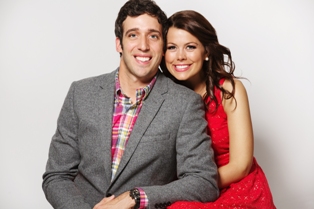 Ruthie and Michael Dean grew up down the street from each other, but fell in love only later, when Ruthie lived in China and Michael lived in Germany. Now happily married, the Deans love to run, take advantage of Sunday coffee dates (without technology) and can often be spotted driving around Nashville in Michael's classic Ford truck. Their book, Real Men Don't Text (Tyndale, September 3, 2013) aims to help women understand what men are thinking and how to attract Mr. Right. You can learn more about the Deans, and share your own stories of dating, love and romance on Ruthie's blog, ruthiedean.com; on Twitter @MichaelDean10 and @Ruthie_Dean; or at RealMenDontText.com.
On your nightstand now:
Ruthie: When Mockingbirds Sing by Billy Coffey, Bread & Wine by Shauna Niequist, Looking for Alaska by John Green.
Michael: The Horse and His Boy by C.S. Lewis, The Art of Manliness by Brett McKay, Fight Like a Man by Gordon Dalbey, The Confession by John Grisham.
Favorite book when you were a child:
Ruthie: The Lion, the Witch and the Wardrobe. I hold a treasured childhood memory of my dad reading The Chronicles of Narnia to me before bed each night.
Michael: Hatchet by Gary Paulsen. This book took me places that I had never been before. It was a coming-of-age story for a young boy that I wanted to be a part of. I wanted my strength and resolve to be tested like his was.
Your top five authors:
Ruthie: Anne Lamott, Harper Lee, Brennan Manning, Shauna Niequist, C.S. Lewis.
Michael: C.S. Lewis, Oswald Chambers, Andy Stanley, Victor Hugo.
Book you've faked reading:
Ruthie: Les Miserables by Victor Hugo. It seems like a book I should love, but my attention span wouldn't allow me to read it entirely. I opted for the movie!
Michael: Any deeply theological book. I'm a little embarrassed to admit it even though I'm halfway through my master's degree in religion.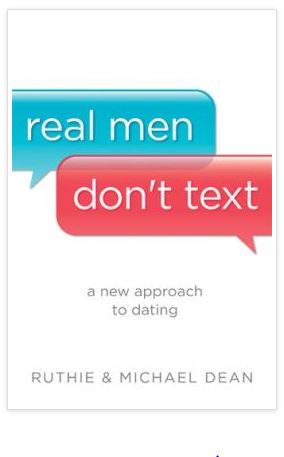 Books you're an evangelist for:
Ruthie: Traveling Mercies by Anne Lamott; Boundaries by Henry Cloud and John Townsend; Act Like a Lady, Think Like a Man by Steve Harvey; Love & Respect by Emerson Eggerichs. Traveling Mercies gave me permission to doubt and not fit myself into a neat religious box. I had the privilege of meeting Anne Lamott in Nashville, and I could not even string a coherent sentence together I was so nervous.
Michael: Surfing for God by Michael John Cusick. This is the best book on overcoming sin and redemption that I have ever read. Cusick's story gripped me from the very beginning.
Book you've bought for the cover:
Ruthie: Where'd You Go, Bernadette by Maria Semple and The Memory Keeper's Daughter by Kim Edwards.
Michael: The Art of Manliness by Brett McKay. Not only the cover, but the title drew me in. There is something about capturing what it means to be a man and putting it into writing that so inspires me. All of us want to be counted as a real man--one with integrity, honor and character.
Book that changed your life:
Ruthie: The Ragamuffin Gospel by Brennan Manning.
Michael: Searching for God Knows What by Donald Miller. I read this book when I was single and living in Germany. It changed the way I viewed my relationship with God and how much he actually cared about what I was going through day to day. I didn't want it to end.
Favorite line from a book:
Ruthie: "Courage is not a man with a gun in his hand. It's knowing you're licked before you begin but you begin anyway and you see it through no matter what. You rarely win, but sometimes you do." --from To Kill a Mockingbird by Harper Lee.
Michael: "Sometimes heroism is nothing more than patience, curiosity, and a refusal to panic." --from Peace Like a River by Leif Enger.
Book you most want to read again for the first time:
Ruthie: The Fault in Our Stars by John Green. John Green is a genius, and Michael and I actually have fought over his books.
Michael: Les Miserables by Victor Hugo. I had never felt the draw of a novel like this one. I had to read this book for school in the ninth grade, which usually means you buy the Cliffs Notes. I read every word and was completely enthralled by the power of its story.
Author you'd offer your right arm to meet?
Ruthie: C.S. Lewis or Taylor Swift (oh, did you say AUTHOR?). If I could have anyone read and become an evangelist for Real Men Don't Text, it would be Taylor Swift.
Michael: Oswald Chambers. The language he used never ceases to challenge and amaze me. I always come away with a nugget of wisdom.


Book Review
Review: The Last Banquet
The Last Banquet by Jonathan Grimwood (Europa Editions, $26.95 hardcover, 9781609451387, October 1, 2013)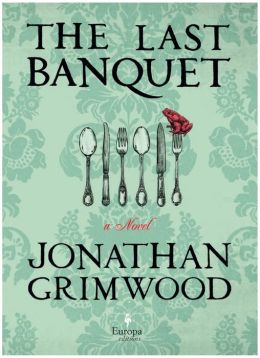 As Jon Courtenay Grimwood, Jonathan Grimwood is a well-known author of fantasy and science fiction. Set against the backdrop of Enlightenment France, his first mainstream novel, The Last Banquet, is shocking, at times verging on disgusting, but always compelling.
We meet Grimwood's picaresque hero, Jean-Marie d'Aumout, at the age of five, sitting on a dung heap eating beetles. His parents are dead of starvation, his home ravaged. He is rescued by a powerful duke and sent to school. It is important to note the "d'" in his name, setting him apart as a noble, which will be important throughout his life--and marks him, inevitably, for death when the Revolution comes.
At school, he makes friends--Emile, Jerome and Charlot--with whom he will remain close despite the different directions their lives take. Jean-Marie saves Charlot's sister, Virginie, from being attacked by a wolf, earning her father's gratitude; when they wed, Jean-Marie receives land, a chateau and a title.
He is now free to pursue his obsession with knowing the taste of everything and becomes an expert cook--as evidenced by his recipes for cat, wolf head, snake, flamingo tongues, tiger, mouse and dog. (Three-snake bouillabaisse is a particular favorite.) He finds beef and lamb bland: "The secret for variety in meat is spicing." His is the avidity of a scientist: he is more interested in taxonomy, in classifying and finding where each animal's taste belongs, than he is in the actual eating--except for Roquefort cheese, which he adores. His gustatory pursuits are equaled by his amatory adventures; lovemaking is essentially another tasting experience for Jean-Marie.
Jean-Marie carries on a correspondence with Voltaire, entertains Ben Franklin and his Creole mistress, writes to the Marquis de Sade, fights in the Corsican War of Independence and--in his crowning achievement--houses a menagerie of animals too old or out of favor to remain at the royal zoo at Versailles. His closest companion is Tigris, a blind tiger he rescued who accompanies him everywhere.
This eccentric, strange man is somehow elusive, despite all we learn about him. He is a perfect example of the anything-goes-but-superstition Age of Reason writ large. The last scene is a stunner, foreshadowed but still a surprise. --Valerie Ryan
Shelf Talker: The first hardcover from Europa Editions is a picaresque novel about a young aristocrat lifted out of the dung heaps of pre-Revolutionary France who is obsessed with discovering the taste of everything.


Deeper Understanding
Robert Gray: What Are the Odds? Who Do You Like?
In almost any situation, books and gambling can easily be linked by a single degree of separation:

What are the odds that Colm Tóibín would be shortlisted for the Man Booker Prize (currently 7-2 to win at British bookmaker Ladbrokes) and a Tony Award best play finalist during the same year for variations on The Testament of Mary. Has that ever happened before?

What are the odds that Barnes & Noble chairman Len Riggio would also be a member of the board of directors for the New York Racing Association?

What are the odds that Senator John McCain would be caught playing online poker during a Senate Committee on Foreign Relations hearing about Syria? (Book connection? Check out author Matthew Dicks's amusing commentary on the incident.)

What are the odds that in 1981, I'd leave a Santana concert early, drive to the nearby harness track and watch Rambling Willie race during his nationwide book tour for Rambling Willie: The Horse that God Loved? (I bought a copy and had it signed.)

The odds, in each case, are pretty damned good.

A few years ago in the New York Times, Curtis Sittenfeld recalled an editor telling her that "people think publishing is a business, but it's a casino." Living in Saratoga Springs, I'd rather think of it as a horse race, with a mind-numbing list of factors to analyze before placing your bet and hoping for success: consider multiple entries, research past form, evaluate the people involved (owners/trainers/jockeys or writers/publishers/booksellers), weigh the current odds for success/failure and much more. Do your handicapping, eliminate the obvious losers, narrow down the list of potential winners and then place your bet.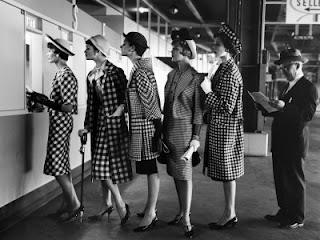 What are the odds you'll be wrong? You know the answer to that one. And yet we keep going back to the book trade window to bet again as we write, publish and market more books, always hoping for the elusive, irresistible combination of luck and performance that makes for a winner, however you might define the term.

Speaking of winners, it's that time of year when British bookies train their focus momentarily on the world so closely aligned to their name, even if the stakes are low. The Atlantic pointed out that only £25,000 (US$39,563) was bet with Ladbrokes on the Booker prize last year, compared to as much as £350,000 on an important Premier League soccer match.

Noting that British newspapers traditionally cover major literary prizes in terms of odds, bookmakers "need a dependable, accurate method of calculating them in a way that ensures the house will still win--but also one that doesn't come with a required-reading list for potential bettors," the Atlantic wrote.

"The most important thing to be aware of is critical reception," said Alex Donohue of Ladbrokes. "We do not read all of the books and in actual fact avoid doing so in order to [not] cloud judgment."

Keeping in mind that this is a year in which Hilary Mantel can't win her biennial Booker, here are the current odds from Ladbrokes for two of the Big Games in this fall's book competitions:

Nobel Prize in Literature
Haruki Murakami (3-1)
Joyce Carol Oates (6-1)
Peter Nadas (7-1)
Ko Un (10-1)
Alice Munro (12-1)
Adonis (14-1)
Assia Djebar (14-1)
Philip Roth (16-1)
Amos Oz (16-1)
Thomas Pynchon (20-1)
Ngugi Wa Thiog'o (20-1)

Man Booker Prize
Harvest by Jim Crace (5-2)
The Testament of Mary by Colm Toíbín (7-2)
The Luminaries by Eleanor Catton (4-1)
A Tale for the Time Being by Ruth Ozeki (5-1)
We Need New Names by Noviolet Bulawayo (6-1)
The Lowland by Jhumpa Lahiri (6-1)

"After years of hovering in the wings, this could be Haruki Murakami's year" for the Nobel, according to the Guardian, which pointed out that the Japanese author "has been considered a frontrunner for the past 10 years." But some curious betting trends last week that dramatically reduced Kenya's Ngũgĩ wa Thiong'o's odds are noteworthy, including a large bet at Ladbrokes by "a Swedish customer," the Atlantic reported.

Shortly before the Booker shortlist was announced, Ladbrokes had Crace listed as favorite at the same odds he is now, which may mean something. When the longlist first came out in August, Philip Hensher offered this early handicapping advice: "I can hardly see where else the prize can go than to the long-overdue Crace."

I was one for two in 2012, predicting that Mo Yan would win the Nobel and Alison Moore's The Lighthouse would somehow wrest the Booker from prohibitive favorite Mantel. But it's a new year and gamblers are ever-optimistic. Now it's time for my 2013 predictions. Drum roll, please.... Since no self-respecting, well-read punter would ever bet a favorite, I'm backing Colm Tóibín for the Man Booker Prize and Alice Munro for the Nobel Prize in Literature. So... Who do you like? --Robert Gray, contributing editor


The Bestsellers
Top-Selling Self-Published Titles
The bestselling self-published books last week as compiled by IndieReader.com:

1. Life Code by Dr. Phil McGraw
2. Ruin by Rachel van Dyken
3. Wicked Firsts by Various
4. Bring Me Home (Shattered Hearts 3) by Cassia Leo
5. New Adult Romance (Boxed Set) by Various
6. Texas Hearts: A Western Romance by Lisa Mondello
7. The Breakers Series (Books 1-3) by Edward W. Robertson
8. Pandora's Grave (Shadow Warriors 1) by Stephen England
9. The Billionaire's Obsession by J.S. Scott
10. The Book of Love by Bella Andre

[Many thanks to IndieReader.com!]