Shelf Awareness for Friday, October 25, 2013

Quotation of the Day
'Indies Introduce': Greenlight's Subtle Influence on Debut Author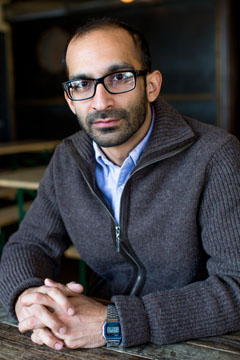 "I recall my excitement when Greenlight Bookstore opened in my old neighborhood of Fort Greene in Brooklyn. I was working as a freelance magazine writer at that time, and I was drawn to the Greenlight like a moth to the flame. I first began formulating my ideas for this book during the hours I spent in that bookstore."


News
Amazon Publishing: Kirshbaum Leaving, Ambitions Scaled Back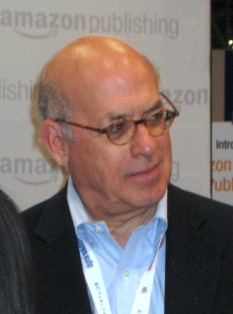 Big news concerning Amazon's attempt to become a major force in U.S. book publishing: Shelf Awareness has learned that Larry Kirshbaum, editorial head of the company's New York and Seattle adult imprints and children's publishing, is leaving the company early next year and returning to agenting. In connection with his departure, the most ambitious part of Amazon's publishing operations will be scaled back. Already several editorial people have left or been let go, and Amazon has not been a factor in bidding on major books the way it had been just two years ago.

Amazon will continue with its more specialized publishing imprints, such as Thomas & Mercer, which publishes mysteries and thrillers, the sci-fi and fantasy imprint 47North and Montlake Romance.



Amazon's general trade New York publishing operation started with a splash: in May 2011, on the eve of BookExpo America, Amazon announced it had hired Kirshbaum, a literary agent and former head of Time Warner Book Group, to lead a unit that would acquire major titles, pay large advances and compete with the big New York houses.

Publishers were none too happy, but more important, the negative reaction of bricks-and-mortar stores played a significant role in the publishing unit's destiny. Barnes & Noble said it would not stock titles published by archrival Amazon, and most indies said they would follow a similar policy, although a few said they would stock titles unenthusiastically and many said they would special order such titles for customers who requested them. Most said they didn't want to help a ruthless competitor and pointed out that many of the big-name authors that Amazon hoped to sign owed some of their success to bricks-and-mortar booksellers.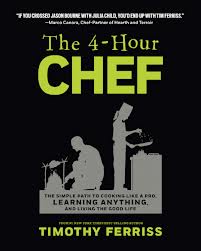 The first major Amazon titles to hit the market were My Mother Was Nuts by Penny Marshall, the film director, producer and actress, which appeared in September 2012, and The 4-Hour Chef: The Simple Path to Cooking Like a Pro, Learning Anything, and Living the Good Life by Timothy Ferriss, released in November 2012. Sales of Marshall's book were tepid for such a celebrity, and while Ferriss's book, bought for seven figures, did better, there were signs that the stand by B&N and most indies was having an effect--even if some observers thought they were being naive for not following "the wave of the future." (Besides chain and most indie booksellers, even Wal-Mart and Target declined to stock The 4-Hour Chef in-store.) Having some Amazon titles published in print versions by Houghton Mifflin Harcourt under the New Harvest imprint also did not help these big-name titles.

Ferriss himself recognized that his book was a major test for Amazon. At the time The 4-Hour Chef was published, he told USA Today: "This is a very important launch for Amazon Publishing and for me personally. There are a dozen A-list authors who are watching to see if they should call Amazon Publishing."

Not long afterward, as bricks-and-mortar stores held the line, Ferriss commented to the New York Times: "By signing with Amazon, I expected this type of blowback. I've been girding my loins." He also noted a problem of what was essentially an Amazon-only marketing approach: made for browsing, he said, The 4-Hour Chef "is the kind of book that physical booksellers would be most excited to sell." Others noted that besides the loss of sales, the stand by bricks-and-mortar stores precluded a major delight for authors--seeing their books in bookstores.

Last fall, Forrester technology analyst Sucharita Mulpuru spoke presciently of Amazon Publishing's ambitious plans: "I had expected more. I expected them to find the next Hunger Games. I expected the next Harry Potter to come through Amazon. They have not changed the world like many assumed they would." --John Mutter


Amazon Third Quarter: Sales Up 24%, Stock Jumps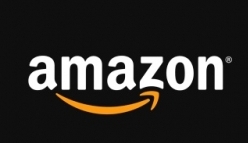 In the third quarter ended September 30, Amazon net sales rose 24%, to $17.09 billion, more than analysts' average estimates of $16.8 billion, while the net loss was $41 million, what analysts expected.
Wall Street liked the news, pushing Amazon stock up 8% in after-hours trading, to $360 a share. The stock has increase in value by a third this year. As the New York Times observed: "The company's recipe of investing heavily to build up capacity and selling cheaply to stoke revenue has won wide favor with investors." And Sucharita Mulpuru, an analyst with Forrester, told the paper: "Amazon is the teacher's pet of Wall Street. There is no other company in the entire world that has the consistently abominable rate of profitability they do and yet has the stratospheric valuation they do."
Amazon predicted that net sales in the holiday quarter will be between $23.5 billion and $26.5 billion, up 10%-25% over the same quarter last year.


Amazon to Collect Md. & Fla. Online Sales Tax... Eventually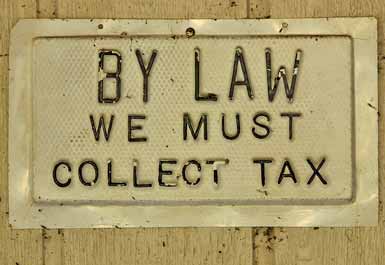 The announcement earlier this week that Amazon plans to build a new fulfillment center in southeast Baltimore also means that the online retailer will begin collecting 6% sales tax from Maryland residents beginning in 2014 when the warehouse opens, the Washington Business Journal reported.

"Sales tax has to be applied to all purchases made with Amazon by Maryland residents," said Patrick Donoho, president of the Maryland Retailers Association.

In Florida, a confirmation by Amazon Wednesday that it will open a pair of fulfillment centers in Ruskin and Lakeland sometime in the next two years means "Floridians will have to start paying sales taxes on purchases from the online retail giant" as well, WZVN-7 reported.

While the Department of Revenue spokeswoman Renee Watters said online companies must begin collecting sales taxes once "a company has a physical presence in the state," WZVN-7 noted that "it remains unclear when the tax will be included on the Amazon website. That could be when dirt is first turned on either of the distribution centers that Amazon announced this week, or when the first package is ready to roll out the doors of either location." Watters was cryptic in her response: "It is a very fact-based situation and it depends on the facts of each individual circumstance."


Tucson Unified School District Lifts Books Ban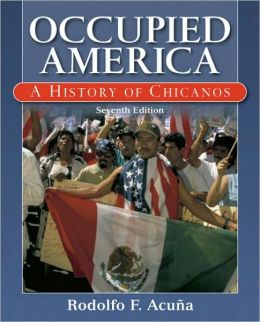 Seven books that were banned last year by the Tucson Unified School District after the elimination of Mexican American Studies curriculum were approved Tuesday as supplementary materials by the Governing Board in a 3-2 vote, the Arizona Daily Star reported.

However, the decision "is raising red flags in the Arizona Department of Education," the Daily Star wrote. In a statement, the department said it "is concerned whether the Governing Board's actions indicate an attempt to return to practices found to have violated Arizona's statutes in 2011."

TUSD superintendent H.T. Sanchez said the district, which did not check with the state before making its decision, was confident the books will be used appropriately: "If I thought otherwise, we would be having a different conversation."

UNIDOS, a youth coalition formed during the Mexican American Studies controversy, called the decision "good news," but added that TUSD still has more work to do. "There have been horrendous, shameful abuses on our culture and our community," said UNIDOS member Gabriel M. Schivone. "This has never really been about books. It's the entire curriculum that was targeted, criminalized and outlawed."


ABFFE Holiday Children's Art Auction Set for Late November

On Tuesday, November 26, the American Booksellers Foundation for Free Expression will launch its holiday auction of original children's book art. The week-long eBay auction features work from leading artists and illustrators, and ABFFE is continuing to solicit art for the event. Deadline for submission is November 15 and a donation form has been posted online. Last year, more than 50 artists and illustrators contributed.

"The Holiday Children's Art Auction will give people around the country a chance to purchase wonderful holiday gifts and support free speech," said ABFFE president Chris Finan.

The holiday auction is an online version of the children's art auction held annually during BookExpo America. Both auctions help support ABFFE's defense of the free speech rights of kids.


Notes
Image of the Day: Yankee Doodle Doylestown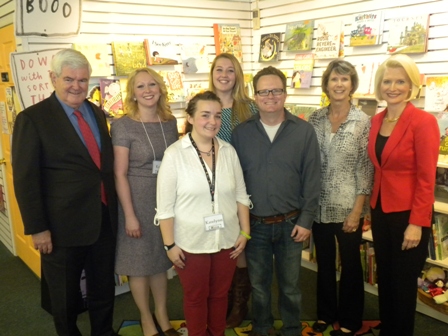 On Tuesday, Callista Gingrich (far r.) visited the Doylestown Bookshop, Doylestown, Pa., to promote her new children's book, Yankee Doodle Dandy (Regnery). Her husband, former Speaker of the House Newt Gingrich (far l.), was there as well, signing copies of his various books and talking about his forthcoming book, Breakout (Regnery, November). ABC and FOX News covered the event and the bookstore staff served bottled water, cheese and crackers to the many customers who queued in line to meet the couple and have their books autographed. Doylestown Bookshop staff between the Gingriches: publicist Krisy Paredes, supervisor Katelynn Hartley, bookseller Alayna Kennedy, bookseller Sean Curran and owner Glenda Childs.


New York Times Shout Out to Boswell Book Company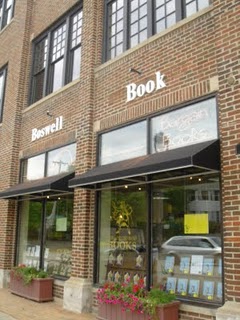 A piece called "36 Hours in Milwaukee" in the New York Times travel section makes mention of one of our favorite bookstores:
"For decades, Harry W. Schwartz's was Milwaukee's great hometown bookstore. When it closed in 2009, the Downer Avenue location was taken over by its book buyer [Daniel Goldin] and rechristened Boswell Book Company. The sprawling shop has long hours, a huge Wisconsin section, many author readings and a smart, attentive staff."


IPG Distributing Seven More Publishers
Independent Publishing Group's academic and professional distribution division, River North Editions, has begun distributing five academic publishers:

Manohar Books, which publishes 40-45 scholarly publications a year in the field of social sciences, with a focus on India in particular and South Asia in general.
Bertz + Fischer Publishing, Berlin, Germany, which publishes film and media, politics, sociology and cultural studies titles.
Hoover Institution Press, the publishing division of the Hoover Institution, the conservative public policy think tank located at Stanford University whose books cover education, national security, law, energy policy, economic policy, health care policy and Islamism.
Wits University Press, the publishing program of the University of the Witwatersrand, Johannesburg, South Africa, which publishes political and historical titles as well as curriculum areas such as natural sciences, sustainable energy, health care policy, education and literary studies.
Portal Books, a European publisher of fine art, philosophy and scholarly titles.

IPG's Art Stock Books, which distributes illustrated art, architecture and travel titles, is distributing, effective January 1, A&C Publishing, founded in South Korea in 1971, which publishes about 15 new titles a year in English, with many stand-alone volumes on architecture and interior design, and award-winning building style.

Also, beginning January 1, IPG will begin distributing a new Spanish-language publisher, Ediciones Corona Borealis, Malaga, Spain, through its Spanish distribution arm. The house publishes fantasy and mystery books as well as self-help and body, mind and spirit titles.


Book Trailer of the Day: Warriors: The Ultimate Guide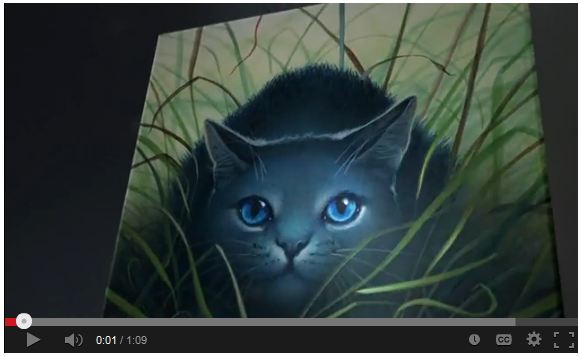 Warriors: The Ultimate Guide by Erin Hunter, illustrated by Wayne McLoughlin (HarperCollins), which celebrates the 10th anniversary of the Warriors series with profiles of more than 75 warrior cats, a look at each of the Clans, never-before-seen stories about how Bramblestar and Tigerstar received their nine lives, and more.


Media and Movies
Media Heat: Anne Lamott on OWN's Super Soul Sunday
Tomorrow on CNBC's On the Money with Maria Bartiromo: Alan Greenspan, author of The Map and the Territory: Risk, Human Nature, and the Future of Forecasting (Penguin Press, $36, 9781594204814).

---

Sunday on NPR's Weekend Edition: Nigel Simeone, editor of The Leonard Bernstein Letters (Yale University Press, $38, 9780300179095).

---

Sunday on CBS Sunday Morning: Ally Breedlove, author of When Will the Heaven Begin?: This Is Ben Breedlove's Story (NAL, $24.95, 9780451239648).

---

Sunday on Meet the Press: Howard G. Buffett, author of 40 Chances: Finding Hope in a Hungry World (Simon & Schuster, $26, 9781451687866).

---

Sunday on ABC's This Week with George Stephanopoulos: Joshua DuBois, author of The President's Devotional: The Daily Readings That Inspired President Obama (HarperOne, $24.99, 9780062265289).
Also on This Week: Dick Cheney and Jonathan Reiner, authors of Heart: An American Medical Odyssey (Scribner, $28, 9781476725390).
---

Sunday on OWN's Super Soul Sunday: Anne Lamott, author of Stitches: A Handbook on Meaning, Hope and Repair (Riverhead, $17.95, 9781594632587).
---
Sunday on 60 Minutes: Sergeant Morgan Jones and Damien Lewis, authors of The Embassy House: The Explosive Eyewitness Account of the Libyan Embassy Siege by the Soldier Who Was There (Threshold, $27, 9781476751139).


TV: Portlandia 'Booksellers' Shoot at Trailblazers' Practice
Candace (Fred Armisen) and Toni (Carrie Brownstein), the owners of Portlandia's fictional Women & Women First Bookstore, paid a visit to the NBA's Portland Trailblazers practice facility this week. Speculation has it that forward LaMarcus Aldridge may be making a return appearance on the IFC series. Aldridge, "a devoted fan of the show," made a cameo appearance in 2012 as the boyfriend of original bookstore owner Barbara (Penny Marshall). Trailblazers owner Paul Allen tweeted: "Quick shoot of @ifcportlandia skit at the @trailblazers practice facility. Nice chat w/ Fred Armisen and @Carrie_Rachel & crew... Fun!"


Movies: Fifty Shades of Grey Finds Its New Christian
Fans of E.L. James's Fifty Shades of Grey can breathe easier with the news that barely a week after Charlie Hunnam turned down the role of Christian Grey, Irish actor and former Calvin Klein underwear model Jamie Dornan (Marie Antoinette) "is in final talks to play the billionaire BDSM enthusiast," Entertainment Weekly reported. Although Focus/Universal declined to confirm the casting, "an inside source says the deal is in its final stages," EW noted, adding the "casting of 31-year-old Dornan alongside Dakota Johnson's Anastasia will hopefully steady director Sam Taylor-Johnson's production that is slated to begin shooting mid-November."


Books & Authors
Awards: Guardian Children's Fiction; Roald Dahl Funny Prize
Rebecca Stead became the first American to win the Guardian Children's Fiction Prize for Liar & Spy. Chair of judges Julia Eccleshare called the novel "an incredibly sensitive book. Its central characters are all children who have complexities in their lives which they are dealing with. It's a novel about how children have to navigate the world, and it has an open-handedness which means that readers may be surprised as to where it finishes."

---

Finalists have been named for the Roald Dahl Funny Prize, which "aims to promote laughter and humor as a feel-good factor when reading, to draw attention to funny books as readable and enjoyable books and to reward authors and illustrators who write and illustrate books using humor." The winners in two categories will each receive £2,500 (about US$4,037) at a ceremony in London December 10. Check out the complete Roald Dahl shortlist here.


IndieBound: Other Indie Favorites
From last week's Indie bestseller lists, available at IndieBound.org, here are the recommended titles, which are also Indie Next Great Reads:

Hardcovers
Longbourn: A Novel by Jo Baker (Knopf, $25.95, 9780385351232). "This is the very enjoyable 'downstairs' version of Pride and Prejudice--the lives of maids, housekeepers, and footmen at the Longbourn estate. Even Jane Austen herself would be enthralled with this tale filled with fully realized characters, a very romantic plot, and tantalizing glimpses of all our favorite literary figures. I savored each and every moment and I trust you will too!" --Mary Toni, R.J. Julia Booksellers, Madison, Conn. [See our review in today's Shelf Awareness for Readers.]

The Paris Architect: A Novel by Charles Belfoure (Sourcebooks Landmark, $25.99, 9781402284311). "In 1942, the city of Paris was overrun by German soldiers and security troops who were on the lookout for Jews. There were some Parisians who wanted to hide the Jews, and some who wanted to turn them in. In the middle was Lucien Bernard, one of the few men capable of assisting either side if he so chose. Lucien was an architect who built secret hiding spaces for Jews in old homes. He was also short on cash and willing to risk his life for the city he loved. When something went terribly wrong, Lucien was forced to rethink his dedication and come up with a way to make amends in this powerful and gripping story." --Linda Bond, Auntie's Bookstore, Spokane, Wash.

Paperback
Consider the Fork: A History of How We Cook and Eat by Bee Wilson (Basic Books, $16, 9780465056972). "Interest in the evolution of human food culture has always been popular. In Consider the Fork, Wilson invites readers to examine this evolution in a new light. She discusses the transformation of kitchen tools and utensils throughout human existence as well as the implications these transformations have on how humans cook and eat. Wilson's air of curiosity and amusement makes for an enjoyable read; pots and pans have never been more interesting, and the intermingling of anthropology, history, and sociology is certain to spark further thought next time a spork or a blender is encountered." --Lucy Beeching, Avid Bookshop, Athens, Ga.

For Teen Readers
More Than This by Patrick Ness (Candlewick Press, $19.99, 9780763662585). "After Seth kills himself, he's surprised to wake up in his family's old house in England. How is this possible? And why is no one else there? And why does he have vivid memories when he dreams? A chilling story of death, life, catastrophe, and connection, More Than This asks questions about what life means and if we can ever have more than what we experience. This book pulled me in and wouldn't let me go." --Marika McCoola, Northshire Bookstore, Saratoga Springs, N.Y.

[Many thanks to IndieBound and the ABA!]


Book Review
Review: Death of the Black-Haired Girl
Death of the Black-Haired Girl by Robert Stone (Houghton Mifflin Harcourt, $25 hardcover, 9780618386239, November 12, 2013)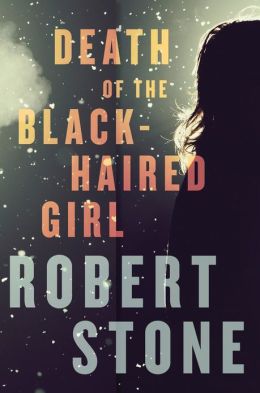 Robert Stone's fiction has consistently chronicled the troubled souls of this troubled world, from Vietnam (in the National Book Award-winning Dog Soldiers) to Jerusalem (Damascus Gate). Death of the Black-Haired Girl, only his seventh novel in nearly a 50-year career, is set in 2004 on a classic New England college campus, once a bucolic part of town, now a post-9/11 fortress. The novel's focus is beautiful, smart Maud Stack and her lover and professor, Steven Brookman. It's the oldest of stories: a middle-aged academic with a devoted wife obsessively falls for "youth, unquietness, intelligence, passion and lack of judgment." Maud's husky lust fuels his desire, but when Brookman's wife tells him she's pregnant again, he abruptly dismisses Maud, ending their affair with professorial rationalization: "She's here to grow up. She has to learn a few things, and one of them is that everything comes to an end."
While Stone's plot may sound a bit thin, his characters are thick with their own stories. The spurned Maud finds little help from her roommate Shell, a talented actress with a crackpot, abusive ex-husband. The school counselor, ex-nun Jo Carr, can't quite connect with Maud either; she has her own nightmare visions after years nursing the Indians of South America. Her father is a last resort. An emphysematous alcoholic ex-cop who struggles to drag his oxygen along and stash his booze out of sight, Eddie is too full of self-pity and grief over the loss of his wife to help his daughter.
Angry with Brookman and the world, Maud writes an inflammatory campus newspaper story against picketing anti-abortion protestors. When Maud is killed by a reckless hit-and-run driver while shouting down Brookman outside his cozy faculty house, Stone's plot shifts into crime novel territory. Was the driver a vindictive anti-abortionist? Did Brookman push her into the path of the car? Can the local town cops investigate without prejudice against the privileged academics?
Death of the Black-Haired Girl is another masterful glimpse at the indifference of the universe. As with all Stone's fiction, the complex characters are all wounded, but each has his or her own forgivably human story. When Jo tries to understand why everyone around Maud so desperately wants her death to make sense, a colleague answers: "Because people always want their suffering to mean something." For 50 years, Robert Stone has been finding new stories to help us find that meaning, whether it is there or not. --Bruce Jacobs
Shelf Talker: Through the story of a professor-student affair at a small New England college, Stone continues his search for compassion and meaning in a world with too little of each.


Deeper Understanding
Robert Gray: Striking a Fun & Profitable Bargain with Remainders
I caught the bargain book fever during the late 1990s and loved the challenge of snap decisions based upon experience and instinct, as well as the biblio-highwire act of purchasing, in large quantities, nonreturnable books. I was a remainder/bargain book buyer for about six years and regularly bought from sales reps at the store or CIROBE and BEA (often in hotel suites before both shows); on wholesaler warehouse road trips; and, eventually, online. I merchandised my little heart out on the sales floor, monkeyed with pricing and watched monthly sales numbers like a bookie toting up wagers and calculating odds.

All of this was spinning through my mind when I attended the "Remainders and Bargain Books for Fun & Profit" education session at the NEIBA fall conference recently. The panel, which was moderated by Vicky Titcomb of Titcomb's Bookshop, East Sandwich, Mass., featured independent sales rep Ben Archer, whose blog--Ben Archer Books--covers the bargain world; Alie Hess of Brookline Booksmith, Brookline, Mass.; and Henry Zook of BookCourt, Brooklyn, N.Y.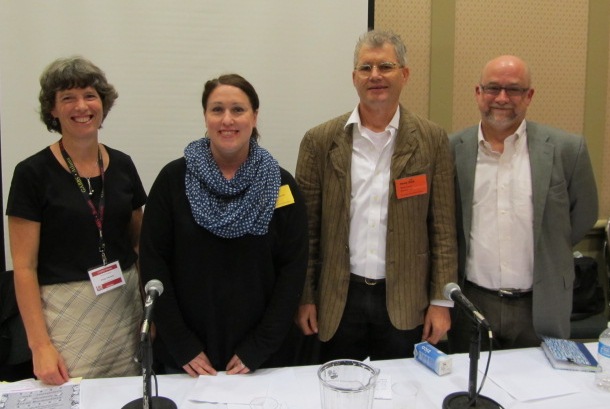 Vicky Titcomb, Alie Hess, Henry Zook, Ben Archer
"There's money to be made in remainders," said Titcomb, who admitted she took on the category reluctantly in 2012: "Our used books had slowed down and I gave the space to remainders. I'm the one who's here to say you can do this and it's huge fun." As with any store inventory, however, curating well is the key. "We only sell books because we're proud of them," she said. "If they're good books, they're going to sell."

Zook concurred, noting that while BookCourt did not originally sell remainders, the store began featuring them a few years ago and now he considers bargain books "a wonderful, fun part of the business." He still does the remainder buying himself. "One of the things that's enjoyable is that you don't know what you're going to see."

On the sales floor, BookCourt integrates remainders with new stock. "We find this works really well," Zook said. He also offered specific pointers: "It's a lot easier to sell remainders under $10 than over $10.... Any bookstore would do well with regional titles." When pricing books, "we assume that we're paying at least $1 freight per unit" and work that into the total retail cost, which can be easily manipulated: "There's a lot of freedom out there.... Don't sweat the shipping. Order what you need in the quantities you need."

How remainder stock is acquired was on everyone's mind and opinions varied. "I don't buy a lot of my remainders on the Web. I like to see what I'm buying," Zook said, recommending wholesaler warehouse visits in particular. "Each indie store is different. It's a great opportunity to find things there specifically for your store."

At Brookline Booksmith, the online option rules. "I spent a year or two buying without the Internet," said Hess. "I don't think I buy anything anymore that's not on a website." Bargain books account for about 10% the bookstore's annual sales, and are a regularly featured section in their weekly b-mail e-newsletter. "We have, at any given time of the year, four to eight remainder tables in different parts of the store," noted Hess, who is a frontlist and backlist buyer. "Remainder buying comes third, but it's awesome; so much fun.... Children's remainders are huge, if you can get the right stuff. I have to be very careful." She cited picture and activity books as particularly good performers.

Hess noted that location can be critical with bargain books. "A few years ago, it was decided to move them downstairs with used books," she recalled. The result was "devastating" and the stock was returned to its original location. "When they were gone, I think remainder customers stopped coming," she said. "It took a couple of years to get it back."

Archer, who started buying remainders more than 30 years ago for the Strand bookstore in New York City ("I was the first independent buyer that Fred Bass allowed to buy remainders."), now reps for several wholesalers. At the NEIBA panel, he began by saying he wanted to address in particular the "people who haven't got into bargain yet" and encourage them to do so.

He also offered some recommendations based upon his experience as a buyer and observations of other stores as a sales rep. Like Zook, Archer believes it is a "good idea to integrate spine-out," but to complement this with face-outs and stacks as well for "more impulse, more visual" sales. Where in the store should you feature remainders? Logic prevails. "If you have different areas that people never go to, don't set up there," he said. "You want to be well-positioned." On the other hand, "if you have a relatively under-performing section, think of making that mostly remainders and bargain to boost sales... then start adding frontlist gradually." As far as the buying itself is concerned, he cautioned against delegating that responsibility too soon: "If you're just starting out, buy yourself. And be sure to track inventory; some stuff runs out quickly, but other books can be reordered."

Titcomb agreed, noting that her "biggest mistakes are not ordering enough, but I love that mistake." And even though it can be "kind of a scary and overwhelming thing to get into remainders," she compared the buying process to a treasure hunt and advised indie booksellers: "If you're wondering about it, do it." --Robert Gray, contributing editor