Shelf Awareness for Thursday, February 20, 2014

News
Patterson Begins Giving $1M to Bookstores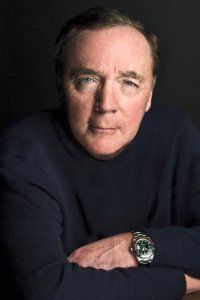 James Patterson has begun disbursing the $1 million he said he would donate this year to independent bookstores to help support them. For now, he's giving $267,000 to 55 bookstores as well as California Bookstore Day. (The checks range from $2,000-$15,000; the average is $4,750.) The rest of the $1 million will be disbursed in stages during the rest of the year.
Last September, when Patterson announced the program, he said his only requirements were that stores be "viable" and have a children's section. In a statement yesterday, Patterson reiterated his reasons for the awards, saying, "Every day, booksellers are out there saving our country's literature. The work they do to support schools and the rest of their communities leaves a lasting love of reading in children and adults. I believe their work is vital to our future as a country. What are we if we don't have our own literature? I couldn't be happier to, very humbly, support booksellers in their mission. Maybe that's because it's my mission as well."
Some of the stores submitted proposals for how they would use money; some were recommended by the ABA, publishers and other industry professionals. Nine stores were recommended by fellow authors Kate DiCamillo, Pam Munoz Ryan, Brian Selznick, R.L. Stine and Clare Vanderpool. (Booksellers and book lovers can continue to suggest favorite stores at JamesPatterson.com.)
Stores aren't required to report on how they use the money, but Patterson has said he hopes stores will share their experiences and how the money leads to change in the stores.
Among booksellers who commented to the New York Times, Linda Marie Barrett, general manager of Malaprop's Bookstore/Café, Asheville, N.C., said, "I think it's going to have a huge impact. He seems to be keenly aware that bookstores operate on small budgets." Malaprop's had applied for a grant to replace worn carpeting and a damaged parquet floor.
Elaine Petrocelli, co-owner of Book Passage in Corte Madera and San Francisco, Calif., whose grant is going toward buying a van for mobile author events and book fairs, said, "We can't have a business plan that says James Patterson is going to come along and give us something every year, but these are things that we wouldn't be able to do otherwise. It wouldn't mean we'd go out of business, but it would mean that this particular dream would be put off for a few years."
Speaking on NPR's Morning Edition this morning, Casey Coonerty Protti, owner of Bookshop Santa Cruz, Santa Cruz, Calif., recounted some of the store's competitive challenges over the years--as well as the 1989 earthquake that forced the store to sell out of tents for several years--and noted that Bookshop Santa Cruz is receiving $4,5000 to help bring children's authors to local schools and the store. "We are just ecstatic that we got that grant, and it's going to make such a difference."
Last night, Hut Landon, executive director of the Northern California Independent Booksellers Association, said that he hadn't yet received details about the award for California Bookstore Day, particularly the amount, but commented, "On behalf of its 93 participating bookstores, NCIBA and SCIBA [the Southern California Independent Booksellers Association] are very appreciative of James Patterson's support of California Bookstore Day. His generosity will allow us to reach out to even more book consumers, affording them the opportunity to experience live bookselling at its best on May 3."


First Call for 'Beer Book Month'
Inspired by the release of three "big name, beautifully done" beer books this January, Quayside Publishing, which specializes in illustrated nonfiction, has declared the month of March to be Beer Book Month. Quayside has also brewed up a corresponding blog, beerbookmonth.com, which has been featuring excerpts and selections from its beer titles since the beginning of last month. The trio of beer books are The Home Brewer's Guide to Vintage Beer by Ronald Pattinson, The Great Northeast Brewery Tour by Ben Keene and Craft Beer for the Homebrewer by Michael Agnew.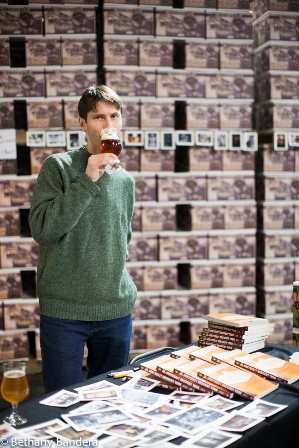 Ben Keene promoting The Great Northeast Brewery Tour.
"With all of these books coming out around the same time, and the authors so motivated to get out there, we thought it would be a great opportunity to bundle them together and reach the audience in a different way," explained Katie Fawkes, marketing and public relations manager for Quayside's food, lifestyle and sex titles.
During March, the publisher has on tap a variety of in-store and online events, Twitter chats, giveaways and promotions. Most of the events will be in breweries and pubs, but Fawkes has also reached out to beer and hobby shops. Among the brewery partners are Stone Brewing Company and Dogfish Head, and a few more eccentric events are also on the docket, including a brewing session led by Ronald Pattinson in Colonial Williamsburg. And although no visits to any bookstores have yet been booked, Fawkes is certainly amenable to the idea.
"We're trying to reach out to beer advocates and beer lovers, wherever they are," Fawkes said. --Alex Mutter


Harper Lee Settles Museum Lawsuit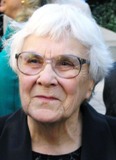 To Kill a Mockingbird author Harper Lee, who sued the Monroe County Heritage Museum in her Alabama hometown last October for exploiting her trademark and personality rights, is now in the process of settling the lawsuit. Lee's attorney filed a motion Tuesday in federal court in Mobile saying Lee has reached an agreement with the museum, the Associated Press reported, adding that the settlement "comes days after a judge refused to dismiss the lawsuit filed last fall." A judge would have to approve a settlement.


Capstone Launches Switch Press
Children's publisher Capstone Young Readers has launched Switch Press, a YA imprint that will include "a broad selection of contemporary nonfiction and fiction titles such as graphic novels, cookbooks, craft/how-to, narrative non­fiction, historical fiction, poetry, fantasy and other speculative fiction."
Switch Press will acquire and publish 8-12 titles per year from new and established writers. The inaugural fall list includes The Isobel Journal by Isobel Harrop (August), Grace and the Guiltless by Erin Johnson (August), Half My Facebook Friends Are Ferrets by J.A. Buckle (September) and The Diamond Thief by Sharon Gosling (October). A website for the press with the URL SwitchPress.com will launch in May.
Ashley Andersen Zantop, Capstone Group publisher and general manager, called Switch Press "a more genre-bending model" for YA. "We believe this approach represents and respects the whole person of each of our readers and their varied interests. Young adults and adults who are young at heart do more, are interested in more and lead more complex and challenging lives than we can speak to with only traditional fiction. Our goal is to provide our readers challenging, bold, emotional and engaging content that is meaningful to more than one aspect of their lives."
John Rahm, senior product manager for Capstone Young Readers, commented: "Our books aim to mirror the lifestyles of our readers. The name Switch Press symbolizes the ever-changing interests of young adults and the notion of 'turning them on' to new ideas."


Obituary Note: Michael Baldwin
U.K. poet and novelist Michael Baldwin, who helped establish the Arvon Foundation that "eventually ran four rural centers for aspiring writers of all ages and was lent crucial support by the poet Ted Hughes," died February 3, the Guardian reported. He was 83.


Notes
Image of the Day: Partners in Passion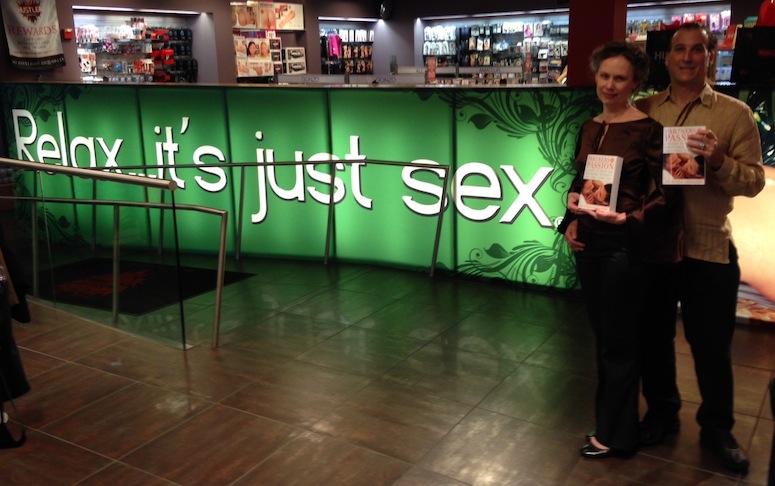 Valentine's Day is never over for Mark A. Michaels and Patricia Johnson, whose new book, Partners in Passion: A Guide to Great Sex, Emotional Intimacy and Long-Term Love (Cleis Press), was celebrated last night at the famous Hustler Hollywood on Sunset Boulevard. As part of the party, participants got a course in "sexual adventuring." (Tip: maintain a sense of mystery.)


'Indie Bookstore Spotlight': Addendum Books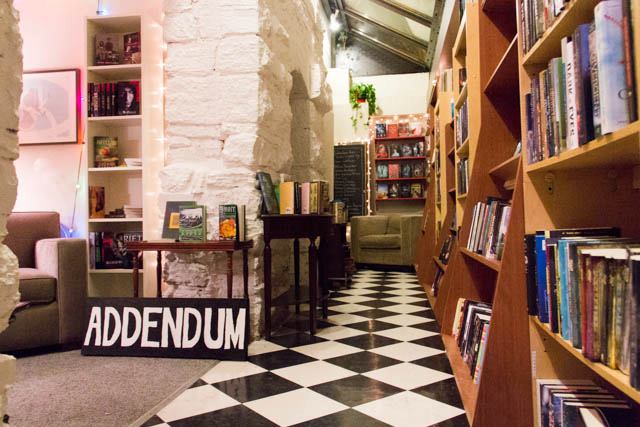 Akashic's "In Good Company" feature trained its indie bookstore spotlight on Addendum Books, St. Paul, Minn., offering a "a virtual tour of a great new bookstore with a young adult focus."

Co-owners Marcus Mayer and Katherine Warde "opened our store a year and a half ago, and are so pleased with the growth we have had, and the support we have received from customers and authors alike! As far as we can tell, we are the very first bookstore in the country to specialize in young adult literature.... Our goal has been to create a space that is teen-friendly, since most children's bookstores seem aimed at their younger customers."

Addendum is "in a rather unique situation, as we share a space with a general bookstore [SubText]," they continued. "Opening our stores together has been a wonderful way for both of us to start out as brand-new businesses, but the plan all along has been for Addendum to move out and into our own space at some point. We are currently looking for a space of our own and hope to find the right place soon."


ReadingGroupGuides.com: Favorite Book Group Reads
ReadingGroupGuides.com readers chose their Favorite Book Group Reads of 2013. Check here for the complete list a list of 36 books, presented in order of total votes. As a bonus, a list of the Most Requested Guides on ReadingGroupGuides.com for January 2014 is also available.


Megan Fishmann Promoted at Counterpoint Press
Megan Fishmann has been promoted to publicity director at Counterpoint Press. She was previously publicity manager. She will continue to handle publicity for titles at both the Counterpoint and Soft Skull lists as well as oversee publicity staff at both imprints. She joined the company last year.


Book Trailer of the Day: 50 Ways to Wear a Scarf
50 Ways to Wear a Scarf by Lauren Friedman (Chronicle), featuring the author in the opening shot and dancing at the end.


Media and Movies
Media Heat: Christopher Leonard Talks About The Meat Racket
Tomorrow on NPR's Splendid Table: Christopher Leonard, author of The Meat Racket: The Secret Takeover of America's Food Business (Simon & Schuster, $28, 9781451645811).


Movies: The Kidnapping of Michel Houellebecq
French author Michel Houellebecq's brief disappearance in 2011 while on a book tour sparked international headlines. The "great literary provocateur" spoke with the Guardian at the Berlin Film Festival about "his latest big-screen venture--one titled, with typical lack of self-effacement, The Kidnapping of Michel Houellebecq [L'enlèvement de Michel Houellebecq]. Naturally, he plays the lead."

"If I'm being honest," said Houellebecq, "I thought making the film would be interesting because it was a new experience. That might be a very selfish reason, but it was the main one. And I have not been disappointed."

Although he later claimed he had simply forgot about the tour, in the film directed by Guillaume Nicloux (The Nun), "Houellebecq's busy schedule of smoking, complaining and street-wandering is rudely interrupted by three heavies, who stuff him into a large tin box and take him home to their parents' house, where he is forced to sleep in a bedroom clearly occupied until recently by a small girl. It becomes clear that things have not been thought through all that thoroughly when they have difficulty finding anyone to pay a ransom. So the heavies are--briefly--stuck with him," the Guardian wrote. The Kidnapping of Michel Houellebecq will be released later this year.


This Weekend on Book TV: Robert Edsel & The Monuments Men
Book TV airs on C-Span 2 this weekend from 8 a.m. Saturday to 8 a.m. Monday and focuses on political and historical books as well as the book industry. The following are highlights for this coming weekend. For more information, go to Book TV's website.

Saturday, February 22
9:30 a.m. A panel discussion of Robert Edsel's The Monuments Men: Allied Heroes, Nazi Thieves, and the Greatest Treasure Hunt in History (Center Street, $16.99, 9781599951508; movie tie-in edition: Little, Brown, $10, 9780316240079), featuring the author, Greg Bradsher, Nancy Yeide, Michael Kurtz and Stuart Eizenstat. (Re-airs Sunday at 12:15 a.m.)

11 a.m. Robert Edsel, author of The Monuments Men, will appear live on Book TV to take questions via phone calls, Twitter and Facebook. (Re-airs Sunday at 1:45 a.m.)

2:45 p.m. Jonathan Allen and Amie Parnes, co-authors of HRC: State Secrets and the Rebirth of Hillary Clinton (Crown, $26, 9780804136754). (Re-airs Sunday at 5:15 a.m.)

3:45 p.m. Stephen Jimenez, author of The Book of Matt: Hidden Truths About the Murder of Matthew Shepard (Steerforth, $18, 9781586422264). (Re-airs Monday at 4 a.m.)

7:30 p.m. Amy Binder, co-author with Kate Wood of Becoming Right: How Campuses Shape Young Conservatives (Princeton University Press, $29.95, 9780691145372). (Re-airs Sunday at 9:30 a.m.)

9 p.m. Phyllis Chesler, author of An American Bride in Kabul: A Memoir (Palgrave Macmillan, $27, 9780230342217), at Books & Books, Coral Gables, Fla. (Re-airs Monday at 2 a.m.)

10 p.m. After Words. Rich Benjamin interviews Aram Goudsouzian, author of Down to the Crossroads: Civil Rights, Black Power and the Meredith March Against Fear (FSG, $30, 9780374192204). (Re-airs Sunday at 9 p.m. and Monday at 12 a.m. & 3 a.m.)

11 p.m. Peter W. Singer, author of Cybersecurity and Cyberwar: What Everyone Needs to Know (Palgrave Macmillan, $27, 9780230342217).

Sunday, February 23
6 p.m. Christopher Harmon, author of A Citizen's Guide to Terrorism and Counterterrorism (Routledge, $19.95, 9780415709422).

7 p.m. Nader Hashemi and Danny Postel, co-editors of The Syria Dilemma (MIT Press, $14.95, 9780262026833).

8:15 p.m. Harlow Unger, author of Mr. President: George Washington and the Making of the Nation's Highest Office (Da Capo Press, $25.99, 9780306819612). (Re-airs Monday at 6:15 a.m.)

10 p.m. Kayla Williams, author of Plenty of Time When We Get Home: Love and Recovery in the Aftermath of War (Norton, $25.95, 9780393239362), at Politics and Prose Bookstore, Washington, D.C.

11 p.m. Tom Clavin and Bob Drury, authors of The Heart of Everything That Is: The Untold Story of Red Cloud, an American Legend (S&S, $30, 9781451654660).


Books & Authors
Awards: Ezra Jack Keats Winners; L.A. Times Book Finalists
The Ezra Jack Keats Book Awards, which aim to "recognize and encourage authors and illustrators new to the field of children's books," have gone to:

New Writer: Ame Dyckman for Tea Party Rules, illustrated by K.G. Campbell (Viking)
New Artist: Christian Robinson for Rain! by Linda Ashman (Houghton Mifflin Books for Children)

The winners receive a gold medallion and an honorarium of $1,000. The awards are presented by the Ezra Jack Keats Foundation, in partnership with the de Grummond Children's Literature Collection at the University of Southern Mississippi in Hattiesburg.

---

Finalists in 10 categories have been named for the Los Angeles Times Book Prizes, which will be awarded April 11 on the eve of the Los Angeles Times Festival of Books. This year's Innovator's Award goes to John Green "for his dynamic use of online media to entertain and engage" and the winner of the Robert Kirsch Award for lifetime achievement is author Susan Straight.


Attainment: New Titles Out Next Week
Selected new titles appearing next Tuesday, February 25:

Death of a Policeman by M. C. Beaton (Grand Central, $25, 9781455504732) continues the Hamish Macbeth mystery series.

The Low-Carb Fraud by T. Colin Campbell and Howard Jacobson (BenBella, $16.95, 9781940363097) advocates a diet with unrefined carbohydrates.


Now in paperback:

The Sound of Broken Glass: A Novel by Deborah Crombie (Morrow, $13.99, 9780061990649).


IndieBound: Other Indie Favorites
From last week's Indie bestseller lists, available at IndieBound.org, here are the recommended titles, which are also Indie Next Great Reads:

Hardcovers
The Last Days of California: A Novel by Mary Miller (Liveright Publishing, $24.95, 9780871405883). "Two sisters bicker with one another over the space in a car's backseat, gas station snack choices, motel room beds, and boys, of course. Only this isn't another angst-ridden coming-of-age road trip novel. This family is driving from Georgia to California so its members can witness the Rapture as it rolls through the world's time zones and arrives, at blessed last, in Pacific Standard Time. A swift, quirky, earnest read that will resonate with anyone who's ever been to a church sleepover, proselytized, or just been a teenager." --Stacie M. Williams, Boswell Book Company, Milwaukee, Wis.

Pigs Can't Swim: A Memoir by Helen Peppe (DaCapo Press, $22.99, 9780306822728). "For Helen, born into a Maine farm family featuring eight children, parents with good intentions but far too much to do, assorted animals raised to be eaten, and gardens to weed and hoe, two things soon become clear: books provide a necessary escape from the rampant chaos, and vegetarianism is a must if one is to avoid eating one's friends. Helen, the youngest, is an animal lover among carnivores, a rule follower who stands guard over her rebellious siblings, and the only reader in the house. Peppe's mordant humor, her irreverence, and her astonishing ear for dialogue make this memoir a joy to read, at once hilarious and wise, cynical and touching, realistic and hope filled." --Betsy Burton, the King's English Bookshop, Salt Lake City, Utah

Paperback
Ghana Must Go: A Novel by Taiye Selasi (Penguin Books, $16, 9780143124979). "Readers know when they are in the presence of something special and brilliant. It is a voice familiar and kind, a plot careful and unraveling, a set of characters whose hearts pound between the covers. Selasi delivers a powerful debut about family, race, and the nature of story in this contemporary novel, set in neighborhoods from Brookline, Massachusetts, to Lagos, Nigeria. A literary descendant of Zadie Smith and Arundhati Roy, Selasi is a new force in the global community of readers." --Nicole Magistro, the Bookworm of Edwards, Edwards, Colo.

For Teen Readers
Cruel Beauty by Rosamund Hodge (Balzer + Bray, $17.99, 9780062224736). "Cruel Beauty is a brilliant cross between Kristin Cashore's Graceling and the classic Beauty and the Beast. Nyx has been brought up knowing she has to marry a demon to avenge her mother and save her existing world. However, the more the reader thinks they have things figured out, the more the story twists and turns into something entirely unexpected. I absolutely loved this book!" --Heidi Koenitzer, Arcadia Books, Spring Green, Wis.

[Many thanks to IndieBound and the ABA!]


Book Review
Review: The Museum of Extraordinary Things
The Museum of Extraordinary Things by Alice Hoffman (Scribner, $27.99 hardcover, 9781451693560, February 18, 2014)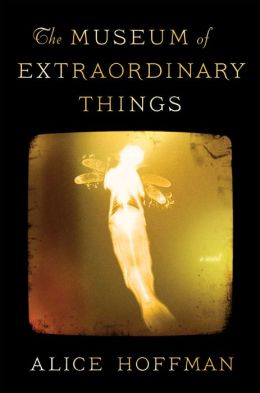 "Though these exhibits made my skin prickle with fear, I felt at home among such things," says Coralie Sardie of the human anomalies and sideshow items of her father's Museum of Extraordinary Things, in Alice Hoffman's magical new novel. In fact, at the age of 10, Coralie became an exhibit herself: the Human Mermaid. Her hands are webbed and she can swim with speed and ease; her father, "the Professor," trained her to use a special breathing device so she could spend an hour or more underwater in an ice-filled tub.
The Museum of Extraordinary Things is primarily set over a few months in 1911, encompassing the infamous fire at the Triangle Shirtwaist Factory and the blaze that destroyed Coney Island's Dreamland amusement park, weaving these real-life moments together with fiction in a fantastical story. Thanks to a believable tail and some carefully applied paint, Coralie's evening swims up and down the Hudson generate rumors of a monster. One night, as she rests along the northern shore of the river, she spies a young man taking photographs in the dark: "Coralie felt something pierce through her, as if she were a fish on a hook, unable to break free."
The man, Eddie Cohen (born Ezekiel), is an ambitious, smart young immigrant Jew who escaped the Ukrainian pogroms with his father. He works for a while as a tracker with the famous Jewish mystic Abraham Hochman, helping him find lost children. Later, he apprentices to a photographer, eventually taking over the business. While taking pictures of the horrific Shirtwaist fire, he becomes involved in a woman's disappearance. Meanwhile, Maureen, the Professor's Irish housekeeper--loyal to her employer and totally dedicated to Coralie--will come to play a key role.
Populated with historical figures like Clement Moore and Alfred Stieglitz, The Museum of Extraordinary Things is a carefully rendered portrait of a city and people living in extraordinary times, with a strange and moving love story at its heart. --Tom Lavoie
Shelf Talker: Hoffman has crafted another period-rich historical novel steeped in magical realism; her vision of turn-of-the century New York City is sure to be a hit with book clubs.


The Bestsellers
Top-Selling Self-Published Titles
The bestselling self-published books last week as compiled by IndieReader.com:

1. The Arrangement 13 (The Ferro Family) by H.M. Ward
2. The Ex Games by J.S. Cooper
3. The Ex Games 2 by J.S. Cooper
4. The Stolen Dog by Tricia O'Malley
5. The Ex Games 3 by J.S. Cooper and Helen Cooper
6. Beauty from Love (Beauty Series 3) by Georgia Cates
7. Under Locke by Mariana Zapata
8. The Dumont Diaries by Alessandra Torre
9. Ignite by R.J. Lewis
10. The Private Club 2 by Helen Cooper and J.S. Cooper

[Many thanks to IndieReader.com!]