Shelf Awareness for Friday, May 30, 2014

Quotation of the Day
James Patterson: Amazon, 'a National Tragedy'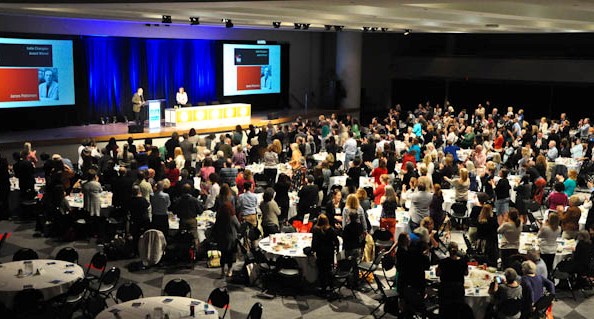 "Hi, I'm Jeff Bezos. I can't do his hysterical laugh.... Amazon seems out to control shopping in this country. This ultimately will have an effect on every grocery and department store chain and every big box store and ultimately put thousands of mom and pop stores out of business. It sounds like a monopoly to me. Amazon also wants to control bookselling, book buying and book publishing. That's a national tragedy. If this is the new American way, it has to be changed by law if necessary."
--James Patterson, speaking at the Celebration of Bookselling at BEA yesterday, where he accepted the Indie Champion Award, to a standing ovation from the crowd.


News
#BEA14: Pictures from an Exhibition
The trade show floor opened yesterday morning at the Javits Center in New York City, beginning the whirl of meetings, signings, panels, presentations, parties and serendipitous moments that make BEA BEA.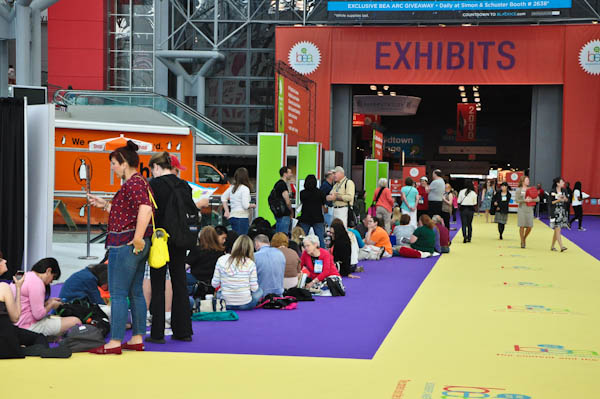 Two celebrities drew lots of attention and long lines on the show floor as they promoted their first picture books: Jane Lynch signed Marlene, Marlene, Queen of Mean (Random) and posed for selfies with her fans, and Bethenny Frankel signed posters for Cookie Meets Peanut, coming from Little, Brown in September.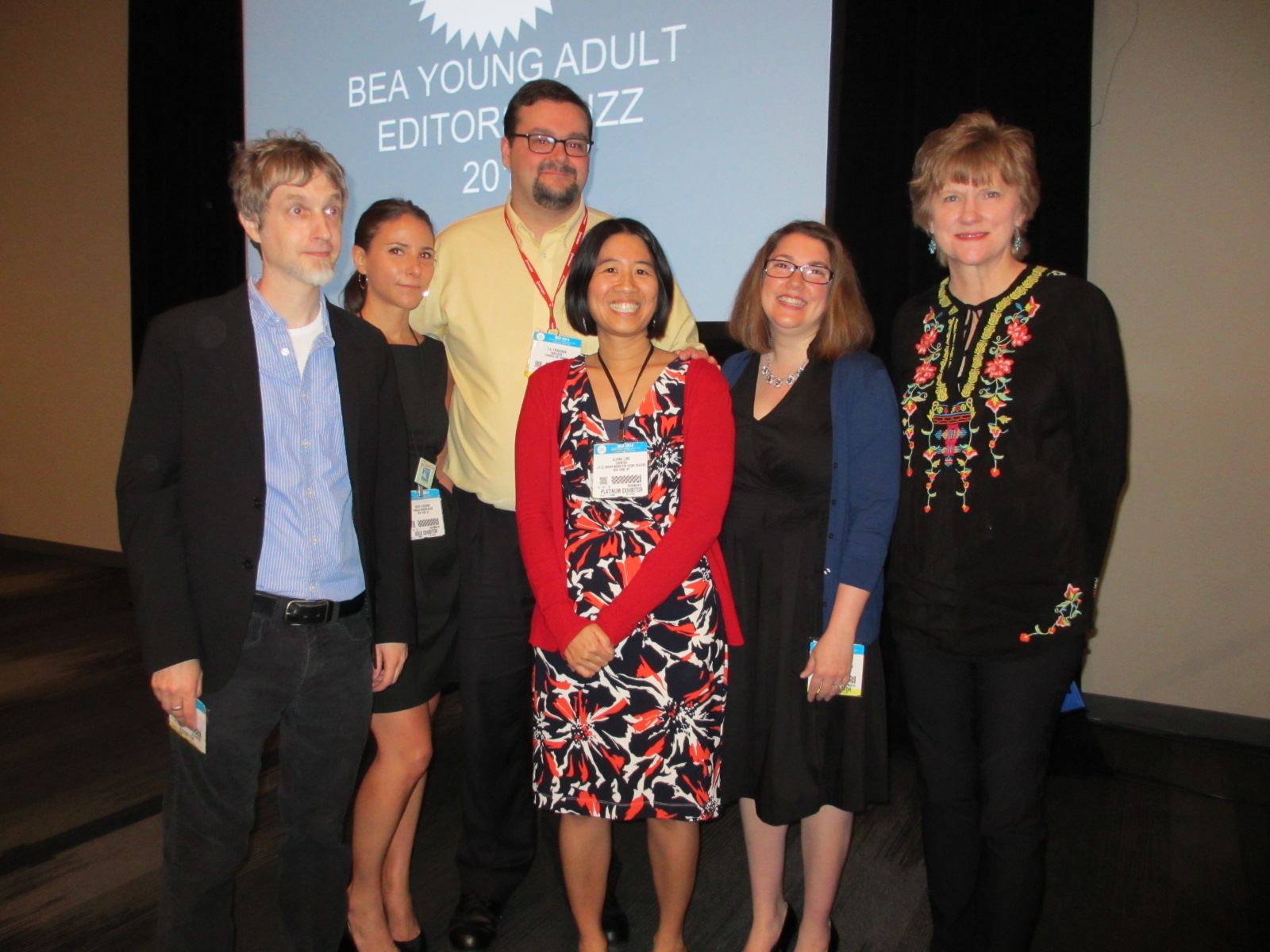 At yesterday's YA Editors Buzz Panel, the editors of five of the top fall buzz books presented their titles (l.-r.): Daniel Ehrenhaft, editorial director Soho Teen with Cynthia Weil's I'm Glad I Did; Krista Marino, executive editor, Delacorte Press with Frank Portman's King Dork Approximately; Harlequin TEEN's TS Ferguson, with Robin Talley's Lies We Tell Ourselves; Alvina Ling, executive editorial director, Little, Brown Books for Young Readers, with Ryan Graudin's The Walled City; HarperTeen's Karen Chaplin with Amy Ewing's The Jewel; moderated by Blue Willow's Valerie Koehler (Houston, Tex.).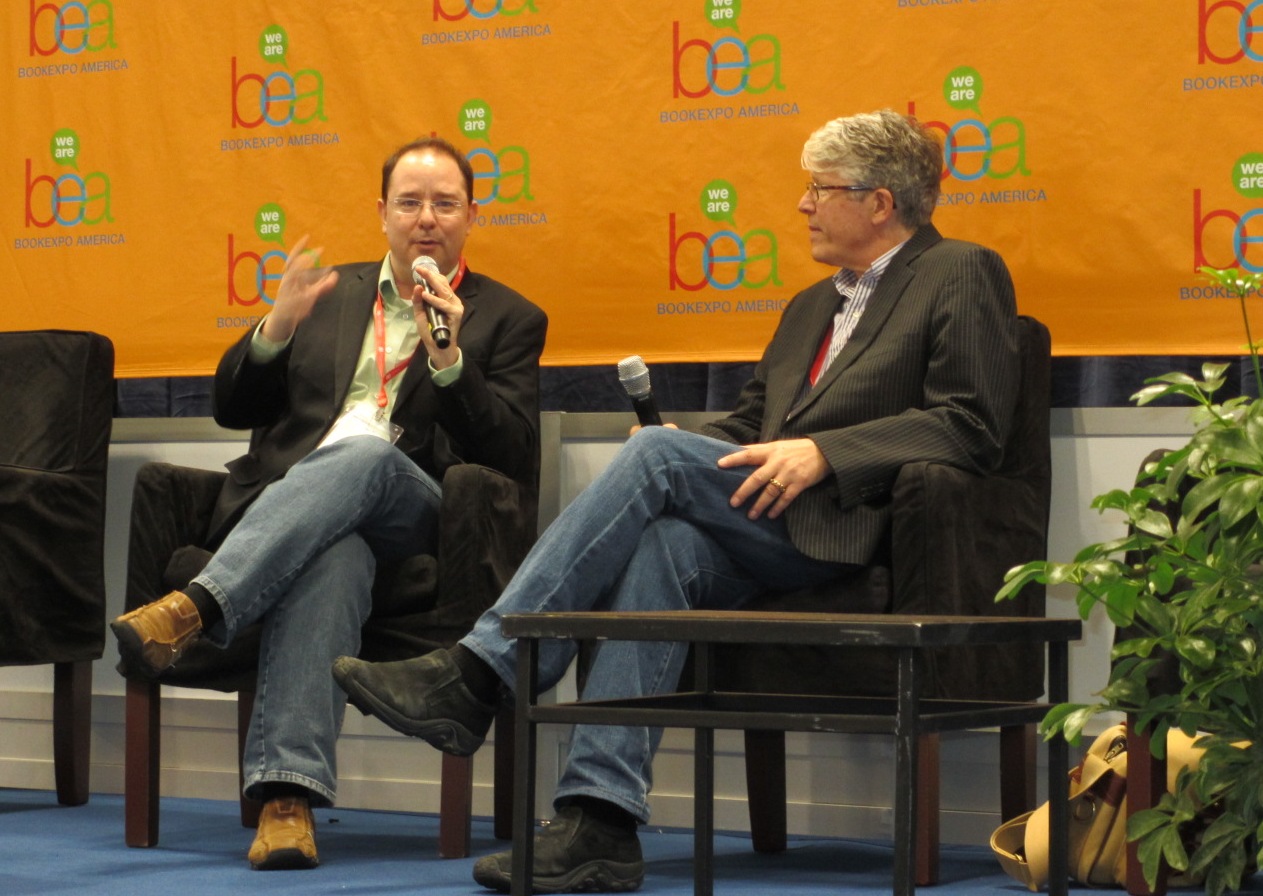 "Where Near-future Techno-thrillers and Sci-fi Meet" was the topic of a fascinating conversation between John Scalzi (Lock In, Tor, Aug.) and Douglas Preston (The Kraken Project, Forge). While their professional challenge as writers is to envision futures, they agreed that, as Preston said, "it's impossible to predict the future." Scalzi observed: "We expected rocket cars and got the Internet and cell phones."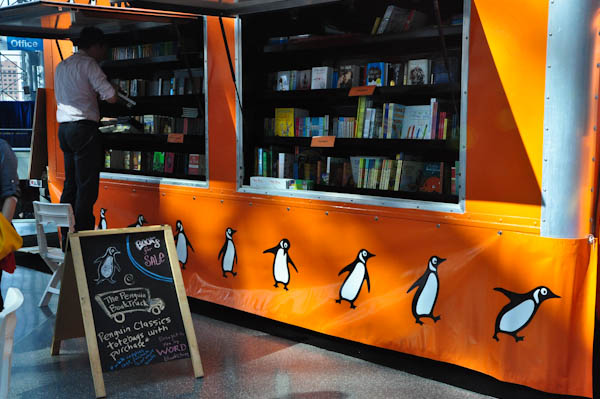 The C-Span bus is missing this year (they hope to return next year), but the cheerful Penguin BookTruck is on-site, with book sales handled by WORD, with stores in Brooklyn and Jersey City.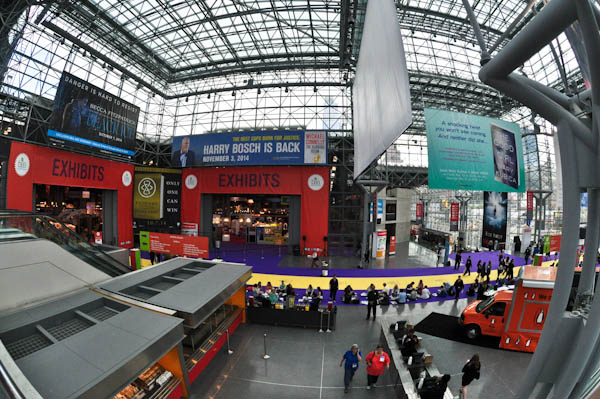 #BEA14: ABA and the Indie Resurgence

At the American Booksellers Association's Town Hall meeting on Thursday, members discussed a range of topics, including the #WeNeedDiverseBooks campaign, the public battle between Amazon and Hachette, the implications of the U.S. Postal Service fulfilling Sunday deliveries for Amazon, the prospects of passing the Marketplace Fairness Act, and how best to re-create the success of California Bookstore Day in other regions and across the country.

On the subject of increasing diversity in books, Steve Bercu, owner of BookPeople in Austin, Tex., and president of the ABA, said that though there was no written program, the ABA board intends to communicate with the organizers of BookCon on the subject of the need for diversity, and that the ABA, as well as individual booksellers, are pushing for more diverse titles on an ongoing basis.

ABA members were in agreement that the public dispute between Amazon and Hachette provides independent booksellers with a great opportunity to educate their communities on Amazon's business practices and to emphasize that not only is Amazon not always as convenient as many claim but also that indies can fulfill customer needs just as quickly. ABA CEO Oren Teicher said that the organization has been discussing with Hachette, on an ongoing and frequent basis, how best they can both take advantage of the situation. Teicher hopes to get press and marketing materials in the hands of ABA members, with Hachette's help, to spread awareness of the issues and sell Hachette titles.
Later, at the annual meeting, Teicher also said that Amazon's "aggressive discounting and strong-arm tactics … have caused havoc in the last few weeks. Its recent bullying assault of a major publisher is just the latest example of a unilateral and shortsighted strategy. To put it plainly: the book industry is being held hostage by a company far more interested in selling flat screen TVs, diapers and groceries. It is clear they are prepared to sacrifice a diverse publishing ecosystem to achieve their dominance. That's not good for anyone, let alone for American consumers."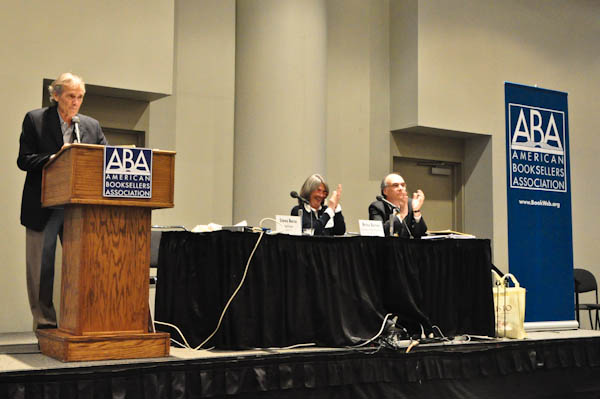 Teicher reported that little progress has been made in passing the Marketplace Fairness Act, and seemed doubtful that something on the federal level would pass before January, when a new Congress convenes, but said that significant strides in leveling the playing field have been made on a state-by-state basis. Several ABA members reported frustration in discussions with members of congress about Amazon's prospective partnership with the USPS. Though little information has been gleaned, members plan to keep contacting Congress.

California Bookstore Day, held on May 3, was a rousing success; opinion about how best to bring that success to a national level ranged widely. Though the prospect of a National Bookstore Day was tantalizing to many, others felt that much of CBD's success came from its regional and local focus. Some members wondered how stores in areas with few bookstores would fare, and many pointed to cooperating with publishers on such a scale as a potential issue. In any case, the success of California Bookstore Day has inspired both the ABA as a whole and other regional associations to consider the possibilities. --Alex Mutter
---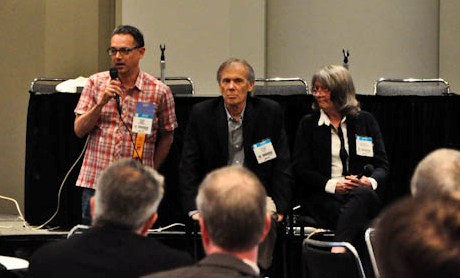 Speaking at the Town Hall: Ken White of Books Inc., San Francisco, Calif., whose service on the ABA board just ended and who was lauded repeatedly by ABA staff and board members.
At the Annual Membership Meeting, following the Town Hall, Steve Bercu said that relations with publishers are excellent. "The meetings I've had on behalf of the ABA with our publishing partners have been dramatically better year to year," he said. "We're being taken seriously by our publishing partners. It's very productive for them and very productive for us."

The most important concrete change in the relationship between booksellers and publishers are "the upgrades in replenishment that all publishers are getting behind," Bercu said. "It began with Random House and is going through other houses step by step. It's affected my bottom line and the bottom line of others. It's a terrific step forward."

In his remarks, Oren Teicher added that since he first challenged publishers three years ago to work with independent booksellers to come up with new ways of doing business, booksellers and publishers have experimented with various new business models. Not every test succeeded, Teicher said, "but a number of them did and resulted in new terms and policies that are helping both bookstores and publishers grow and prosper. We appreciate that creativity and efforts on the part of these publishers, and I can report to that our recent round of meetings showed that they do understand independent bookstores' role in championing new titles, spurring consumer discovery, fueling early sales, and influencing purchases across all channels." He added, "We've only begun to scratch the surface as to what is possible."

Teicher spoke at length about "the indie bookstore resurgence." One measure, as noted here on Wednesday, is the ABA's increase in membership again for the fifth year in a row, to 1,664 bookstore companies representing 2,094 locations.

Another measure: strong indie sales. "After a year of robust sales growth in 2012," Teicher said, in 2013 indies held on to most of those sales gains. Bad weather this winter hurt retail across the country, but bookstore sales in the second quarter recovered, "and if those trends continue, we will have another strong year of indie sales."

In other good news, the association's finances have improved again, allowing the ABA "to continue to invest appropriately in new initiatives and programming, in response to your input and direction," Teicher said. "This past year we have invested in new programs including the Indies First promotion inspired by Sherman Alexie; our Indies Introduce effort to highlight debut authors; in new and expanded programming in children's bookselling following the merger with the Association of Booksellers for Children; and in upgrading our IndieCommerce product."

Teicher noted, too, that the media has begun to change its view of independent bookselling, adding, "We are committed to do everything we can to ensure that the word 'beleaguered' is finally decoupled from 'independent bookstore.' "

He praised the ABA staff for its hard work and dedication and ABA members for "your commitment to constantly reinvent your businesses, to ongoing professional development, to the leadership you're providing in your local communities, and, most importantly, to always finding new ways to connect customers to new writers."

In other news, the ABA has signed on to be a co-sponsor of BookExpo America for another seven years, which "ensures an active indie presence at BEA," Teicher said. --John Mutter


#BEA14: ABA Family Grows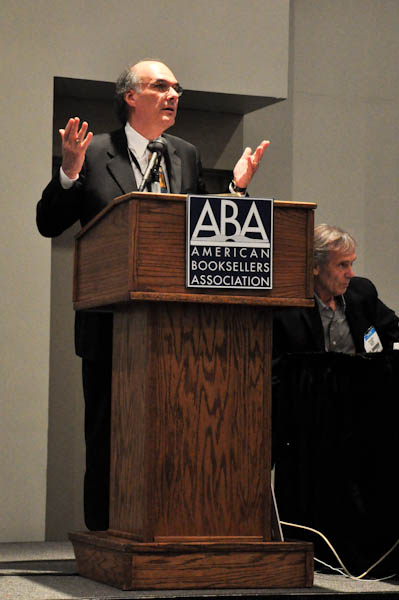 Perhaps the biggest ABA news was the birth on Wednesday of ABA CEO Oren Teicher's first granddaughter, Maya Sasha, born in Washington, D.C., to his daughter Jessica and her wife, Emily. Teicher's wife, Alison Greene, wrote: "Her parents, Jessy and Emily, had decided tentatively on the name, but when they heard on the way to the hospital that Maya Angelou had died, they saw it as a sign!"
The Teichers' grandson, Frankie, Maya Sasha's cousin, is two and lives in Brooklyn, N.Y., where "he already owns and has read dozens and dozens of books--and is usually found hanging out at his local bookstore, Greenlight, in Fort Greene."


#BEA14: Book & Author Breakfast
The death of Maya Angelou Wednesday was observed in a tribute as well as a call to action during Thursday's Book and Author Breakfast, which featured Neil Patrick Harris introducing speakers Anjelica Huston, Tavis Smiley and Lisa Scottoline.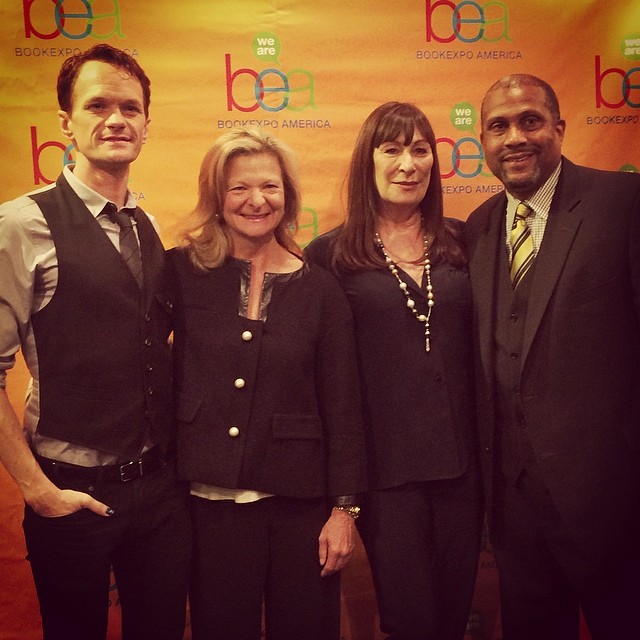 Huston, whose next book is Watch Me (Scribner, Nov.), opened her presentation by reciting Angelou's poem "A Brave and Startling Truth." Noting that she was "thrilled to be here," Huston said of her first book, A Story Lately Told: "It was very rewarding to be embraced into your community with such enthusiasm." She recounted stories of her childhood in Ireland, her early career as an actress, meeting Jack Nicholson ("who would become the great love of my life... a great love of my life, okay?") and, particularly, the complex relationships she had with her mother and father. Of John Huston, she said: "He was, and he is, my hero."

"I am who I am because somebody loved me. Maya Angelou loved me," said author and talk show host Smiley. He emphasized, however, that it "is not enough to celebrate her life and legacy." Stressing the need for more diversity in the world of books, he observed: "I hope we realize that every one of us in this nation has a voice.... Each of us has a story.... Each of us is a story. Help get those stories told." Of his upcoming book Death of a King: The Real Story of Dr. Martin Luther King Jr.'s Final Year (Little, Brown, Sept.), Smiley said, "The future of our country is inextricably linked to his life and legacy."

Harris, a widely acknowledged master of the emcee game, opened the breakfast by noting that this was not at all like his prior responsibilities as host of events like the Tony and Emmy Awards. "There's something a little different about hosting a BookExpo, a little special.... There's no music." He also recalled that his first job, at 10, was at Aspen Tree Bookshop in Ruidoso, N.Mex. His lifelong love of children's books--from pop-ups to choose-your-own-adventures--inspired the format for Neil Patrick Harris: Choose Your Own Autobiography (Crown, Oct.), in which the reader gets to live Harris's life, with the notable exception of "a bizarrely self-referential speech at the 2014 BookExpo."

This impressive breakfast panel proved to be momentarily daunting for Lisa Scottoline, who drew laughs from the audience when she approached the podium, raised her arms, and said, "Welcome to my own personal nightmare," citing the immense screens projecting a magnified image of her and the challenge of being the final speaker after taking "so much inspiration from this panel." Scottoline also spoke of her gratitude for booksellers and librarians, and then entertained them with tales of her family--immediate and extended, functional and dysfunctional--and the ways they have inspired her work, including an upcoming novel, Betrayed (St. Martin's, Nov.). --Robert Gray


#BEA14: Celebration of Books and Authors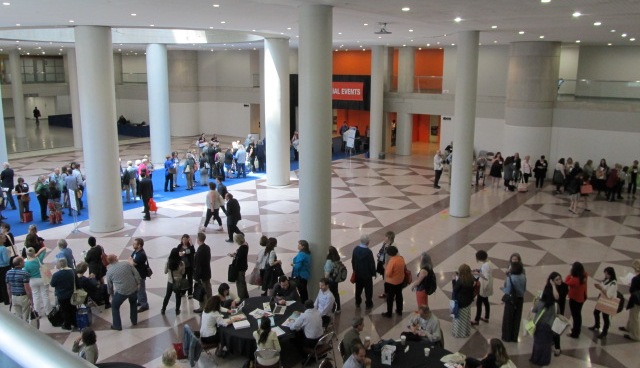 The line awaiting the Celebration of Bookselling
At yesterday's Celebration of Bookselling, many E.B. White Read-Aloud and Indies Choice Book Awards honor and winning authors appeared and spoke:

Adam Lehrhaupt, author of Warning: Do Not Open This Book!: "Thank you to all of you because I certainly wouldn't be standing here talking about my book if you didn't do all you do and talk about my books to people in your stores. It's amazing to see how vibrant bookstores are right now. I love going into them all the time."

Matthew Forsythe, illustrator of Warning: Do Not Open This Book!: "There's no greater honor than going into a bookshop you love and seeing your own book there--face-out. It means the world to me."

Drew Daywalt, author of The Day the Crayons Quit. "I'm living proof that Picture Books for Dummies does work. Ten years ago I did buy the book. People asked what was secret? I said really Picture Books for Dummies." [In truth, he thanked his college professor and mentor Jack Gantos, who 20 years ago encouraged him to write children's books.]

Holly Goldberg Sloan, author of Counting by 7s: "Thank you so much for acknowledging my book.... I just came back from a book tour, and when I talk to children, I tell them great communities have great bookstores, they have great libraries, they have great schools, they have great teachers and they have people who support them. Thank you for being a part of all that."

Richard Peck, author of The Mouse with the Question Mark Tail. "I'm grateful for recognition with E.B. White's name on it.... I thank Haines & Essick bookstore in Decatur (Ill.).... Every journey begins in a bookstore."

Kate DiCamillo, author of Flora and Ulysses: The Illuminated Adventures: "You guys are superheroes to me. E.B. White is a superhero to me. Thank you very much."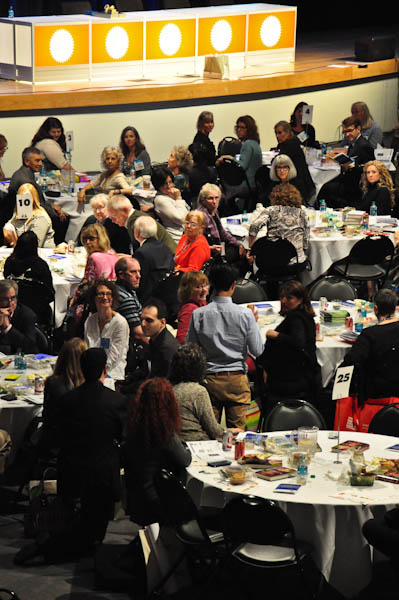 Paul Yoon addressing the crowd from his table.
Maggie Stiefvater, author of The Dream Thieves: "A couple years ago, I was a debut author with a local press. I went to my local independent with my three-year-old son and a big stack of my books. A bookseller came out from behind the counter and got the door for me. My son said, 'Thanks.' I thought I'd done a great job raising him. Then he said to the bookseller, 'You're fat.' I said I'd found him on the street. The bookseller said, 'No, I am fat.'... Now I'm with a big press, but I will never forget that independent booksellers have come out from behind the counter and opened the door for me."

Elizabeth Wein, author of Rose Under Fire. "Why did Code Name Verity [her breakout book] sell? A number of things went into this. The influence of the Internet helped, and the other thing was that independent booksellers picked it up and handsold it.... For all of us writers, I want to say thank you for your enthusiasm, energy and evangelism in selling our books."

Alaya Dawn Johnson, author of The Summer Prince: "I just moved to Mexico City from New York City. One of the saddest things I'm missing besides pizza is my local bookstore in Greenpoint [WORD].... I've been blessed to have the support of my favorite local bookstore, and the ones I've met at conferences and BEA. Thank you for creating magical spaces where other young readers like myself can find these thing we love and can express themselves."

Rainbow Rowell, author of Eleanor & Park: "Before my book came out and before John Green read it, its earliest supporters were booksellers and librarians.... Thank you giving me encouragement early on in the process and giving me the feeling that someone out there would see it."

Jesmyn Ward, author of Men We Reaped: "When I was nominated for the National Book Award, my publisher surprised me and invited my local independent bookseller. Before the ceremony I was so convinced I wouldn't win that I didn't bring my mom and family. But Scott Naugle of Pass Christian Books was there.... It's a great example of the vital and warm and important relationship between indie booksellers and writers and publishers. Thank you and thank you for being family."

Tom Nissley, author of A Reader's Book of Days. "Last year, I was here with an author badge, and I won't talk about other years when I wore an Amazon badge. [Hisses from the crowd.] I was asking for that.... I value bookselling so much that I'm wearing a bookseller badge this year as owner of Phinney Books in Seattle, which opens in two weeks." [Great applause.]

Daniel James Brown, author of The Boys in the Board: Nine Americans and Their Epic Quest for Gold at the 1936 Berlin Olympics (via video). "I know a lot of you have been out there handselling this book, and I really appreciate that. I get e-mails almost every day from readers, who comment over and over again that they almost didn't read the book because they thought it was a book about rowing and what could be more boring than rowing?... The book is about much more than rowing. It's a sweeping, big story about human heart played out on the stage of rowing. It's about team building and how these nine rough and tumble American boys came together and became arguably the best rowing team of all time.... As the paperback comes out in the next few weeks, I'm looking forward to working with you as a team, pulling in the boat, and taking this to readers."

Anthony Marra, author of A Constellation of Vital Phenomena: "The first time I spoke with anyone else besides myself about this book was at Mountains & Plains. I was a nervous wreck and still am. The support of the independent bookselling community has been overwhelming and humbling.... The only reason anyone read this nonlinear book set in Chechnya is because you championed it and put it in people's hands."


Paul Yoon, author of Snow Hunters. "I'm so grateful to all of you and the ABA for this honor. I don't know the honest truth of how many books I have left in me--that's the brutal reality--but I'll always be a reader and I'm grateful to you."

Kate Atkinson, author of Life After Life (via video). "I'm very flattered and very pleased and thank all those booksellers who sold it so well."

Jarrett J. Krosoczka: "Any time I have any sort of event, I try to connect with a bookseller. You've brought my books to all kinds of places [including petting zoos and lunch lady festivals].... All of you helped make my childhood dreams a reality."


Notes
McNally Jackson 'Celebrates the Power of Books'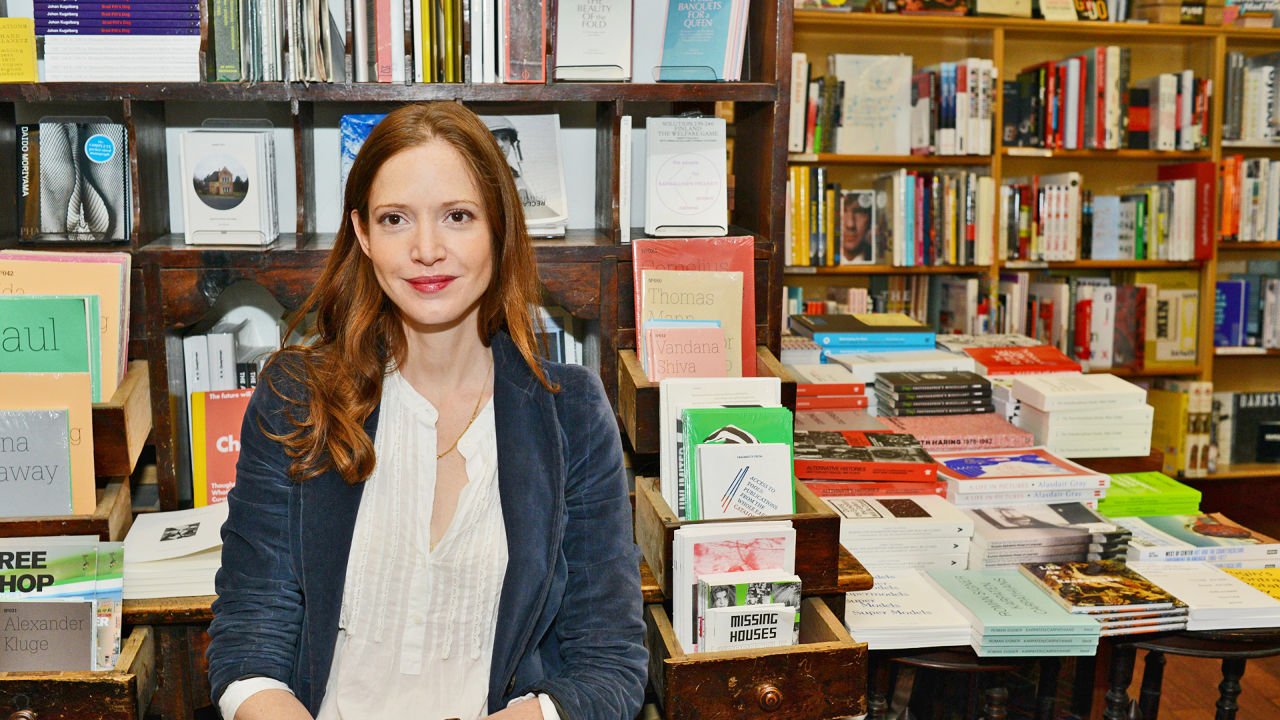 photo: fastcompany.com
Sarah McNally "is proving that the way to save publishing is to give people more books, not more gadgets," Fast Company observed in its "Who's Next" profile of the owner of McNally Jackson Books in New York City. Citing her many accomplishments as an independent bookseller, the magazine noted that she "has accomplished all of this, not because of luck, but a belief in knowing that book lovers are a loyal, and not dying breed--and that they will support a business that celebrates the power of books, not the power and whims of the book industry."

"I cater to my own tastes," McNally said. "It's like understanding that one night I can read Proust, the next night I can watch network TV, and there's no contradiction, it's just different parts of me, neither of which is invalid. So I experience the store as all my many selves, with all their different tastes, each of whom could be either alienated or seduced."


Artbook/D.A.P. to Distribute Steidl
Beginning this fall, Artbook/D.A.P. will again be the exclusive trade distributor of German publisher Steidl in North America. Steidl's roster includes Robert Frank, Bruce Davidson, Berenice Abbott, Ed Ruscha, William Eggleston and Karl Lagerfeld, among others.

"Gerhard Steidl's long term relationships with his artists enable him to have sustained engagement with these photographers, resulting in books of exceptional editorial and printing quality," said Sharon Helgason Gallagher, president of Artbook/D.A.P. "We are delighted to once again be working with the imprint and bringing this important list to American bookstores, museum shops, gift retailers, libraries and, of course, photo collectors."


Infographic: 'Lifecycle of a Book in Translation'
Lifecycle of a Book in Translation, a new infographic from Publishing Trendsetter, has been unveiled, "showing how a book published in one country is then published in another." Videos from publishing professionals explaining each step of the infographic are also being released each day this week and will be available for viewing on a dedicated page. The new infographic comes two and a half years after Publishing Trendsetter created Lifecycle of a Book.


Book Trailer of the Day: Whitman Illuminated
Whitman Illuminated: Song of Myself, illustrated by Allen Crawford (Tin House Books), in a video directed by David Kessler.


Media and Movies
Media Heat: Jessye Norman, Joseph Hallinan
Tonight on PBS NewsHour: Jessye Norman, author of Stand Up Straight and Sing!: A Memoir (Houghton Mifflin Harcourt, $27, 9780544003408).
---
Tomorrow and Sunday on CNN's Sanja Gupta M.D.: Joseph Hallinan, author of Kidding Ourselves (Crown, $25, 9780385348683).


Reading Rainbow Kickstarter Tops $2 Million in Two Days
"Bring Reading Rainbow Back for Every Child, Everywhere," LeVar Burton's Kickstarter campaign to revive his popular PBS show as a Web series, passed the $2 million mark on its second day, Mashable reported. As of this morning, nearly 60,000 supporters have pledged $2.6 million, with more than 30 days remaining.

"I am overwhelmed," Burton, creator and host of the series that ran from 1983 to 2006, wrote during a Reddit AMA yesterday. "[Wednesday] was an amazing day and quite emotional. To have reached our goal in roughly 11 hours was beyond our wildest imaginings.... [It] proved beyond the shadow of a doubt... the importance of reading in this culture."


Books & Authors
Awards: National Indie Excellence
Winners and finalists have been announced for the National Indie Excellence Awards, which recognize the best of books in print--including covers, interior layouts and titles) for self-published or indie published books. A complete list is here.


IndieBound: Other Indie Favorites
From last week's Indie bestseller lists, available at IndieBound.org, here are the recommended titles, which are also Indie Next Great Reads:

Hardcovers
Ruin Falls: A Novel by Jenny Milchman (Ballantine, $26, 9780345549075). "In Ruin Falls, Milchman continues her theme of women facing the worst that life can hand them and yet finding a way to overcome these challenges. Liz is looking forward to taking a rare family vacation to see her husband Paul's parents and letting their two children get to know their grandparents. Paul has never been an easy man to live with, but Liz loves him and tries zealously to bridge the gap between Paul's rigorous beliefs and her children's happiness. When both children go missing from their hotel room in the middle of the night, Liz has no idea who might have taken them, nor does she realize the depth of her own courage that it will take to find out. A wonderful, high-octane read!" --Linda Dewberry, Whodunit? Books, Olympia, Wash.

The Garden of Burning Sand by Corban Addison (Quercus, $26.99, 9781623651299). "This is a captivating thriller that combines page-turning suspense with a social conscience. In contemporary Zambia, an American lawyer who is seeking justice fights entrenched power as well as her own family demons when her father, an influential senator, becomes a candidate for president. Addison's tale is a fantastic read for literary novel lovers and thriller readers alike, as it provides both suspense and the exploration of important global issues in a credible and convincing style." --Ed Conklin, Chaucer's Books, Santa Barbara, Calif.

Paperback
Fin & Lady: A Novel by Cathleen Schine (Picador, $15, 9781250050052). "This book is the escape you want this summer. It is wonderful! It has the sweetest ending to a genuine story that takes place against the backdrop of the '60s in Greenwich Village. A young boy, Fin, is orphaned and his half-sister (who has characteristics of Holly Golightly and Auntie Mame) takes him in. This story and his life are always swirling around his half-sister/guardian, Lady. Literate and aware Fin analyzes Lady's suitors with adult eyes as he survives against the back drop of the time." --Deon Stonehouse, Sunriver Books & Music, Sunriver, Ore.

For Ages 4 to 8
The Worst Princess by Anna Kemp (Random House Books for Young Readers, $16.99, 9780385371254). "This is a tale for anyone who feels traditional fairy tales with formulaic princesses leave something to be desired. Princess Sue longs for her very own Prince Charming and has read all the books on how to do it. A prince finally comes for her, but Sue's relief is short-lived as she finds out that he expects her to sit prettily in her tower and amuse herself with fancy dresses. When Sue joins forces with a dragon, proving herself the Worst Princess, she learns that it's OK to be herself, even if it's not what's expected of her." --Melissa Oates, Fiction Addiction, Greenville, S.C.

[Many thanks to IndieBound and the ABA!]


Book Brahmin: Monica Byrne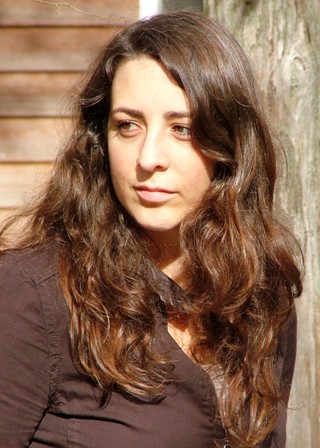 photo: Donald E. Byrne III
Monica Byrne studied at Wellesley College and MIT. She is a writer, playwright and traveler who lives in Durham, N.C. Her debut novel is The Girl in the Road (Crown, May 20, 2014).
On your nightstand now:
The Bradt Guide to Iran.
Favorite book when you were a child:
A Wrinkle in Time by Madeleine L'Engle. My big sister Julie--she was 18 when I was five--would read a chapter to me each night before I went to bed. She used different voices for Mrs. Who, Mrs. Which and Mrs. Whatsit, including a high fluty one that made me giggle.
Your top five authors:
I'll take that to mean the most influential on my own writing so far, and that'd be Ursula K. Le Guin, Kim Stanley Robinson, Norman Rush, C.S. Lewis and J.R.R. Tolkien.
Book you've faked reading:
I've stopped reading books because I didn't like them, but I can't remember ever having faked reading one. Or faked liking one. If I don't like a book, I'll say so.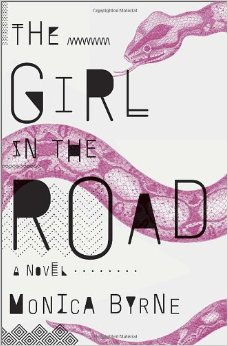 Book you're an evangelist for:
Mating by Norman Rush. It's the first thing I look for in used bookstores--I'm constantly giving it away to people. I read it when I was 23, and it was like reading an entirely new kind of book. I never knew writing could be so smart, eccentric, joyful and funny.
Book you've bought for the cover:
Robert Silverberg's Kingdoms of the Wall. I was 10 or 11. I just remember seeing that cover and thinking, "Take me there."
Book that changed your life:
Reviving Ophelia: Saving the Selves of Adolescent Girls by Mary Pipher. It's a landmark book about how girls get "lost" around puberty, forgetting their courage, uniqueness and intelligence in favor of fitting in. My best friend at the time--whose mother was a therapist, and had given it to us--and I had the incredible fortune to read it when we were 13. Suddenly, we had a vocabulary for everything that was happening to us. I felt like I had an ace up the sleeve in terms of negotiating such a difficult time in life.
Favorite line from a book:
"Love doesn't just sit there, like a stone, it has to be made, like bread; remade all the time, made new." --Ursula K. LeGuin, The Lathe of Heaven
Book you most want to read again for the first time:
Oh, I'd dearly love to read all the Harry Potter books as if I'd never cracked them--take all seven to a beach cottage and read them in a row. What an incredible pleasure that would be!


Book Review
Review: Abroad
Abroad by Katie Crouch (Sarah Crichton/FSG, $26 hardcover, 9780374100360, June 17, 2014)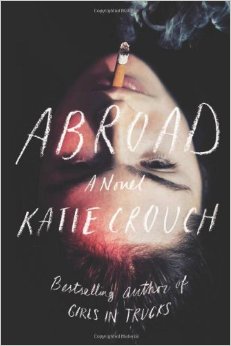 Novelist Katie Crouch (Girls in Trucks) examines the perils and pleasures of young womanhood as she walks readers down the spiral into a tragedy that evokes the Amanda Knox case.
Straitlaced Irish university student Tabitha--"Taz," to her friends and family--travels to Grifonia, Italy, to study abroad for a year. She chooses Italy because she speaks Italian and Grifonia because it has a reputation for safety, but the city's history is actually steeped in blood all the way back to its Etruscan days. Taz doesn't know about the innocent girls who have lost their lives in Grifonia over the centuries or the legacy of their brutal ends; her imagination is filled with sun-drenched hills, delicious food and charming local boys.
At first, Taz studies and goes on excursions to historic sites, but soon she runs into Jenny, a classmate from back home. Jenny and her friends Anna and Luka exude beauty, confidence and money, and middle-class Taz is surprised but grateful when they draw her into their clique. The year abroad takes on a different tone as Taz's new friends become her ticket to the most exclusive parties, the finest clothing and lavish dining.
Taz's free-spirited American roommate Claire doesn't trust Jenny. And while Taz soon learns her new friends have ulterior motives, she's just as dubious about sensual, overly familiar Claire. Taz's loyalties are further confused when she and Claire wind up with uncomfortably overlapped love lives.
While Crouch's premise is transparently inspired by the Amanda Knox trials, her plot isn't as ripped from the headlines as readers may initially expect. Though the crime and its fallout are the climax and coda of a journey through drugs, sex, and scandal, Crouch's real focus is the dark side of female friendship. Call it the antithesis of chick lit: Crouch explores the simultaneous love and envy that characterize the so-called frenemy relationship. Jenny may call Taz a friend, but her constant conversational games of wit and malice hint that betrayal hovers in the periphery, and her constant digs at Claire illustrate her unwillingness to share a spotlight with another girl. Taz's supportive best friend, still in the U.K., acts as a foil for oversexed Claire and dangerous Jenny. The reader is left wondering if this friend's presence could have averted the gory ending, or if Taz's overwhelming desire for popularity would still lead her to ruin. By turns tender, cutting and brutal, Abroad captures a fascinating vortex of toxic love. --Jaclyn Fulwood
Shelf Talker: The bloody history of an Italian city foreshadows a college girl's year abroad with a crowd of charismatic, reckless friends.