Shelf Awareness for Readers for Tuesday, September 16, 2014

Book Candy
Great Books Based on Other Great Books
"Literature is a never-ending, overlapping, sometimes circular conversation--between writers, between readers, between books themselves," Flavorwire observed in highlighting "10 great books based on other great books."

---
Quirk Books recommended "five books that we'd love to see as Choose Your Own Adventure novels."

---

Conceding that "everybody knows that most dystopias are kind of contrived," io9 suggested "10 lessons from real-life revolutions that fictional dystopias ignore."

---

"A writer is a world trapped in a person." This bit of wisdom from Victor Hugo is just one of "15 delightfully inspirational quotes from great writers" featured by Mental Floss.

---

"Top dogs: 10 literary canines" were showcased in the Guardian by Mikita Brottman, author of The Great Grisby: Two Thousand Years of Exceptional Dogs.

---

"Let's talk bookshelves. Both practically and impractically," Buzzfeed wrote in highlighting "35 things to do with all those books."
The Writer's Life
Book Brahmin: Julia Keller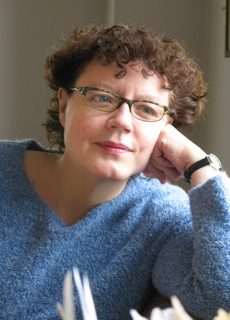 photo: Mike Zajakowski
Julia Keller is the author of Summer of the Dead (Minotaur), the third novel in her series featuring prosecutor Belfa Elkins, who returns to her Appalachian hometown with hopes of stemming the tide of illegal prescriptions drugs. Born and raised in Huntington, W.Va., for many years Keller was chief book critic at the Chicago Tribune, where she won a Pulitzer Prize for feature writing. She has taught writing at Princeton University, the University of Notre Dame and the University of Chicago.
On your nightstand now:
In Paradise by Peter Matthiessen, Tigerlily's Orchids by Ruth Rendell, The Seven Pillars of Wisdom by T.E. Lawrence and The Poacher's Son by Paul Doiron.
Favorite book when you were a child:
A Wrinkle in Time by Madeleine L'Engle. This spooky, mesmerizing story grabbed me back then and haunts me still. I remember being completely besotted by it; I couldn't get its rhythms out of my head.
Your top five authors:
Willa Cather, Iris Murdoch, Sylvia Townsend Warner, Gore Vidal and Virginia Woolf.
Book you've faked reading:
Why fake it? That's like picking your own pocket--the only loser is you. I'd be far more likely to claim I haven't read a book that I actually have read. Why? Because when a friend recommends a book, I don't like to snap back, "I've read it, thanks." That makes me sound like a smarty-pants.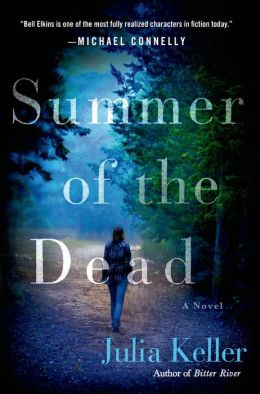 Book you're an evangelist for:
The Sea and the Silence by Irish author Peter Cunningham. This is a spare, exquisite novel that builds to a shattering emotional climax. I found it by sheer happenstance, and now force it into the hands of everyone I meet who appreciates a masterfully told story with a sweeping lyrical intensity.
Book you've bought for the cover:
Small Crimes in an Age of Abundance, a story collection by Matthew Kneale. The cover is devilishly clever; it looks as if someone has taken a small knife and cut out a [letter] from the title, in order to swipe it. At first, I thought the cover had been vandalized--that's how realistic it is. And the stories are wicked, pungent little moral dramas.
Book that changed your life:
The Song of the Lark by Willa Cather. No other novel captures so well the yearning of youth, the sustaining joy of hard work and the ephemeral nature of love. I reread this book every few years and always find new reasons to revere its quiet, austere, restless beauty.
Favorite line from a book:
This seems to change daily, but right now, it's from Fludd by Hilary Mantel: "He heard the mournful shunting and the calls of trains, the feet of night porters on the stairs, the singing of a drunk in St. Peter's Square: he heard ragged breathing from a hundred rooms, the Morse chattering of ships at sea, the creak and scrape of the pivot as angels turned the earth."
Which character you most relate to:
Oh, the agony! Anyone who answers this question honestly is just asking for trouble, leaving herself open to instant psychoanalysis. Okay, here goes: it's a tie. The deeper I go into Sue Grafton's series of alphabet mystery novels, the closer I feel to Kinsey Millhone, her resourceful, wisecracking--and just plain wise--protagonist. But I also feel a strong kinship with Quirke, the moody, hard-drinking Dublin pathologist in John Banville's series of crime novels that he writes under the pen name Benjamin Black. The latest, Holy Orders, is suffused with gloom and fog and black webs of regret--just my cup of tea.
Book you most want to read again for the first time:
I remember the sweet agony of reading The House of Stairs by Barbara Vine--really Ruth Rendell--with a swoop of feverish intensity. I was half-afraid to keep going but fully unable to stop. The novel exerts a strange hypnotic power far beyond the usual crime-novel compulsion to find out who did what to whom and why. It's almost diabolical in its appeal; time disappears, the edges of the real world dissolve as you read, read, read. To be so completely under a book's spell is rare indeed, and I'd love--or is it fear?--to be back in that place, opening the first page of this entrancing novel for the first time.
Book Review
Fiction
Bright Shards of Someplace Else
by Monica McFawn
Rainey Royal
by Dylan Landis
Mystery & Thriller
Perfidia
by James Ellroy
Food & Wine
Tacolicious: Festive Recipes for Tacos, Snacks, Cocktails, and More
by Sara Deseran , with Joe Hargrave , Antelmo Faria , Mike Barrow
Biography & Memoir

Her Beautiful Brain: A Memoir
by Ann Hedreen

Smoke Gets in Your Eyes: And Other Lessons from the Crematory
by Caitlin Doughty
History
The Demon's Brood: A History of the Plantagenet Dynasty
by Desmond Seward
An Indigenous Peoples' History of the United States
by Roxanne Dunbar-Ortiz
Current Events & Issues
Renegade Amish: Beard Cutting, Hate Crimes, and the Trial of the Bergholz Barbers
by Donald B. Kraybill
Children's & Young Adult

Mix It Up!
by Hervé Tullet , trans. by Christopher Franceschelli
Louise Loves Art
by Kelly Light
Education
Excellent Sheep: The Miseducation of the American Elite and the Way to a Meaningful Life
by William Deresiewicz
--- SPECIAL ADVERTORIAL OFFERINGS ---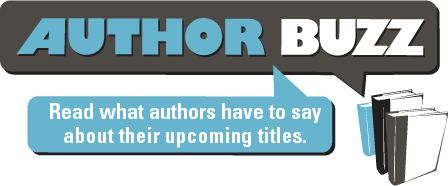 Dear Reader,

Hand of Fire grew from my love of ancient Greeks and from a psychological puzzle posed by a Trojan War tale. Achilles, a half-immortal warrior, takes a woman captive after destroying her city and menfolk—hardly a heartwarming courtship. Yet the story shows a loving connection between them, but no explanation. Achilles questions the war; he's no Stockholm Syndrome brainwasher. The answer lay deeper. I created a young healing priestess, designated as future queen, defending her city, an ally of Troy, against both divine anger and invading Greeks. In her lay the seeds for their relationship and for a tale of hope and resiliency. "Suspenseful, tragic, surprising and sexy" –Nancy Bilyeau, author of The Crown I'm giving away five books. Write to me - JudithStarkston@gmail.com - to win!

Judith Starkston
www.JudithStarkston.com




Publisher: Fireship

Pub Date: 09/10/2014

ISBN:
9781611792966

List Price: $9.95
Dear Reader,

I'm often asked how I can write romances set in dark worlds full of violence and monsters. My answer? The human world is also full of violence, darkness, and monsters, but we still find the beauty, love, and laughter in life. When I wrote Azagoth, which is set almost entirely in the underworld realm of the Grim Reaper, I definitely had my work cut out for me! It's dark and gritty, and yet, steamy and romantic. Hope you enjoy!

Please write to 1001DarkNights@gmail.com to win one of five copies.

http://www.1001darknights.com/authors/larissa-ione-azagoth/

http://store.kobobooks.com/en-US/ebook/azagoth-a-demonica-novella




Publisher: Evil Eye Concepts, Inc.

Pub Date: 06/10/2014

ISBN:
9781940887043

List Price: $2.99
Dear Reader,

Fifty years after his attorney grandfather tried a case that rewrote their family history, Coop Lindsay arrives in Justice, Mississippi, looking for answers to unresolved questions. When a new case is presented, this third generation lawyer believes he can finally right the wrongs of the past—if only he can stay alive long enough to prove it. Win one of five copies of The Color of Justice by liking Ace Collins on Facebook: www.facebook.com/AuthorAceCollins. Claim your blog review copy by emailing fiction@abingdonpress.com.




Publisher:
Abingdon Press

Pub Date: 10/07/2014

ISBN:
9781426770036

List Price: $14.99
Dear Reader,

THE LAST SAVANNA is my personal story of fighting elephant poachers in Kenya, and of my love for our humanity's ancient heartland, its people and animals, and the lonely beauty of its dangerous deserts, jungles and savannas. Called "a powerful love story set in the savage jungles and deserts of East Africa", it is also a passionate tale of a man's love for a woman he can never have, and a testament to the magnificent animals we are about to lose forever.

Email alissa@mediamuscle.com to win a copy of THE LAST SAVANNA.




Publisher:
Mandevilla Press

Pub Date: 08/15/2013

ISBN:
9781627040082

List Price: $15.95