Shelf Awareness for Readers for Friday, May 22, 2015
Book Candy
Beach Reading; Book and Wine Pairings
With Memorial Day weekend at hand, beach reading season has officially begun. BuzzFeed asked: "What new book should you read this summer?" Bustle suggested "13 books to read by the fire on your next camping trip, because the season to be outdoors is finally here." Brightly discovered "6 vacation destinations for children's literature fans." And Microsoft founder Bill Gates shared his annual "summer reading list."

---

"A boat trip showed Huxley a key creative influence. Mental Floss revealed "15 things you might not know about Brave New World."

---

Quirk Books invited readers to "bibulate like a bibliophile: book pairings for your favorite wines."

---
The "top 10 ways to be evil in children's books" were highlighted by the Guardian.

---
You know you want one of these. The Bookdesk "is a combination of desk and bookcase," Bookshelf reported.
Great Reads
Now in Paper: May
Nonfiction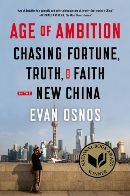 Age of Ambition: Chasing Fortune, Truth, and Faith in the New China by Evan Osnos (Farrar, Straus & Giroux, $16)
When New Yorker writer Evan Osnos moved to China as a foreign correspondent in 2005, he set about trying to understand the country's metamorphosis into a free-market global superpower from the point of view of ordinary citizens. Age of Ambition is a revelatory and thoughtful look at the new China and its changing landscape.
A Sting in the Tale: My Adventures with Bumblebees by Dave Goulson (Picador, $16)
As it skips from the small town of Shropshire, England, to Tasmania and its wildflowers, Dave Goulson's debut treatise delights and informs on the varied lives and intricate behaviors of bumblebees.
The Great and Holy War: How World War I Became a Religious Crusade by Philip Jenkins (HarperOne, $15.99)
The Great and Holy War offers an alternate account of the Great War through the lens of its religious aspects--and how the war ultimately reshaped Europe's religious landscape.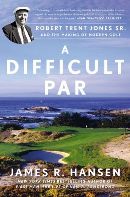 A Difficult Par: Robert Trent Jones Sr. and the Making of Modern Golf by James R. Hansen (Gotham, $20)
James R. Hansen believes Robert Trent Jones, Sr. was the greatest golf course architect of the 20th century. After reading this superb chronicle, it's hard to disagree. It's likely every golfer and reader of this fine book has played at least one of Trent's courses--he designed more than 400 worldwide.
The Madwoman in the Volvo: My Year of Raging Hormones by Sandra Tsing Loh (Norton, $15.95)
This brutally candid account may give readers hope that there's a hidden benefit to menopause: becoming courageously outspoken. Loh tries everything from yoga to a Greek yogurt diet to calm her careering hormones, but ultimately realizes that acceptance is the true path to enlightenment.
Sextant: A Young Man's Daring Sea Voyage and the Men Who Mapped the World's Oceans by David Barrie (Morrow, $14.99)
Almost entirely outmoded because of the ease of GPS tracking and usually relegated to the maritime swap meet, the sextant was once a critical tool for sailors to pinpoint their location at sea. Sailor David Barrie brings us the history of the sextant, the men who used it and what it helped humankind accomplish.
The Reef: A Passionate History: The Great Barrier Reef from Captain Cook to Climate Change by Iain McCalman (Scientific American, $16)
Iain McCalman has composed "a passionate history" of the Great Barrier Reef, opening with his own long-awaited voyage (part of a reenactment of Captain Cook's original trip). McCalman's writing is accessible to any reader interested in the intersection of science, nature and history.
Total Recovery: Solving the Mystery of Chronic Pain and Depression by Gary Kaplan, with Donna Beech (Rodale, $16.99)
Osteopathic physician Gary Kaplan opens his exploration of chronic pain and depression by stating how assumptions of the most common or simplest diagnosis are futile. Even readers without chronic pain or depression will find Total Recovery fascinating.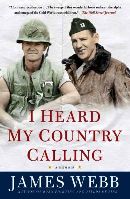 I Heard My Country Calling by James Webb (Simon & Schuster, $17)
James Webb, a former Secretary of the Navy and decorated Marine, heard his call to enlist through his father's dedicated military service. Whether the reader agrees with Webb's perspectives on the Vietnam War, his narrative makes for a deeply sobering, poetic read.
The Shelf from LEQ to LES: Adventures in Extreme Reading by Phyllis Rose (Farrar, Straus & Giroux, $15)
In 2011, biographer Phyllis Rose had a reading epiphany: most of us choose to read books prescribed by reviewers, awards panels, librarians and teachers. If we limit ourselves to the current and the canonical, she wondered, what are we missing? She decided to sample one shelf of fiction--LEQ to LES--in an Upper East Side library as a representation of the whole library.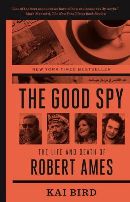 The Good Spy: The Life and Death of Robert Ames by Kai Bird (Broadway, $16)
On April 18, 1983, a truck loaded with explosives crashed into the lobby of the United States embassy in Beirut, Lebanon. Among the 63 people killed in the bombing was Robert Ames, a CIA agent who had played a pivotal role in establishing a line of communication between the U.S. government and the Palestine Liberation Organization.
The Tastemakers: Why We're Crazy for Cupcakes but Fed Up with Fondue by David Sax (PublicAffairs, $15.99)
David Sax takes readers on a journey deep into the heart of the specialty food industry and examines how different foods can go from little-known and hardly used to desirable fads that bring in millions of dollars. His conversational tone expertly informs and entertains as he breaks down why some foods become market staples and others are destined for the "specialty" aisle.
Fiction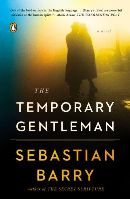 The Temporary Gentleman by Sebastian Barry (Penguin, $16)
Jack McNulty saw his share of danger in World War II, but he is no hero. He drinks too much and gambles away money he doesn't have. The Temporary Gentleman is the sixth in a series of novels in which Sebastian Barry fictionalizes the lives of his ancestors, with a perfect grasp of the wild and messy realities of actual lives.
The Book of You by Claire Kendal (Harper Perennial, $15.99)
The darkest side of fairy tales comes true for one innocent woman in Claire Kendal's terrifying debut novel of obsession and violence. Clarissa has just come through a wrenching breakup, and finds herself fending off an increasingly violent madman with few resources at her disposal. Kendal's talent will win many fans.
American Innovations: Stories by Rivka Galchen (Picador, $15)
American Innovations, Rivka Galchen's first story collection, defies categorization, varying in tone from coolly surreal to nakedly emotional. Though occasionally perplexing, her stories are grounded in a keen grasp of detail and crisp, lively prose.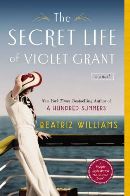 The Secret Life of Violet Grant by Beatriz Williams (Berkley, $16)
A young New York City writer seeks the truth about a relative who reportedly killed her husband 50 years earlier. Readers will be swept away to Europe on the brink of the First World War and 1960s New York City, and Vivian is the kind of sassy heroine Williams's fans have come to love.
Black Lies, Red Blood by Kjell Eriksoon, translated by Paul Norlen (Minotaur, $15.99)
Kjell Eriksson's Swedish police squad returns for a fifth time in Black Lies, Red Blood. While Beatrice Andersson and Sammy Nilsson head up the investigation of a murdered homeless man who'd just begun to turn his life around, Ann Lindell works on a missing person case--a 16-year-old girl who disappeared without a trace on her birthday.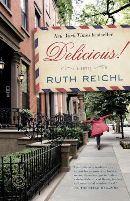 Delicious! by Ruth Reichl (Random House, $16)
Ruth Reichl has been synonymous with "food writing" since 1972. In her first novel, a young woman works for an ill-fated food magazine, reminiscent of Reichl's days as editor-in-chief of the now-defunct Gourmet. The story soon goes beyond the autobiographical to encompass a richly detailed historic fiction of the U.S. home front during World War II.
The Year She Left Us by Kathryn Ma (Harper Perennial, $15.99)
Kathryn Ma's incandescent debut novel, The Year She Left Us, is a stirring excavation of adolescent, familial and racial identity. For Ari, a Chinese orphan adopted in infancy by Charlie Kong--a Chinese-American woman in San Francisco--a frustrating lack of information about her birth family compounds her already festering teenaged angst.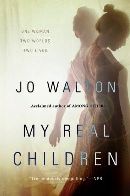 My Real Children by Jo Walton (Tor, $15.99)
A dying woman has memories of two distinct alternate lives sprung from one seemingly small decision. As she lies in her nursing home, she recalls two lives: one in which she married her college boyfriend and had four children, and one in which she never married and raised three children with a woman named Bee instead.
The Blessings by Elise Juska (Grand Central, $15)
In a rich novel of family stories, Elise Juska chronicles the goings and comings of a large close-knit Philadelphia family--dinner by dinner, marriage by marriage, generation by generation. With a keen eye for detail and character, Juska shows us that, Tolstoy notwithstanding, a happy family can be happy in its own way and make for great storytelling.
Invisible Ellen by Shari Shattuck (Berkley, $16)
One afternoon, while Ellen is on her way to work, a young, blind woman boards the bus and Ellen instinctively intervenes to save the stranger from being mugged. Thus, two strangers become unexpected friends, changing both their own lives and the lives of others.
The Writer's Life
Tim Parks: Rethinking Literature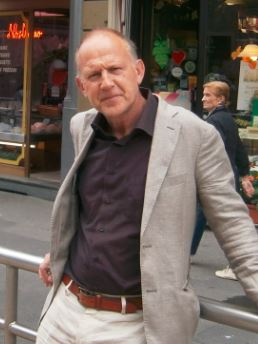 Tim Parks is a writer and translator. He has written 17 novels, including Europa, which was shortlisted for the Booker Prize, and, most recently, Painting Death. He is the author of several works of nonfiction, including Italian Neighbors and Italian Ways. Parks has also translated the works of Alberto Moravia, Giacomo Leopardi and Niccolò Machiavelli, among others, and is a frequent contributor to the New York Review of Books and the London Review of Books. He lives in Italy.
Over the past three years, Parks has written blog posts on writing, reading, translation, etc., for the NYRB online, now collected in Where I'm Reading From: The Changing World of Books (New York Review Books, May 12, 2015).
In your essays, you have challenged the glamorization of suffering and self-discovery in the traditional novel.
So much fiction does come across as self-congratulation, however subtle the process may be. And a kind of shared complacency with the reader about our supposed sensitivity. One tries to resist it, aware that even that resistance could become a motive for self-congratulation.
What do you think of the idea that the purpose of literature is to alleviate loneliness?
Please, what a sad idea.
It is. But deeply appealing to a lot of lonely people, it seems.
When you are lonely, you can of course fill some empty space with the TV, a DVD, a book or some other surrogate. But this hardly solves the problem. In David Copperfield, Dickens has David take refuge in the company of books while locked in his room by the evil Mr. Murdstone. Nevertheless David still desperately needs real company, real people. In fact the very liveliness of the literary characters he meets in those books reminds him of that. And he is aware that the uses of literature go far beyond filling his hours of punishment. Essentially, the novels he reads allow his mind to move beyond the trap in which he finds himself. He is of course delighted when he gets out of Murdstone's clutches and finds real company. Though books never stop David from making the mistakes he always does make when dealing with others.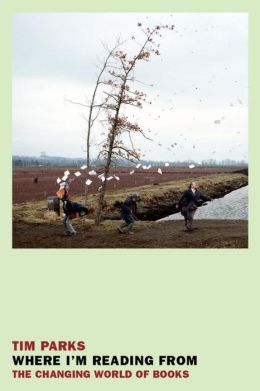 Reading your essays, I began to see a similarity to critiques of forms of religion that also appeal to this desire for consolation and self-justification.
Perhaps collectively we all have a vocation for denial. We reassure each other, thinking: if so many people believe this, why not take comfort in it? We go to churches, or read newspapers, or are members of clubs that confirm our opinions and reassure us as to the superiority of our culture, our sensibility, the talent we have, the community we belong to. A great deal of literature serves this function.
All is well, then, until something comes along to undermine our protected world. An illness, a bereavement, a betrayal, a failure. Then we can go into an even more intense form of denial--he or she is not really dead, they are in heaven, my wife may have left me for today, but she is bound to come back, etc.--or we can look for some way to come to terms with things as they are.
Giacomo Leopardi, a wonderful Italian poet of the early 19th century, makes this remark: "Works of 'literary' genius, have this intrinsic quality, that even when they capture exactly the nothingness of things, or vividly reveal and make us feel life's inevitable unhappiness, or express the most acute hopelessness... they are always a source of consolation and renewed enthusiasm."
This seems to me an interesting paradox. Sometimes it is precisely when we turn away from the protection of denial and face trouble without demands and expectations, that we find unexpected resources. I guess if we're talking about my book Teach Us to Sit Still, the story I tell there turns on the moment when I was forced to realize that there was no help or good news to be had from the folks I'd previously thought would get me through my condition, the doctors in particular.
And again when I realized that my obsession with words and books and the hope that they might constitute a sort of alternative world in which I was powerful, was actually part of the problem, not the solution. Books were doing me at least as much harm as good.
In general, when we see art, books, stories, whatever, being presented to us as a kind of panacea and somehow necessary for the survival of civilization, etc., we should always wonder whether in fact they are not part of the problem.
Which writers have offered you a more clear-eyed perspective on the world?
Perhaps more interesting is the way different thinkers or artists speak to us in different moments depending on where we're up to, what we're going through, where we came from. So I went through a phase, for example, when I was in love with Emil Cioran's writings, or Thomas Bernhard's. They offer such a withering vision of Western pieties. But these are not what I'm after now.
And then, it's not so much the aphorism or aperçu that interests me these days, but the whole way the world is presented with its seductions and conflicts. I want it to be fresh and convincing, not simply to "do literature." I've been enjoying the work of Swiss writer Peter Stamm a lot. I frequently go back to old favourites like D.H. Lawrence, Beckett. Their very restlessness is encouraging.
You've discussed how the global literary marketplace encourages universal themes and easily translated prose, and the ideal of an artist who speaks to everyone. Despite this, you have developed diverse audiences in various countries. How do you think about them when you write?
The nature of modern communications is such as to make us aware of being part of a global community as well as a local community. We are daily informed of events and attitudes all over the world. Where I live, 70% of the books on the shelves are translated. So readers and writers do not think of writing as specific to a national community. Obviously this shifts the way people write a little. They know a book could be read worldwide, not just by their fellow nationals. It also shifts the way publishers select and promote books.
As for myself, I've been in the curious situation of having my writing split in different worlds, both geographically and in terms of different reading communities and academic communities. Essayist for some, novelist for others, translator for others again. Probably if one piece of work achieved major celebrity that fragmenting would be overcome. But I actually rather like the situation.
I think of my readers in different ways, depending on whether I'm writing essays, articles, stories or novels. Certainly when writing a serious novel, one is trying to be true to the inspiration of the book, yet always conscious that it must be such that a reader can participate. In the end, though, the ways we react to the present global literary mix are, I suspect, largely unconscious. Our behaviour can shift without our knowing it. You only need to look at a video of yourself 20 years ago to see how much you've changed without really being aware of it. In that sense, there's no need for me to worry too much about the reader. On the contrary. We adapt all too easily and instinctively look for ways of pleasing. The real effort is find a way, nevertheless, to say things as they really are.--Sara Catterall
Book Review
Fiction

The Anchoress
by Robyn Cadwallader
Housebreaking
by Dan Pope
Mystery & Thriller
Luckiest Girl Alive
by Jessica Knoll
The Last Four Days of Paddy Buckley
by Jeremy Massey
Food & Wine

Meatless in Cowtown: A Vegetarian Guide to Food and Wine, Texas-Style
by Laura Samuel Meyn , Anthony Head
Biography & Memoir
The Golden Age of Murder: The Mystery of the Writers Who Invented the Modern Detective Story
by Martin Edwards
The Millionaire and the Bard: Henry Folger's Obsessive Hunt for Shakespeare's First Folio
by Andrea Mays
History
Dispatches from Dystopia: Histories of Places Not Yet Forgotten
by Kate Brown
Essays & Criticism
The Brontë Cabinet: Three Lives in Nine Objects
by Deborah Lutz
Travel Literature
The Mystical Backpacker: How to Discover Your Destiny in the Modern World
by Hannah Papp
Children's & Young Adult

The Last Goodbye
by Yuan Pan
Miss Hazeltine's Home for Shy and Fearful Cats
by Alicia Potter , illus. by Birgitta Sif
I Don't Like Koala
by Sean Ferrell , illus. by Charles Santoso
SOLITUDE CREEK
by Jeffery Deaver
ISBN-13 978-1455517152
Grand Central Publishing
5/12/2015
#4 in the Kathryn Dance Series


an exclusive interview with
NYT bestselling author Jeffery Deaver
SOLITUDE CREEK is the fourth in the Kathryn Dance series, following the amazing, XO. What's in store for Dance this time around?
Oh, mayhem, chaos, and terror, of course! In this novel, Kathryn gets busted down to "buck private" for making a serious mistake during an interrogation; she's relegated to civil work for the CBI, like checking health certificates and bottle deposit receipts. But you can't keep a strong woman down and she secretly runs an investigation on a villain obsessed with turning people's panic into a weapon.
THE BIG THRILL caught up with Deaver to talk about mayhem, chaos, and of course, SOLITUDE CREEK. Read about it here.

ALSO FEATURED ON THE
the big THRILL…
RUINS OF WAR by JOHN A. CONNELL: It took a decade, four defunct novels, and countless rejections before Connell landed a publishing deal. But the hard work and determination paid off. His novel, RUINS OF WAR—a unique, historical thriller set in postwar Germany—is already garnering national acclaim. And Connell, well, he's considered a debut-to-watch. Read about him in THE BIG THRILL.
THE TAPESTRY by NANCY BILYEAU: As a trained Journalist, whose editorial credentials include Rolling Stone and Entertainment Weekly, Nancy Bilyeau understands the value—and importance—of a well-researched novel. Particularly in the case of her Tudor-inspired thrillers. For THE TAPESTRY, the third book in her bestselling Joanna Stafford series, Bilyeau pits her protagonist against none other than King Henry VIII. Check it out in THE BIG THRILL.
THE SHADOW CARTEL by LAYTON GREEN: International man of action, Dominic Grey, has fought cults and criminals all over the globe. In his next escapade, he takes on THE SHADOW CARTEL. We recently sat down with Dominic's creator, Layton Green, and asked the world-traveler-turned-bestseller about his journey to the top of the bestseller list and where he plans to go from here. Catch the whole interview in THE BIG THRILL.
STONE COLD DEAD by JAMES ZISKIN: A taut tale of mystery and suspense that is at once a reminder of how a sleuth got the job done in the era before CSI and an antidote to nostalgia, James Ziskin's STONE COLD DEAD is just too cool to miss. Read all about it in THE BIG THRILL.
DYING BRAND by WENDY TYSON: In the third installment of Wendy Tyson's Allison Campbell mysteries, Campbell ends up investigating the brutal murder of her former boyfriend. As her hunt for truth reveals each secret, Campbell's past and present collide, in a mystery that is not just deadly, but the most personal yet. Get the full scoop on DYING BRAND in THE BIG THRILL.