Shelf Awareness for Readers for Friday, October 31, 2014

Book Candy
Bookish Halloween Treats
"You are in a small town. There is a deep dark secret that only the members of the town know. The outside world can never find out." This is one clue Toast offered to help you "tell if you are in a Gothic horror novel."

---

The Fault Is in Our Starburst or Oliver Twix or Skittle Women, for example. Quirk Books asked: "What if your favorite books were Halloween candy?"

---

"Taking readers from the ninth circle of hell to prom night at Thomas Ewen Consolidated High School," Knopf suggested 11 books that "are scarier than bar close on Halloween night. Sleep tight!"

---

Last minute dress-up ideas: Electric Lit's infographic highlighted the Halloween costumes of famous authors.

---

"Can you identify these classic horror books by their covers?" asked the Guardian, noting that this is "a spooky time of year, so get into the Halloween spirit."

---

"Ghosts, ghouls and monsters turn up everywhere at Halloween—including in our language," Mental Floss noted in featuring "10 words with spooky etymologies."
Great Reads
Rediscover: We Have Always Lived in the Castle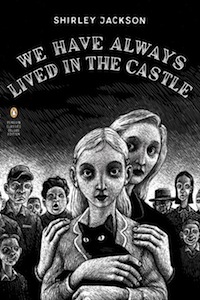 An ideal tale for Halloween, We Have Always Lived in the Castle by Shirley Jackson (Penguin Classics, $16, 9780143039976), first published in 1962, was the single most recommended title in a recent Shelf Awareness survey of booksellers focused on scary books. The novel tells the story of a twisted, isolated family and what transpires when a cousin comes to visit. Tracy Wynne of Oblong Books and Music, Rhinebeck and Millerton, N.Y., said, "Jackson was the master of creating an eerie and unsettling atmosphere where her stories would unfold. Her writing makes you want to hold your breath until whatever that is has gone past your door." Maryelizabeth Hart of Mysterious Galaxy, San Diego and Redondo Beach, Calif., called Jackson, who also wrote "The Lottery" and The Haunting of Hill House, "the maven of stories in which little is more horrifying in life than family." And Jen Catlin, also from Mysterious Galaxy, added: "This story has haunted me for years. It is one of the most compellingly creepy stories I have ever read."
The Writer's Life
Val Wang: On the Ties that Bind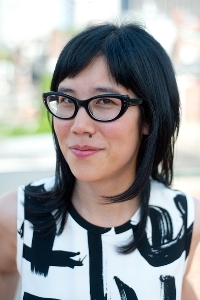 photo: Kelly Creedon
Val Wang is a Boston journalist and multimedia storyteller and former editor for the English-language Beijing newspaper City Edition. She also created and produced Planet Takeout, an interactive documentary that explores the role Chinese takeout restaurants have in their neighborhoods. In 2014, Wang became an assistant professor in the English and Media Studies department at Bentley University. Beijing Bastard: Into the Wilds of a Changing China (Gotham Books, October 30, 2014), a compelling coming-of-age memoir set in a changing China, is her first book.
How did you arrive at the title Beijing Bastard?
Seeing the movie Beijing Bastards was really the moment that opened up the possibility of going to China; it laid a lot of the groundwork of the world I would be stepping into and the role I'd enter. I identified so closely with the characters in that movie, and when I met the filmmaker, Zhang Yuan, it kind of felt like... I was stepping into the world of his movie. That's the attitude I took toward writing my book.
You write about the changing face of China, as the old mom-and-pop noodle shops, salons and night markets are replaced by flashy upscale versions.
It was hard to see a lot of the city disappearing. There was this woman outside my building who would steam pork buns--a young woman from the countryside who had her own business. I would eat them every morning as I walked to work. It was her life, and I was part of her life. I came one day and her whole setup had been knocked over by police. She was crying, and I never saw her again. It was happening everywhere--street food was just a part of life that was disappearing.
It seems that much of your family's history is tied to Beijing's courtyard houses and hutongs.
When I first moved to Beijing, the only people I knew were my relatives, and I barely knew them. I didn't have very much money, and I didn't know the city, so the natural thing for me to do was to live with them for a while until I found my own place. They were really generous. In Chinese families, you can do that even though you're pretty much strangers.
It was a house with no flush toilets and no hot showers. I had a lot of conflict with my relatives and I thought, "Why am I living here? I'm living with these people and they're giving me the same kinds of trouble as my family at home." I thought it was a complete disaster and I couldn't wait to get out. We fought all the time.
Looking back, it instantly gave me a connection to the old city and to the old houses. I credit those houses for almost being like a stage [on which] not only my family's history but my history with my family [could] unfold. Having those fights and confronting each other in an intimate space made us close.
During my time there, a lot of the houses were being demolished and the people who lived in the cities were being moved out into the suburbs, into featureless concrete buildings. The communities and this history are being destroyed, and it's really tragic for a lot of people who loved the old city. I get why this isn't a comfortable place to live and why we need to modernize these houses. I could see that side of the story.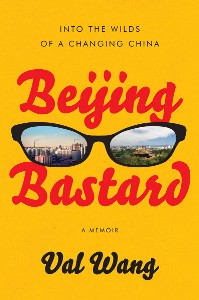 Does it sadden you to see that China is becoming more like the U.S.?
There is definitely a loss of certain kinds of traditions, but tradition is not always the best thing. It can stifle people, especially women, and I feel like there are changes coming to China that have a positive effect on people's lives. The standard of living going up is positive. But it's sad to see the cost of these changes and the loss of community life.
Why was it so important for you to experience what your parents did before coming to the U.S. (proving that you could "eat bitterness with the best of them")?
Growing up in the States, I was always curious about China. It has always been part of my life, in the form of stories, traditions, language, but it was always abstract. I always wanted to go there. [By the time I could go,] things in China were changing. It's that whole thing of "when I was a child, I walked a mile through snow" or "our lives are so hard"--I wanted to see it for myself, even though [by this time] it wasn't as hard. My parents told me, "You're too soft. You're from America, and soft Americans can't take it." I wanted to prove them wrong.
How did your experience in China reliving the past affect your relationship with your parents? With your own children?
My mom has always been open about her past and what life has been like. I think that started my passion for stories. We had a lot of conflict when I was a teenager, and this was a way to get closer to them even while it was also a way to get far away from them. It was a chance to bridge that gap that had opened up between us.
I went to China to run away from family, and I end up getting closer. There's a lot of irony in that. I really resisted learning Chinese when I was little, and now I send my sons to a Mandarin-immersion daycare. Having kids, I realize that I'm just a node in this really long story that's unfolding. It made me feel the importance of staying connected to China and imparting to them the language and parts of the culture I feel are worthwhile and positive. Also, with my grandmother passing away, I realized I'm the one who carries the culture and traditions. I'm the one who decides what should keep going. That was a pretty profound shift. --Nancy Powell, freelance writer and technical consultant
Book Review
Fiction
First Impressions: A Novel of Old Books, Unexpected Love, and Jane Austen
by Charlie Lovett
Beautiful You
by Chuck Palahniuk
Dear Thief
by Samantha Harvey
Alphabet
by Kathy Page
The Woman Who Borrowed Memories: Selected Stories
by Tove Jansson , trans. by Thomas Teal , Silvester Mazzarella
Science Fiction & Fantasy
Fish Tails
by Sheri S. Tepper
Biography & Memoir

Jerry Lee Lewis: His Own Story
by Rick Bragg
History
The Unsubstantial Air: American Fliers in the First World War
by Samuel Hynes
Travel Literature

Walking the Woods and the Water
by Nick Hunt
Children's & Young Adult

The Madman of Piney Woods
by Christopher Paul Curtis
100 Things that Make Me Happy
by Amy Schwartz
Kid Sheriff and the Terrible Toads
by Bob Shea , illus. by Lane Smith
Pets
Good Dog: True Stories of Love, Loss, and Loyalty
by David DiBenedetto , the editors of Garden & Gun