Shelf Awareness for Readers for Tuesday, January 27, 2015

Book Candy
'28 Reasons to Stay Inside and Read a Book'
Just in time for the Snowpocalypse in parts of New York and New England, the hashtag #BlizzardBooks has been lighting up social media, thanks to publisher Little, Brown "and the rest of us book nerds on Twitter." For its part, Buzzfeed suggested "28 reasons you should stay inside and read a book."

---
Bustle herded together "11 cats in books who are cooler, smarter, and way more magical than we'll ever be."

---
"Ever worried you might be generally addicted to books?" The Guardian offered "15 signs to prove you're a book addict.... But don't worry about kicking the habit. Books are awesome."

---

Flavorwire found the "50 of the greatest literary moments on TV."

---

Noting that the "best most of us can hope for when we die is that someone we knew in life might still be around to give us a passable eulogy," Mental Floss gathered "11 eulogies for writers written by writers."
Great Reads
Rediscover: The Power Broker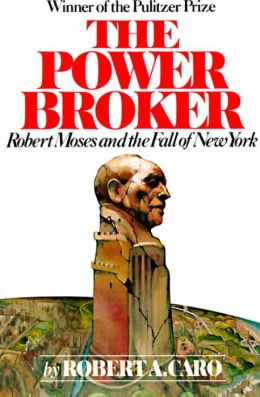 Just over 40 years ago, Knopf published The Power Broker: Robert Moses and the Fall of New York, Robert Caro's exhaustive biography of the man who for much of the 20th century put an everlasting mark on New York City and the state of New York by building and rebuilding many of the area's parks, highways and bridges. The book shows Moses's accomplishments--particularly in building much-needed parks and recreational facilities--but also highlights his increasingly brutal, arrogant, vindictive approach to "urban renewal." Over time this led to the destruction of many New York City neighborhoods and some pristine land as Moses came to favor building ever more highways--even through the center of Manhattan--at the expense of mass transit, of development and appreciation of the city's waterfront and of keeping viable neighborhoods intact. (His decisions were especially painful for local baseball fans, since they led to the move of baseball's Brooklyn Dodgers and New York Giants to the West Coast.) Besides being an astounding portrait of an influential urban planner, The Power Broker is a detailed history of New York.
The subject of Robert Moses has received renewed interest following the publication in December of Robert Moses: The Master Builder of New York City, a graphic novel by French artists Pierre Christin and Olivier Balez, published by Nobrow Press (distributed by Consortium). By focusing on a visual representation of Moses's work, the book tends to highlight his more positive accomplishments.
Book Review
Fiction

See How Small
by Scott Blackwood
Blood-Drenched Beard
by Daniel Galera , trans. by Alison Entrekin
The Same Sky
by Amanda Eyre Ward
My Father's Wives
by Mike Greenberg
Mystery & Thriller

Unbecoming
by Rebecca Scherm
Dead Red
by Tim O'Mara
Biography & Memoir
Whipping Boy: The Forty-Year Search for My Twelve-Year-Old Bully
by Allen Kurzweil
Where the Dead Pause, and the Japanese Say Goodbye
by Marie Mutsuki Mockett
Social Science
Chasing the Scream: The First and Last Days of the War on Drugs
by Johann Hari
Children's & Young Adult

Fairest: The Lunar Chronicles: Levana's Story
by Marissa Meyer
The Founding Fathers
by Jonah Winter , illus. by Barry Blitt
Performing Arts
No Simple Highway: A Cultural History of the Grateful Dead
by Peter Richardson