Shelf Awareness for Readers for Friday, December 6, 2013

The Writer's Life
Einat Admony: Recipes and Reminiscence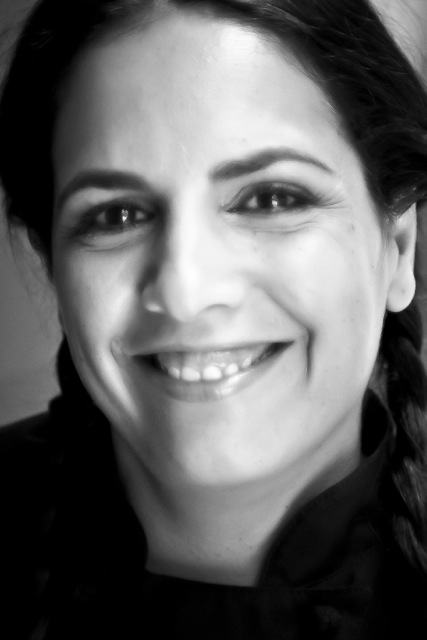 photo: Katherine Needles
"Revenge is always sweet, but all the more so when it's filled with jelly," writes Einat Admony in Balaboosta: Bold Mediterranean Recipes to Feed the People You Love (Artisan Books). After a teenage romance went awry, she drowned her sorrows in freshly baked sufganiyot, an Israeli treat similar to a doughnut.
A cookbook with a heaping helping of memoir, Balaboosta is a delectable journey through Admony's life and into her kitchen. Along with sharing nearly 140 recipes reflecting her mixed Israeli heritage (Yemenite and Persian) and a fresh, sophisticated Mediterranean palate, she reminisces about her childhood in Jerusalem cooking at her mother's side, marrying a Frenchman and opening three restaurants in New York City.
Balaboosta is divided by theme, representing different areas of Admony's world, from "The Grown-Up Table: Casual Dinner Party Dishes" to "Fancy-Schmancy: Restaurant-Worthy Dishes." In a section featuring comfort foods, she offers some of her "favorite cheer-me-up dishes" (including heartbreak cure sufganiyot), while in others she serves up recipes for kid-friendly selections, backyard barbecue, slow-cooked fare and quick-and-easy meals. Also included are family favorites like S'Chug (Dad's Hot, Hot, Hot Sauce) and Mom's Chicken with Pomegranate and Walnuts.
A winner of the culinary competition Chopped, Admony is the chef-owner of New York City's popular Balaboosta, Taïm and Bar Bolonat restaurants. She lives with her husband and two children in Brooklyn, N.Y.
Food is clearly an intrinsic part of your life, from hosting friends for home-cooked, multi-course dinners several times a week to your chosen line of work. Did you ever consider a profession other than becoming a chef?
No. Actually, you know, that's not so true. I lived in Germany for five years, and back then I thought I would be in import and export, but that was for a short time. I think I made the right decision because when people ask me today, what you would do if you were not a chef, I always say I would be unemployed because I can't see doing anything else.
Balaboosta means "a perfect housewife" in Yiddish. In the book you write that you come from a long line of balaboostas, a term of respect and endearment. What is being a balaboosta all about?
I think it has changed a lot since my great-grandmother and my grandmother's time. Everybody was a housewife back then but not everybody was a balaboosta. Basically, back then a balaboosta was somebody that took care of the kids really well and could cook and could tend the family and organize everything and band everybody together. These days a balaboosta, I think, is somebody that can juggle everything and can establish a career and take care of the kids; and it's a million times harder because there are a lot of things to try to balance.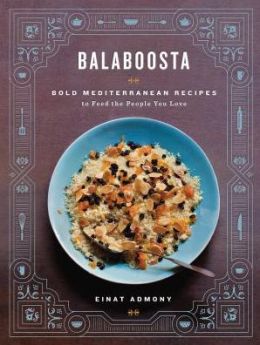 Why did you name your restaurant--and subsequently title the book--Balaboosta?
I was questioning myself for six months about what I was going to call the restaurant. I have a friend, she's a chef as well. We did an event together, and I asked her, "What do you think?" And she said, "What do you call a strong woman in Hebrew?"
The first thing that came to my mind was balaboosta. It was like 10 different cooks in that kitchen were screaming and jumping because they thought it was a beautiful and great name, people that never heard that word before. And I thought it was great. It sounds very easy for everybody, and it's something I really, really like.
Balaboosta is part cookbook and part memoir, sort of a journey through your life, everything from creating an impromptu meal for some important generals while you were serving in the Israeli military to how you met your husband two weeks before you married another man. Why did you want to include these personal stories and anecdotes in the book?
Everybody knows almost everything about me. So now it's another few thousand people who know. For me it wasn't like, oh my god, I'm sharing. I'm a very open person. I don't have much that's secret.
Speaking of secrets, did you have any concerns about revealing recipes for some of the dishes you serve at your restaurants, such as Fried Olives with Labne, an appetizer on Balaboosta's menu and one of your signature dishes?
There are no secrets. Really, I never had secrets. My recipe book for the last 10 years was always open to everybody--to my customers, to my cooks. They can take it, they can copy it. I don't believe in secrets in cooking at all. I think recipes are supposed to be shared.
The subtitle of Balaboosta is "Bold Mediterranean Recipes to Feed the People You Love." How is food and love intertwined for you?
I didn't like the subtitle at the beginning because it sounds to me a little bit cheesy, "recipes to feed the people you love." But it started growing on me, and I realized it's true. How I express my love to my friends and family is by cooking for them.
Which recipes would you suggest trying first?
I like the pomegranate chicken. The only problem is you need to do confiture with pomegranate, but I give a substitution with molasses and juice that you can get in a store. It's my mom's recipe, and it's really good.
The Fluke Ceviche with Beets and Fennel is amazing. I've made it for many, many demonstrations and people love it. And it's really easy.
For dessert, the Kit Kat. It's really tasty and simple, and it keeps for a long time as well. You can keep it in the freezer and then cut cubes as you need them.
Aside from recipes to add to their repertoire, in what ways do you think the book can inspire readers?
A lot of women love the chapter "Fat Like Me" (healthier options) who feel that they struggle with weight forever, and it's so hard, and they change their diet every two weeks. I think the story is funny and everybody is like, "It's totally me." I've heard that so many times. I write in the book not to go crazy, to have moderation and just to cut certain things but not totally. We don't want to deprive ourselves of what we really love in life.
I think yes, there is a lot of inspiration in the book--and some new techniques. For me, mostly it's to expose people to these kinds of foods that a lot of them don't know.
What advice do you have for home cooks?
That you always try to get creative. Also, what I did in the book, because it was very important for me, was to give substitutions for everything. For the falafel, if you don't like black olives, do something else, like the green falafel (with ground parsley and cilantro) we make in the restaurant. If you don't have rosemary for a dish, use thyme. If you want to use cilantro in something because you love it instead of parsley, it would probably work. So basically what I would say is to get creative and don't be afraid to change things and to try to make it even better, to match it to your own palate. --Shannon McKenna Schmidt
Book Review
Food & Wine

Mast Brothers Chocolate: A Family Cookbook
by Michael Mast , Rick Mast

Bountiful: Recipes Inspired by Our Garden
by Todd Porter , Diane Cu
An American Family Cooks: From a Chocolate Cake You Will Never Forget to a Thanksgiving Everyone Can Master
by Judith Choate , illus. by Stephen Kolyer
The Artisan Jewish Deli at Home
by Michael Zusman , Nick Zukin
Bacon Nation: 125 Irresistible Recipes
by Peter Kaminsky , Marie Rama
The Beekman 1802 Heirloom Dessert Cookbook: 100 Delicious Heritage Recipes from the Farm and Garden
by Sandy Gluck , Josh Kilmer-Purcell , Brent Ridge, photos by Paulette Tavormina
Indian Cooking Unfolded: A Master Class in Indian Cooking, with 100 Easy Recipes Using 10 Ingredients or Less
by Raghavan Iyer
A Cook's Initiation into the Gorgeous World of Mushrooms
by Philippe Emanuelli , trans. by Martha Holmberg
Cuisine Niçoise: Sun-Kissed Cooking from the French Riviera
by Hillary Davis
The Kinfolk Table: Recipes for Small Gatherings
by Nathan Williams, editor
Fresh Happy Tasty: An Adventure in 100 Recipes
by Jane Coxwell
The Model Bakery Cookbook: 75 Favorite Recipes from the Beloved Napa Valley Bakery
by Sarah Mitchell , Rick Rodgers , Karen Mitchell
One Bowl Baking: Simple, From Scratch Recipes for Delicious Desserts
by Yvonne Ruperti
Ottolenghi: The Cookbook
by Sami Tamimi , Yotam Ottolenghi
Pie Love: Inventive Recipes for Sweet and Savory Pies, Galettes, Pastry Cremes, Tarts, and Turnovers
by Warren Brown
Toro Bravo: Stories. Recipes. No Bull.
by Liz Crain , John Gorham
River Cottage Veg: 200 Inspired Vegetable Recipes
by Hugh Fearnley-Whittingstall , illus. by Mariko Jesse
Scheherazade's Feasts: Foods of the Medieval Arab World
by Muna Salloum , Leila Salloum Elias , Habeeb Salloum
The Cast Iron Skillet Cookbook, 2nd Edition: Recipes for the Best Pan in Your Kitchen
by Sharon Kramis , Julie Kramis Hearne
Cooking Slow: Recipes for Slowing Down and Cooking More
by Andrew Schloss