Shelf Awareness for Readers for Tuesday, April 30, 2013

Book Candy
A Game of Thrones Wedding?; Famous Literary Salons
Buzzfeed DIY offered guidance on "how to throw a gorgeous and geeky Game of Thrones wedding." Hint: "You probably don't want your wedding to be much like a Dothraki affair... or like that other infamous wedding."

---
"Don't let the muggles get you down." Buzzfeed featured "16 items that every Harry Potter fanatic must own."

---
Flavorwire conducted a brief tour of "some of history's most famous literary salons."

---
Mental Floss noted "10 terms to describe the anatomy of a book."

---
Deja Reviewer featured "10 films that contradict the endings of the books they're based on."

---
YOY Design Studio's Book vase "is a house planter camouflaged as a book... and when closed can be inserted amongst the rest of your books to save desk space," Colossal reported.
The Writer's Life
John-Paul Flintoff: What if You Couldn't Fail?
John-Paul Flintoff has combined journalism, writing and activism with what he describes on his website as being "mad keen on making things." He's the author of Sew Your Own, which explored what your average citizen could to do to avoid relying on sweatshop-produced goods. His new book, How to Change the World, is from the School of Life series published by Picador. He lives in London, where he's a reporter for the Times. Flintoff agreed to an interview with us via e-mail.
You take approaches in this book that suggest you're not trying to create a guide for citizens who want change, but presenting a mix of timeless ideas with an understanding of how we relate to each other now, what with social media and the constant flood of information that comes with it. Who did you have in mind as "the reader" while you were writing it?
I do believe that absolutely everybody should be allowed to notice that they have an effect on the world already, and that they could change the kind of effect they're having to one that makes them happier. In other words, I really believe this is for everybody. We all have dreams we'd like to realise, and worries about things we'd like to avoid/prevent.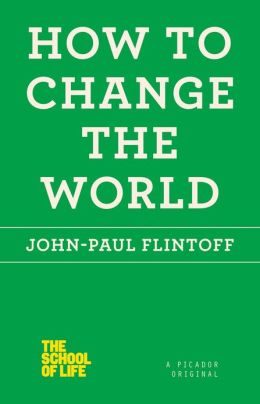 It seems that every month there is one march or another in Washington, D.C., and the press reports wildly different estimates of the size, interviews a few protesters, and a week later it's as if nothing happened. Are marches effective anymore?
Perhaps it's not just the marches that aren't entirely effective but the journalism. Marches can be a way to draw attention to an issue--which is one of the three key mechanisms of change. (The others are avoiding having anything to do with systems/situations you dislike, and creating a better alternative to what's currently available.) But if everybody's marching, then the messages get a bit blurred. People should try something else instead.
If you could share just one thing you'd suggest to people on changing the world, what would it be?
Like it or not, you already have an effect on the world around you. It's unavoidable. If you smile, others may smile too. If you frown, they'll frown. So think about the kind of effect you're having, and how you might like to change that. Ask yourself what you would do if you somehow just knew you couldn't fail. Then break down your magnificent goal into small steps, because nobody ever achieved anything except in small steps. Each small step will give you courage to move on to the next, slightly bigger step. We all have the power to live an inspiring example to others--so what's stopping you? --Matthew Tiffany, counselor, writer for Condalmo
Book Review
Fiction
Equilateral
by Ken Kalfus
The View from Penthouse B
by Elinor Lipman
Mystery & Thriller
You
by Austin Grossman
Good People
by Ewart Hutton
Pale Horses
by Jassy MacKenzie
Biography & Memoir

The Invisible Girls
by Sarah Thebarge
Lost in Suburbia: A Momoir: How I Got Pregnant, Lost Myself, and Got My Cool Back in the New Jersey Suburbs
by Tracy Beckerman
History
The Return of a King: The Battle for Afghanistan, 1839-42
by William Dalrymple
Essays & Criticism

Tiger Writing: Art, Culture and the Interdependent Self
by Gish Jen
Nature & Environment
How Animals Grieve
by Barbara J. King
Children's & Young Adult

Mary Wrightly, So Politely
by Shirin Yim Bridges , illus. by Maria Monescillo
Cartboy and the Time Capsule
by L.A. Campbell
--- SPECIAL ADVERTORIAL OFFERINGS ---

The Neptune Challenge


by Polly Holyoke


Dear Reader,

When the sea has become humankind's last hope, a group of teens fights to survive beneath the waves. I've always LOVED reading stories about quiet kids who become heroes. So In The Neptune Challenge, I continue the story of Nere Hanson, a shy girl who is brave, can talk to dolphins, and definitely gets to save the day!

If you like stories about courage, friendship and adventure, you'll love The Neptune Challenge.

Visit www.pollyholyoke.com to enter to win a signed copy AND a dolphin necklace/bookmark.

Polly Holyoke

THE NEPTUNE PROJECT
Texas Bluebonnet Award 2014-15 Master List
Maryland Black-eyed Susan Book Award Nominee
Bank Street's 2014 List of Best Children's Books





PUBLISHER: Disney/Hyperion

PUB DATE:
May 19, 2015

AGE RANGE: 10-14

GRADES: 4-8

TYPE OF BOOK: Middle-grade fiction

ISBN-13:
978-1484713457

PRICE: $16.99
Alchemy's Daughter


by Mary A. Osborne


Dear Reader,

In medieval San Gimignano, seventeen-year-old Santina apprentices to Trotula, the village midwife. Some say she is victim of the midwife's spell, but Santina is determined to follow in Trotula's footsteps even as calamities strike. Kirkus says, "…this well-researched story incorporates historical information about medieval alchemy, midwifery, and the conflict between science and superstition..."

Email me at mary@maryaosborne.com for a chance to win a signed copy of the Alchemy's Daughter.

Warmly,

Mary A. Osborne
maryaosborne.com





PUBLISHER: Lake Street Press

PUB DATE:
May 15, 2015

AGE RANGE: 14 to adult

GRADES: 9 to 12

TYPE OF BOOK: YA historical novel

ISBN-13:
978-1-936181-17-9

PRICE: $16.95
Wet Hen: A Short Vowel Adventure


by Molly Coxe


Dear Reader,

Thank you for your enthusiasm for the first two Short Vowel Adventures, Rat Attack, and Princess Pig. Here's Wet Hen, a sweet spring story featuring the "short o" sound, endless rain (Think Noah's Ark starring a broody Hen and her best friend, Ben, a cheerful fieldmouse), rainbow-colored eggs, and (after 21 days afloat in the tiny hen house) baby chicks (also in rainbow colors)!

Email me at bravemouse1@gmail.com to enter to win a signed copy.

Happy Spring,
Molly Coxe





PUBLISHER: BraveMouse Books

PUB DATE:
Available now

AGE RANGE: 5 - 7

ISBN-13:
ISBN 9781940947303

PRICE: $3.99