Whether it's before-morning snow, polar-bear snow or the first snow of the season, it's all magical. Shelf Awareness plowed through a pile of 2016 snowy picture books for children and unearthed a few favorites.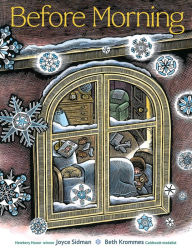 Before Morning by Joyce Sidman, illus. by Beth Krommes (Houghton Mifflin Harcourt, $17.99, hardcover, 9780547979175, 48p., ages 4-8, October 4, 2016)
"In the deep woolen dark,/ as we slumber unknowing,/ let the sky fill with flurry and flight." Newbery Honor-winner Joyce Sidman (Dark Emperor and Other Poems of the Night) and Caldecott artist Beth Krommes (The House in the Night) team up in this exquisite "invocation," a wish for snowfall in the busy city, the kind of snow that transforms the world overnight into a slower, softer, lighter place. Krommes's gorgeous, meticulously detailed scratchboard and watercolor illustrations reflect the enchantment of freshly fallen snow and the intricacy of snowflakes while Sidman chooses just the right words: feathers, sugar, swaddled.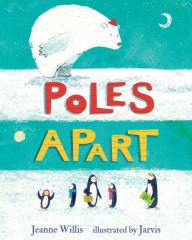 Poles Apart by Jeanne Willis, illus. by Jarvis (Nosy Crow/Candlewick, $15.99, hardcover, 9780763689445, 32p., ages 3-7, November 1, 2016)
"As everyone knows, penguins are found at the South Pole and never at the North Pole." That's usually true, but not when Mr. Pilchard-Brown, the father penguin, is in charge of the map. Now the whole family--including Peeky, Poots and Pog--are on an iceberg 12,430 miles away, drifting toward Mr. White, a big North Pole polar bear in a tiny red hat. The mistake turns into an adventure as the penguin family traverses the globe by flipper on their way back home: the U.S., England ("Gray!" "Grand!"), Italy ("Ciao!" "Wet!" "Wonderful!"), India and Australia. Comical, quirky dialogue makes for a splendid read-aloud, and the delightful, richly textured illustrations fizz with silly details, from a flailing gondolier in Venice to a dog in a red London telephone booth.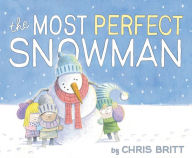 The Most Perfect Snowman by Chris Britt (Balzer + Bray/HarperCollins, $17.99, hardcover, 9780062377043, 32p., ages 3-6, October 11, 2016)
Editorial cartoonist Chris Britt whips up a soft-hued snowy habitat for a lonely snowman named Drift in watercolor, acrylic and pencils. Poor Drift is made up of just three stacked snowballs with two stick arms, coal eyes and a coal mouth, "built fast and then forgotten" in the woods. He dreams of having a pointy orange carrot nose, and perhaps some stylish winter accoutrements--especially when he's mocked by an avalanche of sarcastic snowmen who shut him out of all the fun: "Love your style!" "Snazzy outfit!" Fortunately, three kind children save the day with a hat, scarf and mittens--even a very pointy carrot nose. What really makes Drift "the perfect snowman," however, is when he rescues a tiny, "shivery cold" bunny, warming it up with his new-found scarf and feeding it with his delicious carrot nose. A warm and cozy bedtime story for a shivery cold night.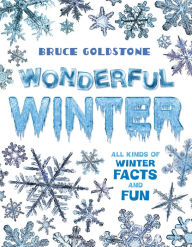 Wonderful Winter: All Kinds of Winter Facts and Fun by Bruce Goldstone (Holt, $17.99, hardcover, 9780805099812, 48p., ages 4-8, November 8, 2016)
The creator of Awesome Autumn turns his talents to "wonderful winter" in this vibrant, photo-rich, fact-filled introduction to wintertime in the Northern Hemisphere with sights, sounds, smells, words (toasty, frosty, scrape, jingle, drip!), clothes, sports, animals and holidays from Christmas and Hanukkah to Martin Luther King, Jr. Day. Why do trees lose their leaves in the winter? Why can you see your breath in the cold air? Why do animals hibernate? Is it true that no two snowflakes are alike? The "icing" on the cake: Wonderful Winter includes instructions for hands-on activities such as how to make fake snow, six-pointed snowflakes and snow globes.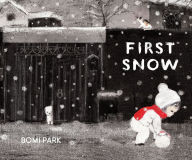 First Snow by Bomi Park (Chronicle, $16.99, hardcover, 9781452154725, 40p., ages 2-5, September 6, 2016)
Korean artist Bomi Park's appealingly small debut picture book mirrors a young girl's wonder at a first snow in lovely, atmospheric, smudgy black-and-white paintings with only a splash of red on her scarf and mittens. The snowfall wakes her up with "Pit, pit, pit against the window." She dons her winter gear, creeps outside into the moonlight and is joined by a curious puppy who wants to explore, too: "Shhh... let's go." She makes a snowball and rolls it through the city and through the woods until it grows bigger than she is, all the way to a snowy field full of other kids--all building snowmen. The children and their creations float and fly in a flowy, snowy dreamscape, and the girl, her puppy and her snowman make it back home safely before anyone else wakes up.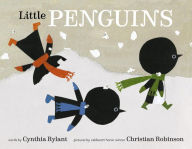 Little Penguins by Cynthia Rylant, illus. by Christian Robinson (Schwartz & Wade/Random House, $17.99 hardcover, 9780553507706, 40p., ages 1-4, October 25, 2016)
Christian Robinson (Caldecott Honor book Last Stop on Market Street) and Cynthia Rylant (Newbery Medal-winning Missing May) capture the giddy pleasures of a snowy South Pole day, as little torn-paper snowflakes fall from the sky and five little penguins hurry to get dressed to go out and play. "Snowflakes? Many snowflakes." "Mittens? Many mittens." The snow is deep, deeper, very deep, and the penguins sink down in it. Fortunately, Mama's on her way, just in time to shepherd everyone home to jammies, warm cookies and sippies. A snuggly-sweet bedtime book for when the weather outside is frightful. Let it snow!