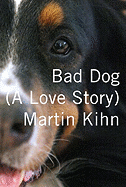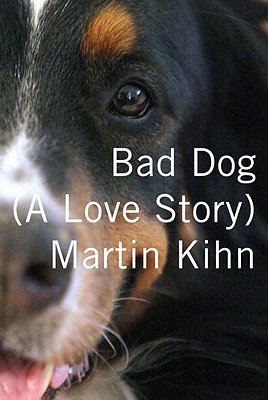 I am a cat person, through and through. But I keep reading dog books. They are like mountaineering books--I love to read them, but I won't be strapping on crampons and ropes anytime soon. The dog book I'm currently passionate about is the latest entry in the I-was-an-alcoholic-but-a-dog-saved-my-life subgenre (see
Drinking with Miss Dutchie
,
Shelf Awareness, March 18, 2011)
, which I picked up because of the Bernese mountain dog on the cover. I'm a sucker for Bernese, and
Bad Dog
more than lived up to my hopes.
Eight years ago, Martin Kihn and his wife, Gloria, adopted a Bernese puppy and named her Hola, Spanish for "hello," because she was so friendly. Overly so: "Walks were a haphazard dance of death as she lunged out at any passing Subway wrapper, unleashed Pomeranian or Crip." They had never had a dog, lived in an apartment in N.Y.C., and were spectacularly unprepared for her--a naturally dominant dog that "feels no pain, is as outgoing as Ethel Merman on Jolt and is orally fixated." At some point they gave up and decided the fact that she was housebroken and didn't bite was enough. But it wasn't. Hola gradually turned into "a beast." Nipping, growling, banging into Gloria and leaving bruises.
At the same time, Martin was drinking. A lot. He finally reached a point where he woke up one morning and said the first honest prayer of his life: "God, if Gloria and Hola are still here I will stop drinking." He sees a therapist, starts going to AA, gets a sponsor. But as he starts on his recovery, Gloria leaves after Hola bites her. Though Marty has stopped drinking, he still doesn't see her or Hola, and the pain they are both in. Martin despairs, but after crying himself out with Hola, he says, "There is a well-established law in the unwritten annals of canine-human psychology that it is impossible to maintain a conviction of universal despair for a significant length of time if you are in proximity to a Bernese mountain dog."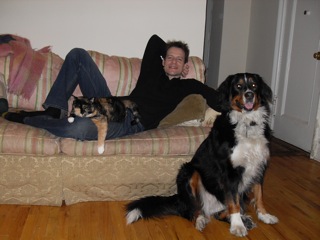 So the real transformation starts. But first, Martin trades his obsession with alcohol for an obsession with dog training. Five years into Hola's life, she and Martin head out to take the Canine Good Citizen Test, a seemingly simple 10-point test of obedience and basic training, like sitting and staying, or walking on a loose lead. But Hola is a legend in the canine obedience world: the only dog in her puppy obedience class to be invited to leave twice. What Martin discovers in his initial quest to really train Hola is that she is eminently trainable and extremely sensitive; the problem is Martin. Hola is completely tuned into him: she is hysterical because he is. Anxiety is what keeps him alive, and Hola is his radar detector. When an instructor tells him that Hola is upset and afraid, has a high flight drive and wants to run away, Martin thinks, "Ditto."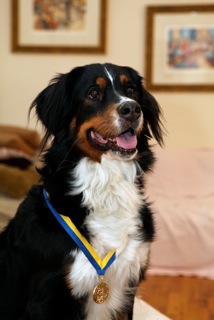 Finally, a breakthrough: Martin realizes that he needs to stop wishing his dog was something else, and to stop wishing he was someone else--"The first step of the first awakening." He learns how to communicate with Hola; he learns that dogs need a leader; he learns, as he has in AA, that following instructions can be liberating. He learns that leading Hola is a job and a gift to her, and a serious commitment for him.
You'll learn a lot about dogs and humility and devotion. You'll come to care about Martin and Gloria, and Martin's sponsor, Clark, and his cat, Ruby, which he gives to Martin (and Hola). And you will fall in love with Hola, with her "big smile she throws around like a stock of religious pamphlets," while you find out how she stops throwing herself (and Marty) around.
Martin Kihn is a very funny writer ("Ruby is kneading the sofa cushion at my head like there is a rush order for a dozen tiny pizzas."), and Bad Dog is laced with much tenderness and some heartbreak, and is an absolutely delightful book. --Marilyn Dahl
View the trailer for Bad Dog here.