At the Tattered Cover Book Store's four locations in and around Denver, Colo., travel books make up a significant part of each store's offerings. Stephanie Coleman, the Tattered Cover's director of buying, here shares some insights into arranging, merchandising and handselling travel books.

Coleman reported that the Tattered Cover's travel sections are generally organized the same way at each store, and a key part of each travel section is a prominent, Colorado-focused subsection that is "front and center." Among these local-themed books are guides to hiking, fishing, things to do in Denver or Colorado Springs, and more. Beyond that, the three main Tattered Cover stores each have several cases of general travel guides, organized by region, country and then city. Also included within the broader travel sections are travel armchair, meaning travel literature and memoir, travel pictorial, which encompasses art and coffee table books, travel reference material such as maps and atlases, and a family travel section.

"Something else we do that might be different is that we shelve our language phrasebooks with an appropriate region's travel books," remarked Coleman. The phrasebooks, she explained, make good impulse buys and can serve as an upsell without a bookseller even being present.

Coleman said that one of the things that is key to keeping the Tattered Cover's travel sections "so successful" is carrying travel guides and books produced by a variety of publishers, from "all the big names in travel," such as DK, to guides made by smaller publishers that may pertain to niche topics like cycling in a specific city. The major guides, she said, are industry standards and need to be there, but customers also enjoy finding unusual, new voices pertaining to niche topics.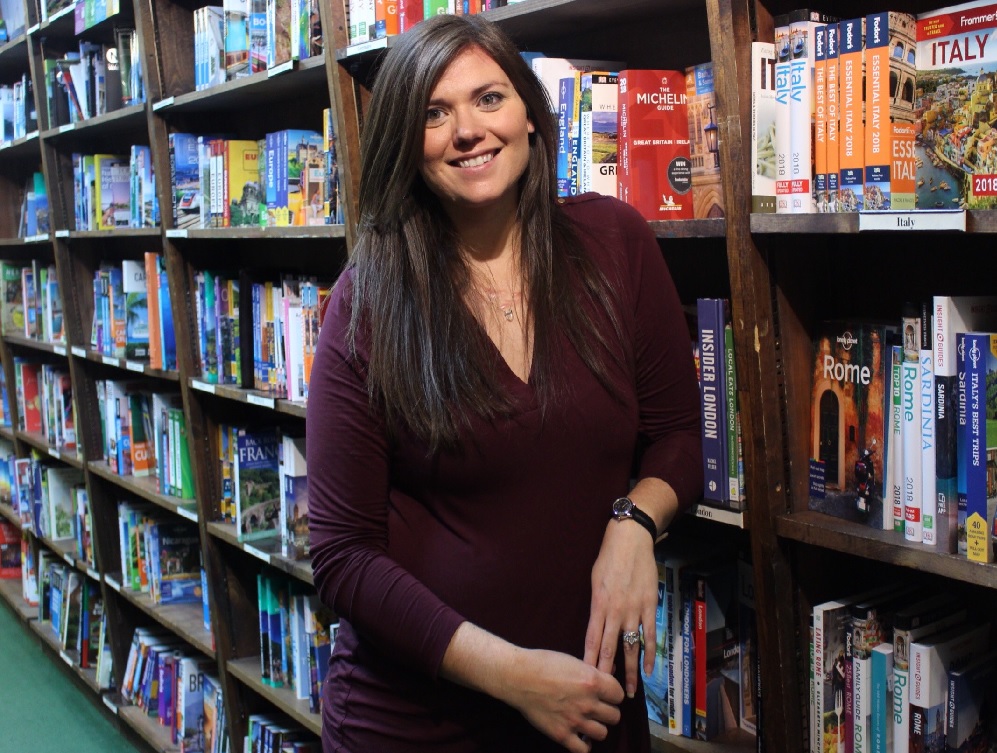 Stephanie Coleman
Concerning trends in travel books, Coleman said that in addition to the popularity of niche travel guides, she's noticed that maps, usually made from strong, travel-resistant materials, are selling well, as are travel guides with a more modern art design and a stronger focus on pictures and graphics. She added: "That kind of travel book is more of a keepsake, almost."

Broadly speaking, Coleman said that there are three types of travel books: first, there's the book that someone uses to plan a trip; second, there's the book that they actually take with them; and third, there's the travel book that serves as something of a souvenir, that someone uses to "show where they've been."

Based on her own experiences and what she's seen from customers, Coleman said that DK guides often make up the third type of travel book. "People immediately like the color pictures and the page quality," she explained. "Personally, I want the DK guides to help me plan and to keep for after the trip."

And when it comes to handselling travel guides, Coleman said that her biggest recommendation was to be as personal as possible: "Be just as excited as if you're selling your favorite novel."