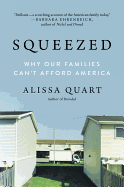 Journalist Alissa Quart (
Branded
,
Republic of Outsiders
), executive editor of the Economic Hardship Reporting Project, details the evolution of the United States' once-comfortable middle class into an ever more at-risk "Middle Precariat" in
Squeezed: Why Our Families Can't Afford America
.
Quart co-founded the EHRP's current incarnation with Barbara Ehrenreich, whose Nickel and Dimed legacy finds a powerful continuation in Squeezed. At its core is an argument against the notion that people can simply "work hard and succeed," let alone merely "do what they love." With globalization, the rise of corporations, growing automation and a gig economy, people increasingly find themselves having to do whatever they can, with even that often not being enough.
"Shouldn't we always first and foremost defend people and their labor?" Quart asks. It's an important question, and squarely in her sights are not just labor and progress, but how progress might be reframed in terms of caring about the welfare of those around us.
While she writes incisively, it's not just Quart's voice that makes Squeezed powerful; it's also the voices of those whose stories she shares: mothers, fathers, teachers, caregivers. From a little girl at a 24-hour daycare facility: "Why do children think parents are going to save them?"
Quart isn't in the business of sugar-coating hard truths. But she does posit solutions: a universal child allowance, reframing care and communicating more openly about social class. And for now, readers can at least take comfort in Quart's constant message:
it's not just you
. --
Katie Weed
, freelance writer and reviewer