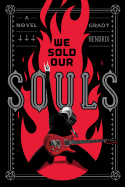 Twenty years ago, Kris Pulaski's dreams were about to come true. She was the fierce lead guitarist for Dürt Würk, a heavy metal band on the precipice of stardom. But today, Kris is 47, managing a Best Western, and about to be kicked out of the family home. Her life has turned into a nightmare.
Dürt Würk's lead singer, Terry, wanted fame and fortune--fast. Just as the band completed the album Troglodyte, Terry declared Dürt Würk dead and presented contracts for the band to join him as members of Koffin--"nu metal" whose fans Kris dismissed as "cul-de-sac crybabies with their baseball hats on backwards." She refused to sign and fled with her bandmates, resulting in a car accident that changes the trajectory of their lives. The night is stripped from their memories, and Koffin becomes a sensation.
Now Koffin is headlining Hellstock '19. Kris--bitter and with nothing left to lose--seeks to discover the truth about what happened that night. Her visits to former bandmates leave a trail of destruction in her wake, but brings her closer to the unimaginable truth: Did Terry make a deal with the devil that secured his success and doomed her forever? Can Kris elude killer UPS men, sinister spa employees and deranged Koffin fans to confront Terry at Hellstock?
We Sold Our Souls
is a wild ride, and the affection Hendrix (
Horrorstör
) has for Kris will have readers rooting for her from the first page. This mix of horror, humor and social commentary makes
We Sold Our Souls
a fun and bloody good time. --
Frank Brasile
, librarian