Our National Sport
It's the season: football is dominating the news. The ongoing concussion discussion has been eclipsed by suspensions and non-suspensions for domestic abuse, while Josh Gordon is suspended an entire year for smoking weed. Nate Jackson, former pro player and author of Slow Getting Up: A Story of N.F.L. Survival from the Bottom of the Pile (Harper Perennial), has a good take on the latter. In addition to Jackson's hilarious, candid memoir, we'd like to suggest a few books that fans will want to read (if only during halftime).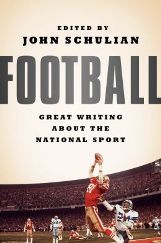 The Library of America has gathered 43 gems in Football: Great Writing About the National Sport. Sportswriting can be incisive and poetic--in "Legends of the Fall," Charles P. Pierce weaves the blues and Parchman Farm into a profile of Archie Manning, "juke-mad, a pocket-busting dervish in a time that celebrated the reckless and the improvised."
Steve Almond's Against Football: One Fan's Reluctant Manifesto (Melville House) contrasts the sport's attraction ("in its exalted moments, [it] is not just a sport, but a lovely and intricate work of art") with its brutality and violence, "its tolerance, if not outright cultivation, of homophobia, racism, greed and other undesirable attitudes." A welcome addition to the conversation.
In The System: The Glory and Scandal of Big-Time College Football (Anchor), Jeff Benedict and Armen Keteyian give a hard-hitting account of the college game with "depth, insight and graceful prose." The scandals we know too well, but the glory--coaches who want their players to graduate and thrive; players for whom football may be their saving grace--is fortunately also part of the story.
Nicholas Dawidoff's Collision Low Crossers: A Year Inside the Turbulent World of NFL Football (Back Bay Books) is a classic sports narrative about the New York Jets' 2011 season, with incisive and indelible portraits, from charismatic head coach Rex Ryan to canny safeties, quirky and excitable cornerbacks, eager rookies and players who don't make the team. Dawidoff's prose soars like a perfect pass. --Marilyn Dahl, editor, Shelf Awareness for Readers