Shelf Awareness for Tuesday, December 3, 2013

Quotation of the Day
Bookstores and Libraries: True Free Speech Centers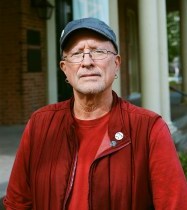 "The only people who have never had a problem with me speaking in their venues are independent bookstores and libraries. Universities and humanities councils have canceled me, but never an independent bookstore."
--Bill Ayers, whose new book is
Public Enemy: Confessions of an American Dissident
(Beacon Press), in a
Rumpus interview


News
Cider Monday: 'A Huge Hit'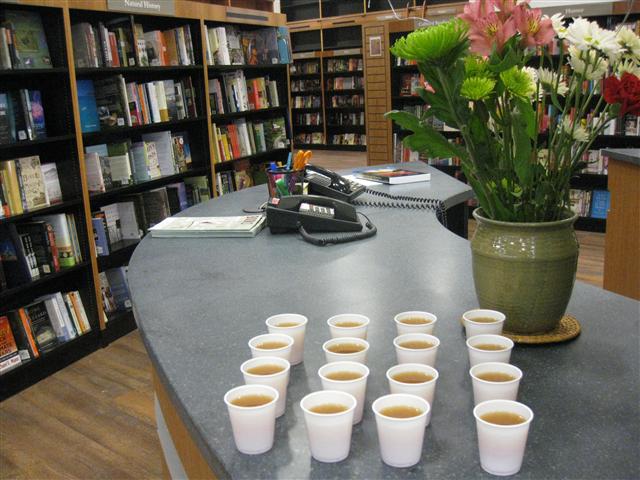 UConn Co-op welcomed customers.
Little more than two weeks ago, Toadstool Bookshops in Keene, Milford and Peterborough, N.H., announced plans for "Cider Monday"--a local, homey counterpoint to the online frenzy of Cyber Monday. Shoppers were invited to drop by the stores today for cider, snacks and old-fashioned human interaction. Several other indies from across New England, Pennsylvania and New York quickly jumped on board. Yesterday, they reported that Cider Monday was a charming success.

"Cider Monday was a huge hit here," said Cynthia Duprey, of Next Chapter Bookstore in Barre, Vt. Duprey offered a 10% discount to any customers who mentioned "Cider Monday," and advertised the event in her local newspaper. "It was fun to see the smiles when people realized what we were promoting," she said. "I will make this an annual event for sure."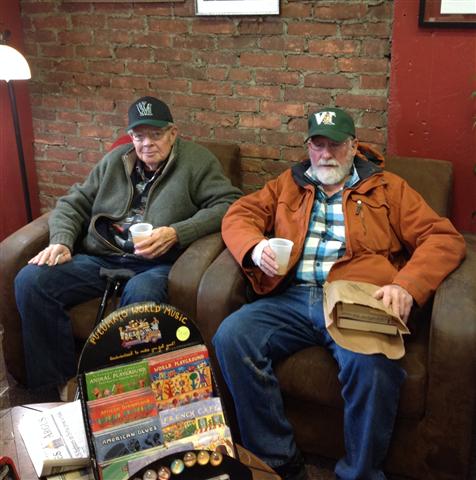 Cider Monday at Next Chapter.
Devaney, Doak & Garrett Booksellers in Farmington, Maine, saw a "truly surprising" number of customers slosh to the store on a day of miserable weather, said Kenny Brechner. Coverage by the local newspaper helped increase turnout. A reporter from the Christian Science Monitor arrived later in the day to take photos, and WCSH 6 Portland, an NBC news affiliate, spent time at the store filming and interviewing customers.

"The response we heard over and over was that they loved the idea and that a cup of hot cider was just the thing today," Brechner said. "It was a giant success here."

"It's been fun; most people laugh at the pun," said Suzy Staubach, manager of the UConn Co-op, which just moved into a new location in Storrs, Conn. "We've had a mix of young people from campus and community people. We even had a woman about my age, who told us her son works for Jeff Bezos but she buys all her books from us, because she likes to look through the books first!" --Alex Mutter


BAM Opens Chambersburg, Pa., Store
Books-A-Million is hosting a grand opening today at its new store in the Chambersburg, Pa., Mall. "just in time for the busy holiday shopping season," Chambersburg Public Opinion reported, noting that the mall "had been without a book store since Waldenbooks closed about four years ago as a result of ongoing consolidations by parent company Borders Group."


Supreme Court Won't Review New York Sales Tax Law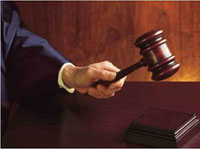 The Supreme Court has declined to review the lawsuit by Amazon.com and Overstock.com challenging New York State's 2008 law requiring them to collect sales tax.

The companies argued that the law, which expanded the definition of a state connection for purposes of collecting sales tax, is "an unconstitutional burden on interstate commerce" and will "provide a road map for other states to impose tax-collection requirements that would stunt growth in online commerce," the Wall Street Journal wrote.
American Booksellers Association CEO Oren Teicher commented: "It's heartening that the U.S. Supreme Court's decision has put to rest any legal question as to a state's ability to collect sales tax on Internet sales. And while we continue to strongly support a federal solution to sales tax fairness, today's action makes clear that individual states can enact legislation to level the playing field."
The New York law required online retailers to collect sales tax not only when they have physical operations in the state but also when they pay commissions to websites in New York that "post links steering consumers to a seller's online store," as the Journal put it.

Although Amazon repeatedly says it supports sales tax collection, this seems to apply only to a federal law. (The Senate passed one earlier this year, but the House has not acted on it.) Meanwhile, the company has fought state laws requiring collection of sales tax tooth and nail. In some cases, it has come to an agreement with a state to collect sales tax--but only for concessions, usually a delay in beginning to collect sales tax and grants and tax exemptions from the state to help it build warehouses.


Quebec Proposes 10% Discount Limit on New Books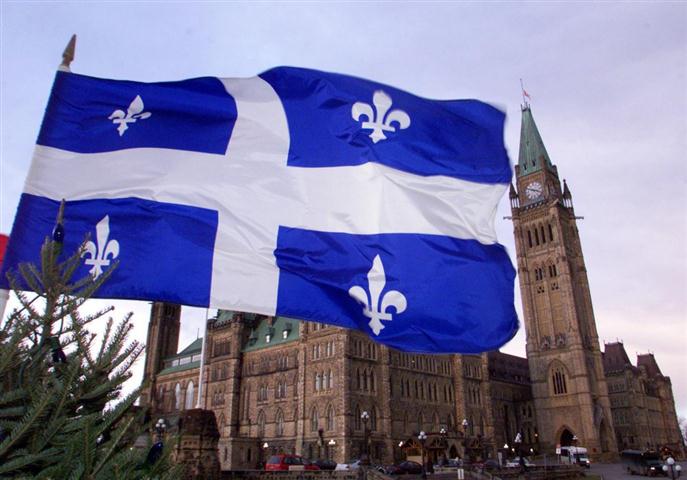 In an effort to protect independent bookstores and libraries and "the identity and culture of Quebec," the provincial government has introduced legislation to limit discounts on new books and e-books to 10%, globalnews.com reported. Under the bill, the discount limitation will be lifted nine months after publication and the law will be reassessed after three years.

The Quebec Writers Federation has backed the proposal. However, Blaise Renaud, president of Renaud-Bray, the largest chain of French-language bookstores in Canada, has indicated that he opposes the legislation, saying, "The measure won't save independent bookstores, it will just make the distributors even more money."

And yesterday, after the Quebec government announced the legislation, Renaud said to the Canadian Press: "How will the provincial government stop booksellers in English Canada, the United States or elsewhere from practising their discount policy on books sold to Quebec homes? There was no answer to this question at today's news conference."

The proposed approach is similar to that of France, which limits discounts on new books to 5%.


St. Mark's Signed and Rare Book Fundraiser Begins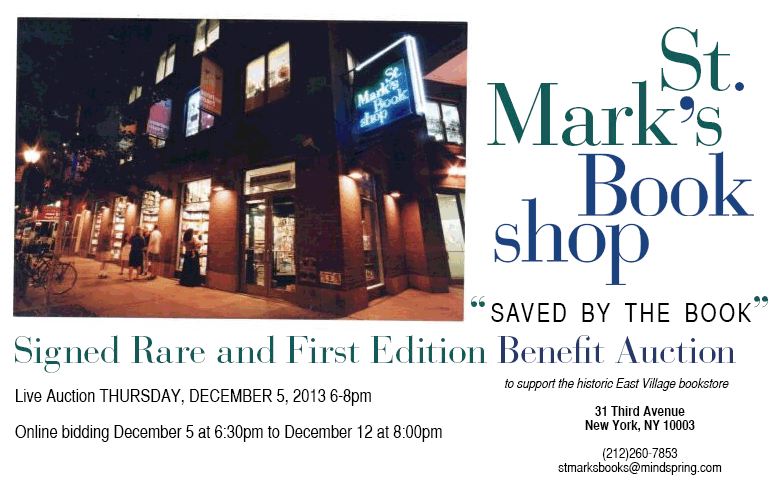 To help raise money for its long-planned move, St. Mark's Bookshop, New York City, is holding a live book auction at the store this Thursday, December 5, from 6 to 8 p.m., as well as an accompanying online auction today through Sunday, December 15.

Items for auction include more than 50 rare signed and annotated first editions and ephemera from some of New York's best-known writers, including works from Yoko Ono, Anne Carson, Junot Diaz, John Ashbery, Patti Smith, Art Spiegelman, Walter Abish, Paul Auster, Bill Berkson, Charles Bernstein, Lydia Davis, Kenneth Goldsmith/Joan La Barbara, Richard Hell, Major Jackson, Wayne Koestenbaum, Phillip Lopate, Eileen Myles, Arthur Nersesian, E. Annie Proulx, Sam Shepard, Peter Straub, Lynne Tillman, Anne Waldman and Tsipi Keller.

At the live event, which costs $5 at the door and includes wine and light refreshments, all the works will be on display and a several will be auctioned off. People who want to bid but can't be present may leave an absentee bid online.


Last Day for ABFFE Children's Book Art Auction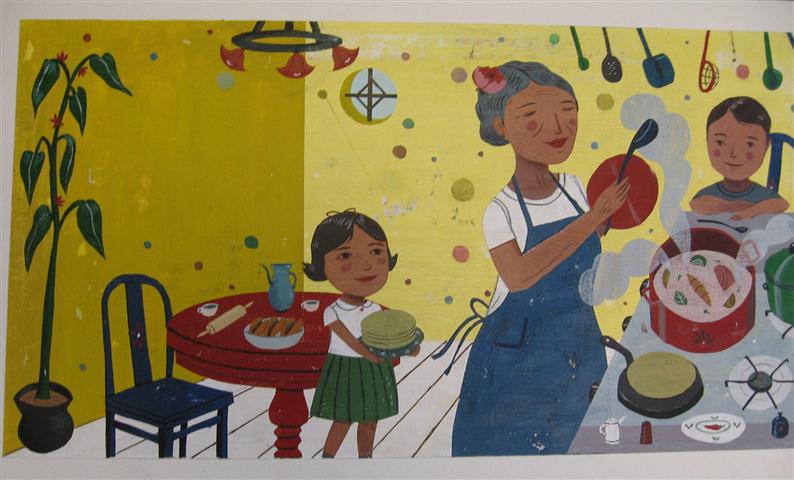 Last chance to bid in the Holiday Children's Book Art Auction that is sponsored by the American Booksellers Foundation for Free Expression and benefits the Kids' Right to Read Project and Banned Books Week. Check out the more than 80 original works of more artists and illustrators on ebay.com. Bidding closes at noon today.


Obituary Note: William Stevenson
William Stevenson, a journalist and author of the '70s bestsellers A Man Called Intrepid and 90 Minutes at Entebbe, died November 26. He was 89.
Stevenson "spent much of his career straddling the worlds of espionage and journalist," the New York Times wrote. "Some saw a conflict. He called both pursuits 'spycraft.' "


Notes
Onion Scoop: City Lights a 'Moneymaking Operation'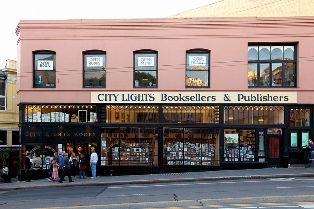 "Cat's outta the bag, guys. We're a business!!" City Lights Booksellers & Publishers, San Francisco, Calif., acknowledged on Facebook after the Onion featured a photo of the legendary bookstore as part of a collage above a piece headlined "New Report Shows Many U.S. Businesses Actually Just Fronts for Moneymaking Operations."


One Reaction to Prime Air: Indie Skeet Shooting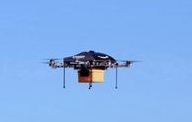 AmyCat, aka Amy Carpenter, who is a bookseller at science fiction conventions, credited her friend Paul Stratton with this reaction to Amazon.com's proposal to make deliveries by drone:

"Now forming: The Independent Booksellers' Skeet Shooting Association..."

She added: "I think we need T-shirts."


Aussie Bookseller 'Makes an Art Out of Shop Signage'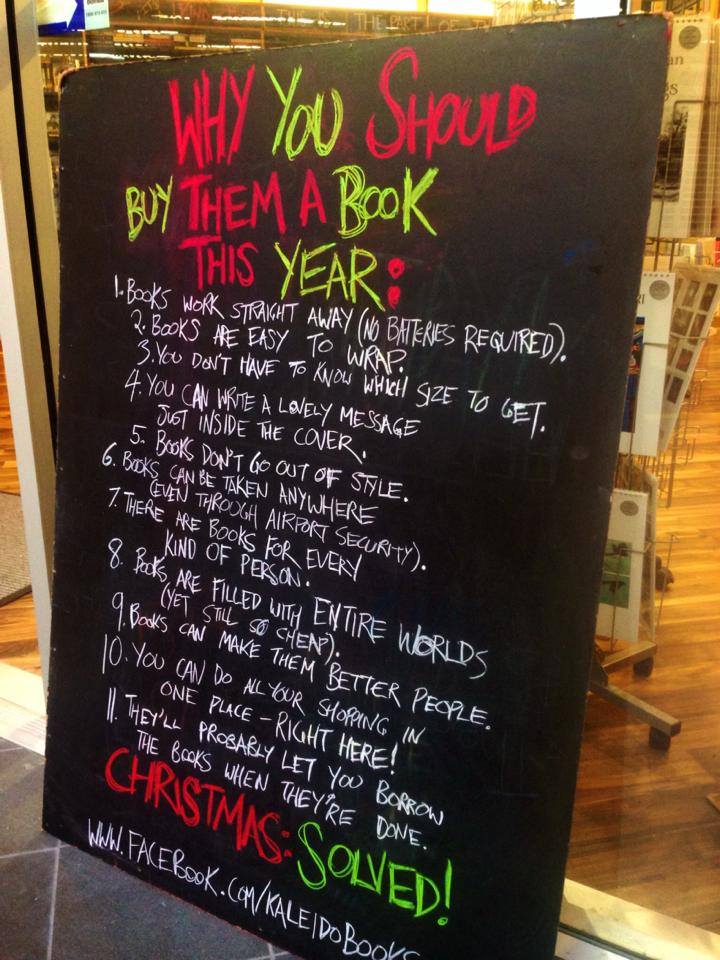 Australian bookseller Kaleido Books & Gifts in Perth "really makes an art out of shop signage," Buzzfeed observed in showcasing "13 clever signs that will make you want to buy a book."


Jocelyn Cordova Joins Crown Business
Effective December 16, Jocelyn Cordova is joining the Crown Publishing Group as director of marketing and publicity for Crown Business.
She has worked the last eight years at Wiley, where she has been associate director of publicity for Wiley's Professional Development business books program, including business trade titles of the Jossey-Bass imprint.
Before joining Wiley, Cordova worked at NBC News as director, talent recruitment & development and senior supervising booking producer, Dateline NBC, among other positions.


Book Trailer of the Day: Invasive Species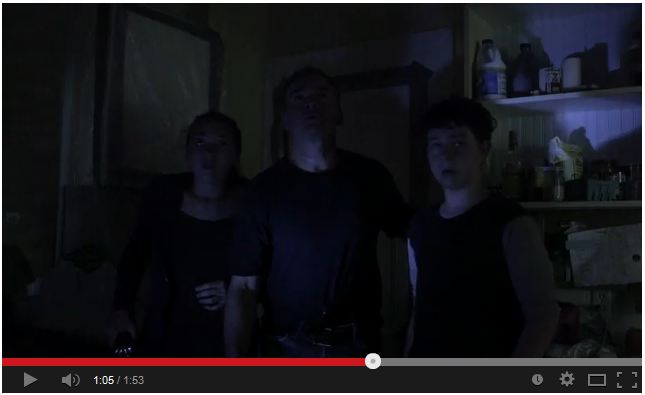 Invasive Species by Joseph Wallace (Berkley), a trailer Wallace describes as "a two-minute horror movie. I had a blast writing it, working with professional filmmakers and actors, and getting a glimpse of what seat-of-the-pants moviemaking is like."


Media and Movies
Media Heat: Ben Bradlee, Jr., Talks about The Kid
This morning on Fox & Friends: Trista Sutter, author of Happily Ever After: The Life-Changing Power of a Grateful Heart (Da Capo Lifelong Books, $24.99, 9780738216652).
---
Today on NPR's Fresh Air: Ben Bradlee, Jr., author of The Kid: The Immortal Life of Ted Williams (Little, Brown, $35, 9780316614351). He is also on MSNBC's Morning Joe this morning.
---
Tomorrow morning on CBS This Morning: Rick Warren, co-author of The Daniel Plan: 40 Days to a Healthier Life (Zondervan, $24.99, 9780310344292).
---
Tomorrow morning on Good Morning America: Gloria Gaynor, author of We Will Survive: True Stories of Encouragement, Inspiration, and the Power of Song (Grand Harbor Press, $14.95, 9781477849132).

---

Tomorrow morning on Fox & Friends: Joe Mangeniello, author of Evolution: The Cutting Edge Guide to Breaking Down Mental Walls and Building the Body You've Always Wanted (Gallery, $26, 9781476716701). He will also appear on Extra.

---

Tomorrow on Dr. Phil: Judy Smith, author of Good Self, Bad Self: How to Bounce Back from a Personal Crisis (Free Press, $16, 9781451650006).

---

Tomorrow on NPR's Fresh Air: Matthew Hart, author of Gold: The Race for the World's Most Seductive Metal (Simon & Schuster, $26, 9781451650020).

---

Tomorrow on NPR's Diane Rehm Show: Peter Schweizer, author of Extortion: How Politicians Extract Your Money, Buy Votes, and Line Their Own Pockets (Houghton Mifflin Harcourt, $27, 9780544103344).

---

Tomorrow on Dr. Oz: Art Smith, author of Art Smith's Healthy Comfort: How America's Favorite Celebrity Chef Got it Together, Lost Weight, and Reclaimed His Health! (HarperOne, $27.99, 9780062217776).


Movies: Cymbeline Trailer
"Dirty cops, drug dealing biker gangs... now this is Shakespeare," Indiewire observed in featuring the first trailer for a contemporary take on Cymbeline featuring "explosions, machine guns and lots of people looking pretty grimy." The film is directed by Michael Almereyda (Hamlet), who again teams with Ethan Hawke on a Shakespeare project. The cast also includes Ed Harris, Milla Jovovich, Penn Badgley, Anton Yelchin and Dakota Johnson.


Books & Authors
Awards: William Hill Sports Book, Goodreads Choice
Jamie Reid won the £25,000 (about US$40,923) William Hill Sports Book of the Year Award for Doped: The Real Life Story of the 1960s Racehorse Doping Gang, which was described by the judges as "an absolutely thrilling read." The winner also receives a £2,500 William Hill bet, a hand-bound copy of their book and a day at the races.

William Hill spokesman and award co-founder Graham Sharpe said that Reid's "brilliantly constructed book lures the reader into his masterly recreation of late '50s/early '60s England in which social class counted for far more than workplace competence."
---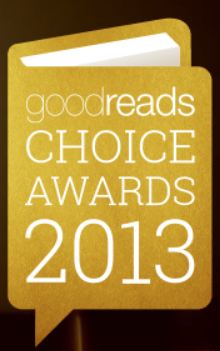 The winners of the Goodreads Choice Awards, recognizing the best books of 2013, are available here. Goodreads nominated 15 titles in 20 categories; 1,953,770 votes were cast by Goodreads members to determine the winners.


Nicholas Dawidoff: Chronicling the New York Jets
photo: Koren-Angell Studios
Nicholas Dawidoff's Collision Low Crossers: A Year Inside the Turbulent World of NFL Football (Little, Brown, $29) is an engrossing, exciting book--a classic sports narrative. (And one of the books that President Obama bought on Saturday at Politics & Prose Bookstore in Washington, D.C., during his highly publicized shopping expedition with his daughters.) Dawidoff, Pulitzer Prize finalist for The Fly Swatter--a chronicle of the life of his grandfather, a Russian-born scholar--and a Branford Fellow at Yale University, spent 2011 with the New York Jets, and had unlimited access to the coaches, the players, the offices and locker rooms. He describes the draft, the strategy sessions, the Combine (disquietingly like a slave market), and the players and coaches. He offers indelible, incisive portraits of the Jets: charismatic head coach Rex Ryan, offensive and defensive coaches, struggling QB Mark Sanchez, canny safeties, quirky and excitable cornerbacks, eager rookies and players who don't make it.
Dawidoff's observations and understanding of what he saw are penetrating and sometimes surprising, like how much the coaches work--nearly 24/7. What makes Collision Low Crossers soar like a perfect pass is his prose. Equipment manager Vito Contento "had the world-weary manner of a person who had seen far too many reasonably intelligent men toss their dirty shirts into the towel bin"; John Connor "blocked like a crate of bourbon"; special teams-coordinator Mike Westhoff spoke "in staccato beats of snarl"; if outside linebacker Aaron Maybin was fit, "that dude was the full agitato. If he wasn't fit, they'd cut his a**, allegro"; a losing game had "burst like a pillow; there were feathers everywhere."
In 2011, the Jets thought that the Super Bowl was attainable, but "the season vaporized"--they were undone by player (and coach) tension, and a lack of understanding of that discontent by Ryan. Was there more?
The problems of morale that the Jets experienced were not atypical of those endured by other teams. What really undid the Jets were crucial injuries to three of the most intelligent defensive players on whose football acumen the workings of the sophisticated defensive scheme depended, and then there was the beguiling regression of the quarterback Mark Sanchez. He committed so many crucial turnovers and generated erratic scoring. Given the rules of today's NFL, which cant heavily in favor of quarterbacks, the QB better be good.
You write about the team having "a mutual sense of binding purpose" and the family feeling (sometimes dysfunctional) that a team creates, but all teams are "annual teardowns." What does that sort of whiplash do to a player?
More, what does it do to the coaches who are responsible for achieving that sense of unity among players? A chief purpose of the long, football-immersive NFL off-season is to create exactly that--to assimilate players and bond them to your coaching ideals and aspirations.
There is so much joy in football for the players and coaches, along with the misery of pain and defeat--"Football brought so many little deaths so early in life." You say that football is a game of process, and "the arrival [can] never be as meaningful as the approach." Is that the way to maintain one's sanity?
If your whole sense of self worth is bound up in winning or losing, you won't last long as an NFL coach. As competitive as NFL men are, it is their ability to absorb, understand and move past terrible public failure that defines them in the profession.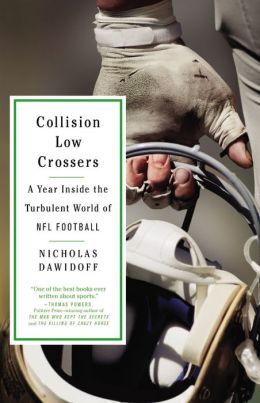 The annual teardown doesn't affect coaches as much as the players--"they knew defeat and could stand it"--and you say that coaches are eternal optimists. How do they maintain, especially with their 24/7 workload?
If you aren't a confident, optimistic person, you won't be a successful coach. Jets quarterbacks coach Matt Cavanaugh told me on the practice field one day when the Jets were 2-0 that I hadn't yet seen the NFL. I'd see it when things went badly, he said, because success among players and coaches depends on how people respond to harrowing adversity. The Jets soon had their opportunities in this regard.
Can you quantify what makes unified team? Winning certainly helps, but there must be more than winning. A lucky meshing of personalities?
Nobody knows. What distinguishes a good team from a poor one is the NFL's signal mystery. Any given team can win against any given opponent. The legendary coach Joe Gibbs told Rex Ryan that his every season with the Redskins was the process of learning how good his team was. Gibbs said that in August he never knew. That aside, winning teams generally have a reliable quarterback, good health and a stout, opportunistic defense that generates many turnovers. Turnovers are the most crucial events in football games aside, of course, from scoring.
You describe your year with the Jets as a long car trip with days blending into each other because they never stopped. It seems like football, more than other sports, is perpetual motion--conditioning, learning, dissecting--for everyone involved.
Yes, day-to-day the immersion is complete, meaning that the rest of life passes by nearly unacknowledged. Football men live in the perpetual thrall of process. All year they are creating football plans, trying to understand their team and their opponents. The games are 16 exceptions, the NFL holidays on which every man's reputation rests. Regular life in the NFL is preparation.
A cliché about football players is that they are physical beings, not intellectual. But after reading your book, I'd say that most football players are really intelligent--they memorize new plays, they dissect the tape, they make instant decisions and reads.
Football players are every kind of person. That said, some not especially "book-smart" players have great aptitude for understanding the game, and some who are wonderfully intelligent in conventional ways can't grasp football ideas at all. Football requires more study and off-field application than any other team sport that I know of. The facility is really a football university. The players are students; the coaches are their professors. The players even look the part--flip-flops, sweats and backpacks.
There is a team code, a "family" code--what happens in the locker room stays there. Is that what you think is going on with the Dolphins situation? At what point does something like this become unacceptable?
Former Jets players I know have said they can't imagine that happening in New York. The Dolphins' shameful incident is not typical, but such is the level of immersion in football that I can see how, almost casually, teasing might devolve into something terrible. Everybody knows when banter is affectionate or intended to express some kind of cruel power dynamic, and when it is the latter, the recipient comes to dread going to work. When all you do is work, that's a big problem. --Marilyn Dahl


Book Review
Review: House of Purple Cedar
House of Purple Cedar by Tim Tingle (Cinco Puntos Press, $16.95 paperback, 9781935955245, $21.95 hardcover, 9781935955696, January 7, 2014)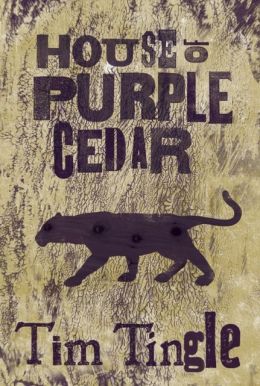 Choctaw storyteller Tim Tingle's House of Purple Cedar focuses on a chapter of rarely explored Eastern Oklahoma history, when the rural community of Skullyville was the capital of the Choctaw nation.
In the winter of 1896, 11-year-old Rose Goode survives the burning of the New Hope Academy, a boarding school for Choctaw girls. Twenty of her fellow students don't have the same good fortune. The Choctaw community is devastated by the loss, but the trouble is far from over. When the drunken white marshal Robert Hardwicke assaults Rose's grandfather Amafo at the train station in nearby Spiro, for all the town to see, the division between the Nahullos--white settlers--and Choctaw becomes ripe for explosion.
However, the gentle but wily Amafo decides to take the path of friendship and forgiveness, defusing a potential bloodbath. Among the allies he makes along the way are the town's goodhearted stationmaster John Burleson, hardnosed general-store owner Hiram Blackstone and Maggie Johnston, a woman with a wooden leg and an iron spirit. The adopted Christian faith of the Choctaws comes to coexist with their mystical connection to the land--as evidenced by ghostlights, strange dreams of the past and a panther who may or may not be connected to Pokoni, Rose's grandmother and Amafo's wife.
Tingle (How I Became a Ghost) also delves into secondary characters' exploits, some of which have a tall tale quality to them, such as Maggie Johnston's cunning rescue of the world's most pathetic outlaw from the clutches of the marshal. These digressions add humor and a broader scope to the novel, presenting colorful personalities readers will want to revisit again and again. Tingle's voice is that of a storyteller, confident and largely unadorned, relying on the power of his plot and characters to draw in his audience.
An overarching message of forgiveness and love, underscored by themes of patience and resilience, takes House of Purple Cedar from historical to timeless. Readers won't need to be Oklahomans or history buffs to appreciate the book's intricate web of small town happenings and mystical realism. To enjoy this world, you need only an open heart and a love of great stories. --Jaclyn Fulwood
Shelf Talker: In a native Oklahoman storyteller's first novel for adults, tensions between white settlers and the Choctaw Nation in 1896 bring tragedy and grace to lives on both sides of the racial divide.