Shelf Awareness for Monday, December 2, 2013

News
Indies First Makes 'Fantastic' Debut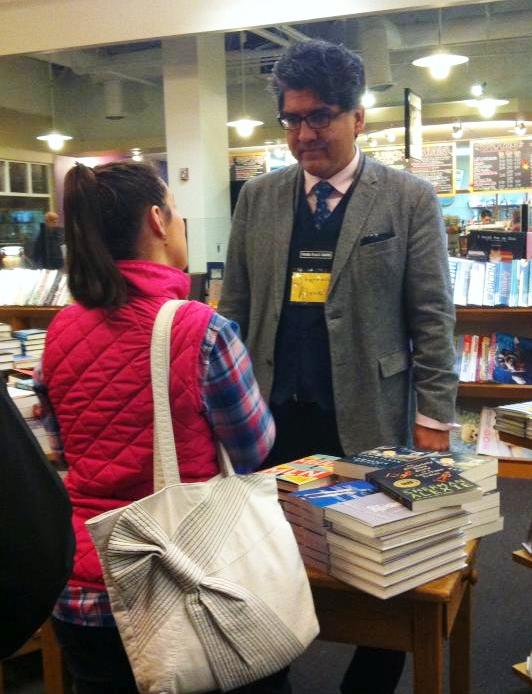 Sherman Alexie at Third Place Books, Seattle
Initially proposed by author Sherman Alexie only three months ago, Indies First--which featured authors working in their favorite bookstores this past Saturday, an idea embraced by the American Booksellers Association, indies and authors across the country--was a wild success, judging from what we saw, from reports by booksellers and participating authors and from the many comments and photos on the Indies First Facebook page. (See and hear Alexie talk about his love of indie booksellers in this new video from Open Road.)
Authors spent anywhere from an hour or two to all day in stores. Some went to several stores. A few took a laid-back approach, but many handsold titles, helped customers find sections, even wrapped purchases. Altogether, more than 1,000 authors helped out at more than 400 indie bookstores, adding to the excitement generated by Small Business Saturday.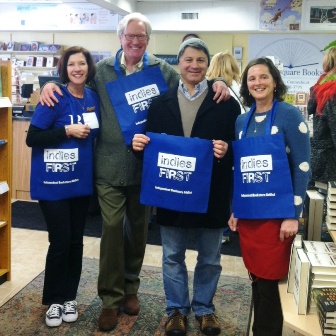 At Bank Square Books on Saturday: (from l.) Ann Hawywood Leal, Bob Dotson, BEA's Steve Rosato and Susan Kietzman.

Annie Philbrick, co-owner of Bank Square Books, Mystic, Conn., spoke for many booksellers when she called Indies First and Small Business Saturday "a huge success"; for her store, that included coverage by Channel 8 WTNH News (and a "celebrity" appearance by BookExpo America show director Steve Rosato with a "gaggle" of kids). The five participating authors--Ann Haywood Leal, Susan Kietzman, Bob Dotson (and his wife, Linda), Paul Dunion and James Benn--"truly felt like part of our staff, wandering around the store, proudly showing off our newly expanded space and how much it means to Main Street, Mystic. They pitched in to wrap, to help kids select books, make recommendations to shoppers, sign some of their own books for customers, pose for photos, help look for a couple of books that no one could find." Saturday sales at the store were up 20%.
Likewise, Joan Grenier, owner of Odyssey Bookshop, South Hadley, Mass., said that sales were "up considerably for us. The authors did very well as booksellers and appear to enjoy themselves. We had a great range of adult and children's authors. It was fantastic."
The Regulator Bookshop, Durham, N.C., had "by far our biggest day of the year," co-owner Tom Campbell reported. "The store was humming all day. Lots of folks having a good time and buying stacks of books. All of our authors had a great time, too."

Campbell added that besides Small Business Saturday and Indies First Day, Saturday was the first day of Shop Independent Durham Week--a promotion of the city's shop local organization, Sustain-a-Bull. "So it was a trifecta for us--as well as on our local NPR station, which on Saturday morning ran, back to back, the national story on Small Business Saturday, the national story on Indies First, and then a local story on Shop Independent Durham Week."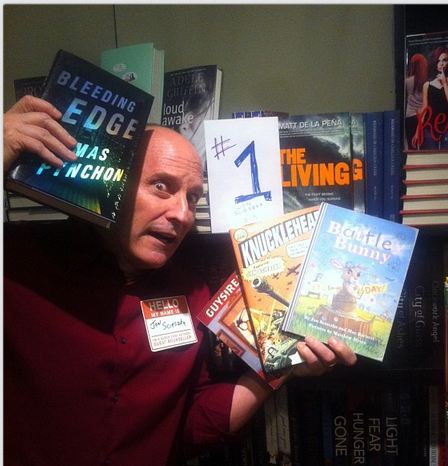 Community Bookstore's #1 Bookseller: Jon Scieszka
At the Community Bookstore, Brooklyn, N.Y., all four guest booksellers--Matt de la Pena, Rosie Schaap, Amy Brill and Jon Scieszka--"went out of their way to help our customers find amazing books to take home," co-owner Stephanie Valdez wrote. "There was also plenty of healthy competition between our guest booksellers, as each tried to out-sell the others. Ultimately, it was hard to beat Jon Scieszka, who dominated the kids section and took home our prize for #1 Bookseller of the Day."
North of the border, Shelley Macbeth, owner of Blue Heron Books, Uxbridge, Ont., said on Facebook that the store's Indies First celebration was "fabulous, stupendous." Seven authors came to the store on Saturday, "and boy, did they sell books! Our customers had a great time shopping the 'hood! In case you missed out, they tagged some of their favourite reads and signed some of their own (because signing other people's books would just be wrong)."
Indies First marks only one of several solid promotional efforts focused on indie bookstores this season: it's just five days until Take Your Child to a Bookstore Day.


Authors Celebrate Indies First
Authors who participated in Indies First offered rave reviews. For example, James Patterson tweeted: "I had a great time helping out at Classic Bookshop [Palm Beach, Fla.] for Indies First today. Makes me wish I worked there."
James Benn, author of the Billy Boyle World War II mystery series, said about his stint Saturday at Bank Square Books: "I've used the term handselling before to describe what indie bookstore folks do, but I never had the opportunity to do it myself. What a rush. Seeing a satisfied customer purchase a book I recommended was more thrilling than I had imagined. I'll be back on duty next year!"
Kim Dower, author of Air Kissing on Mars and Slice of Moon (also well-known in the business as Kim-from-L.A.), gave this account of the several hours she spent as a participant in Indies First at Book Soup, West Hollywood, Calif., on Saturday: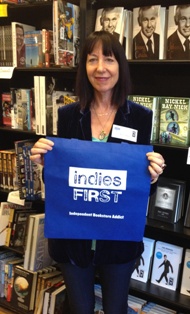 "I practiced saying, 'May I help you?' and 'Can I help you find something?' all week, and when my moment arrived, I was ready! My shift was 2-4 p.m. on Saturday at Book Soup, my neighborhood store for the last 30 years, where I've spent hundreds of hours browsing through the shelves, and where I did both my launch parties for my poetry collections. In my two splendid hours as a bookseller, I ushered people to the 'Travel Section,' talked with browsers about how we all need to reread Joan Didion's Play It As It Lays and Erica Jong's Fear of Flying, suggested the perfect book group book (Freud's Mistress by Karen Mack and Jennifer Kaufman) (it was for "both men and women," the customer advised me, "and we love history"), helped a customer out to her car with a stack of art books and handsold a copy of the new Barbara Stanwyck biography because I read the review in the New York Times and thought, 'I must read this,' and because of its gorgeous cover. Plus I'm a fan of Stanwyck and was thrilled to convince a stranger to read about her. I even sold a few of my own poetry books, one to a composer who was looking for lyrics to put to his music (fine with me, I told him--knock yourself out).
"I did learn, however, that asking people who were browsing in a bookstore if they liked poetry was a real conversation stopper. Too bad! People have been traumatized by the way they were forced to learn about poetry in school and they never got beyond those first bad experiences. It shouldn't be that way! I led them over to Billy Collins and Sharon Olds. I talked to them about the joys of poetry and how it can be accessible! I had people sitting in the corner of the store reading poetry! I came home wearing my Book Soup bookseller badge and plan to wear it all weekend and continue asking strangers if I can help them. Bookselling is addictive."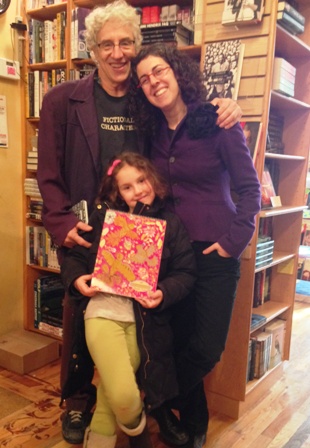 David Henry Sterry and Arielle Eckstut, and their daughter, Olive.
David Henry Sterry and Arielle Eckstut, aka the Book Doctors and authors of The Essential Guide to Getting Your Book Published (the 10th anniversary edition of his memoir, Chicken, and her The Secret Language of Color, written with her mother, were recently published), spent several hours at Watchung Booksellers, Montclair, N.J., on Saturday and had "a great time," she said.
"It was a great experience for us as authors," Eckstut continued. "It took a while to be able to walk up to people." Both Eckstut and Sterry handsold several titles, but their daughter, Olive, handsold more titles than they did, including some Ivy and Bean titles and Yummy: Eight Favorite Fairy Tales by Lucy Cousins.
Sterry said he learned that many customers come into the store "knowing what they want," but that others have no idea. Eckstut added that she was surprised to learn that there were sections she was completely unfamiliar with, such as middle readers.
At the end of their shift, the three seemed reluctant to leave, taking their time talking with staff and the many customers who filled the store.


Indies First: One Author, One Day, Five Bookstores
Garth Stein, author of The Art of Racing in the Rain, raced between five bookstores in the Seattle, Wash., area on Saturday, participating at each as an official Indies First bookseller. Happily for us, he kept a journal of his bookselling adventures:

8 a.m. Liberty Bay Books, Poulsbo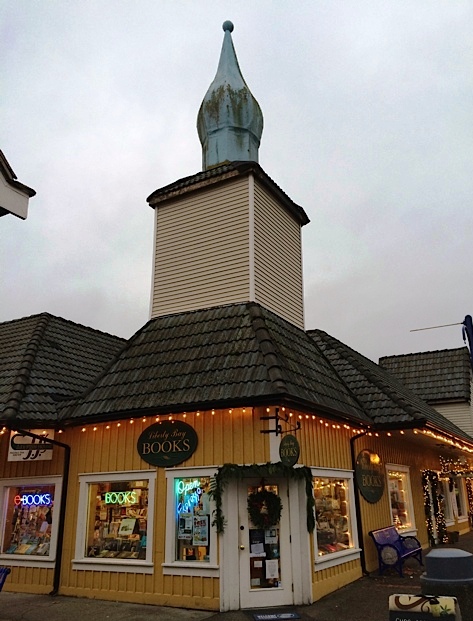 I am pleasantly surprised by the Saturday morning crowd that drops by Suzanne Droppert's charming corner bookstore in search of coffee and conversation… and books to give for the holidays! Suzanne plies me with hot coffee and lefse, a traditional Scandinavian food. I find myself feeling apprehensive, as the only traditional Scandinavian food I know of involves an unpleasant texture, a lot of salt and cod. Much to my relief, lefse is a potato crepe filled with cinnamon sugar and butter, and is quite tasty.

My bookselling chops are put to the test as I try to move a pricey photographic history of abandoned mental institutions called Asylum. I am thrilled when one of my customers purchases the book to give to his psychiatrist for Christmas. Psych!

10:30 a.m. Eagle Harbor Book Company, Bainbridge Island
Arriving a little early for my shift, I check in, and David Guterson eyes me suspiciously. I am his competition. At the end of our shifts, our fellow workers will consider one of us a better bookseller than the other. I am determined to outsell him.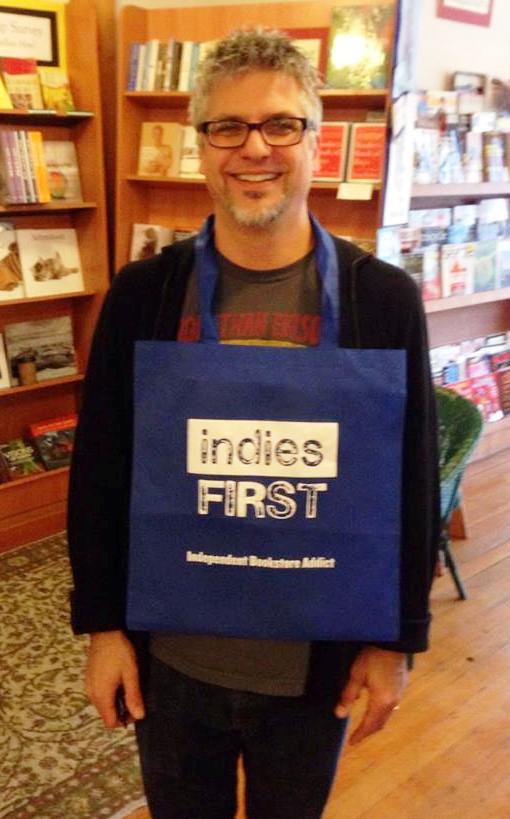 "Welcome to Eagle Harbor Books," I sing out to new customers entering the store. "My name is Garth, and I'll be your bookseller today. Please let me know if there's anything I can do to make your shopping experience more enjoyable!"

The people look at me like I'm deranged. Guterson is chatting up women visiting from San Diego. They're here for the Seahawks game on Monday. Good luck.

Lewis Mandell is selling books with us. He's shockingly good, rushing around the store and returning with stacks of books for his customers. I try to muscle in on his sale. Lewis's book is called What to Do When You Get Stupid. He tells me that after I hit 53, my brain will begin deteriorating and I'll get dumber and dumber until I die. I tell him I think I've already gotten a head start.

Time for the ferry to Seattle! I leave without getting a tally of sales, but I feel pretty good about my production, and David is still talking with the ladies from San Diego, so I think I got him.

1:15 p.m. Elliott Bay Book Company, Seattle
The fabulous Karen Maeda Allman greets me at Elliott Bay, which is teeming with the hipster crowd of Capitol Hill. The energy here is intense. Rick Simonson observes all with a sort of serene detachment, as the sharp ring of a bell indicates books needing to be wrapped by helper-elves. There's a lot of scurrying going on.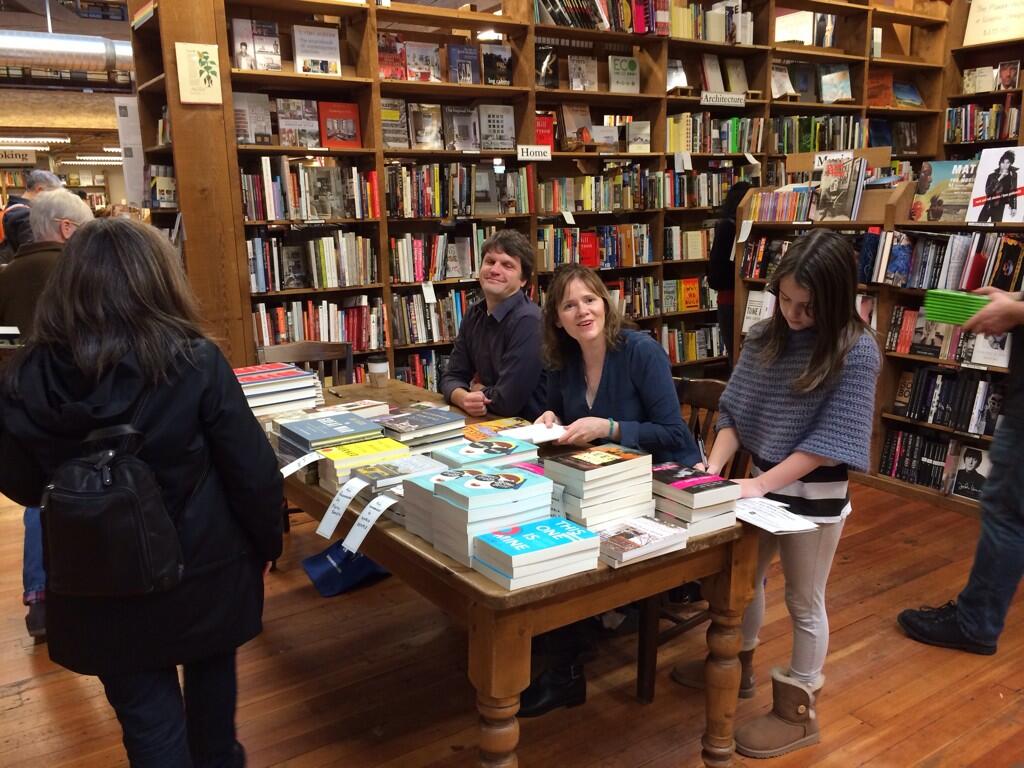 Tom Nissley, Maria Semple and Poppy Semple at Elliott Bay Book Company
I am ushered to the Booksellers for a Day table, which is staffed by Ryan Boudinot, Tom Nissley and Maria Semple. I sit next to Maria for the next 75 minutes, which is sort of like sitting at the center of a tornado. I'm carrying on four conversations--all of them with Maria--while pushing books on passers-by. I bag a few sales of Maria's book Where'd You Go, Bernadette?, which is an easy make in Seattle. I even offer to have her personalize them at no extra charge. I know I shouldn't take credit for this, but I do anyway, because I have no shame, and soon, my brain will start deteriorating, and where will I be then?

3 p.m. Queen Anne Book Company, Seattle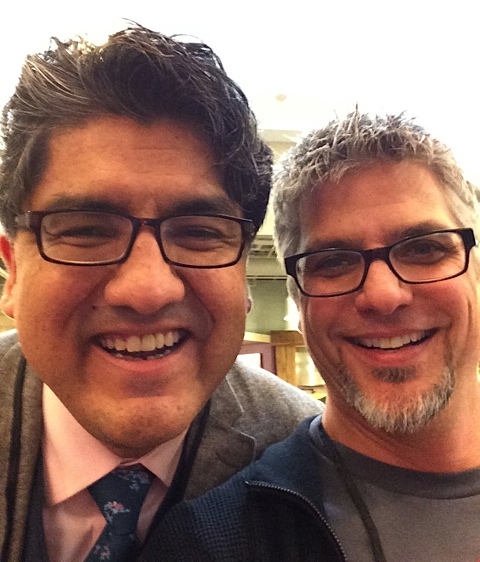 Rushing across town, I realize I haven't had anything to eat since my 8 a.m. lefse. I'm starving, but I don't have time to stop. I bump into Sherman Alexie as he's leaving Queen Anne and I'm entering. I wonder how he's been faring as a bookseller. I'm sure I can do better.

A half an hour into my stint, a young couple enters. They notice me and look crestfallen.

"Where's Sherman?" they ask.

"He was here from 2 to 3," I say.

"We really wanted Sherman. We didn't want you."

"I can hear you," I say.

"Sorry, it's just that--"

"No worries."

I whip out my phone and call down to Secret Garden Books in Ballard.

"This is Garth Stein," I say. "I'm a bookseller over here at Queen Anne Books. Is Sherman at your place right now?"

The woman tells me he'll be there until five.

"I have some folks here who want to meet him. I'm going to send them over. The code word is 'Rosebud.' Don't let Sherman leave until someone approaches him and says 'Rosebud.' "

The deal is made. Everything is good. I sell a few more books, get my replacement, Lesley Thomas, settled in, and I'm out.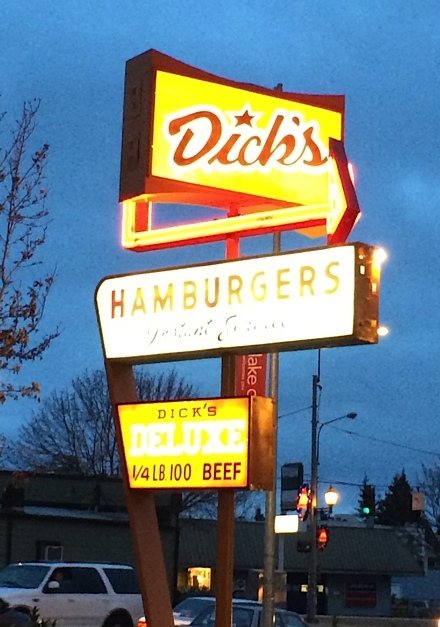 4:20 p.m. Dick's Drive-In, Lake City
I'm faint from hunger. I need food. I stop at Dick's on 125th Street on my way up to Third Place Books for my final stint. I get a Deluxe and fries. There's nothing quite like Dick's when you've spent a long, hard day selling books.

5 p.m. Third Place Books, Lake Forest Park
This is it. The home stretch. My friends and superior booksellers, Wendy Manning and Steve Winter, greet me and get me set up. After the initial rush of customers who want to tell me about their dogs--almost all of whom are destined to be reincarnated as people--I settle into a groove and rock the sales. Hotel Angeline: A Novel in 36 Voices is a big hit here. So is Good as Gold by Joseph Heller, and I even sell a copy of Anthony Bourdain's Les Halles Cookbook.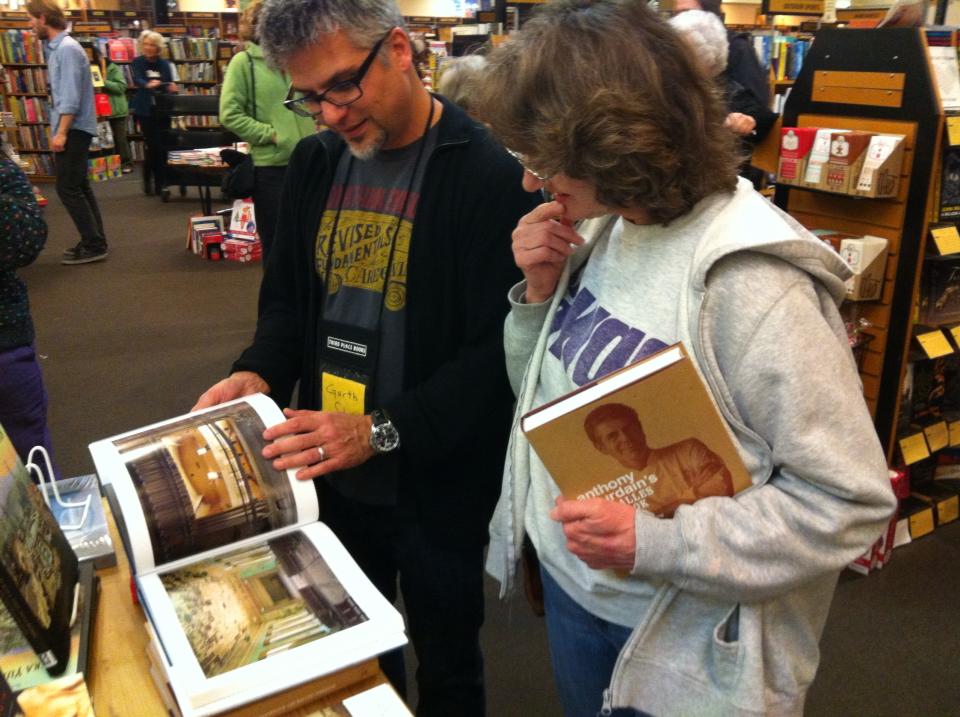 Then I'm faced with my biggest challenge of the day. A customer approaches me and asks for a recommendation. "I need to give a gift to my aunt," he says. "She's older and loves mysteries, but nothing too violent. What have you got?"

Hmm. Mysteries aren't my forte. I glance nervously at Wendy and Steve, who are scrutinizing my response. This is clearly my watershed moment.

"Is your aunt interested in European cities?" I ask.

Wendy smiles. She senses I'm on to something.

"There's a wonderful mystery writer who sets all her books in Paris," I say. "I've read a couple of them, and they're quite good. Excellent atmosphere. Cara Black. She's published by Soho Crime."

My customer looks hopeful.

"Hardcover?" he asks.

Oh! A monkey wrench! I feel like Ender when the colonel changes the rules of the game on him again!

"They're high quality trade paperbacks," I say. "Excellent design. I think you should take a look at them to see if they'll suit you."

"I'm on it!" Wendy says.

She rushes off and returns with two books, one hardcover and one paperback.

"We do have one of her books in hardcover," she says, quite pleased.

The customer takes the books and examines them.

"I'll take them both," he says. "Thanks for your recommendation."

"I'm sure your aunt will enjoy them," I say.

Steve and Wendy exchange a nod. They see I have potential.

It's six o'clock, and my stint is over. I feel drained. Sherman shows up to take my spot. He's like my shadow today. But he's about a foot taller than me, so he's like my uber shadow.

We exchange a congratulatory hug, and I snap a photo with my phone. I'm done for the day; he's got more work to do. I head for my car and catch the 7 o'clock ferry back to the island.

8:05 p.m. The Cabin
I arrive back at our cabin, and Comet, our dog, greets me like I've been gone a year.

"Can we play King of Tokyo now?" my six-year-old son asks before I get my coat off.

Oy. After a long day as a bookseller, now I have to get to work as a dad?

"Sure," I say. "Let's play. Set it up."

The game begins. Thankfully, my three sons gang up on me and trash my monster early, so I'm out.

"Sell any books?" my wife asks as I retreat to the kitchen.

"A couple."

"Are you going to become a bookseller now?"

"Naw, I'll leave it to the professionals," I say. "I'm really better as a pinch seller."

But they know what I'm capable of now, I think. My bookseller friends know I've got some chops. And they know where to find me if they need me. Until then, I've got a book of my own to finish.


President Shops Indie on Small Business Saturday
President Obama may have been a controversial no-show at independent bookstores on Martha's Vineyard during his vacation last summer, but he returned to the indie fold over the weekend with a shopping spree at Politics & Prose Bookstore, Washington, D.C., on Small Business Saturday.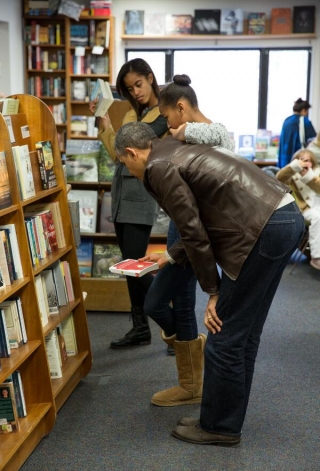 White House photo
Obama and his daughters, Sasha and Malia, "took time to mingle with camera-phone wielding shoppers before heading to the checkout," Reuters reported.

"It's a long list," he said while paying. "I've got books for every age group, from 5 to 52."

"We are thrilled and honored that President Obama came by our store today with daughter Malia and Sasha to do some Christmas Shopping," the bookstore noted on its Facebook page. "Thank you, Mr. President, for thinking #indiefirst this #ShopSmall Business Saturday!"

The Christian Science Monitor featured a complete list of the titles purchased, and noted that Obama tweeted: "When our small businesses do well, our communities do well. Join me and visit a small business near you today to celebrate #SmallBizSat."


Amazon: 'Prime Air' Drone Deliveries, Mall Pop-Ups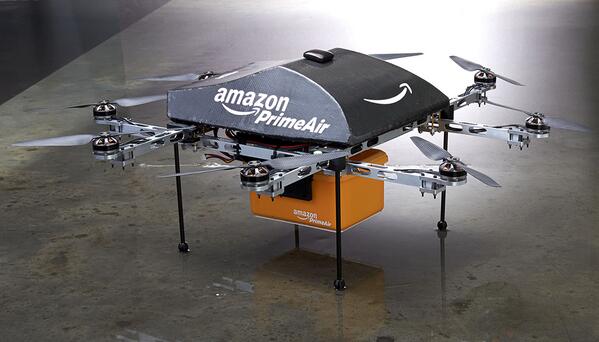 The heavily promoted "big surprise" that Amazon CEO Jeff Bezos had for 60 Minutes correspondent Charlie Rose on last night's show (which coincidentally doubled as a Cyber Monday promo) turned out to be a secret R&D project involving "Octocopter" drones that are purportedly being designed to "fly packages directly to your doorstep in 30 minutes." The project, which Amazon has dubbed Prime Air, bears a striking resemblance to the GPS-controlled, textbook-delivering "Flirtey drone" unveiled by Australia's The Age in October.

The news was just the sort of item to launch a Twitter feeding frenzy, including this #AmazonDrone tweet from @justin_yang: "Actually #amazondrone and Washington Post buy kinda makes sense. You need influence in DC to get approval to fly drones all over the place."
No word how this ties into Amazon's $600 million cloud deal with the CIA or what happens if somebody refuses a drone delivery.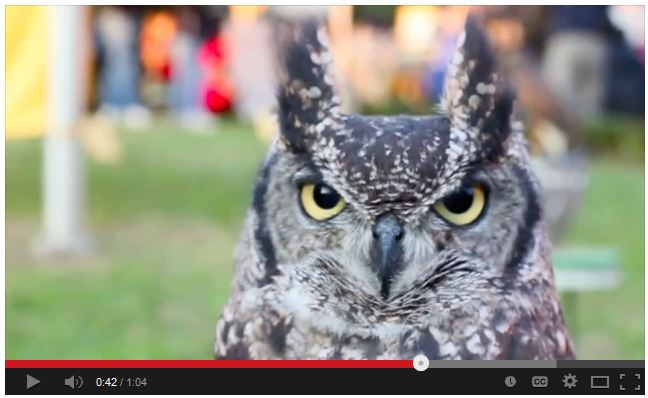 For its part, U.K. bookstore chain Waterstones wasted no time in announcing its own high-flying delivery plan for an Ornithological Waterstones Landing Service (OWLS), through which "a fleet of specially trained owls that, either working individually or as an adorable team, will be able to deliver your package within 30 minutes of you placing your order."

---

Amazon has been operating a pop-up store at the Westfield San Francisco Centre mall "where it is selling the devices as well as branded covers and power adapters from vending machines. There are sample Kindles on display for shoppers to test," the Wall Street Journal reported, noting that one of the two women staffing the site said the store's two-week run would end after the weekend.

Another area of the mall featured "a small booth in front of a Microsoft store," the Journal wrote. An Amazon spokeswoman said the temporary stores are in "a handful of malls as part of a marketing campaign."


Happy Cider Monday!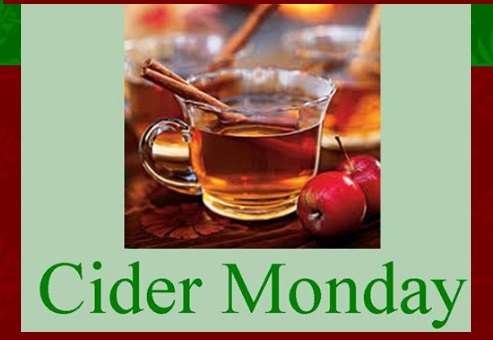 Cider Monday is the latest holiday weekend trend. Last week, we reported that the Toadstool Bookshops in Keene, Milford and Peterborough, N.H., were planning--in association with the Monadnock Buy Local network--to celebrate Cider Monday, "a new tradition" designed to counter the online frenzy of Cyber Monday. Toadstool invited customers to visit its stores today for some 'cider... made from squished micro soft apple products. Delicious! Stop in for a free cup, maybe a snack, see some real people and have a good time checking out what's in our stores. It's sure to be a heartwarming experience. We can promise no crashing websites, our 'servers' won't be overloaded and we bet they will even smile at you."

"I love this idea," Suzanna Hermans of Oblong Books & Music in Millerton and Rhinebeck, N.Y. She pitched it to other local merchants and immediately had eight businesses sign on to participate.

"A cup of cider from a server sure to smile at you and not crash, shelves of great holiday gift ideas right there to touch and feel, friendly real people to help, and the knowledge that proceeds from your purchase stay in your community are all the right reasons to get out and enjoy the day," Kenny Brechner of Devaney, Doak & Garrett Booksellers, Farmington, Maine, told the Daily Bulldog. "We are confident that 'Cider Monday' will very quickly overtake 'Cyber Monday' as the shopping event of the year."

"Cider Monday is hot cider and yummy cider donuts from our local Atkins Farm," noted Joan Grenier of the Odyssey Bookshop, South Hadley, Mass.

Cynthia Duprey of Next Chapter Bookstore, Barre, Vt., said, "We are also participating. We are offering a 10% discount if 'Cider Monday' is mentioned."

"I plan to participate, too," added Debra Ostrokolowicz Horan of Booklovers' Gourmet, Webster, Mass.

Many other independent bookstores in the region were extending invitations to their customers to come in from the digital cold of Cyber Monday for refreshments today:

Chester County Book Company, West Chester, Pa.: "It's going to be a cold day, so enjoy some hot mulled cider while you peruse the shelves. Stop in for a free cup and the personalized customer service that makes shopping at an independent bookstore such a treat!"

Bank Square Books, Mystic, Conn.: "Put down the mouse and shop near your house! Shop locally in downtown Mystic on Monday. Stop by Bank Square Books and enjoy a cup of apple cider as you shop."

Wellesley Books, Wellesley, Mass.: "Step away from your computer and visit Wellesley Books for free cider all day long. And remember, when you shop online you can still shop local on our website. Cider Monday--soon to overshadow Cyber Monday as THE shopping event of the year."

UConn Co-op Bookstore: "Take a rest from your keyboard and talk to real live people. Visit us, the UConn Co-op Bookstore at Storrs Center, for free cider all day long. Of course, if you want to shop online, you can do that and shop local, too."


Obituary Notes: André Schiffrin; Matt Bibb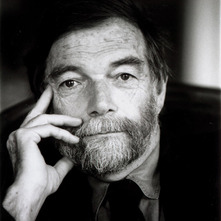 André Schiffrin, co-founder of the New Press and former editor-in-chief and managing director of Pantheon Books, died Sunday, the New York Times reported, describing him as "a publishing force for 50 years, whose passion for editorial independence produced shelves of serious books, a titanic collision with a conglomerate that forced him out to stem losses, and a late-in-life comeback as a nonprofit publisher." He was 78.

Dennis Johnson, co-founder of Melville House, which published Schiffrin's memoir A Political Education: Coming of Age in Paris and New York, remembered him as both an inspiration and a friend. Johnson wrote that "perhaps the thing about Andre's life that the Times obituary most obscures is what a hero that fight with conglomerate publishing made him to so many publishers, particularly a generation of small independent publishers. No one did so much, in fact, to define the term independent publisher coming into the twenty-first century."

---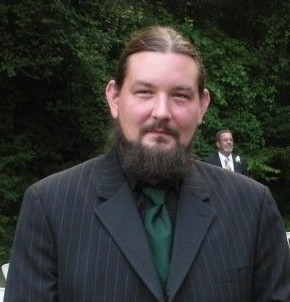 Bookseller Matt Bibb died last Thursday. He was 36. Wanda Jewell, executive director of the Southern Independent Booksellers Alliance, wrote a moving tribute on SIBA's website, noting that she first met him in 2002: "The SIBA show was to be held in Atlanta and I trained a dozen Chapter Eleven booksellers to work that show's registration over the weekend. One stood out, and that was Matt. You couldn't help but notice him. Well over six feet tall, a bear of a guy with a long dark ponytail and a beard to match. And he stood out in other ways as well. He could not have been more amenable and hard-working and he has been behind the registration desk at every SIBA since. I'm so glad he was at the New Orleans show. Matt had an affinity for New Orleans. It was his kind of town. I cannot imagine a SIBA Show without him."

A memorial fund has been started to help his family with funeral expenses.


Notes
Gothamist's 10 Best Bookstores in New York City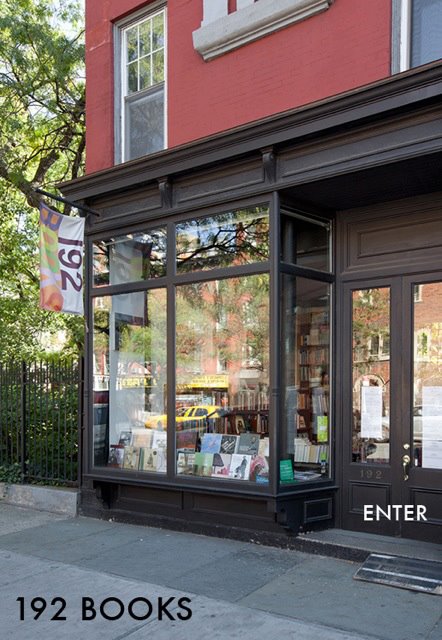 The Gothamist lists its picks for "the 10 best bookstores in NYC," with the usual suspects plus a few surprises.


Personnel Changes at Perseus
The Perseus sales department has made the following changes:

Keith Arsenault has been promoted to director, mass merchandise. He has been director of sales, airports and clubs.
Leslie Jobson has been promoted to field sales manager, focusing on Legato, Skyhorse and Perseus Distribution clients. She was formerly field sales coordinator.
Rob Pine has been promoted to field sales rep. He was formerly a telesales rep.
John Tewsley has joined the company as a telesales rep. He was the longtime history and current events buyer at Borders.
James Chan has been promoted to national account manager with responsibility for AWBC/BAM and Hastings. He was formerly national accounts rep.
Justin Demeter has been promoted to senior sales manager, gift. He was formerly special sales manager.
Vanessa Navarrete has been promoted to assistant sales manager, gift. She was formerly sales coordinator.
Nissa Bagelman has been promoted to sales coordinator, special sales. She was formerly sales assistant.


Book Trailer of the Day: The Crooked Mirror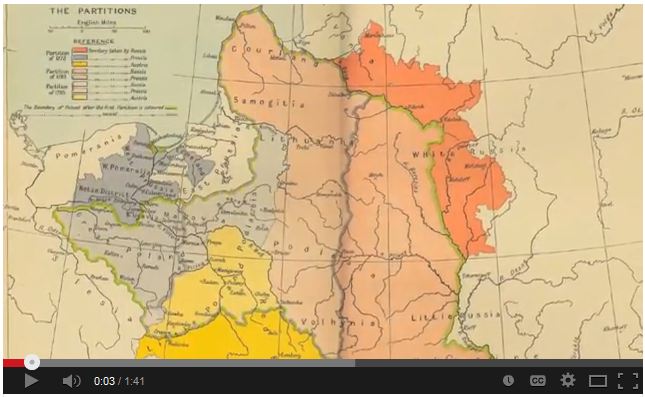 The Crooked Mirror: A Memoir of Polish-Jewish Reconciliation by Louise Steinman (Beacon Press).


Media and Movies
Media Heat: Daniel Goleman on the Colbert Report
Today on Chelsea Lately: Mike Tyson, author of Undisputed Truth (Blue Rider, $30, 9780399161285).

---

Tonight on CNN's Piers Morgan: Judy Smith, author of Good Self, Bad Self: How to Bounce Back from a Personal Crisis (Free Press, $16, 9781451650006).

Also on Piers Morgan: Tim Conway, co-author of What's So Funny?: My Hilarious Life (Howard, $25.99, 9781476726502).

---

Tonight on the Colbert Report: Daniel Goleman, author of Focus: The Hidden Driver of Excellence (Harper, $28.99, 9780062114860).

---

Tomorrow morning on the Today Show: Robert Sabuda, author and illustrator of The Little Mermaid (Little Simon, $29.99, 9781416960805).

---

Tomorrow morning on CBS This Morning:

Michael Connelly, author of The Gods of Guilt (Little, Brown, $28, 9780316069519).
Matthew Hart, author of Gold: The Race for the World's Most Seductive Metal (Simon & Schuster, $26, 9781451650020)
John Dodson, author of The Unarmed Truth: My Fight to Blow the Whistle and Expose Fast and Furious (Threshold, $26, 9781476727554). Dodson will also appear on Hannity.

---

Tomorrow on Live with Kelly and Michael: Joe Mangeniello, author of Evolution: The Cutting Edge Guide to Breaking Down Mental Walls and Building the Body You've Always Wanted (Gallery, $26, 9781476716701). He will also appear on Dr. Oz tomorrow.

---

Tomorrow on the Wendy Williams Show: Hill Harper, author of Letters to an Incarcerated Brother: Encouragement, Hope, and Healing for Inmates and Their Loved Ones (Gotham, $27.50, 9781592407248).


TV: Doc Ford
CBS has put in development Doc Ford, based on Randy Wayne White's series of 20 novels, ranging from Sanibel Flats (1990) to Night Moves last year, Deadline.com reported. Chris Gerolmo (Mississippi Burning, The Bridge) is writing the adaptation.


Books & Authors
Awards: Guardian First Book
Donal Ryan won the £10,000 (about US$16,369) Guardian First Book Award for The Spinning Heart. Chair of judges and Guardian Review editor Lisa Allardice praised the book for its "startling audacity... It may be slim in size, but it is hugely ambitious in structure and devastating in its emotional impact. Too often contemporary fiction is criticized for not engaging enough with contemporary issues, but this breathtakingly empathetic account of a community crumbling under the pressures of the recession deserves to stand as a companion piece to Anne Enright's wonderful The Forgotten Waltz, also set against the boom and bust of recent Irish history."


Book Review
Review: Little Failure: A Memoir
Little Failure: A Memoir by Gary Shteyngart (Random House, $27 hardcover, 9780679643753, January 7, 2014)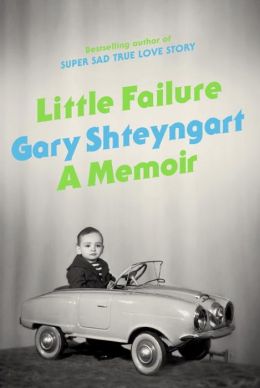 In 1979, seven-year-old Igor Shteyngart and his family left Leningrad in the U.S.S.R., their ultimate destination a one-bedroom apartment in Queens, N.Y. Nearly 35 years later, Gary Shteyngart is the author of three critically praised and popular novels and a star among his generation of writers. Little Failure is the story of that frequently improbable journey, told with honesty and generous helpings of the off-kilter wit Shteyngart's readers have come to expect.
Shteyngart's memoir, substantial portions of which have appeared in the New Yorker, the New York Times and GQ, is equal parts coming-of-age story and immigrant saga. A healthy portion details his slow progress toward acceptance at the Solomon Schechter School of Queens, the Jewish day school where he begins to grasp the English language. He quickly recognizes it is his role to "absorb the sunlit, nascent-mustachioed hatred of the future home owners of eastern Queens," until he emerges into the ethnically diverse world of Stuyvesant High School.
Admirers of Shteyngart's fiction no doubt will be impressed by the fact that he wrote his first "novel," Lenin and His Magical Goose, at age five, trading words for slices of cheese from his maternal grandmother. At age 10, he discovers "there is nothing as joyful as writing," a calling he pursued with passion through his college days at Oberlin, where ingesting copious quantities of alcohol and drugs never seemed to dull his creative energies, and from there to being a published writer in 2002.
As much as Little Failure is the story of Shteyngart's rocky road to assimilation, it's equally an account of his often fractious relations with his parents and the tensions that kept him in perpetual dread of the razvod (divorce) he feared would tear the ill-matched pair asunder. His father, an engineer and passionate lover of Israel and fishing, provided the book's title, one of the epithets he dished out with relish (along with the frequent occasions he gave his wayward son "one across the neck"). Shteyngart's mother specialized in administering the silent treatment, including what he calls "one especially long period of making me unexist." The book's final chapter is a moving description of his return with his parents to St. Petersburg in 2011, a trip that reveals some startling family secrets.
Acerbic and tender, at times brutally funny and at others painfully sincere, Little Failure is a fully satisfying companion to the novels of a writer who doubtless has many more captivating stories, invented and real, to share. --Harvey Freedenberg, attorney and freelance reviewer
Shelf Talker: In this immigrant's coming-of-age memoir, Gary Shteyngart displays his characteristic wit as he reveals the roots of his fiction.