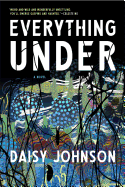 Shortlisted for the 2018 Man Booker Prize, Everything Under, Daisy Johnson's first novel (following the story collection Fen), is a dreamy, twisty-turning tale set in modern Oxford but calling on mythology and upturning societal norms.
"The places we are born come back." At the novel's opening, Gretel is a lexicographer who mostly keeps to herself, caught up in her mysterious past. "I'd always understood that the past did not die just because we wanted it to." She lives in a remote cottage with her mother, Sarah, whom she has recently found and brought home. Then time shifts, and for much of the book the reader sees Gretel's unusual childhood, and the long stretch of adulthood during which she searched for her missing mother.
Gretel grows up living with Sarah on a river, in a houseboat that never moves. They forage for food and remain apart from organized society. They make up their own language, words that make sense only to them. It is a watery world of shifting gender identities and slippery, changing rules.
In the flashback chapters, an enigmatic third character appears. "What happened to Marcus?" Gretel asks her mother, in the later timeline when they live together again, the older woman having lost her memory and the words that mattered so much. But it takes many more pages to reveal who Marcus is.
This is a complex plot with profound themes. Johnson's singular, hallucinatory storytelling is well up to her book's ambitious form. The result is spellbinding. --Julia Kastner, librarian and blogger at pagesofjulia