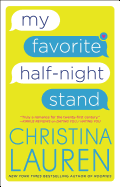 Millie Morris is practically one of the guys. She's a professor of criminology at UC Santa Barbara, and constantly hangs out with her four best friends--Ed, Chris, Reid and Alex, all fellow professors. Millie likes it that way: friendly, pleasant, but not too deep. She hates talking about her feelings, and loves playing games and drinking beer. They're cruising along until the university announces a black-tie gala, and the five friends all realize they need dates. They make a pact to create online dating profiles together, but before they do, Reid and Millie have a drunken, amazing half-night stand.
Determined not to ruin their friendship, they decide to keep it platonic in the future, and jump into the online dating world. The four guys get some reasonable matches, but Millie just keeps getting creepy pictures from a bunch of questionable men. Irritated, she makes up a second, fake profile, and to her shock, she matches with Reid. This leaves her in a tricky position--trying not to notice her attraction to him in real life, but increasingly falling for him online.
A funny, irreverent romp, My Favorite Half-Night Stand is a witty look at the perils of online dating. Having a new book by Christina Lauren (Josh and Hazel's Guide to Not Dating) on the nightstand is sure to make any romance reader happy. And even those who are hesitant to try the genre will laugh out loud at the predicaments Millie gets herself into. --Jessica Howard, bookseller at Bookmans, Tucson, Ariz.