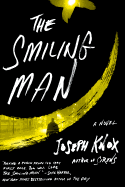 After the disastrous events in Joseph Knox's debut, Sirens, Detective Constable Aiden Waits is banished to the night shift with the partner no one wants, DI Peter "Sutty" Sutcliffe. Permanent night duty is the mark of no life or no career, and Waits has managed to blow up both. Then he comes across the Smiling Man.
An historic hotel, the Palace is closed for "renovations" (i.e., the acrimonious divorce of its owners) when an alarm is triggered. Waits and Sutty arrive to find the night watchman face down in a hallway. Behind the wide-open door of room 413, Waits spies a body in a chair, the muscles of its dead mouth "contracted viciously, and locked into a wide, wincing grin."
The detectives spin down the rabbit hole of the unidentified man, and characters swarm around at a furious pace. The plot thickens through flashbacks to a young boy abused as a crime tool by a Fagin-esque father figure. Knox never lets up, taking left turns just when the clues seems to jibe. Despite the chaos, he's always in firm control of each ball in the air, as if the precarious nature of their flight is merely an illusion.
The setting of gritty London is wonderfully on display (sounds emanate from a heat wave like the "slow-drip of people losing their minds"). Knox's vivid descriptions ("He was a wiry, fatalistic spider of a man who played chess with the people around him") make The Smiling Man a noirish pleasure. --Lauren O'Brien of Malcolm Avenue Review