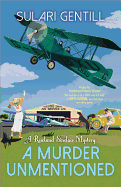 Fans of Kerry Greenwood's Phryne Fisher will love this sixth entry in the Rowland Sinclair series by Sulari Gentill (Gentleman Formerly Dressed). Rowland, one of the heirs to the large Sinclair fortune, has returned home to Australia with his group of artistic, communist friends after an eventful trip to Europe. Appalled at the rise of Hitler, he is busy seeking audience with various Australian officials, in hopes of preventing the spread of fascism to their country. Suddenly events much closer to home become dangerous in other ways.
Police arrive at Rowly's home, where he resides with his friends Milton, Clyde and Edna, to announce that the gun that killed his father has been found on his family's ancestral estate. The friends are shocked to learn that Rowly's father was murdered 13 years earlier, presumably by a burglar.
The group then proceeds to investigate, to the dismay of Rowland's proper older brother, Wilfred. Tensions mount, and when a body is found and potential danger to Wil's children is discovered, the brothers have to work together to solve their father's death as the police breathe down their necks.
With funny repartee among Clyde, Milton, Edna and Rowland, yet still with a clear eye on the important political developments of the era, Gentill engages the reader. Rowland's struggle to please both his conservative brother and his liberal friends is all too real, and the solution to the mystery will keep readers guessing till the end. --Jessica Howard, bookseller at Bookmans, Tucson, Ariz.