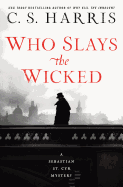 Napoleon's reign is drawing to a close, and the rest of the European powers are jockeying to fill the void left by France's defeat. The Grand Duchess Catherine of Oldenburg and her retinue are in the middle of a formal visit to London when the body of the sadistic Lord Ashworth is found hacked apart in his bed.
Ashworth, known to have exotic sexual habits, also happened to have recently married Stephanie, the beloved but troubled niece of Sebastian St. Cyr, Viscount Devlin. So naturally Sir Henry Lovejoy, the local magistrate, calls in Sebastian to help investigate Ashworth's death.
Sebastian wishes he could believe that Stephanie is innocent, but is worried that perhaps she regretted her hasty marriage to the dissolute lord. On the other hand, he hears rumors that a certain Russian princess, part of Catherine's household, shared Ashworth's erotic interests and may have played a part in his demise.
As Sebastian digs into Ashworth's circle of friends and shady acquaintances, his wife, Lady Hero Devlin, continues on her quest to document the atrocities committed against London's poorest denizens, much to the irritation of her father, Lord Jarvis.
With panache, C.S. Harris (Why Kill the Innocent, What Angels Fear) brings the dark side of Regency London to life. Many readers are familiar with the balls and amusements of the ton. But in Who Slays the Wicked, Harris shows the seamy underbelly of society, and through Lady Hero makes a scathing denunciation of the upper-class people who allowed millions to be suppressed for the furtherance of their own pleasures. --Jessica Howard, bookseller at Bookmans, Tucson, Ariz.