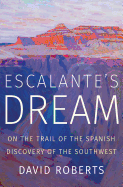 In Escalante's Dream: On the Trail of the Spanish Discovery of the Southwest, adventure writer David Roberts (Limits of the Known) takes the reader on a journey that is part road trip, part historical exploration and part love story.
In 1776, two Franciscan friars, Francisco Atansio Domínguez and Silvestre Vélez de Escalante, led an expedition across the Southwest in search of a land route from Santa Fe to the new mission at Monterey. In 2017, Roberts and his wife, Sharon, re-created their journey, guided by Escalante's firsthand account and the report of "exploratory rediscovery" created for the expedition's bicentenary in 1976.
Frustration is the dominant emotion for much of Escalante's Dream. Roberts wrestles with the inadequacies of Escalante's account as a travel guide, the bicentennial report's lack of academic rigor and the absence of historical markers commemorating the expedition's travels through the Southwest. He worries over his inability to like, or even understand, the men whose footsteps he follows.
Roberts also struggles with new physical limitations, the result of a two-year battle with throat cancer. He opens the book with the admission that this six-week journey is both tame, compared to the adventures that defined much of his adult life, and the most extreme challenge he is now able to face.
By the book's close, frustration is replaced by appreciation both for the friars themselves and for the value of this "tame" adventure in the company of his wife, "the best thing we had ever done together." --Pamela Toler, blogging at History in the Margins