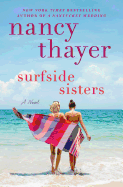 Keely Green and Isabelle Maxwell have been best friends since preschool. They've grown up together on Nantucket, sharing idyllic times at their favorite beach, Surfside, and riding their bikes all over the island. However, Keely, the only child of working-class parents, has always been a tiny bit jealous of Isabelle's much more luxurious life. The Maxwell family has a huge house and spends every summer in Europe; most importantly, in Keely's eyes, Isabelle has a handsome, wonderful older brother named Sebastian.
For years Keely tries to tamp down her infatuation with Sebastian, and focuses on her friendship with Isabelle. They both decide that they want to be writers when they grow up, which creates an extra bond between them. But then, in high school, the boy that Isabelle loves asks Keely to homecoming. A few years later, Keely is forced to drop out of college, while Isabelle continues living her charmed life. This creates deep tension between the two, and Keely must carefully navigate both her changing world and her complicated friendship with Isabelle.
Nancy Thayer (A Nantucket Wedding, Secrets in Summer) knows how to create the perfect beach read. A heady mix of summer, family secrets, first love and friendship, Surfside Sisters is meant to be devoured on a lazy afternoon. Readers who love Elin Hilderbrand or Jamie Brenner will be delighted by Surfside Sisters, with its familiar island routines and its eclectic, book-loving characters. --Jessica Howard, bookseller at Bookmans, Tucson, Ariz.