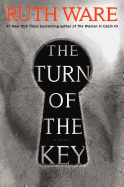 Ruth Ware (The Death of Mrs. Westaway, The Woman in Cabin 10) turns to the Scottish Highlands in her fifth novel. Rowan Caine is working at a nursery school in London, hating her daily grind, when she sees an advertisement for an incredibly well-paying nanny job in Scotland. She travels to meet the family and discovers a gorgeous old home with a slightly strange vibe. The owner explains that ghosts have been rumored to be in the house, which is why they pay their nannies so well.
Because of a commitment to attend an architectural conference, the parents depart almost immediately upon Rowan's arrival, leaving her with three small, hostile children and a smart house that she struggles to control from the app on her phone. As the story progresses and the house's smart systems start acting up, Rowan begins to worry she's losing her mind. But she has no idea that things will accelerate to the point where a child is dead, and she is in prison, awaiting her trial for murder.
Breathlessly atmospheric, The Turn of the Key is a deliciously creepy mystery in homage to Henry James's The Turn of the Screw. The smart house's malfunctions will seem all too realistic for modern readers who struggle with their own technology. The tension is strong as Rowan gradually unfolds her side of the story to a lawyer, admitting that she lied to get the position, but swearing that she's not guilty of murder. Ware's twist on a classic is sure to be a hit for fans of psychological thrillers. --Jessica Howard, bookseller at Bookmans, Tucson, Ariz.