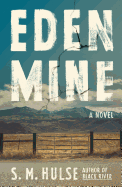 "It's the kind of love for a place only an orphan might understand," Jo Faber thinks. Prospect, Mont., is a poisoned, rusting town that's been dying since the last mine closed in 1994, 20 years before Jo is packing to leave what has been her family's land for five generations. She focuses on chores, denying what she fears: her beloved older brother, Samuel, is on the news, suspected of bombing the courthouse and severely wounding a little girl in a nearby storefront church.
In Eden Mine, the stirring second novel by S.M. Hulse (Black River), a series of tragedies shaped Samuel's arc from high school baseball hero to suspected terrorist fleeing the FBI. Their father died in a mine, and when Jo was 10, a jilted boyfriend killed their mother, a stray bullet crippling Jo. Samuel, just 17, became her devoted caregiver and they've squeaked by, committed to keeping the land. Samuel embraced, then tempered, antigovernment extremism, but when the state claimed their land under eminent domain, his rage flared. A courthouse bombing was credible, Jo knew.
As Jo stonewalls the FBI, the press and the family's good friend Sheriff Hawkins, Hulse's three first-person narratives reveal Jo's turmoil, Samuel's voice through a journal he's keeping in his mountain hideout, and the reflections of Pastor Asa Truth, the injured girl's father. He and Jo form an unlikely but supportive friendship.
There's no hope for a happy ending, but Eden Mine is a thought-provoking look at despair and loyalty in struggling small-town America. --Cheryl Krocker McKeon, bookseller, Market Block Books, Troy, N.Y.