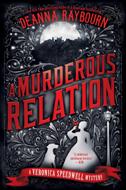 In A Murderous Relation by Deanna Raybourn (the Lady Julia Grey mysteries; A Dangerous Collaboration), Veronica Speedwell is a thoroughly independent woman. She sells butterflies to collectors to fund her expeditions and follows a strict set of rules for the gentlemen she takes to her bed while abroad (Rule #1: No Englishmen). Veronica teams up again with her partner-in-crime, Stoker--Lord Revelstoke Templeton-Vane, a former navy doctor who was scarred physically and romantically on his adventures abroad and who wrestles with the demons of being recognized as legitimate but not biologically a Templeton-Vane. Together they aim to solve a mystery that weaves through London society, from the most titled to those most at risk.
In this wild fifth installment of their escapades, the orphaned adventuress has some surprisingly royal family connections ask her to retrieve a foolhardy gift that could bring scandal to the monarchy. Meanwhile, Stoker calls upon his family to enable the two of them to attend a party where, inevitably, murder and mayhem ensue.
Set against the backdrop of 1880s London and the terror of the most infamous serial killer, the dynamic plot thickens as Veronica and Stoker not only have to procure a priceless treasure, determine which disguised informant to trust and avoid being kidnapped or killed--they also have their mutual growing attraction and libidinous urges to contend with.
Many behind-the-scenes machinations, both helpful and threatening, provide direction and impediments as the duo use their powers of observation, their fighting skills and their insatiable curiosity to prove whether or not a member of the royal family is actually Jack the Ripper. --BrocheAroe Fabian, owner, River Dog Book Co.