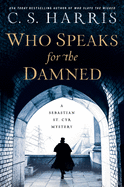 Who Speaks for the Damned, the 15th entry in the Sebastian St. Cyr mystery series by C.S. Harris (Who Slays the Wicked), is an excellent Regency mystery that can easily be read as a standalone. Glossing over events that happened in earlier books, Who Speaks for the Damned focuses on Sebastian's inexhaustible urge to right wrongs and to find justice for those who need it most. Sebastian, the younger son of the Earl of Hendon, nearly went awry in his youth, but has found contentment in marriage and in helping the local London magistrates. He finds himself strongly identifying with Nicholas Hayes, the third son of the Earl of Seaforth.
Hayes was convicted of murdering a countess and was transported to Botany Bay nearly 20 years earlier. Returning to England would have meant death if he'd been caught by authorities. But before the law found out that Hayes had escaped his imprisonment, someone else caught up with him, and stuck a scythe in his back in a public garden. Determined to find justice for Hayes, since he realizes Hayes's fate could have so easily been his own, Sebastian searches for the killer everywhere from the elegant drawing rooms of Mayfair to the squalid back alleys of Smithfield.
A gripping mystery that showcases the inequalities between the wealthy members of upper society and the desperate people who eke out a living on the streets, Who Speaks for the Damned is an atmospheric look at the grimmer aspects of Regency life, so often glossed over in fiction. Fans of Anne Perry or Julie McElwain are sure to enjoy C.S. Harris's writing. --Jessica Howard, bookseller at Bookmans, Tucson, Ariz.