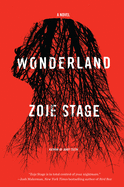 The anxiety of isolation and change takes menacing form in Wonderland by Zoje Stage.
Orla was facing challenges before the first signs something supernatural was happening. At the age of 41, she has retired from the ballet and agreed that it is her husband Shaw's turn to pursue art. But instead of leaving New York City for a smaller, more affordable city, as she had imagined, they and their two young children are moving to a remote house in the woods. "Orla tried not to think of it as an amputation, but that's how it felt."
Shaw has found his calling in painting surreal nature scenes, and their family has gone from a one-bedroom apartment in a crowded city to an old wooden farmhouse. Bizarre things begin to happen with the weather, and what has been calling to Shaw and, to a lesser extent, to their daughter Eleanor Queen, might be something more sinister than his metaphorical muse.
As Stage gave form to the harsher experiences of motherhood in her first thriller, Baby Teeth, here she masterfully depicts an unknown force that embodies the oppressive tension that can come with being trapped with one's family, cut off from the rest of society. Its release in the context of worldwide quarantine and stay-at-home orders during the Covid-19 pandemic is eerily timely, but Orla has much worse demons to face than the ones inside the mind. This story of domestic challenges and mounting horror will please fans of Shirley Jackson. --Kristen Allen-Vogel, information services librarian at Dayton Metro Library