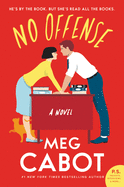 Meg Cabot (The Princess Diaries; No Judgment) has created a delightfully cozy mélange of mystery and romance in No Offense, the second entry in her Little Bridge Island series. Easily read as a standalone, it is the lighthearted story of a children's librarian and small-town sheriff finding love under the sunny Florida skies.
Molly Montgomery is new to Little Bridge Island, and she hasn't met handsome Sheriff John Hartwell, until she has to call the police after finding an abandoned newborn in the library's bathroom. John already has a lot on his plate: raising a teenage daughter by himself, fitting into his new role as sheriff after leaving his homicide job up in Miami, and investigating a series of robberies by the "High School Thief," who has been plaguing the island and making his department look inept.
Baby Aphrodite, as the island's residents quickly begin calling the abandoned baby, forces John and Molly to work together to try to find the child's mother. And Molly, a lifelong mystery reader, can't resist trying to help John solve the case of the High School Thief, much to his dismay. John thinks the new librarian is just as pretty as she is interfering, and now his life is even more complicated.
Cheerful and sweet, No Offense is a charming story, full of quirky island busybodies and misfit tourists. Readers of small-town romances or cozy mysteries are sure to love John and Molly's investigatory antics, and to laugh at their dating mishaps. --Jessica Howard, bookseller at Bookmans, Tucson, Ariz.