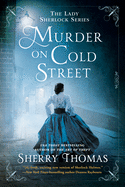 Sherry Thomas, author of the Lady Sherlock novels (A Study in Scarlet Women; The Art of Theft), has created a wonderfully feminist historical mystery in Murder on Cold Street, the fifth entry in the series. Charlotte Holmes--who purportedly works as the public face of her brilliant, bedbound brother Sherlock--is again investigating a murder with the help of her landlady, Mrs. Watson, and her friend Lord Ashburton.
This time the case is extremely close to home: their friend Inspector Treadles has been arrested for the murder of two of his wife's colleagues. Unusual for Victorian England, Mrs. Treadles recently inherited Cousins, a large manufacturing company. And unfortunately for Inspector Treadles, he was found covered in blood, with two dead Cousins employees at his feet. As Charlotte, Ash and Mrs. Watson begin digging, they discover that while Mrs. Treadles thought she was simply dealing with misogynistic obstruction at work, there is something far more sinister afoot.
Sherry Thomas has made an incredible addition to the Sherlockian canon in Charlotte, with her intense brain, flamboyant attire, unconquerable sweet tooth and uncanny ability to circumvent strict Victorian mores to suit her purpose. Combining melodramatic disguises and stellar scientific research, Charlotte moves through her world with purpose, ably assisted by Lord Ashburton and Mrs. Watson.
Readers of Sherlockian fiction will love the Lady Sherlock series, as will anyone who enjoys a historical mystery with a bit of romantic tension, as Charlotte and Ash continue to circle each other somewhat warily. Fans of Elizabeth Peters, C.S. Harris and Deanna Raybourn are sure to adore Sherry Thomas as well. --Jessica Howard, bookseller at Bookmans, Tucson, Ariz.