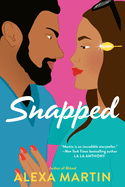 In Snapped, Alexa Martin (Intercepted; Blitzed) continues to write with amusing flair about professional football players finding love. Her novels can all stand alone, but as each wife or girlfriend becomes part of the Lady Mustangs who support their players, the cast of quirky, hilarious side characters just keeps growing.
Elliot Reed, who is biracial, is thrilled to have gotten her dream job. She's the communications manager for the Denver Mustangs, her father's favorite football team. Elliot is determined to honor her father's memory by promoting the Mustangs to the best of her ability. But then, Black quarterback Quinton Howard Jr. starts kneeling during the national anthem, in protest of racism in the NFL and of the organization's refusal to acknowledge how dangerous football can be.
Elliot is horrified, because she thinks Quinton is going to cost her her job. But as Elliot meets with Quinton, she begins to realize that Quinton not only may be right, he's also extremely attractive. As a friendship blossoms between them, Elliot can't help wondering if maybe it could turn to more. But the team management is still furious with Quinton, and she's not sure how to both save her job and protect her feelings for Quinton.
Less breezy than the other books in the Playbook series, Snapped deals with some heavy topics: systemic racism, chronic traumatic encephalopathy and the loss of a parent. But Quinton and Elliot's friendship also has some funny, lighthearted moments, and altogether Alexa Martin has written a lovely romance, perfect for fans of Jasmine Guillory or Alisha Rai. --Jessica Howard, bookseller at Bookmans, Tucson, Ariz.