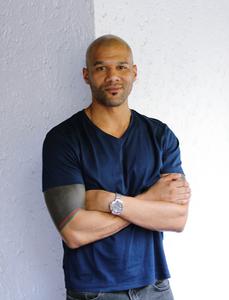 photo: Iryna Farria
Dewaine Farria's writing has appeared in the New York Times, CRAFT, War on the Rocks, The Rumpus and the Southern Humanities Review. He is a co-editor at the Maine Review. Farria holds an MFA in Creative Writing from the Vermont College of Fine Arts and an MA in International and Area Studies from the University of Oklahoma. As a U.S. Marine, Farria served in Jordan and Ukraine, and worked for the United Nations, with assignments in the North Caucasus, Kenya, Somalia and Occupied Palestine. Tobias Wolff selected his debut novel, Revolutions of All Colors (Syracuse University Press, October 15, 2020), as the winner of Syracuse University's 2019 Veterans Writing Contest.
On your nightstand now:
I just finished George Pelecanos's The Man Who Came Uptown. I always fly through Pelecanos's novels and this was no exception--great characters, gritty situations, and absolutely Elmore Leonard-level dialogue. Whenever someone brings up the subject of white authors writing modern Black American vernacular, I mention the dialogue in "String Music" from Pelecanos's short story collection, The Martini Shot.
Favorite book when you were a child:
The Voyage of the Dawn Treader from C.S. Lewis's Chronicles of Narnia series. My fourth grade teacher, Ms. Chandler (a wonderful woman who, of all my former teachers, is most responsible for my love of fiction), organized a class field trip to see the play. It took me seeing the Black Panther film a few years ago to realize just how important the fantasy landscapes of Narnia, Middle Earth and Camelot had been for me as a child. I'm glad my kids can add Wakanda--a radically reimagined African kingdom--to that list.
Your top five authors:
James Baldwin
Sebastian Junger
Toni Morrison
Joyce Carol Oates
George Orwell
Book you've faked reading:
The Bible.
Also, once in an airport I bought a copy of Bridget Jones's Diary and carefully tore off the paperback's cover because I was embarrassed to be seen reading it. Does that count? I thoroughly enjoyed Helen Fielding's novel, by the way.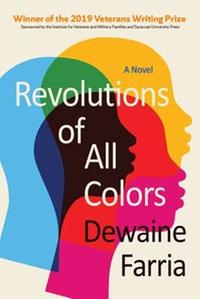 Book you're an evangelist for:
Dispatches by Michael Herr. Some of the best American writing on war ever done.
Book you've bought for the cover:
Brothers of the Gun: A Memoir by Marwan Hisham and Molly Crabapple. Molly Crabapple has illustrated some of the most important stories of this decade--from the Ferguson riots to Guantanamo Bay--and remains one of the most influential visual artists of our time. Crabapple compared the process of transforming Hisham's photos and verbal descriptions into illustrations with "downloading memories." Many of Crabapple's more fantastic illustrations--including Brothers of the Gun's cover image of Tareq, a sniper hardened on the battlefield against ISIS forces, playing his knock-off Russian rifle like a violin--depict more truth than would be possible in other mediums.
Book you hid from your parents:
I'm happy to report that I never felt compelled to hide a book from my parents.
Book that changed your life:
God Is Not Great by Christopher Hitchens.
Favorite line from a book:
From James Baldwin's Giovanni's Room:
"When Giovanni wanted me to know that he was displeased with me, he said I was a 'vrai américain'; conversely when delighted, he said that I was not an American at all; and on both occasions he was striking, deep in me, a nerve which did not throb in him. And I resented this: resented being called an American (and resented resenting it) because it seemed to make me nothing more than that, whatever that was; and I resented being called not an American because it seemed to make me nothing.
Five books you'll never part with:
Giovanni's Room by James Baldwin
Tribe by Sebastian Junger
On Writing by Stephen King
Bloods--Black Veterans of the Vietnam War: An Oral History by Wallace Terry
On Boxing by Joyce Carol Oates
Book you most want to read again for the first time:
Me Talk Pretty One Day by David Sedaris. I could use those deep belly laughs right now.