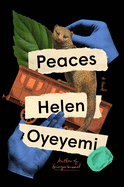 Helen Oyeyemi's command of magical realism is practically mind altering in her unforgettable seventh novel. Under a somewhat twee pretense, freshly committed partners Otto and Xavier Shin, accompanied by their faithful mongoose, travel by boutique train carriage for their "non-honeymoon." But from there, Peaces sprawls into astonishing, and even frightful, territories of the interior, more so than new horizons abroad.
The couple's peculiar accommodations aboard The Lucky Day's Clock Carriage are a gift from Do Yeon-ssi, the aunt who raised Xavier during "strange times for the Shins of Sangju." The train is owned by the mysterious theremin savant Ava Kapoor, and is managed by the hilariously blunt Allegra Yu. The only other consistent occupant seems to be the "neither hostile nor curious, but quite French" Laura De Souza, "a black [Catherine] Deneuve" (circa 1968) with unsettling ties to both Xavier and Ava's pasts.
Oyeyemi (Boy, Snow, Bird; Gingerbread) may appear to direct this beguiling novel off the rails at times, but its manic twists never spin out. They instead serve to reorient the gravity of the situation. The Shins' getaway becomes hitched to the rising stakes surrounding a sizable inheritance promised to Ava by a former employer. The only catch is that she must prove her sanity on the final day of a train ride riddled with apparitions: phantom whistling, disappearing mongoose catchers, perplexing incidents of "bespoke vandalism" and mystifying "canvases... bathed in white."
A superbly fun Rorschach test of staggering creativity, Peaces asks how much attention one person can spare another in an increasingly chaotic world. --Dave Wheeler, associate editor, Shelf Awareness