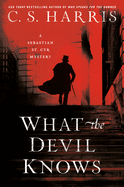 What the Devil Knows shows C.S. Harris (Who Speaks for the Damned) at her best. Tightly plotted, fast-paced and based on historical events, the 16th entry in the Sebastian St. Cyr series brings the seamy side of Regency life to light.
A city magistrate, Sir Edwin Pym, is found brutally murdered, his body left in much the same way the seven victims of the Ratcliffe Highway murders were found three years earlier. The Ratcliffe Highway murderer was purportedly brought to justice by Pym himself, but hanged himself in his cell before he could be tried. Was he actually innocent?
London begins to panic that the killer is at large, and Sebastian St. Cyr, who is both Viscount Devlin and an amateur investigator, is called in to help, since the politics of the situation are tricky. As Devlin digs further into the life of Pym, he discovers that the man had even more unsavory habits than his known abuse of sex workers. Meanwhile, Devlin's wife, Lady Hero--constantly fighting the unenlightened ways of the upper classes--is continuing a series of articles demonstrating the appalling living conditions of London's poor, and starts interviewing prostitutes who had interactions with Pym. Together, Devlin and Hero make shocking discoveries that will threaten their very existence.
Perfect for fans of historical mysteries, the Sebastian St. Cyr series is an excellent, gritty exploration of an era mostly known via sparkling romances. What the Devil Knows continues plotlines begun in earlier novels in the series, but also offers up an intriguing, all-new mystery that will keep readers guessing until the final pages. --Jessica Howard, bookseller at Bookmans, Tucson, Ariz.