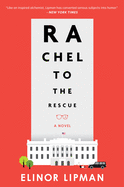 If laughter is the best medicine, Elinor Lipman's 13th novel, Rachel to the Rescue, is a healing prescription following four years of the Trump presidency.
With her typical rapier wit and affection for her characters, Lipman's romantic comedy starts by noting the Trump White House did have staffers to reconstruct documents--legally required to be preserved--that the president regularly tore up. A member of "Team Scotch Tape," Rachel Klein inadvertently ended her White House Office of Records Management (WHORM) career with a late-night "reply-all drunken email." Her tie to the administration is extended, however, when after being dismissed from her office she's hit by a car driven by "what the newspapers would one day diplomatically refer to as 'a personal friend of the president's.' " Rachel's first-person narration ratchets up the humor of the suspected hanky-panky, the not-so-subtle attempts to silence her about the accident and her stereotypically over-attentive Jewish parents.
Lipman (Good Riddance; On Turpentine Lane) is a master of madcap twists and quirky characters, and she balances this political satire of a still-raw chapter in history with hilarious sub-plots. The supporting cast includes Rachel's likable new employer, the book-a-year muckraking author Kirby Champion; roommates committed to nurturing her romance with a dashing wine store clerk ("How did I end up living in Yentaville?" Rachel asks); and Alex, of Varsity Wine. A fast-paced, dialogue-rich denouement resolves the White House shenanigans storyline, leading to an ending that Lipman characters reach so adeptly: happiness ever after. --Cheryl McKeon, Book House of Stuyvesant Plaza, Albany, N.Y.