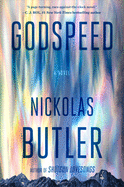 Nickolas Butler's suspenseful, character-driven fourth novel, Godspeed, tells of the lengths three friends will go to in the quest to better their lives.
In Jackson, Wyo., a haven for hipster tourists and ski bums, it's the have-nots who build the area's multimillion-dollar houses and the haves who inhabit them for just part of the year. The three longtime buddies behind True Triangle Construction--family man Teddy; Bart, a former metal band drummer; and Cole, going through a divorce--struggle to make ends meet. When Gretchen hires them to finish building her massive eco-home, offering $175,000 bonuses if it's done by Christmas (just four months away), they leap at the chance. Teddy longs to get on the property ladder; with a luxury wristwatch, Cole will feel like he's made it.
From the start, though, the project seems cursed. Under the previous contractor, a laborer died in an accident on site. Heavy rains destroy the access bridge and winter snows could bring work to a halt. Bart turns to meth for the energy to put in long hours. Butler (Little Faith; The Hearts of Men) charts his worsening addiction in convincing hallucinogenic descriptions. A sense of foreboding explodes into dramatic events that will require luck--and deception--to resolve.
As in his debut, Shotgun Lovesongs, Butler insightfully explores his protagonists' psyches and the dynamics of male friendship. He also patiently reveals why Gretchen, a workaholic lawyer, is desperate to have her house ready. In this poignant story, time and life are precious yet so easily wasted. --Rebecca Foster, freelance reviewer, proofreader and blogger at Bookish Beck