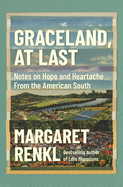 Everyone should have a friend like Margaret Renkl: thoughtful, engaged, compassionate and, above all, acutely observant. Since that's not always possible, the next best thing is to share her company in the diverse and consistently stimulating essay collection Graceland, at Last: Notes on Hope and Heartache from the American South.
An offhanded conversation in 2015 led to an invitation to Renkl (Late Migrations: A Natural History of Love and Loss) to write her first column for the New York Times. A few columns later, she was offered a monthly slot to write about "the flora, fauna, politics and culture of the American South," hoping to educate those living outside that territory that "there is far more to this intricate region than many people understand."
Arranged by themes that include the natural world, politics and social justice, family and community, and arts and culture, Renkl's 59 concise essays demonstrate impressive erudition, especially when she ventures into nature to explore subjects like the revival of the Tennessee coneflower, the decline of pollinators like the monarch butterfly and her disdain for the U.S.'s pesticide-drenched "killer lawns." Her prose is both graceful and evocative, well-attuned to "the unfathomable natural beauty of a place that is still predominantly rural and very often wild."
There are portions of Graceland, at Last certain to provoke the ire of both the South's fiercest critics and its equally ardent defenders. What they all should be able to agree on is that Margaret Renkl is both unfailingly honest and deeply empathetic in creating the vivid portrait of her home region that emerges organically from these intensely personal and well-informed essays. --Harvey Freedenberg, freelance reviewer