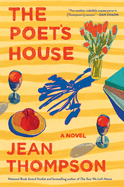 A serendipitous meeting between a self-deprecating young woman and a famous aging poet in The Poet's House--the eighth novel from Jean Thompson (A Cloud in the Shape of a Girl; The Year We Left Home)--leads to a friendship with far-reaching and heartwarming consequences.
Carla, good-natured and hardworking, enjoys her Bay Area landscaping job and, with "one of those brains that doesn't process words on a page very well," she's skeptical of education. Nevertheless, she notes a feeling of "standing just outside of something desirable and urgent and important." Tending the garden at a remote Marin County home, she meets Viridian, a "rock-star poet" whose face revealed "a freight of history, of things lived and understood." Carla's growing fascination with poetry launches a shift in her self-esteem, and her narrative becomes increasingly thoughtful and poetic. Her inclusion in Viridian's social circle puzzles her supportive boyfriend, an IT worker, and Carla is initially shy. But Viridian explains: "It's exactly because you don't know anything. Not yet. But you want to... it's all new to you the way it has not been new to me for a long time."
Surprising plot twists, including a mystery involving valuable missing poems, take Carla to an upscale San Francisco neighborhood and a deep-woods writers' retreat, all populated with a cast of diverse, quirky characters. Even the least likable of these admire Carla and Viridian, and the story is enhanced with dialogue ranging from laugh-out-loud funny to lines of poetry. The Poet's House forecasts hope for young Carla even as Viridian faces mortality. Readers will long recall these women fondly. --Cheryl McKeon, Book House of Stuyvesant Plaza, Albany, N.Y.