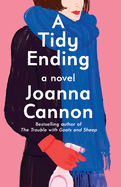 A tidy ending is elusive in this book of the same name, the third novel from Joanna Cannon. It thrums with uneasiness as an unreliable narrator relates her version of the serial murders of four women in her Scottish town. As in her previous novels (The Trouble with Goats and Sheep; Three Things about Elsie), Cannon brings intrigue to the ordinary citizens of quiet villages.
A Tidy Ending opens with a "Now" chapter in which Linda, age 43, refers to being in an apparent place of confinement where it feels "everyone has been sealed into some kind of vacuum and lost to the world forever." Such periodic "Now" chapters are rife with foreshadowing, as is Linda's unconventional behavior. Of her indifferent husband, Terry, she wonders "what my life would have been like if he wasn't in it." Dark references to a childhood tragedy in Wales that sent her to resettle in Scotland grow increasingly detailed, suggesting a link to Linda's reaction to the murders. With no friends besides Terry and her hypercritical mother, Linda develops a fascination with glossy catalogs, fantasizes a new self-image and nurtures an unlikely friendship with an intriguing couple. She touts her germophobic obsession with "hoovering" and sanitizing, and is soon cleaning the couple's apartment, an arrangement that feels sinister but delights Linda.
Cannon, a psychiatrist, draws a character with fascinating contradictions: naïve but clever, awkward yet wily, aloof yet observant. "Everything you do and say and think is tied and knotted forever to something that went before," Linda cryptically notes. Readers will agree with her observation that summarizes this gripping novel: "You never see it coming." --Cheryl McKeon, Book House of Stuyvesant Plaza, Albany, N.Y.