Is there such a thing as work-life balance?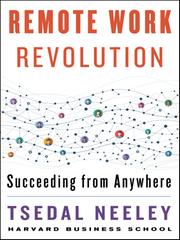 When Remote Work Revolution by Tsedal Neeley (Harper Business, $29.99), the Naylor Fitzhugh Professor of Business Administration at the Harvard Business School, was published in March 2021, many of us were still figuring out how to remain connected through our screens instead of around a conference table. Neeley, with her 20 years of researching effective teams who worked across a global workforce, supplied readers with accessible ways to implement team-building, inclusive strategies to keep everyone engaged and to make sure each voice had the chance to be heard. Her clear roster of ways to troubleshoot and the exercises provided at the end of each chapter make her book just as useful today as it was when it first published.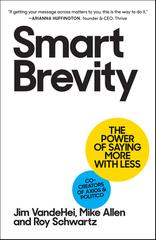 Then Smart Brevity by co-authors and Axios cofounder Jim VandeHei, Mike Allen and Ron Schwartz (Workman, $27) came along, with this motto: the shorter and pithier, the better. E-mail quickly became the predominant communication mode in the (pandemic) workplace and suddenly, the steady flow became a tsunami of e-messages. Smart Brevity's common-sense guidelines for concise e-mails, corporate newsletters and meetings drive home the need for key takeaways and action steps that get through to colleagues and potential clients.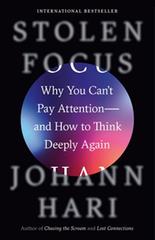 And why are we all so exhausted? Apart from the pandemic necessitating a free flow of information through the permeable wall between the personal and professional, plus a perfect storm of e-mails, tweets, messenger alerts and Instagram stories..... Johann Hari in Stolen Focus: Why You Can't Pay Attention--And How to Think Deeply Again (Crown, $18) explains why: our attention spans are shrinking just as the flow of information is expanding. The average worker is interrupted every three minutes; and it takes us 23 minutes on average to return to a state of flow. Hari, whose book was named the 2022 Porchlight Business Book of the Year (formerly the 800-CEO-READ Award), takes readers on his visits to cutting-edge researchers in the fields of neurology, psychology and technology and explains how we've all become akin to B.F. Skinner lab rats, run by, powered over and beholden to the "likes" and responses to our feeds, tweets and TikTok videos. We're sleeping less, caffeinating more and behaving like college students during exams. But Hari does suggest a way out: first, one must become conscious of what's happening; then one must break the cycle and take charge of one's daily rhythms again--and band together to fight societal forces designed to disrupt our circadian rhythms.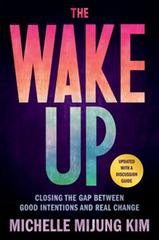 And for many of us grappling with how to continue practicing antiracism and healing harms done, The Wake Up: Closing the Gap Between Good Intentions and Real Change by Michele Mijung Kim (Hachette Go, $18.99) is an invaluable companion on the journey. As CEO and co-founder of Awaken, a "leading provider of interactive equity and inclusion education programs, facilitated by majority people of color educators," Kim shares her personal and professional stories, allowing readers to identify with her as well as to interrogate themselves and their motives--to do the work of "grounding"--before attempting to interact with others. She emphasizes starting from a true place of empathy and self-knowledge toward a shared goal of "moving together" toward a deeper humanity. She believes we must move beyond the binary thinking (you're racist or you're not; you're sexist or you're not) because most of us live in the "messy middle." She believes that "in these messy, uncomfortable struggles,... we can awaken our capacity to do the deep work of transforming ourselves in order to change the world alongside others." --Jennifer M. Brown, senior editor, Shelf Awareness