Week of Friday, March 17, 2023
This week's issue runs the gamut from Happily: A Personal History--with Fairy Tales, a "bubbling cauldron filled with ingredients as diverse as parenting and premonitions, mythological creatures and marriage" by Paris Review columnist Sabrina Orah Mark, to Julie Gerstenblatt's "engrossing" debut novel, Daughters of Nantucket, which explores the options for women--white and Black--in the mid-19th century, to Death and Croissants, an "absurd, laugh-out-loud caper" featuring a B&B host turned detective that's "sure to delight fans of cozy mysteries and whodunits." Plus so many more!
In The Writer's Life, Sabaa Tahir talks about moving from fantasy to realistic fiction, and the research she did for her Printz and National Book Award-winner All My Rage.
The Best Books This Week
Fiction
Death and Croissants
by Ian Moore
In Death and Croissants, comedian Ian Moore introduces Richard Ainsworth, a British film buff who has retired to the Loire Valley to run a bed-and-breakfast. With a failing marriage and a somewhat desperate desire to live a quiet life in the country watching old films, Richard is anything but a detective. Then a guest goes missing, leaving behind nothing but a bloody handprint on the wall, and Richard is sucked into a wild goose chase of a mystery, complete with a gorgeous guest dashing about in a bright yellow sports car; possible ties to a mafia moneymaking scheme; an enormous Texan; twin brothers who are sworn mortal enemies; and an aspiring actor hiding in a giant chicken costume.
Moore brings to Death and Croissants the same kind of chaotic energy and dry sense of humor Richard (and readers) may have seen in classic films like Clue and Young Frankenstein: characters run amok and clues send them off in various directions, all while actual danger lurks in the shadows. "We've got an old man who detests his brother so much he needs to find him so he can keep annoying him, a policeman who doesn't seem to think Missing Persons is his job, a mysterious Italian couple now in the grip of two British perverts, you bossing me around like we're married, and a dead hen!" Richard shouts to his co-conspirator somewhere between breaking and entering into a rival B&B and donning the giant chicken costume himself. It's an absurd, laugh-out-loud caper, featuring quirky characters and strange adventures from start to finish, that is sure to delight fans of cozy mysteries and whodunits. --Kerry McHugh, freelance writer
Poisoned Pen Press, $16.99, paperback, 256p., 9781728270555
The Protégé
by Jody Gehrman
Renowned forensics expert and professor Hannah Bryers destroyed Winter Jones's life when she was 13. Now Winter is Hannah's new teaching assistant and plans to return the favor in The Protégé, Jody Gehrman's revenge thriller. Hannah's degree in anthropology bolsters her skills as a forensic expert; law enforcement and her employer, Mad River University, revere her opinions. Although her laser-focused analyses are much lauded, her introversion and general social ineptitude result in much side-eye at faculty parties and functions. Amy and Joe, her close friends, view Hannah as endearingly vulnerable, but Winter sees this as the perfect way to destroy the professor's life and ultimately kill her--as payback for something that happened during Winter's childhood.
After becoming Hannah's teaching assistant, Winter monitors the professor's movements via tracking devices, patiently waiting for any opportunity to discredit the so-called expert. And anyone who gets in the way of Winter's insatiable need for revenge only hastens their own demise. Soon, authorities blame baffled Hannah for destroying evidence and for a nearly fatal lab explosion; she also faces murder accusations. A distraught Hannah, ostracized by the community and not knowing whom she can trust, mistakenly confides in Winter.
Gehrman (The Summer We Buried; The Girls Weekend) slowly paces Winter's diabolical plot to destroy Hannah in chapters that alternate between the two women's perspectives, and the villain's identity is obvious from the beginning. Still, the novel retains its nail-biting suspense as readers race to understand Winter's motivations and how--even if--she will succeed with her plan. --Paul Dinh-McCrillis, freelance reviewer
Crooked Lane, $29.99, hardcover, 304p., 9781639102488
Science Fiction & Fantasy
Feed Them Silence
by Lee Mandelo
Feed Them Silence by Lee Mandelo (Summer Sons) is an original speculative novella and, beyond that, a singular sensory experience. Dr. Sean Kell-Luddon has always wanted to run with the wolves: to know what it means to smell, taste and experience the world the way they do and to feel part of a pack. When she receives private funding for her experimental study on neurological linkages between humans and animals, using herself as the primary test subject, she enters into the mind of Kate, a local wolf in the wild. But Sean falls deeper into her work and finds herself disconnecting not only from the human world but also from her partner, Riya.
Mandelo's lush descriptions make Sean and Kate's dual wants, needs and fears feel visceral. From the moment the initial neurological link occurs, Mandelo launches readers into Kate-via-Sean's embodied processing as the "wolves rolled across the loamy forest floor, slobbering on faces and chewing ears and outpouring love. The startling recognition of a specific feeling--plus the cracking stretch of her own heaving rib cage--offered Sean a brief psychic harbor." Mandelo locates the novella's primary tension in these descriptions: what it means to intellectually untangle the instinctive desires of the body, human or otherwise, and to feel--or be inside of--what seems like physical need. As Sean "split[s] her attentions between the staggering wealth of affective input and her critical understanding of those inputs," Mandelo destabilizes the way one feels intimacy at the same time as they invoke that feeling naturally. --Alice Martin, freelance writer and editor
Tordotcom, $19.99, hardcover, 112p., 9781250824509
In Piñata, the intense and vivid paranormal thriller by Leopoldo Gout (Monarca, with Eva Aridjis; Genius), the year is 2027. Carmen Sánchez has arrived in Tulancingo, a small town two hours outside Mexico City, with her daughters, 16-year-old Izel and 11-year-old Luna. Born in Mexico, single mother Carmen hasn't been back to her birth country in years and her daughters have never been there. She's overseeing the renovation of an ancient abbey into a fancy hotel. She couldn't leave the girls at home with her overworked mother, so they've come along for the summer.
Being a woman boss--who looks like a local but clearly isn't--proves challenging, but Carmen finds allies in the abbey's onsite representative, Father Verón, and physicist-turned-artisan Quauhtli. Despite their support, they can't protect her when a suspicious accident puts Carmen's job in jeopardy. She's not fired, but she's to be replaced by another colleague--male and white. By the time the family returns to New York, Luna, whose usually sunny personality was already being overshadowed by what Carmen thought was just adolescent moodiness, has changed completely. She's gone sullen and secretive, and Carmen hears inexplicable noises in Luna's locked room. And then Carmen's mother falls down the stairs and almost dies, and Luna swears she heard nothing. Just what did the Sanchez women bring back?
While Gout's initial exposition tends to meander and repeat, as soon as the otherworldly realms are fully unleashed, the cinematics take over in fast-action, haunting, corpse-dropping splendor. And you thought those colorful piñatas were just for kids! --Terry Hong, BookDragon
Tor Nightfire, $28.99, hardcover, 304p., 9781250781178
Bitter Medicine
by Mia Tsai
Mia Tsai's debut contemporary fantasy, Bitter Medicine, has it all: cinematic xianxia-inspired action scenes, thoroughly developed characters, romance and a diverse, fascinating magical world. When Chinese magical calligrapher Elle's younger brother attempted to murder his older siblings, Elle and her older brother faked their deaths and went into hiding. Twenty-six years later, she's selling simple glyphs for a fairy temp agency and never using the jade laes that connects her to her ancestors (a laes holds a fae's magical essence). French half-elf security agent Luc has been coming to Elle for years, both of them wishing for more than their brief exchanges but holding back because they don't want to endanger one another. Just as their personal relationship starts to deepen, Luc's latest assignment puts them both directly in the path of Elle's murderous brother.
Bitter Medicine is steeped in yearning. Luc has spent decades suppressing his personal feelings and desires, building a wall between himself and the world in order to tolerate the awful things he is magically compelled to do as his boss's Fixer. Elle has disconnected from her ancestors, including the Chinese god of medicine, in order to protect her brother and they've moved frequently, so she has no social life. Elle and Luc have both done things they believe unforgivable, but they're good people and easy to root for.
Bitter Medicine is contemporary fantasy at its best: sharp, complex but contained and driven by two lovable characters working hard for their Happily Ever After. --Suzanne Krohn, librarian and freelance reviewer
Tachyon Publications, $18.95, paperback, 272p., 9781616963842
Did You Eat Yet? Craveable Recipes from an All-American Asian Chef
by Ronnie Woo
Self-described "model turned therapist turned globetrotting chef who also happens to be Asian, American, and gay," Ronnie Woo brings readers his first cookbook. Did You Eat Yet? is a delicious combination of tasty recipes, autobiographical stories and photos of mouthwatering meals. Most of the photos are of the dishes Woo creates, but for thirsty foodie fans there's enough dishy photos of Woo in short shorts or shirtless to rival Queer Eye chef Antoni Porowski.
The recipes are wide-ranging. "I've never fit into a single box, and neither do my recipes," writes Woo. He divides his cookbook into chapters on sauces, breakfast (including breakfast tacos, pancakes and cinnamon rolls), healthy food (sweet potato chowder, coconut curry chickpea and cherry tomato stew, salads), noodles (garlic noodles, rice cakes, burrata, wontons), snacks (puff pastry bites, sushi, bao, chicken wings, pork sliders) and vegetarian fare (crispy fried onions, eggplant adobo, asparagus and chorizo stir-fry). Three chapters cover various recipes for chicken, seafood and meat dishes. And the final chapter explores desserts (including blackberry ice cream, sushi-rice pudding, salted upside-down buttermilk banana cake, flourless chocolate cake and caramelized egg tart). Each recipe (spread over two or three pages) contains a list of ingredients, a three- or four-step set of baking/assembly instructions, Woo's autobiographical memory of that food and an appetizing photo of the final product.
Woo's charming and funny intros to each dish broaden the appeal of this cookbook. This is not just a collection of recipes; it's a friendly and endearing conversation with an exuberant and playful foodie and chef--and a tasty treat for gourmands and gourmets alike. --Kevin Howell, independent reviewer and marketing consultant
Harvest, $32.50, hardcover, 288p., 9780358581697
Happily: A Personal History--with Fairy Tales
by Sabrina Orah Mark
Sabrina Orah Mark's Happily is a bubbling cauldron filled with 26 essays formed from ingredients as diverse as parenting and premonitions, mythological creatures and marriage, mothers and sons, fairies and witches, and always there is magic. As with her column in the Paris Review (also called "Happily"), readers who follow the path of crumbs Mark lays out enter willingly into a dream sequence of an essay, where one incongruent thing can lead to the next, forming its own kind of coherence and truth.
In the opening essay ("Ghost People"), she walks a perimeter of concern around her son, who, she learns, is making Ghost People out of wood chips on the playground at school. After a brief narrative to set readers on her chosen path, she turns to Carlo Collodi's Pinocchio, wondering, "Maybe because Geppetto understands that sometimes the things we create to protect us, to give us good fortune, need first to thin us into a vulnerability where the only thing that can save us are those things that almost erased us.... Or maybe it's just that Geppetto is lonely." At first glance, these two moments don't match, hanging loosely together as they do. But as Mark works, she proves herself worthy of every confidence.
In another essay, Mark explains that "Fairy tales are homemade stories turned inside out. You can see the threads, the stitching line, the seams." Mark's essays do much the same work, often ending somewhere far from where the reader may have expected; however, it is always exactly as it should be, the only "ever after" that could have come from such a "Happily" beginning. --Sara Beth West, freelance reviewer and librarian
Random House, $27, hardcover, 224p., 9780593242476
Goodbye to Clocks Ticking: How We Live While Dying
by Joseph Monninger
In May 2021, at age 67, three days after teaching his last class at Plymouth State University in New Hampshire and looking forward to a busy, active retirement in a cabin on the coast of Maine, Joseph Monninger (Game Change) received a diagnosis for the shortness of breathing he'd recently begun experiencing: inoperable lung cancer, which had spread through his body and would likely kill him by September. An author and fit outdoorsman who hadn't smoked in 30 years, Monninger was stunned to hear this grim prognosis and began to figure out how best to live in the little time he has left. He captures these experiences in elegant, spare prose in Goodbye to Clocks Ticking.
Like many people facing imminent death, Monninger begins to appreciate much that was easy to overlook, like watching birds at the feeder and simple moments with his girlfriend, Susan, and with fishing buddies he's traveled with for 40 years. He also wryly observes how his life has changed in unanticipated ways: "I realized... I would never need to buy another piece of clothing." He has thoughts of ending his life.
But then a kind of miracle occurs: because of an unusual gene mutation he has, Monninger can receive Tagrisso, a drug that likely will extend his life by years and enable him to end chemotherapy. The drug has the desired effect and soon Monninger is again readjusting to life, limited in some ways, but now with a happier prognosis. A trip to Nebraska to see the migration of sandhill cranes in the spring with Susan becomes a kind of glorious, beautiful symbol of his new opportunities to enjoy life. --John Mutter, editor-in-chief, Shelf Awareness
Steerforth Press, $25, hardcover, 208p., 9781586423605
Five Conversations About Peter Sellers: An Essay
by Elizabeth Gonzalez James
By all accounts, the outrageous behavior of English comic actor Peter Sellers (1925-1980) was a key reason the 1967 James Bond vehicle Casino Royale turned into a turkey. What's more, one of Sellers's biographers suggests that the guy was a jerk. And yet, following some research that Elizabeth Gonzalez James (Mona at Sea) did for a novel about a comic actor in the 1960s, she finds herself fixated on Sellers. Five Conversations About Peter Sellers is James's funny, dogged and structurally inventive effort to reckon with the question that consumes her and may well come to consume her readers: What's up with her obsession with Peter Sellers?
Its title notwithstanding, James's book reads like a single conversation. Each of five characters, the author among them, represents a different slant that she, as "Elizabeth," summarizes as "personal excavation, film history, pop culture reportage, cultural criticism, and dispassionate metatextual analysis." Disagreements abound among the conversationalists. (Abby: "For God's sake/ haven't we exhausted/ this examination of hideous men?... Close the curtains./ Strike the set./ Shut it down./ Shut all of it/ down." Elizabeth: "No, we're not done. And that isn't the answer.") Is Five Conversations About Peter Sellers stronger for its multiple-perspectives format, or could the book have achieved the same end if James had structured it as a straight-up first-person essay that considers various viewpoints? Not in question is the book's ultimate value: with its pitiless dissection of Casino Royale, it's hard to imagine a more engaging postmortem on a problematic cinematic artifact. --Nell Beram, author and freelance writer
Texas Review Press, $16.95, paperback, 68p., 9781680033038
Running
by Lindsey A. Freeman
Running has long been a refuge for sociologist, professor and former NCAA Division I track athlete Lindsey A. Freeman (Longing for the Bomb), who explores her love for the sport in the insightful Running, an entry in the Practices series. She celebrates the physical joy of running, the way it allows her to be "in a body feeling my way through a landscape and my own thoughts." She recalls her experiences as a high school and college athlete; charts her training for various races, including the Boston and Paris marathons; explores the connections between running and writing; and recounts from a queer perspective her experiences with the sport and its imagery. "Running is always about more than running," she writes, bringing her whole self--feminist, queer, academic, white, American--to this exploration. More poetic than practical, but intensely vivid and personal, Running bounces from pop-culture analysis to academic inquiry, from a catalogue of injuries (including those from a devastating incident in which a vehicle hit her) to an exploration of the elusive "runner's high."
Freeman's reflections--in the form of brief essays with illustrations by Hazel Meyer--always come back to practice: the ways running, writing and other habits can shape a person. She offers practical advice for building endurance, acknowledges the inevitable pain and discomfort of running and explores the possibilities that can open up through repetition: "I keep practicing because I want to remain a writer and a runner." Running is a worthwhile companion for people who want to be either--or both. --Katie Noah Gibson, blogger at Cakes, Tea and Dreams
Duke University Press, $15.95, paperback, 160p., 9781478019657
The Writer's Life
2023 Michael L. Printz Award Winner Sabaa Tahir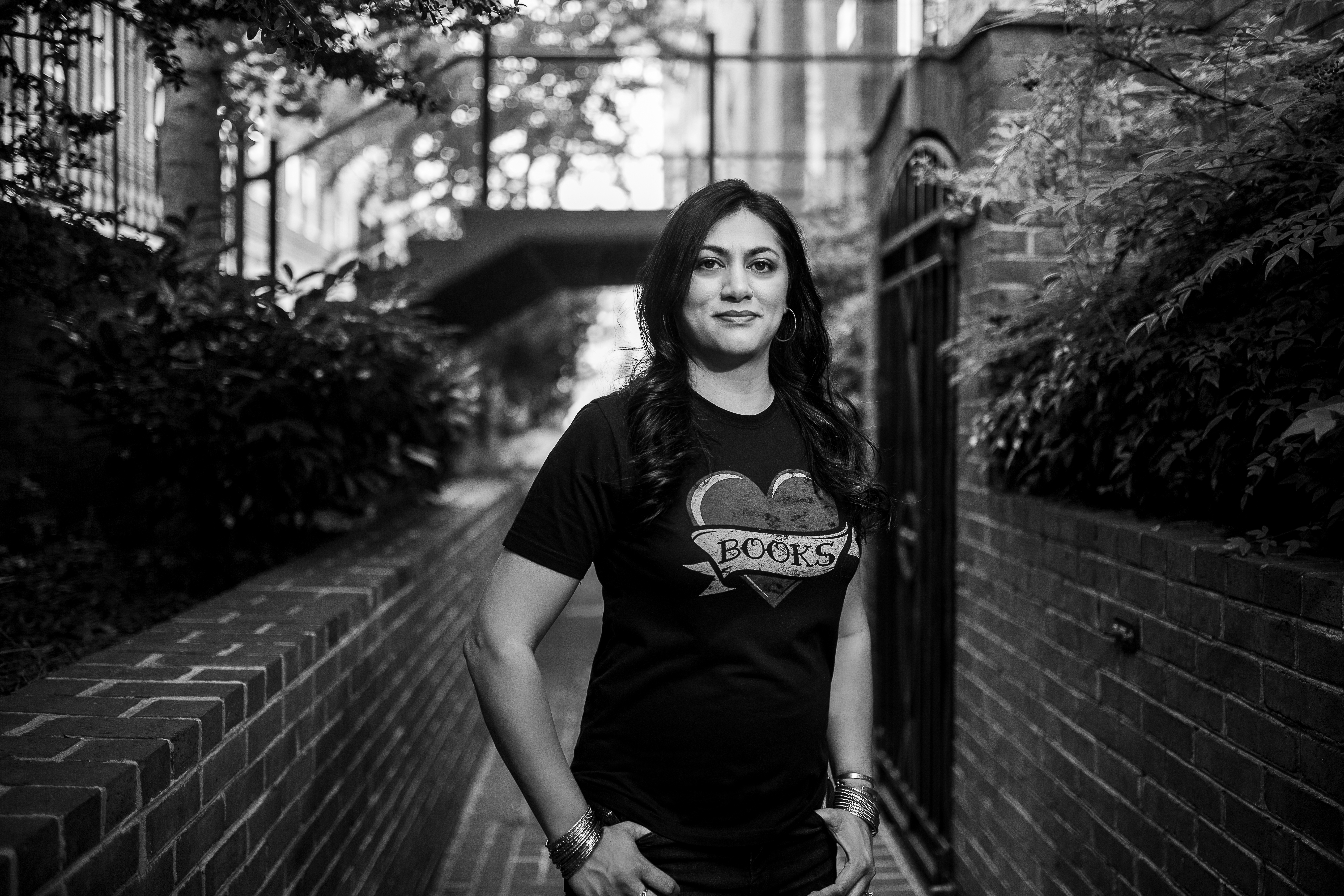 Sabaa Tahir
(Ayesha Ahmad Photography)
Author Sabaa Tahir recently won the 2023 Michael L. Printz Award for her National Book Award-winning novel, All My Rage (Razorbill).
All My Rage has now won both the National Book Award and the Printz (and it's a bestseller). Considering this title had already won an NBA, were you hoping it might get a Printz nod, too?
The [notification] call was emotional, funny, moving and so, so joyful. I thought we were talking about paper stock for the paperback of All My Rage, because it's out at the beginning of March. And since I'd only ever heard that award winners were notified the morning of the Youth Media Awards, I wasn't expecting anything. When the committee came on the screen and told me, I cried and scared my cat and then babbled a lot of thank yous.
Regarding any hope around the Printz--I was still in shock from the National Book Award! This book has found such love in the world--I am very grateful for that.
Would you kindly give readers your two-sentence pitch for All My Rage?
Of course! All My Rage is a YA coming-of-age story about two high schoolers, Noor and Salahudin, trying to survive a Mojave Desert town that seems intent on crushing them. It also follows Salahudin's mother, Misbah, as she emigrates from Pakistan to America and all the hope, joy and struggle that come with such a journey.
Shelf Awareness's review notes that the rage expressed in the book is tangible, "evocative and ever-present." Did you have to put yourself in a certain headspace to evoke this kind of emotion?
I used to call AMR my "anger" book, because I would work on it when I was filled with rage--at society, the news, dictators abroad, dictators at home--you name it. I was angry when I wrote the early drafts of this book, and found that, when I went to edit it, I had to temper that anger, to meld it with other truths: empathy, love and hope. That was the alchemy that made the book work, both for me and for my agent and editor.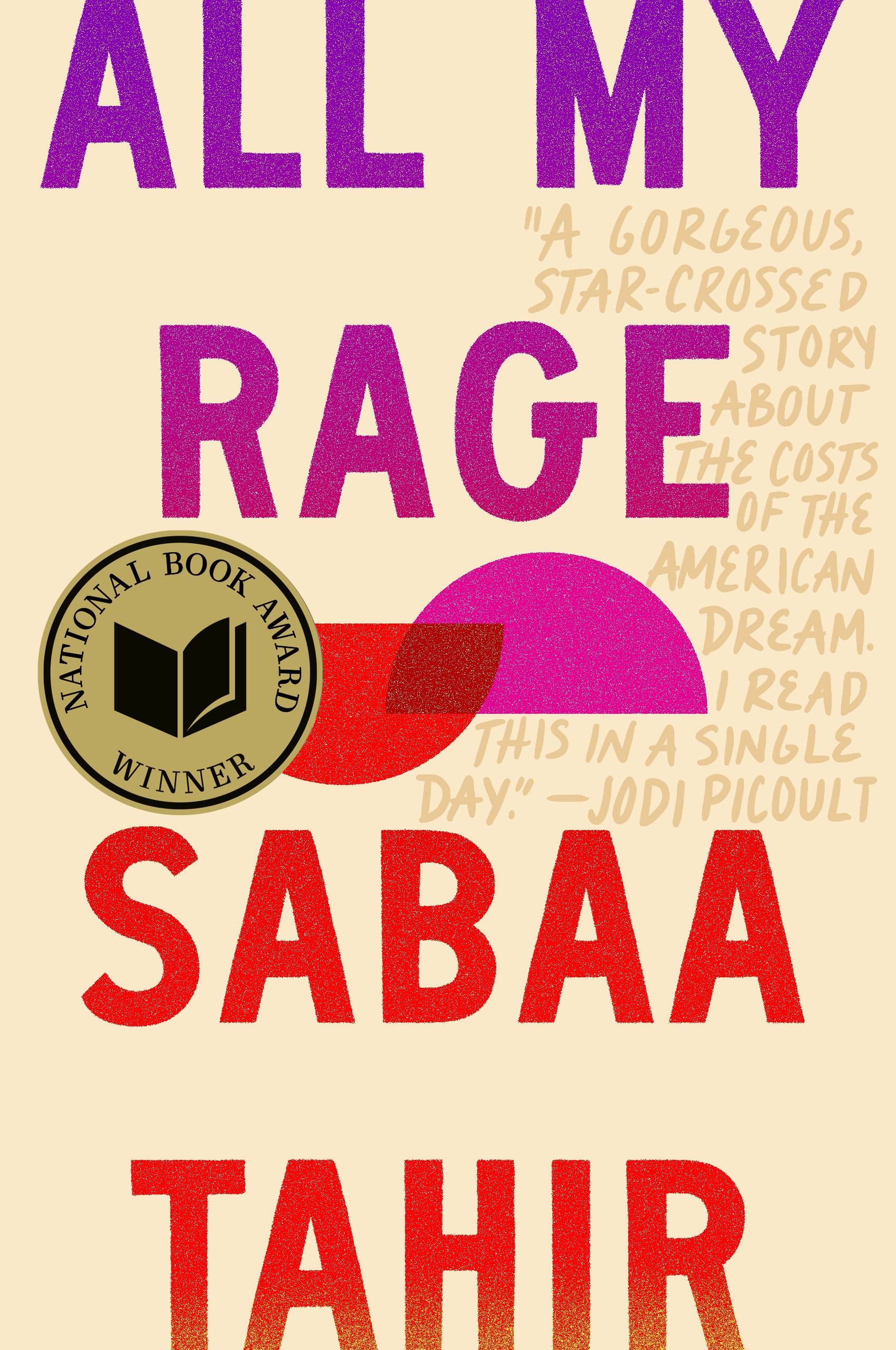 What kind of research did you do for this book? I imagine you had to do some work to make sure the historical aspects of the novel were correct, but were there other things you had to investigate?
So much research! I talked to doctors about emergency room medicine, particularly with children and teens. I talked to a doctor extensively about kidney disease and exactly what would happen during renal failure. I talked to a lawyer about what Salahudin would be facing in the courtroom and what usually happened in drug cases like his and Noor's. I repeatedly sat at a courthouse for hours, just trying to get a sense of both atmosphere and procedure. I talked to a former paramedic, author Daniel José Older, about EMTs and Narcan. That's really the tip of the iceberg. The research happened over years and took ages.
What I think is particularly cool about this book getting so much love is that it's your first work of realism. What made you want to move away from the fantastic and into the terrestrial? How was writing realism different than writing speculative fiction?
It was a very challenging switch. I reminded myself almost daily, "Hey you can't fix this problem with magic. And the tension can't always come from battle scenes!" At the same time, my books at their core are about hope in dark times, through difficult circumstances. Hope sustained me through so much of my own life and seeing it in books meant so much to me as a kid. So, in that regard, hope served as a touchstone for me. When I was panicking that I didn't know what I was doing, I'd tell myself, "This is a story like all the other stories. And you have to tell it honestly."
This is also your only book that is not part of a series, correct? Did it feel different to write a book that had to encapsulate the entire story you wanted to tell?
It was a bit of a relief! I don't have to worry about coming up with a sequel. But at the same time... that made the ending bittersweet. Characters stay with me. These ones lived in my head for more than a decade. I miss them.
Are you working on anything now?
I am working on a young adult fantasy about a tracker, a prince and a vengeful fugitive. It is great fun! I hope to be able to talk more about it soon.
Is there anything else you'd like to tell Shelf Awareness readers?
Please support your local and school libraries! Librarians are having to deal with more book challenges than ever before, and they need to know that we believe in them and that we are behind them. --Siân Gaetano, children's and YA editor, Shelf Awareness
Rediscover
Rediscover: John Jakes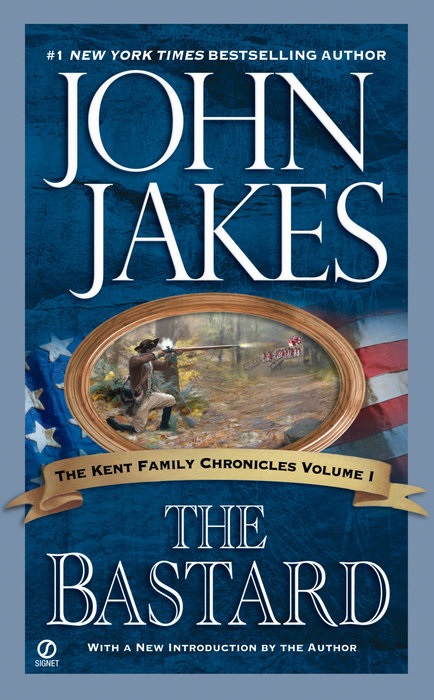 Author John Jakes, a "writer of historical fiction whose generational family sagas of the American Revolution and the Civil War mingled real and imaginary characters and became runaway bestsellers and popular television fare," died March 11 at age 90, the New York Times reported. Jakes wrote about 60 novels, including westerns, mysteries, science fiction, fantasy and children's books. He was best known for two book series: the Kent Family Chronicles, eight volumes written in the 1970s to capitalize on the 1976 Bicentennial celebrations (55 million copies were sold), and the North and South Civil War trilogy, which was released in the 1980s (10 million copies).

Jakes began his career freelance writing in his spare time while working in advertising from 1954 to 1971. He published hundreds of short stories and wrote novels, primarily westerns and fantasies, some under the pen names Jay Scotland and Alan Payne. His breakthrough came in 1974 with the publication of The Bastard, the first volume of what would be the Kent Family Chronicles. Other books in the series include The Rebels, The Seekers (both 1975), which were adapted for television as mini-series in 1978 and 1979; as well as The Furies, The Titans (both 1976), The Warriors (1977), The Lawless (1978) and The Americans (1979).

"I feel a real responsibility to my readers," Jakes told the Washington Post in 1982. "I began to realize about two or three books into the Kent series that I was the only source of history that some of these people had ever had. Maybe they'll never read a Barbara Tuchman book--but down at the Kmart they'll pick up one of mine."

His success prompted Harcourt Brace Jovanovich to commission a Civil War-era hardcover trilogy that included North and South (1982), Love and War (1984) and Heaven and Hell (1987). Another mini-series was adapted from those books.

By the 1990s, Jakes "had joined the charmed circle of America's big-name authors--among them Mary Higgins Clark, Tom Wolfe, James Clavell, Thomas Harris and Ira Levin--whose publishers paid millions in advances for multi-book deals, although they had only vague ideas what the books might say," the Times noted. Random House paid Jakes a $4 million advance for the bestseller California Gold. A $10 million advance a year later produced the two-volume Crown Family Saga as well as In the Big Country (1993), a collection of his stories set in the American West.

"I love melodrama," he once told the Times in an interview. "I never outgrew my fondness for melodrama."