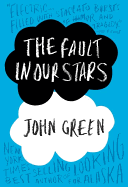 John Green (Paper Towns; Will Grayson, Will Grayson, with David Levithan) has a gift for creating memorable heroes with intelligence and humor. In his latest novel, he imagines a trio of friends in "the heart of Jesus" in an Indianapolis Episcopal church who connect through a support group of kids in various stages of suffering or recovering from cancer.
This past summer, Green's more than one million Twitter followers and half a million YouTube subscribers helped launch his as-yet-unpublished manuscript to the #1 position on Amazon. They were right to believe in him. This accomplished novel explores life and death, love and loss, and the fullness of experience when one knows it is finite.
Sixteen-year-old Hazel Grace Lancaster, who narrates, was originally diagnosed with thyroid cancer, but now has "mets" in her lungs. She sports a cannula in her nostrils connected to an oxygen tank she wheels around all day, and at night hooks up to a large rectangular oxygen concentrator she's named Philip. Hazel, who was essentially pressured by her parents to attend this support group, finds its one redeeming quality to be Isaac, who has already lost one eye to cancer, and a recurrence has placed his second eye "in mortal peril." One day, a "hot guy" named Augusts Waters comes to the group at Isaac's request. He is in remission after a bout with osteosarcoma that cost him a leg.
The novel overflows with wonderfully funny and poignant moments. Because these young people have had a brush with death, they don't waste time. Augustus tells Hazel she's beautiful; she reminds him of "a millennial Natalie Portman." Then he invites her to his home to see Portman in V for Vendetta. And she goes. Hazel slows things down, suggests they wait to get together again until they've each read the other's favorite book. His is the novelization of a video game; hers is An Imperial Affliction, and she thinks of its author as a friend, so profoundly does he tap into her experience. Their shared literature becomes woven into their common experience. Then Gus takes Hazel on a quest that braids together literature, romance and self-discovery.
Cancer in a child affects the entire family, and Green shows us exactly how. Hazel worries that her parents' lives will be empty when she dies; Gus's parents try to cut tensions with "Encouragements" embroidered on throw pillows. But everything eventually gets aired, sometimes gracefully, sometimes hurtfully. Hazel tries to resist her feelings for Gus because she doesn't want to be a "grenade.... At some point I'm going to blow up and I would like to minimize the casualties," she tells her parents. Green proves through his characters that lasting love requires the risk of losing it. This is not a morbid book. Hazel and Gus invite us to laugh and live life to the fullest for as long as we can. --Jennifer M. Brown
Shelf Talker: John Green's best book to date stars a trio of teens diagnosed with cancer who fill their lives with love and laughter.