As you read this, Nan Sorensen, administrative coordinator at the New England Independent Booksellers Association, is either preparing to head over to Boston's Fenway Park or is already there, psyched for the home opener of her beloved World Champion Red Sox. Nan is one of the most passionate Sox fans in the book business and I wondered about her game prep because baseball is, after all, a sport of rituals.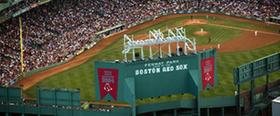 "I always wear a Red Sox T-shirt, but most important is I will have a soft ice cream before I enter Fenway," she said. "Regardless of temperature, I always do. Usually I wear shorts and a Fenway Park (I love Fenway as much as I love the Red Sox) T-shirt, but in the heat of the summer I sometimes get brave and wear my pink Dustin Pedroia T-shirt." Would she dare bring a book to a game? "No book. I buy a program at my first game of year. There is always too much going on at Fenway to have a book."

The Red Sox season officially began earlier this week in Baltimore, and even ESPN couldn't resist a bookish lead in reporting on the game: "No need for Grady Sizemore to embellish his story. It's already just a couple of ticks shy of Roy Hobbs as it is. No need for Jackie Bradley Jr. to embellish his story, either. These days, it seems like Stephen King is ghostwriting it."

Baseball remains the sport that lies closest to our literary souls. Even an impromptu starting lineup card of authors is an all-star team: Roger Angell, W.P. Kinsella, Don DeLillo, Bernard Malamud, George Plimpton, Donald Hall, David Halberstam, Thomas Boswell, Roger Kahn. Creating that list off the top of my head should spark another great baseball tradition: the "rhubarb." What about Stewart O'Nan and Stephen King and David James Duncan and Chad Harbach? Or old school legends like Ring Lardner? Since it's also opening week for Poetry Month, how about Lawrence Ferlinghetti's "Baseball Canto" or John Updike's "Baseball"?

In other words, books and baseball make a good team: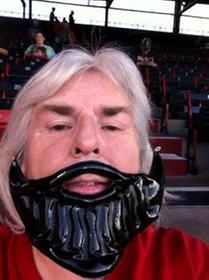 For Nan, however, it's all about the Sox. The team was honored this week at the White House by President Obama, who named Mike Napoli to the newly-created (as of April Fool's Day) President's Council on Beards. Even press secretary Jay Carney "bearded up" for the occasion to celebrate the barbigerous champs--as, by the way, had Nan last season (and we have the photographic evidence), putting on her game face when it mattered.

She did confess, however, that when she was growing up in New Jersey, she was a Yankee fan: "I loved Joe Pepitone!" Later, while working for the publisher David R. Godine, "we used to go to Opening Day at Fenway. George Gibson and Andre Dubus II would buy a big block of tickets and we'd take the afternoon off. That was my introduction to the Red Sox. Now I love Dustin Pedroia and Big Papi (David Ortiz) and Shane Victorino."

There are far too many Red Sox fans among NEIBA members to list, but Nan said that "standouts include Mark Lamphier of Harvard Book Store, Cambridge; and Dawn Rennert of the Concord Bookshop." She also gave high marks to Random House district sales manager Lesley Vasilio, "with whom I go to the games, though sadly not for Friday's game." I couldn't resist asking if there are any Yankee fans hiding out among NEIBA members, and she cited Michael Herrmann of Gibson's Bookstore, Concord, N.H., adding that "he doesn't hide it."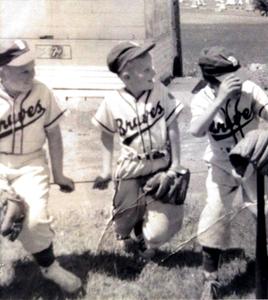 The columnist psyched up for opening day, Little League edition, circa 1959.
Although I'm not a Red Sox fan, I do have genuine Sox street cred. My parents spent their 1949 honeymoon in Boston and saw a few games. Since I was born almost exactly nine months later, you could say I was conceived in the shadow of Fenway Park. And I certainly spent uncounted hours of my youth consumed with becoming a "real ballplayer," as my father, who worshiped Ted Williams, called the good ones.

There may be some lingering effects, so I completely understand Nan's emotions yesterday, when she told me: "Today is like the day before leaving on vacation. Ready to burst with excitement! Glad the gates open early so I can get out of the house and head over. For the past few years I've gone to all the games with Lesley, but could only manage to get the one ticket for this. Going to feel weird, but I'm sure I'll find a few people to cheer with; and sing 'Sweet Caroline' with--one of my favorite parts of the game!"

And is there a connection between baseball and booksellers? "Baseball players, like booksellers, 'fight' everyday for the good of the 'team,' " she replied. Play ball! --Robert Gray, contributing editor