Earlier this week, at the American Library Association's Youth Media Awards in Boston, it was announced to the world that Matt de la Peña (Mexican WhiteBoy; The Living; The Hunted) is the winner of the 2016 Newbery Medal for his writing in the picture book Last Stop on Market Street (Putnam), illustrated by Christian Robinson (Leo: A Ghost Story; Gaston; Josephine). De la Peña lives in Brooklyn, but he spoke with Shelf Awareness from Minnesota, where he's currently teaching at the Low-Residency MFA in Writing for Children and Young Adults program at Hamline University.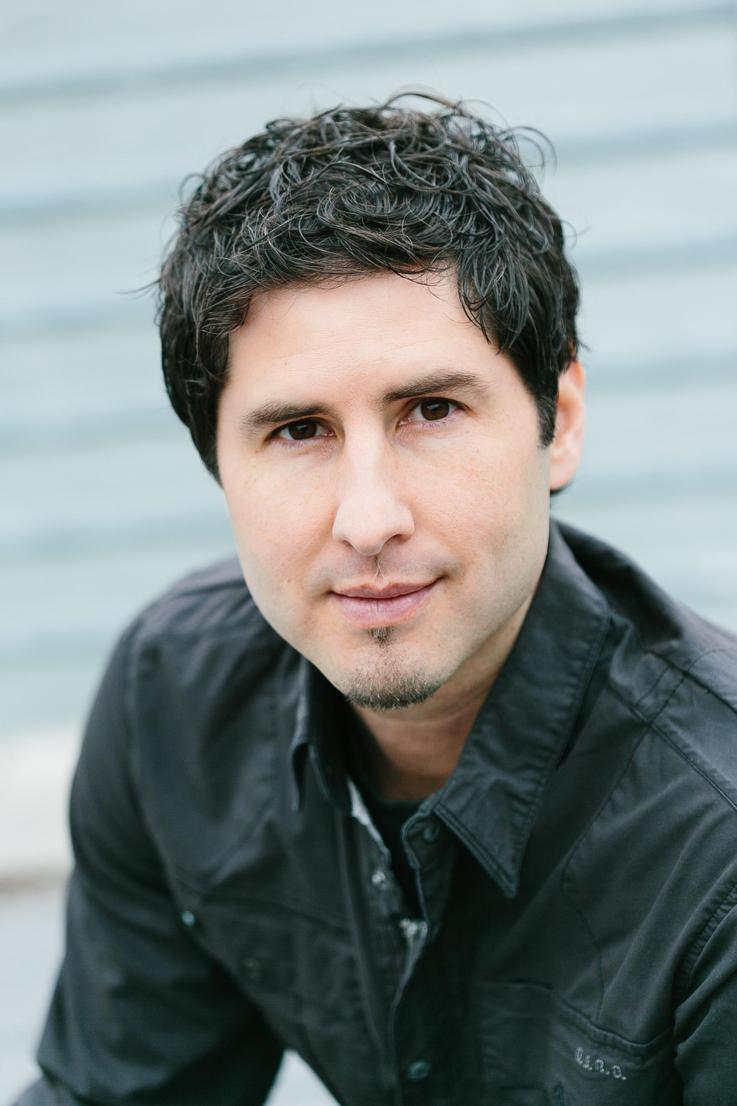 photo: Heather Waraksa
Congratulations, Matt! It's a big day for Last Stop on Market Street--it's a Newbery Medalist, a Caldecott Honor and a Coretta Scott King Illustrator Honor Book. Were you awake when the Newbery committee called you this morning?
I was not awake. The weird thing is that I had stayed up until 3:30 in the morning working on a draft for my new YA book. The Newbery committee called at 4:30 [Minneapolis time]. When the phone rang I thought, oh my gosh, maybe our book got a Caldecott Honor or something, but it was the chair of the Newbery. I was shocked, and I think I threatened to kiss him and all the members of the committee. This is a picture book, and I just never in my wildest dreams, even for half a second, thought about the word Newbery.
As you know, it's rare for a picture book to be chosen by the Newbery committee. How did you collaborate with illustrator Christian Robinson? Did the story come first, or the artwork?
This is interesting. I was kicking around ideas for a picture book--obviously I was going to use diverse characters, that's the focus of my career--then my agent sent me a link to the blog of a young illustrator named Christian Robinson and asked me what I thought of his work. And I loved it so much. It was the heart of a city, but done with whimsy. My agent asked if there was anything there that could be a story, and I immediately gravitated to this one illustration of a little boy on the bus with his grandmother. That's the strange genesis of this book. I talked to my agent today, and I think I threatened to kiss him, too.
So, the boy in that illustration was African American?
Yes. But I'm more focused on class than race, based on what I remember growing up on the border, near San Diego. In New York where I live now, everyone rides the bus, but in southern California the bus is working class. I write about the culture of the "have-nots" in all my books.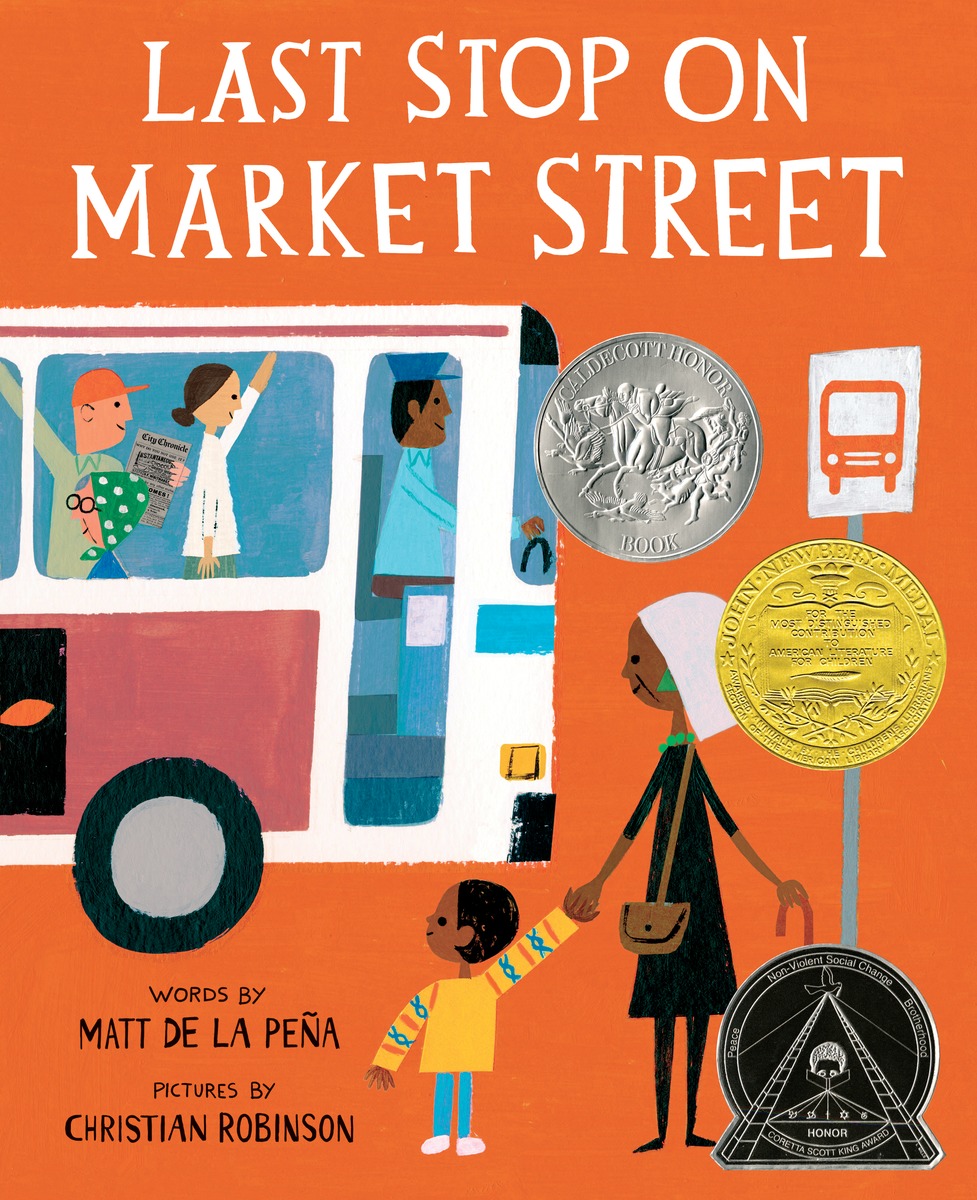 Did you have a close relationship with your grandmother?
Yes--she was, outside of my parents, the most important person in my universe. I dedicated probably my most important novel Mexican WhiteBoy to her. I'm a mixed person, and one of the things about being mixed is that sometimes you feel like you're not Mexican enough. She was the Mexican in me. I wanted to be accepted by her blood. She was a huge part of my growing up.
CJ asks his grandmother, "How come we gotta wait for the bus in all this wet?" And she tells him, "Trees get thirsty, too," and asks him to look at the tree drinking up water with a straw. He doesn't see it. How would you describe the dynamic of the grandmother and the boy, CJ, to someone who hasn't read the book?
I would just say that CJ doesn't know how to see the magic of his existence. He doesn't look in the mirror and see "beautiful." Not just when he's looking at his face, but when he's looking at his world. The grandmother is teaching him to see how beautiful he is. And she's using magical ideas to show him that.
Often in picture books it's the children teaching adults to slow down and find the beauty in the things around them... but here it's the other way around. Do you see a lot of kids like CJ who need a little nudging in this direction?
I see it all the time. I'm lucky.... Because of my novels, I go into a lot of underprivileged schools across the country. I'm face to face with a lot of kids who ask me, "Why would you come to this school?" I say, "I have to tell you it's because your world is amazing and beautiful." I almost have to prove to them they are worthy of having an author come to visit them.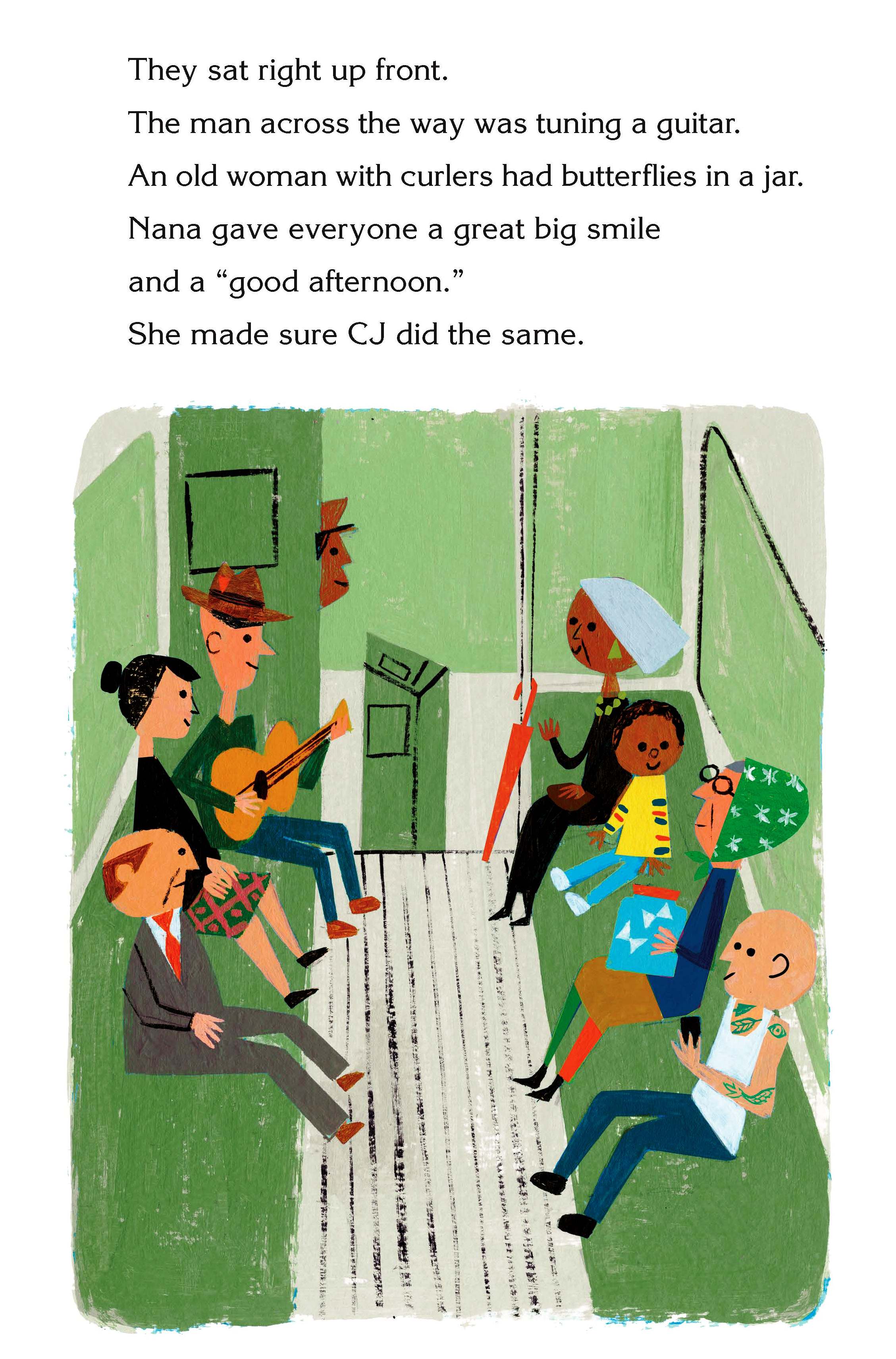 The characters on the bus are wonderful. I love the old woman in curlers who has butterflies in a jar and the tattooed guy. Any back story on any of those characters?
I'll tell you one little thing that no one realizes. Originally the story was about a boy who'd lost one or both of his parents. And so... I dropped that part. I focused on him learning how to see his world differently. But I left one thing in there, a little echo. When CJ is listening to music, he starts to see things when he closes his eyes. One of the things he sees is a family of hawks together--and that was him imagining himself with a nuclear family.
Was it an easy decision to have the boy speak informally, as in "Nana, how come we don't got a car?"
This is the most important decision I think I had to make. The story felt very organic. Some people asked me if writing a picture book was a huge shift for me, after the novels, but really, for me, it's going back home. I started out, before I was published, writing spoken-word poetry, so I wrote this book that way. In spoken-word poetry, I would never clean up the language. I only report what I hear. To me, there's a musicality in what some consider broken English, and I think it's poetry.
How did you get started as an author?
I was writing all this poetry but I never showed it to anybody all through high school. In college I entered a contest of spoken-word poetry and I won. Recognition makes you believe a little bit more. It creates a little crack in your impostor syndrome. And you think, maybe I could do this. I thought... I'm used to being poor. I'm the guy for this.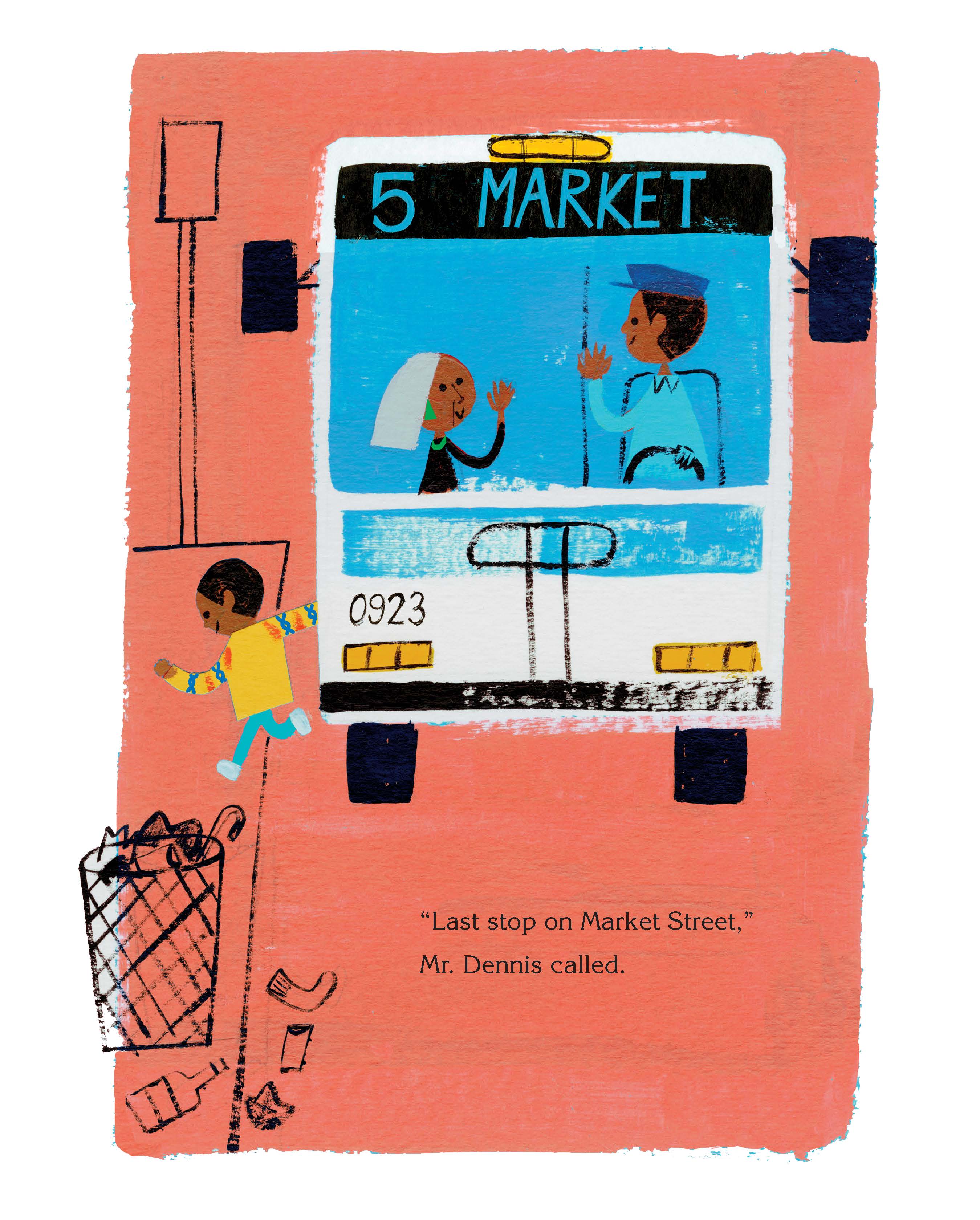 Were you a reader as a child? Any favorite authors?
No, not at all. I was a basketball player. Nobody in my family has even been to college. I thought maybe I could afford college if I got a basketball scholarship. It wasn't until I went to college that I fell in love with literature. Sometimes reluctant readers have just one book they reread dozens of times, and for me it was Sandra Cisneros's The House on Mango Street. I wasn't a big reader, but I did fall in love with that book.
Anything else you'd like to tell Shelf Awareness readers?
The thing I heard that hit me the hardest and made me a little emotional today was that this was the first time a Hispanic won the Newbery Medal, even though it's a group of people who've been writing forever. It feels like in a way I was collecting an award for all of us.
We're taught how to view ourselves in the media--when you look at TV and in movies--and too often, in general, a young kid isn't thinking, "I'm the hero of this kind of story." This book shows kids they can be the hero of the story. Here's a book with a kid who lives where you live and has a grandma like you have and takes the bus like you do. And it has a Newbery sticker on it. --Karin Snelson, children's & YA editor, Shelf Awareness