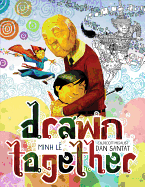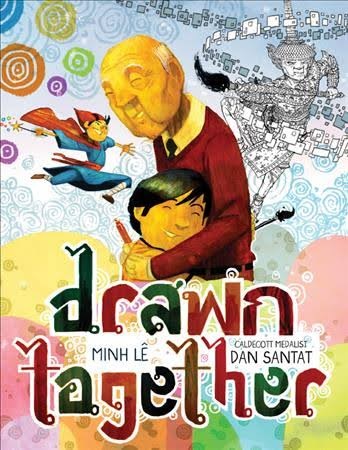 A glum Thai-American boy is dropped off at his grandfather's house for a visit. His grandfather is delighted to see him, and they greet each other with a bow. Grandpa has obviously prepared for this visit, making the boy a traditional American meal--hot dog and fries--while he enjoys noodle soup. They try to chat at lunch, but can't understand each other, and when they watch a TV show together, the uncomfortable silence grows more and more awkward. In spite of their efforts to connect, nothing can make up for the fact that the two do not speak the same language or share a culture. Their emotional distance is enhanced by the comic book-style panels, creating literal separations as the two sit across from each other at the table or next to each other on the couch. It's not until the boy slips away to draw that they finally find common ground: Grandpa likes to tell stories through pictures, too! "Right when I gave up on talking, my grandfather surprised me by revealing a world beyond words. And in a FLASH--we see each other for the first time."

Immediately, the thick-lined panels disappear, replaced by double-page spreads that bleed off the edges of the paper. As man and boy weave their illustrations together, "all the things [they] could never say come pouring out." The story the two tell is not just about the heroes and villains they draw, but about their connection, "a new world that even words can't describe." Their heroes, beneath armor and capes, look an awful lot like their respective illustrators, with the grandfather's black-and-white, ornately dressed, ancient warrior brandishing a beautiful calligraphy brush and the boy's contemporary, anime-style wizard waving a star-topped wand. The swirling, elaborate design develops, the different styles intertwining, until they have created one magnificent world... which is suddenly disrupted by a huge, scaly monster that threatens to tear it apart: "just when we're closer than ever, that old distance... comes ROARING BACK." But the dragon they confront--a terrifying creature that meshes the boy's colorful, contemporary style with the man's black-and-white, traditional style--is no match for their combined forces.

Minh Lê (Let Me Finish!, illustrated by Isabel Roxas) is a first-generation Vietnamese-American writer and a national early childhood policy expert. Dan Santat is the New York-born son of Thai parents and author and illustrator of the Caldecott Award-winning The Adventures of Beekle: The Unimaginary Friend as well as Sidekicks, After the Fall and others. Their partnership in Drawn Together is just as magical as the grandfather and grandson's eventual bond. Mostly wordless panels represent the frustration and confusion the two share at first, followed by vibrant mixed-media artwork as they bring their talent and imagination together, concluding in a now-comfortable silence.
Drawn Together is a testament to the strength of a shared love to overcome barriers of age, language and culture, and will leave readers, like Grandpa and his grandson, "happily... SPEECHLESS." --Emilie Coulter, freelance writer and editor

Shelf Talker: Separated by language, culture and age, a grandfather and his grandson nonetheless find a beautiful way to forge a bond made of paint, ink and paper in this touching picture book.