Because I'd been thinking about paths a lot lately (paths that lead to where we are, paths forward), the end of my fall regional trade show travels left me wondering about a particular question, which I posed to Mountains & Plains Independent Booksellers Association's new executive director, Heather Duncan, and marketing & communications manager, Jeremy Ellis.
The question was: Could you briefly sum up how your experience (and experiences) as a bookseller positioned you for your new role and how it may influence your future goals for the association?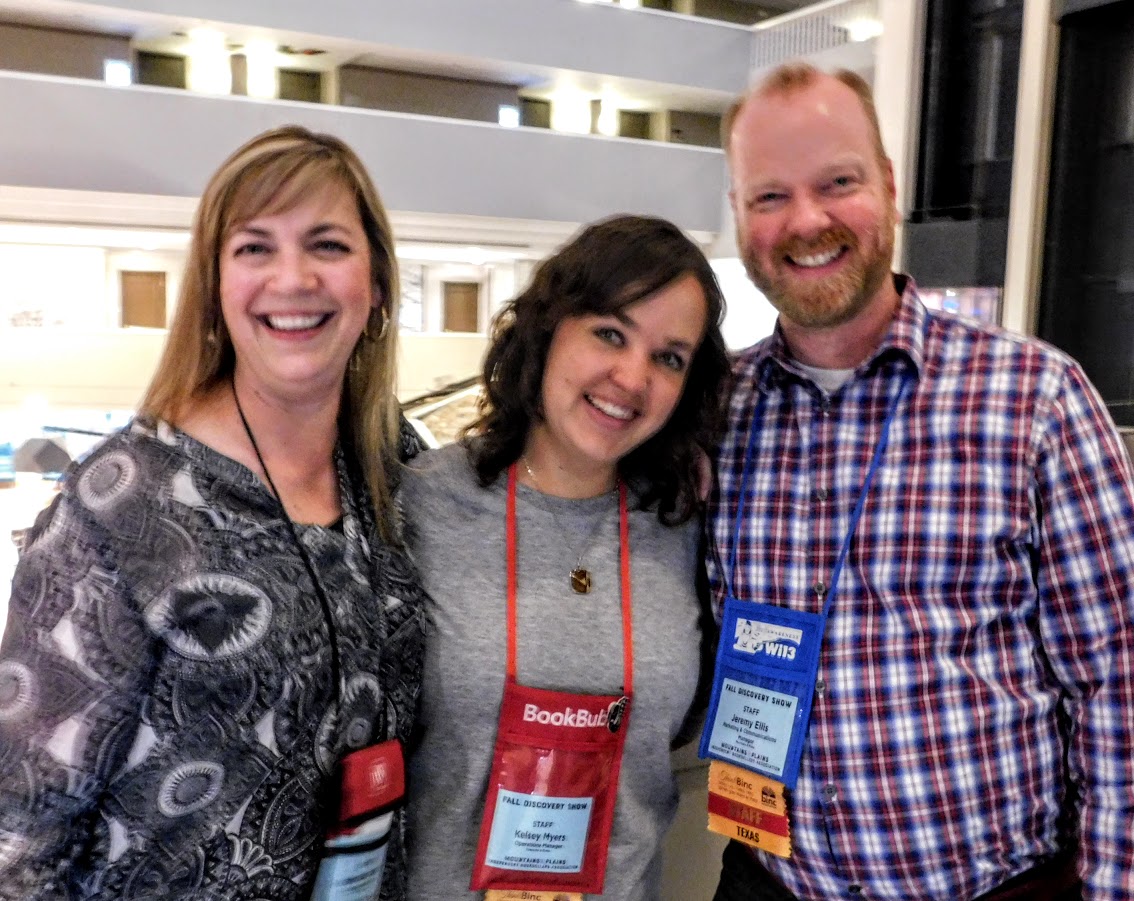 MPIBA executive director Heather Duncan, operations manager Kelsey Myers and marketing & communications manager Jeremy Ellis
"My career at the Tattered Cover Book Store (which I fell into just out of college, never imagining a career at my favorite place to shop) prepared me for my current position in both practical and philosophical ways," Duncan replied. "Practically, my years leading a large staff, managing a significant budget, booking authors, creating large, elaborate events, and forming relationships with publishers, publicists, authors and other bookstores around the country really gave me the skill set and connections needed for the executive director position.
"Philosophically, working for Joyce Meskis, and getting to know so many indie bookstore owners, shaped my thinking about indie bookstores as colleagues and collaborators--not thinking of themselves as competitors. It is one of the things that makes our industry so special. That spirit of collaboration, and my undying love of bookstores as the best places to be, is shaping my thinking of the future of MPIBA. We are going to offer more and varied opportunities for the stores to connect and learn from each other, and build a marketing support system to spread the word to customers and the media about all of these stores as something special."
Ellis, who spent more than 20 years at Texas bookstores BookPeople in Austin, Brazos Bookstore in Houston, and Interabang Books in Dallas, said: "As a longtime bookseller, I like to think that I have a good understanding of the cycles and pressures bookstores go through each year. I really want to make my personal experiences as a marketer and manager useful for stores big and small. I am eager to support the marketing efforts of our member stores across the region, no matter their size or sophistication. My challenge will be to understand what is working for them now and find good new directions to support growth. We all want to make the association an exceptional resource that gets better and better, year after year."
During the MPIBA show, many authors echoed Duncan's belief in "all of these stores as something special" when they spoke about the increasingly important role independent booksellers are playing in their lives, in communities and in the world.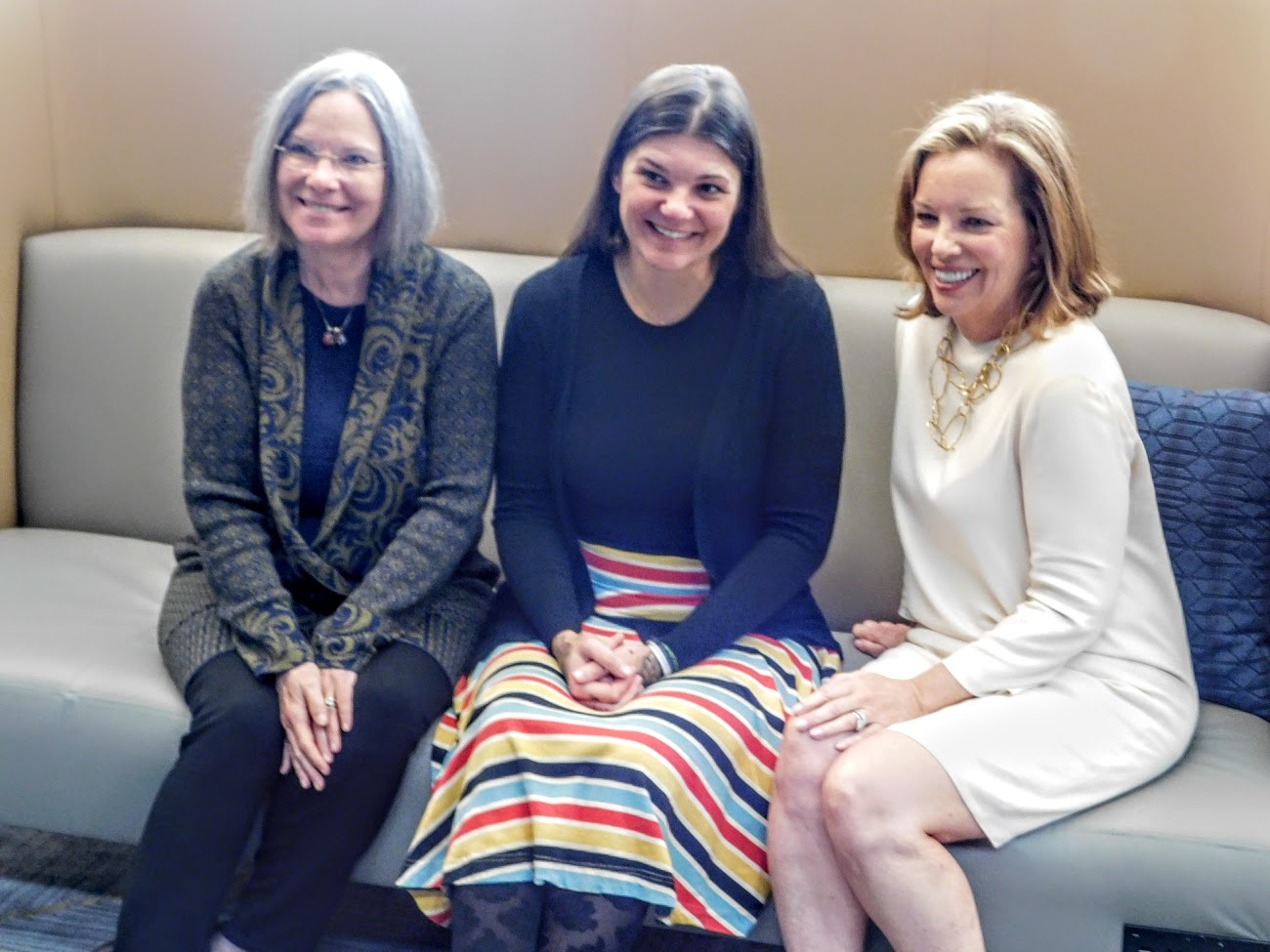 MPIBA Women's Voices Author Breakfast: Carolyn Forché, Stephanie Land, Martha Hall Kelly
Carolyn Forché, author of the upcoming memoir What You Have Heard Is True (Penguin Press, 3/19), told the Women's Voices Author Breakfast audience: "Thomas Payne believed that literature, literacy and books were essential to democracy and to its survival, and so you are on the front lines now and I commend you and I know that you know how important it is that you exist, that librarians exist, that teachers are still teaching literature so thank you very much."
At the Author Banquet, Leif Enger (Virgil Wander, Grove Atlantic) shared a story of his recent move from rural Minnesota to Duluth and an early encounter with his new neighborhood indie, Zenith Books: "I almost choked up walking around the bookstore. Look what we've moved to! We have this place and it just feels like a refuge.... And so I look out here and I see all of you and I feel the same kind of gratitude because what you're doing is not just keeping the flame alive, but you guys have made a refuge for people.... I look at bookstores and booksellers in a different way than I ever have. And I'm seriously grateful."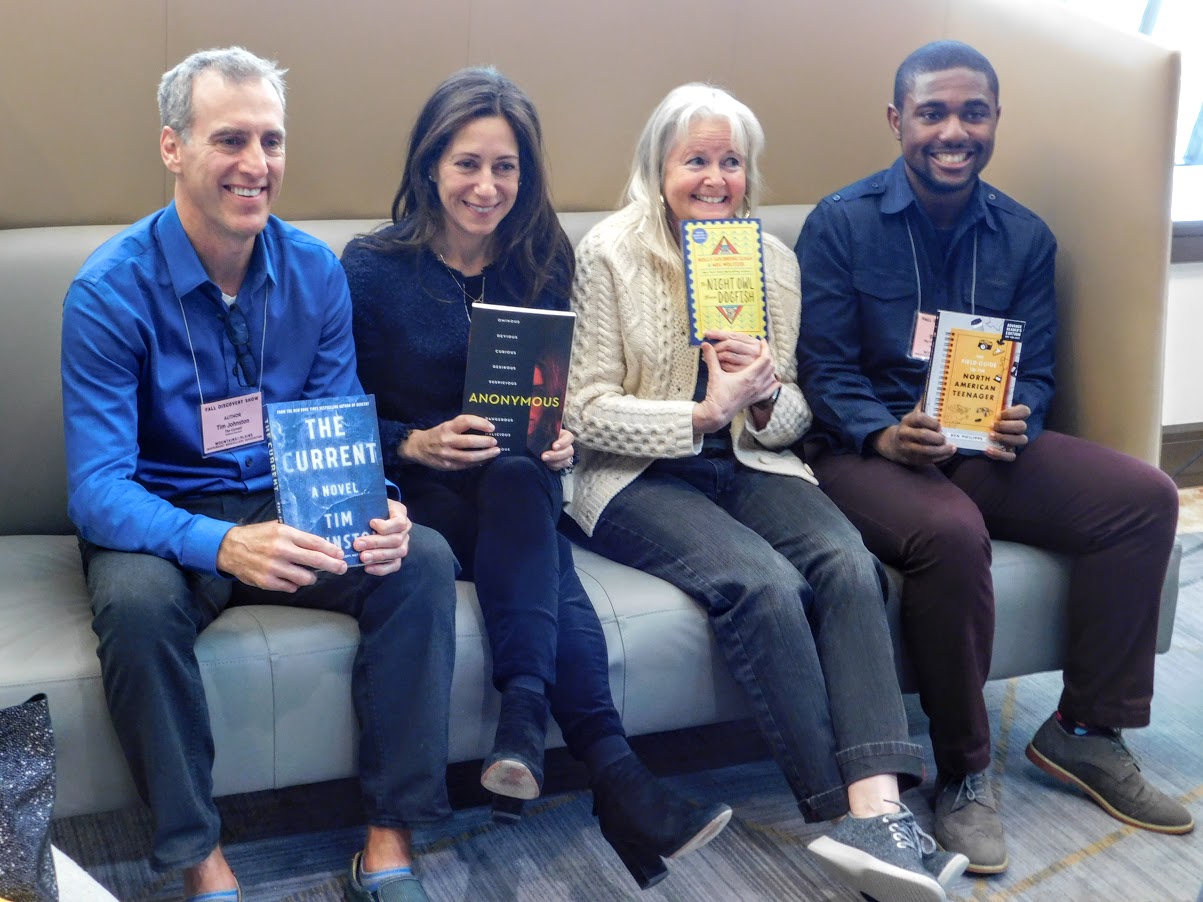 MPIBA Authors of Future Releases Breakfast: Tim Johnson, Greer Hendricks, Holly Goldberg Sloan, Ben Phillipe
"There's no room I would rather be in than a room with people who sell books," Holly Goldberg Sloan (To Night Owl from Dogfish, Penguin Books for Young Readers, 2/19) said at the Authors of Future Releases Breakfast. "If I could design towns, I would get rid of most things in towns and I would turn things into bookstores because that's how you change culture and community and you guys are doing that. You have boots on the ground; you are telling the community that books matter and words matter, words matter, words matter."
Jamie Harrison, who won the adult nonfiction Reading the West Book Award for The Widow Nash (Counterpoint Press), praised "the infinite generosity and richness of bookstores, the way they hold worlds without judgment and reveal those worlds--the strange and bitter, wonderful and sweet. It has always managed to remind me that being human was worth the hard times.... You booksellers must be doing it for love and you make the world a better place."
And Pam Houston (Deep Creek: Finding Hope in the High Country, Norton, 1/19) summed it all up: "I feel like it's so imperative that we try to make the world we want right now. And that it's actually us who have to make it. There isn't anybody who's going to rescue us.... You guys are on the front lines and you're making a good thing happen and everybody who's making a good thing happen--an organic farmer, in a bookstore, in a dance troupe, whatever--we're the ones who are going to make the world we want. "
Indie bookstores, as Heather Duncan said, are undoubtedly "the best places to be."