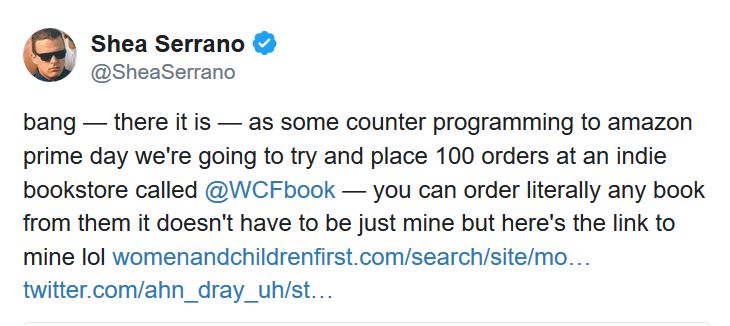 After mustering his FOH Army on Amazon Prime Day #1 Monday to help the Raven Book Store, Lawrence, Kan., set a record for online orders, author Shea Serrano came back for more yesterday.
This time the choice was Women & Children First Bookstore, Chicago, Ill., which offered some backstory on Facebook: "So, funny story. Before we opened the bookstore this morning, Jamie and Sarah were chatting about how cool it was that author Shea Serrano spearheaded some counter programming to yesterday's Amazon Prime Day by choosing an indie bookstore to flood with online orders. The selected indie @raven_book_store received 328 orders by the end of the day. Sarah said to Jamie, 'What would you do if that happened to us?' Moments later... THIS HAPPENED. Thank you for the massive support and for your patience as we try to keep up with 122 orders and counting before 11 a.m."
Serrano: "hi @wcfbook. don't mind us. we're just gonna be over here buying a bunch of books from y'all. we've heard great things about your store. keep it up."
Raven Book Store approved: "We think @wcfbook is a lovely choice for more @SheaSerrano #PrimeDay counter-programming and we wish our Windy City friends good luck as the #FOHarmy descends upon them with kindness. Have fun!"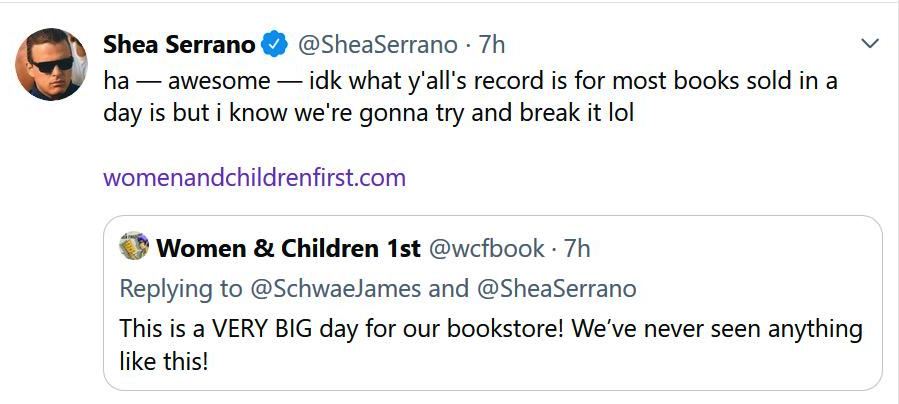 W&CF: "This is a VERY BIG day for our bookstore! We've never seen anything like this!"
Serrano: "ha--awesome--idk what y'all's record is for most books sold in a day is but i know we're gonna try and break it lol."
Serrano: "just refreshed it. Bang. 107/100. there it is. we are now officially in Running Up The Score territory. congrats @wcfbook. rooting for y'all."
Later in the afternoon, Serrano tweeted: "ha--people are still buying books from @wcfbook from this morning's rush--y'all jump in and support an indie on amazon prime day lol."
Another update appeared around 3:30 p.m.: "okay--we're back on track--we were supposed to place 100 orders with @wcfbook today--we're already up to 211 hahahahaha we more than doubled it--that's badass--y'all go grab a book it's super easy and fast."

Women & Children First checked in not long after that: "Wow! We are up to 222 orders and counting! Thank you @SheaSerrano for keeping us joyfully busy all day!"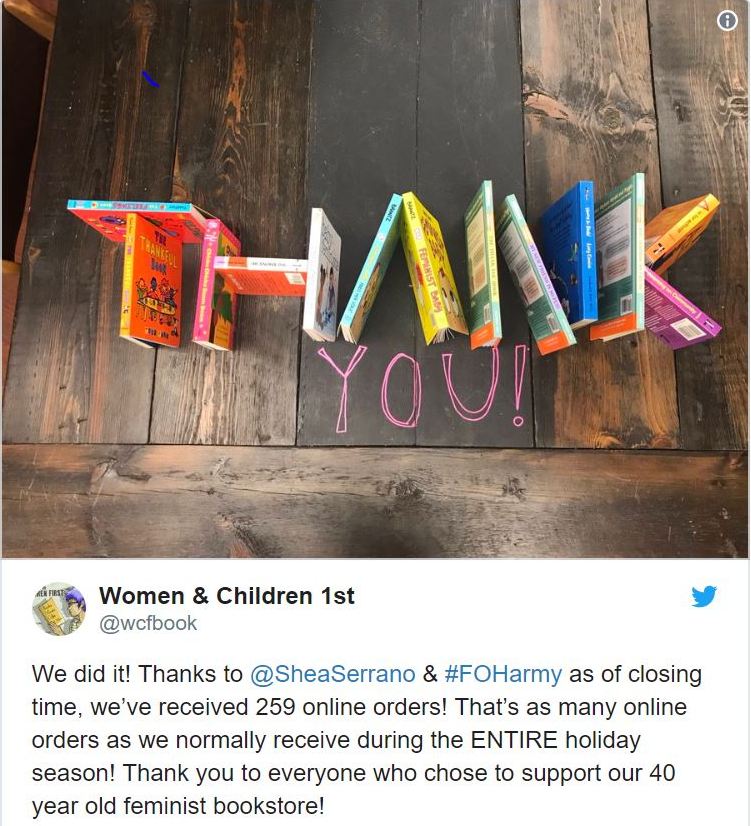 By 7 p.m., Serrano tweeted: "was supposed to be 100 orders for @wcfbook today as counter-programming to today's amazon prime day--we're already at 244 orders only six more to hit 250.--six of y'all come through right now come on."

And the bookstore shared news of the big finish: "We did it! Thanks to @SheaSerrano & #FOHarmy as of closing time, we've received 259 online orders! That's as many online orders as we normally receive during the ENTIRE holiday season! Thank you to everyone who chose to support our 40 year old feminist bookstore!"