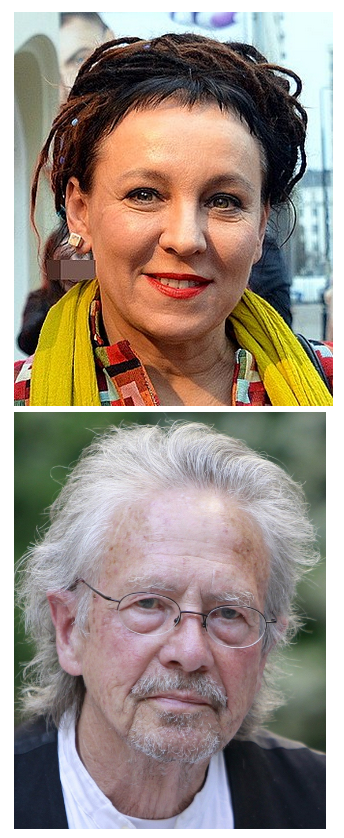 The Swedish Academy announced this morning two winners of the Nobel Prize for Literature: Peter Handke, the Austrian author, playwright and translator, wins the 2019 prize, and Olga Tokarczuk, the Polish novelist and poet, wins the 2018 prize, which was not bestowed last year because of a scandal involving sexual assault allegations and financial impropriety involving the Academy.
Handke was cited by the Swedish Academy for "an influential work that with linguistic ingenuity has explored the periphery and the specificity of human experience."
Tokarczuk was cited for "a narrative imagination that with encyclopedic passion represents the crossing of boundaries as a form of life."
Tokarczuk won the Man Booker International Prize last year for Flights, which was translated into English by Jennifer Croft and was published in paperback in August by Riverhead Books. She is also the author of Drive Your Plow over the Bones of the Dead, The Books of Jacob and Primeval and Other Times.
Handke has written numerous books and screenplays, including several with Wim Wenders. He also directed several movies, including screen versions of his novels The Left-Handed Woman and The Absence.
Last year's award was postponed because of a crisis that started with accusations of assault by 18 women against French photographer Jean-Claude Arnault, who was married to Academy member Katarina Frostenson. After a series of protests and resignations, the Academy didn't have enough members to elect new members.
In March, the Academy said that it had made changes to its organizational and operating structures and no longer included "any members who are subject to conflict of interest or criminal investigations." It said then that it would award the 2018 Nobel Literature Prize when it awarded the 2019 Nobel Literature Prize.
Handke himself is a focus of a different kind of controversy. He has been the target of criticism for supporting the late Yugoslavian and Serbian president Slobodan Milošević, who was accused of genocide and war crimes following the collapse of Yugoslavia in the 1990s.